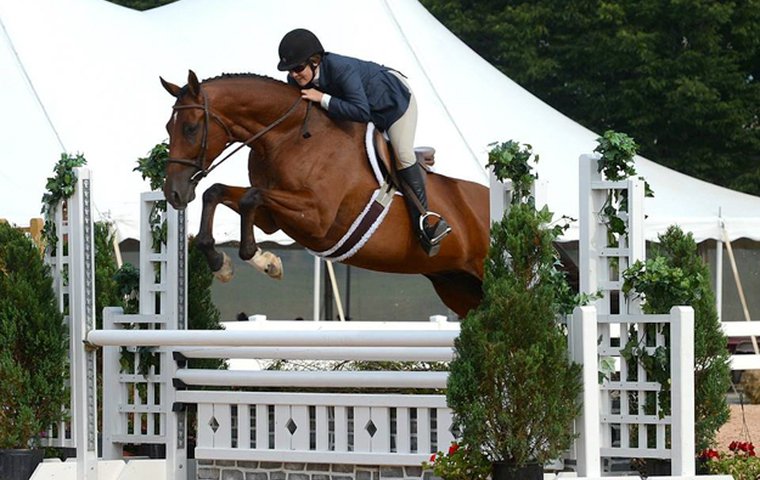 He didn't have the bloodlines to be a stakes winner. By the modest stallion Ecton Park out of a mare that never made it to the starting gate, Strapped earned very little attention in a pair of maiden claiming tests at Laurel Park. But he has the potential to be a major player on the TAKE2 Second Career Thoroughbred hunter/jumper circuit this year--and a trainer with the pedigree to make him a champion.

Strapped was the last horse bred by the late, great Hall of Fame trainer Jimmy Croll, and is one small component of the legacy he left to his granddaughter, hunter/jumper trainer Billie Rae Croll.
"My grandfather passed away when he was a weanling, and my father [Bill Croll] passed away when he was a 2-year-old," Billie Rae said. "I inherited Strapped. He's special--he's one of the loves of my life."
It's no surprise that the horse is close to Billie Rae's heart. Her voice still catches when she talks about the man who bred him.
"I miss my grandfather," she remarked. "He was an amazing man. For all his fame and success, he was the most laid-back understated gentleman. He taught me everything – how to be a sportsman as well as a horseman. He had a big influence on my life."
Horses are stitched tightly to the fabric of Billie Rae's life. Her father grew up on the racetrack, and her mother, Anne, headed to Monmouth Park at age 16 and got a job walking hots in the Croll stable. Billie Rae was cleaning stalls and bandaging legs before she learned to ride—and she started taking riding lessons just two years into grade school.
"When I was eight years old, I started begging my parents to let me ride, and I finally wore them down," she recalled with a grin. "My first horse was an off-the-track Thoroughbred that my mom had trained. I learned how to ride on a working farm, in this big cornfield. We'd go up and down between the rows – my mom would stand at the end of the row to make sure we stopped."
Billie Rae's focus was on the show ring from an early age. Her first horse turned out to be a talented jumper that brought home a host of blue ribbons.
"Together we went from going over little cross rails to competing in the 4'3" jumper classes," Billie Rae said. "That horse taught me a lot."
But there was plenty of time spent at the track as well. The highlight of those years on the backstretch came in 1993-94. Her grandfather was willed a string of horses by longtime owner Rachel Carpenter, and the inheritance included a 2-year-old getting ready to make his first start.
"You probably know the story – Rachel Carpenter died the day Holy Bull was entered for the first time," Billie Rae reminisced. "My grandfather got the call that morning, and he planned to scratch, but the lawyer told him, 'You don't need to do that, she left all the horses to you. Holy Bull is yours, you can go ahead and run him if you want to.' I think that's a real testament to my grandfather's honesty and integrity. That was her final gift to him, and it was the gift of a lifetime."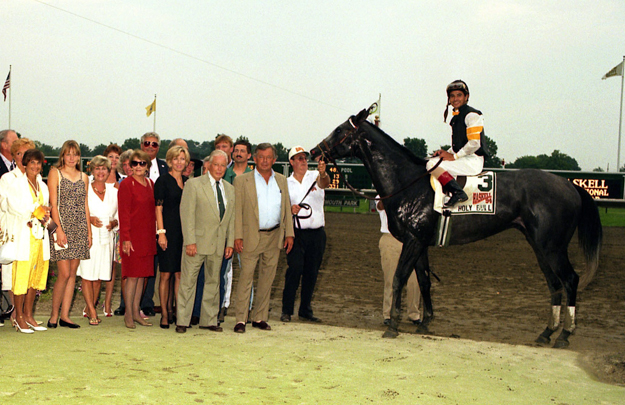 Holy Bull broke his maiden by 2 ½ lengths in his debut, and went on to win 13 of 16 starts and more than $2.4 million. His 1994 Horse of the Year campaign included five G1 victories, but it is his gallant neck triumph in the Travers that stands out for Billie Rae.
"That was against Concern, who had a rabbit going out there early with Holy Bull," she said. "I think the fractions were the fastest ever for the Travers [co-fastest six furlongs in 1:10 2/5]. Concern came on hard, but Holy Bull hung on, wire to wire. That race gave me chills. It helped validate him, after his loss in the Kentucky Derby. It proved he was the horse my grandfather thought he was."
Sadly, Holy Bull was forced into early retirement after suffering ligament damage in the 1995 Donn Handicap. He headed to stud at Jonabell Farm and, while his 16-year stint in the breeding shed was not as illustrious as his exploits on the racetrack, the Crolls continued to benefit from his solid success as a stallion.
"That horse just kept on giving," Billie Rae said. "He paid for my college, he paid for my brother's college. He opened doors to every member of my family. It was a fairytale."
Billie Rae attended Sweet Briar College, but it was a mortal lock that she would follow the family footsteps into the horse business. Her career path did not go over well with her grandfather.
"He tried to talk me out of it," she admitted. "He knew it was a hard life. But he finally realized he had no choice; I was as crazy about horses as he was. Then he gave me his full support."
A native of Oceanport, New Jersey, Billie Rae decided to set up a stable of hunters and jumpers in Lexington, Virginia, where she rents a 300-acre facility that offers a cross-country course, a jump field, and miles of trails.
"I have a little bit of everything in the barn, but mostly off-track Thoroughbreds," she said. "I have 18, all at different stages of training. I own some, train some for clients, and have some for resale. I have a bad habit of collecting them."
The BRC Stables client roster includes PTK Stables and Mrs. John Oxley. Graham Motion sends her retired racehorses as well.
"Graham and Herringswell Stable are very big on aftercare, and I'm good friends with his office manager, Sue Kenny," Billie Rae said. "A lot of the horses I have are still owned by the people who bred and raced them, like PTK and Mrs. Oxley. There are people out there who take responsibility for their horses; they want to do what's right by the horse."
While warmbloods are the horse of choice in the show ring, Billie Rae has stayed true to her roots. Why does she prefer to train Thoroughbreds?
"Until I was eight, I thought there were only two breeds – the Thoroughbreds, and the pony horses at the track," she said with a laugh. "I've always been partial to them. Thoroughbreds are bred to be athletes. They might not be athletic enough for racing, but they have a natural drive and they really do enjoy having a job. They never get sour, they are game to go, they like what they do.
"I do have some non-Thoroughbreds--I even have a warmblood," she continued. "He's the most difficult horse I train."
Billie Rae takes great pride in being able to take Thoroughbreds off the track and providing them with successful second careers. She participated in the Retired Racehorse Training Project last year, and she has several horses on the TAKE2 circuit.
"I heard about TAKE2 through the prize lists and through Facebook," she remarked. "My mother actually started the Thoroughbred Celebration Horse Show – she created that idea. But what I like about TAKE2 is that it gets the Thoroughbreds into the open horse shows. There is a whole movement to bring the Thoroughbred back to the show ring, but the Thoroughbred people weren't going to open shows. Now we can put our money where our mouths are. It's a better opportunity to showcase the Thoroughbreds to the general public and to the horse show world. The Thoroughbred-only shows are in a bubble, people don't get to see just how good they can be."
She added, "I know trainers who are buying Thoroughbreds to show in the TAKE2 classes. The prize money is a big incentive."
The New York Thoroughbred Horsemen's Association (NYTHA) partnered with the New York Thoroughbred Breeders Inc. (NYTB) and the New York Racing Association (NYRA) in 2012 to establish TAKE2. The program, offering prize money and awards in hunter and jumper divisions restricted to Thoroughbreds across the country, is designed to highlight the success of Thoroughbreds as show horses and create more opportunities for retiring racehorses in need of second careers. It is supported by Thoroughbred organizations across the U.S.
New for 2015 is the TAKE2 Thoroughbred League, which will award $30,000 in year-end prizes to the members earning the most points in TAKE2-affiliated hunter and jumper classes.
"I hope to have four horses competing in the TAKE2 League this year," Billie Rae said.
In addition to Strapped, she has New York-bred Lexington Ave., Mandla, and Touch the Winner, who between them had one win in 16 starts, but who are proving much better suited to their new careers.
"I'm looking forward to seeing what they can do," she said. "It's going to be an exciting year."
---
Andy Belfiore is the executive director of the TAKE2 Second Career Thoroughbred Program. For more information, please visit: www.take2tbreds.com.