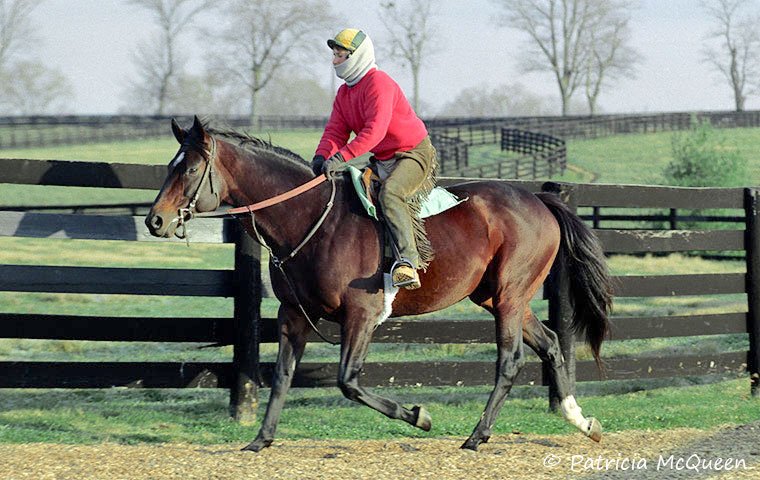 With the 2019 Triple Crown now in the history books, it's interesting to think back to another eventful year – 1985. Spend a Buck won that year's Kentucky Derby but defied tradition and skipped the Preakness in favor of the Jersey Derby and a potential $2 million bonus offered by Garden State Park. He won that race, and that big payday, and in the process was responsible for the creation of Triple Crown Productions and new efforts to unify and market the series.

Why is all this in a story about Secretariat's children? Because those circumstances in 1985 led to a single horse being favored in all three Triple Crown races that year, despite not winning any of them. It was only the third time in history that had happened and it hasn't happened since.
The colt was Chief's Crown; he finished third in the 1985 Derby, second in the Preakness (by a well-fought head) and third in the Belmont Stakes. The champion 2-year-old male the year before, Chief's Crown couldn't do what his maternal grandparents could. Between them, they won two Triple Crowns, so it's not surprising that the resulting foal – the dam of Chief's Crown – was named Six Crowns by owner-breeder Carl Rosen.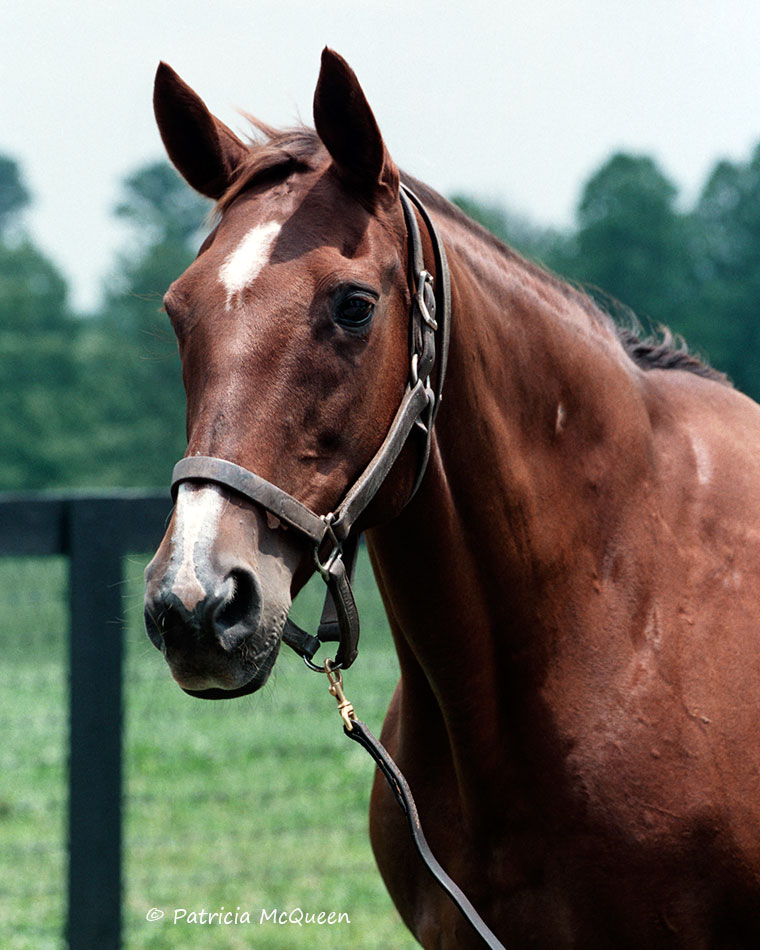 Six Crowns was sired by Secretariat and her dam was 1974 Filly Triple Crown winner Chris Evert. The latter was named by Rosen, who had purchased the daughter of Swoon's Son as a yearling in 1972 for $32,000, for the tennis star, who had an endorsement deal for a line of clothing produced by his company, Puritan Fashions.
Chris Evert the racehorse was as talented as the tennis player. She won ten of 15 starts, including that sweep of New York's Acorn, Mother Goose and Coaching Club American Oaks, which for many years constituted the Filly Triple Crown. She was then sent to California for a match race with West Coast star filly Miss Musket, but it proved to be a mismatch, with Chris Evert waltzing home by 50 lengths. Champion 3-year-old filly of 1974, Chris Evert was named to racing's Hall of Fame in 1988.
For her first date in 1975, Rosen sent her to the court of Secretariat in his second season as a stallion. The resulting foal, Six Crowns, was born on April 21, 1976.
Not rushed to the races
On the small side, the bay filly was given plenty of time to grow by Rosen and trainer Joseph Trovato; she didn't make her racing debut until December 8 of her 2-year-old year. Six Crowns lagged behind early in that Aqueduct maiden race and, although she finished well, she ended up third.
Two weeks later she got the job done. Not as far back early this time, she again closed well and won by a length going six furlongs under jockey Jorge Velasquez. In the beaten field that day was Mairzy Doates, who would go on to become a multiple stakes winner in America and who secured her own place in history by winning the inaugural Japan Cup in 1981.
Five weeks later, Six Crowns easily won an allowance race at Aqueduct on Jan. 28, 1979. Going a mile and 70 yards on a muddy track, she won by almost six lengths, geared down and eased late. With two straight wins under her belt, the filly with the royal pedigree was drawing attention – she was called an "equine celebrity" by Herb Goldstein in the Daily Racing Form. The plan was to try a stakes race and then give her some time off to prepare for a big future.
In Goldstein's column the day of the February 3 Searching Stakes, Rosen said, "I'm so nervous about this filly I can't work. When you consider the possibilities of having lightning strike twice, it is staggering. To buy a filly such as Chris Evert and have her turn out to be a champion is remarkable enough. Then to breed her to Secretariat, have a foal who looks like this one and have her start winning quickly is breathtaking to me. The mere fact that she even came to the races is something special. How many of these kinds of matings have resulted in a good horse? Not too many, I would bet. That we now have Six Crowns ready for a stakes race leaves me shaking."
She was favored in that first stakes race, going 8½ furlongs in the Searching. She ended up third to Armada Way and Distinct Honor, racing wide most of the way and finishing "evenly", according to the chart notes.
As promised, she was off for a few months, and resurfaced in a seven-furlong allowance race at Saratoga on August 3. It was a useful effort as she again closed late to be second best. Behind her was favored Image Of Reality, future dam of Broodmare of the Year Toussaud.
Then came Six Crowns' first and only start on the turf; it would be the worst finish of her career as she checked in eighth as the favorite. It wasn't as bad as it seemed, though, as she was right there in a group of horses that were noses apart behind an easy winner.
Winning ways return
Six Crowns was back in the winners circle on September 14 at The Meadowlands, taking an 8½-furlong allowance race on a sloppy track. The odds-on favorite, she was last early but rallied on the turn and drew clear in the stretch to win by 3½ lengths. She then made it two in a row, winning an allowance race over a sloppy Belmont Park surface eight days later under Laffit Pincay Jr.
After eight starts, she would spend the rest of her career in stakes races. Next came the off-the-turf Athenia Handicap at Belmont on October 1. On the sloppy track with jockey Angel Cordero up, she again rallied from far back but this time could do no better than third in the ten-furlong race.
She caught a good track at The Meadowlands for the ten-furlong Queen Charlotte Handicap on October 11, another off-the-turf event. With Cordero up again, she appeared to be on her way to her first stakes win, battling with favored Water Malone through the stretch and gaining the lead at one point. She continued on gamely, but Water Malone fought back and edged Six Crowns by a head at the wire.
Her stakes breakthrough finally came on November 3 at The Meadowlands over a track labeled good. In the restricted Meadow Queen Stakes, going 8½ furlongs, she won by five lengths as the odds-on favorite. Again allowed to settle early, she made a bold move in the upper stretch and "drew off under a mild hand ride", said the chart notes.
Next came a start in the G1 Ladies Handicap at Aqueduct on November 10. Going ten furlongs, she finished third while facing more seasoned older horses. Closer early than was typical for her, she didn't have her usual rally and was 5½ lengths behind winner Spark Of Life.
Back at The Meadowlands on November 21, she rallied furiously to get second in the Miss Liberty Handicap over a fast track. Winner Skipat led from the start, and had a five-length lead with just a furlong left to go. Six Crowns didn't appear to be getting hold of track early on, but then rallied strongly to just miss getting past Skipat, finishing only a neck behind the winner.
Those close finishes at The Meadowlands, first against Water Malone and then facing Skipat, were very frustrating to Rosen, recalled his son Andrew recently. "He was always trying to get that good stakes win" for her, and she tried so hard.
The excellent Miss Liberty effort earned Six Crowns high weight of 123 pounds for Aqueduct's Busher Handicap on December 2; trainer Trovato didn't like the weight assignment and wasn't sure she would run against the likes of old rival Mairzy Doates and G1 winner Plankton. But in she went and she ended up third after dropping back early; winner Croquis carried 114 pounds and second-place Heavenly Ade carried 117.
Just six days later she would make her final career start in the nine-furlong G2 Firenze on December 8. Outrun early, she rushed up to third on the far turn but weakened late to finish fourth, only the second time in her career she failed to finish in the top three.
Speculation that she would be retired had begun even before the race. In Joe Hirsch's column in the Form, Travato said, "The numbers are so big in today's bloodstock market that you simply can't ignore them. She's been a wonderful filly this season. In 12 starts she's finished in the money 11 times, and the only time she missed was in her first grass appearance. Yet there is every indication she can be an even better filly next season. She's grown physically in recent months and there has been emotional growth as well. She's maturing."
Hirsch noted that it didn't really matter how well she could do in 1980 – she was already very valuable as a potential broodmare, given that she was a "beautifully bred, stakes-winning filly".
Six Crowns ended her racing career with five wins in 15 starts, with three seconds and five thirds, for earnings of $136,274. As expected, she proved her value as a broodmare.
Hail to the Chief
Her second foal was Chief's Crown, born in 1982 from the first crop of Danzig. He was named in honor of Carl Rosen, whose nickname was 'The Chief'. Rosen had passed away in August 1983, and Chief's Crown raced for his son, Andrew. As a 2-year-old, the colt won the inaugural Breeders' Cup Juvenile and four other stakes; he earned more money than any other 2-year-old in history to that time ($920,890).
While he failed to win the Triple Crown races for which he was favored, at three Chief's Crown did win the Swale, Flamingo (he passed the post first, was disqualified for interference, then reinstated as winner on appeal), Blue Grass, Travers and Marlboro Cup. It was a glowing resume, but he was passed over for championship honors by Spend A Buck.
In 1985, Six Crowns produced Classic Crown (by Mr Prospector), winner of the G1 Frizette at two and the G1 Gazelle at three for Andrew Rosen; she was trained by D. Wayne Lukas.
A full brother to Chief's Crown was the third-highest priced yearling of 1987, selling for $2.3 million, but he never made the races. Six Crowns' last stakes horse was the G1 placed Tribunal, a foal of 1997.
In total, the mare produced 14 named foals. She is one of only five Secretariat mares to produce two G1 winners (the others were Lady Winborne, Betty's Secret, Partygoer and Weekend Surprise). Her son, Chief's Crown, ensures her legacy with his success as a sire and broodmare sire – he was a hit out of the gate as the leading first-crop sire in 1989. In this classic season, he appears in the pedigrees of Kentucky Derby/Belmont Stakes starter Master Fencer and Irish 2000 Guineas winner Phoenix Of Spain.
"My dad was so excited to breed Chris Evert to Secretariat," said Andrew Rosen. "He always said to me that something special was going to happen with these horses. It's a shame he didn't get to see" how it all turned out. "I am very fortunate to have had the opportunity to have a mare that good and a racehorse as good as Chief's Crown." Add in Classic Crown, and "we were really spoiled!"
Six Crowns outlived her son, as Chief's Crown died in 1997 at age 15 after a paddock accident. On February 14, 2002, the mare was euthanized at age 26 due to the infirmities of old age. She is buried next to her dam, Chris Evert, at Three Chimneys Farm in Kentucky.
Children of Secretariat: click here for links to all 30 articles in Patricia McQueen's series