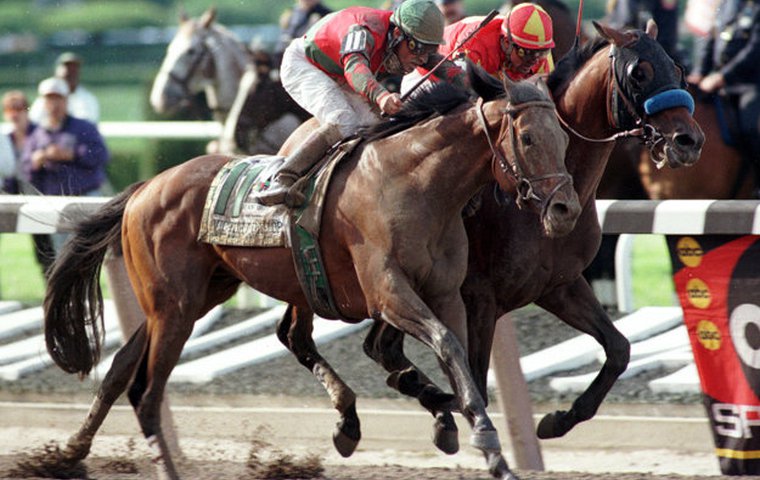 The Triple Crown is the gold standard in American Thoroughbred racing and one of the most elusive prizes in sports. As a result, when the Kentucky Derby winner prevails in the Preakness Stakes at Pimlico Race Course, as California Chrome did this year, the Belmont Stakes changes from a significant historic race to the 1 1/2-mile final exam of the worthiness of a Triple Crown contender.

Each Triple Crown that is decided at Belmont Park is different, but the storylines attached to the event always captivate. With more failures than successes since Gallant Fox's victories in the 1930 Preakness, Kentucky Derby, and Belmont were compared by the New York Times to the long-recognized English Triple Crown of the Epsom Derby, the 2,000 Guineas, and the St Leger Stakes, and the current 36-year gap since Affirmed and Alydar put on their mesmerizing show in 1978, the Belmont Stakes has most often been the domain of spoilers. Mike Kane explores seven runnings of the Belmont Stakes in the last 53 years where a Derby-Preakness winner failed to complete the task at Belmont's "Test of the Champion."
----------
1961 – Sherluck ends the Carry Back Dream
Much like California Chrome, Carry Back entered the 1961 Belmont Stakes with victories in the Kentucky Derby and Preakness, what at first glance appeared to be modest breeding and a decision by his owners not to sell him that was part of tremendous backstory.
With his thrilling come-from-behind running style, durability, and the promotion by his outspoken breeder-trainer Jack Price, Carry Back became known as the "People's Horse" or the "People's Choice." Running in the name of Price's wife, Katherine, he won 21 times in 61 starts during four seasons - including a 10th in the Prix de l'Arc de Triomphe – and earned more than $1.2 million in purses, fourth-highest in history at the time, and was elected to the Hall of Fame in 1975.
Carry Back was out of the winless mare Joppy, who Price acquired for a total of $300, and sired by Saggy for a $400 stud fee. Yet, the little son of Saggy and Joppy turned out to be a hardy competitor, who made his debut in January of his 2-year-old year and raced 21 times in 1960. Late that year he won the Cowdin Stakes; the Garden State Stakes, then the richest race in the country; and the Remsen Stakes, but Hail to Reason was named the 2-year-old champion.
Price said he turned down offers of more than $500,000 for his gritty colt before the start of his 3-year-old season.
"I'm willing to sell him, all right, but my wife doesn't want to," Price said. "I guess she's got to like seeing 'Mrs. Katherine Price's Carry Back' in the headlines.'"
After wins in the Everglades Stakes and the Flamingo Stakes at Hialeah Park, the Prices were offered $800,000 for their colt, who had already earned nearly $400,000.
"Now there's no chance of my selling him," Price said. "I don't need the money anymore. You might say Carry Back has earned the right to stay with us."
Carry Back followed his Hialeah wins with a victory in the Florida Derby and a second in the Wood Memorial. He went off as the 5-to-2 favorite in the Derby and added the Preakness to his resume two weeks later.
Price, a self-made businessman from Cleveland, was a colorful character, who sold his interests in the company to his brothers and retired at the age of 48. With time on his hands, Price turned to training the horses he was breeding on his Ohio farm. He gained possession of Joppy, who had two seconds and earnings of $325 in seven starts, by paying $150 to her owner and forgiving a $150 boarding bill.
Though their names were uninspiring, Saggy and Joppy had some power two generations back in their pedigrees: Equipoise, Hyperion, Blenheim II. Joppy's dam, Miss Fairfax, was sired by Teddy Beau, an undistinguished son of the influential sire Teddy and a half-brother to Hall of Famer Sun Beau. Saggy, won eight of 14 starts and was the only horse to defeat Citation during his Triple Crown winning season of 1948.
The 93rd Belmont Stakes drew a crowd of 51,586 hoping to see the first Triple Crown winner since Citation, but Carry Back, at 2-to-5, could not complete the sweep. Pinned down on the rail early then mired in traffic at the five-eighths pole, he did get clear but was unable to uncork his famous kick and finished 15 lengths behind Sherluck, who paid $132.10. After the race, Price said Carry Back was fine, but the next day the horse turned up lame with an infected cut that apparently happened during the running of the race.
After the Belmont, Price sent a case of Champagne to the press box, as he had after the Derby and Preakness. The card signed "Carry Back" said, "You hailed me in victory. Now drink to me in defeat."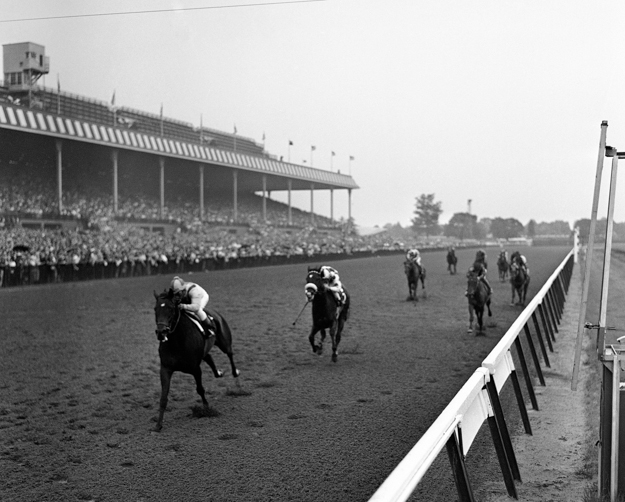 1979 – Spectacular Bid misses a three-peat in a decade of Triple Crowns
Once Secretariat ended the Triple Crown drought at 25 years in 1973, the Derby-Preakness-Belmont sweep changed from impossible to routine. Seattle Slew won in 1977, and Affirmed beat rival Alydar the next year. Spectacular Bid arrived at Belmont Park with a 12-race win streak and was considered a mortal lock to become racing's third consecutive Triple Crown winner.
Whether a bad ride by young jockey Ron Franklin, a mysterious hoof injury caused by stepping on a safety pin, the distance, a super effort by winner Coastal, or a combination of all four, Spectacular Bid lost a three-length lead with a quarter mile to run in the Belmont Stakes and finished third.
Coastal, a son of Majestic Prince, whose Triple Crown bid ended in the Belmont in 1969, had emerged as a top-echelon runner in the previous six weeks. He opened his season with two allowance victories before winning the Peter Pan by 13 lengths. Since Coastal had not been nominated to the Triple Crown races earlier in the year, owner William Haggin Perry had to pay $20,000 supplemental entry fee. He put down $5,000 earlier in the week, but waited until race day before deciding to compete and settling the balance.
A few days before the race, Perry acknowledged that he had doubts about sending his colt into the Belmont.
"Running him against Spectacular Bid," Perry said, "might be kind of foolish."
Turned out that Perry made a brilliant decision and Coastal earned $161,400 for his 3 1/4-length victory over Golden Act, who beat Spectacular Bid, sent off at 3-to-10, by a neck.
After the shocking outcome, outspoken trainer Bud Delp made no excuses for Spectacular Bid's performance, did not blame Franklin for going too fast early and said the colt "just got beat." However, after the colt returned to his home base in Maryland a day later, Delp changed his story and blamed the loss on an injury that came from stepping on the pin in his stall.
Dr. Manny Gilman, an examining veterinarian for the New York Racing Association, Inc. and later a steward, politely challenged Delp's explanation.
"I'm not saying Mr. Delp is telling a story," Gillman said. "All I can tell you is what I saw. The horse came out of the race all right and he came back all right. He also cooled out all right in the testing barn, and he looked perfectly sound this morning when he stepped onto the van here."
Delp said the reason the injury wasn't disclosed until the day after the Belmont was, "We didn't want to appear to be making excuses."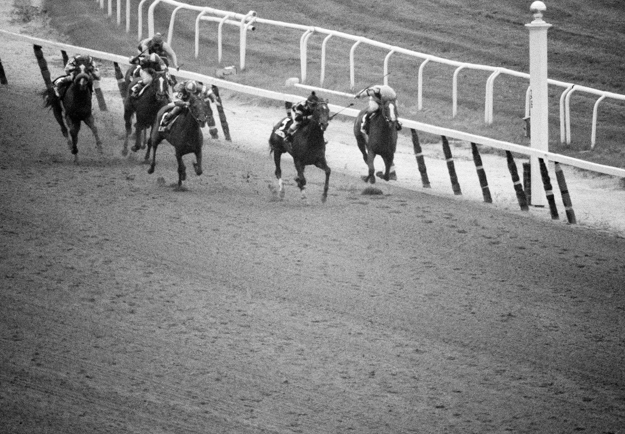 1987 – A change in strategy fells Alysheba
After narrow losses to Alysheba in the Derby and Preakness, Bet Twice and jockey Craig Perret used more aggressive tactics and won the 1987 Belmont Stakes by a whopping 14 lengths. Alysheba finished fourth, not only missing the Triple Crown, but also losing out on the opportunity for a lucrative series bonus.
Bet Twice had the lead at the top of the stretch in the Derby and the Preakness but each time was caught and passed by Alysheba. In the Derby, Alysheba stumbled after clipping heels with Bet Twice, and in a memorable performance regained his footing and prevailed. Hoping to prevent another stretch confrontation, trainer Jimmy Croll, co-owner Bob Levy, and jockey Craig Perret plotted a different approach.
"We had sort of been waiting for Alysheba in the last two races," Levy said. "Before the Belmont, we talked it over and decided for Craig to try to put five or six lengths between him and Alysheba at the quarter pole, rather than wait for him. If he could catch us, well, God bless him, he'd deserve it."
Meanwhile, jockey Chris McCarron was giving Alysheba - running without Lasix, which was still banned in New York - a conservative ride.
"All around the first turn he wanted to run and I wouldn't let him," McCarron said. "I think it was bad judgment because I think I sort of took the heart away from him."
Bet Twice surged to the front on the backstretch, led by 1 1/2 lengths through a mile in 1:38 2/5, was five in front with a quarter of mile to run and had a seven-length advantage at the top of the stretch. Alysheba, the 4-to-5 favorite had to check hard at the top of the stretch when he ran up onto the heels of the tiring Gone West, who was unable to give trainer Woody Stephens a sixth-straight Belmont victory.
''It might have cost us second money, but we weren't going to beat the winner,'' Alysheba's trainer, Jack Van Berg said. ''If one guy won every race, there'd be no racing. This is a sport, and you've got to be a sport when you lose.''
1989 - Easy Goer finally delivers the knockout
In 1989, Sunday Silence and Easy Goer owned the show. Trained by 76-year-old Hall of Famer Charlie Whittingham, Sunday Silence was the star from the West with victories in the San Felipe Stakes and Santa Anita Derby. Easy Goer was the eastern standout trained by future Hall of Famer Shug McGaughey.
Sunday Silence, a nimble son of Halo, made the decisive move on the second turn of the Derby while Easy Goer was laboring over the track and won by 2 1/2 lengths in 2:05, the slowest time in 31 years. In the Preakness, powerful Easy Goer had a two-length lead over his rival through six furlongs, but Sunday Silence responded and they battled through the stretch far in front of the others. Sunday Silence won by a neck, surviving a claim of foul by Easy Goer's jockey, Pat Day, in the third-fastest Preakness time in history: 1:53 4/5.
While none was needed, Sunday Silence's jockey, Patrick Valenzuela added some accelerant to the fire while talking about the foul claim: ''I think this puts to rest the talk that Easy Goer is the better horse. I think his horse was overrated and mine was underrated."
McGaughey wasn't buying into that assessment. His faith in the horse was a bit shaken after the Derby and Preakness, but he expected Easy Goer to be at his best on his home track.
"He had trained so well here and done so good around here that I couldn't imagine why he wouldn't run good," McGaughey said. "When you try one twice and get beat twice you don't have as much confidence as you did before you raced against him. But only an inch separated us in the Preakness, so I felt like we were at least equal to him."
The Sunday Silence-Easy Goer showdown at Belmont drew a crowd of 64,959, the largest crowd for the race since 65,417 turned out to see Affirmed nip Aydar. There was no drama in the stretch this time. Easy Goer, a son of Alydar, blew past Sunday Silence on the second sweeping turn and won by eight lengths. His winning time of 2:26 - matched by A.P. Indy in 1992 - is the second fastest in race history.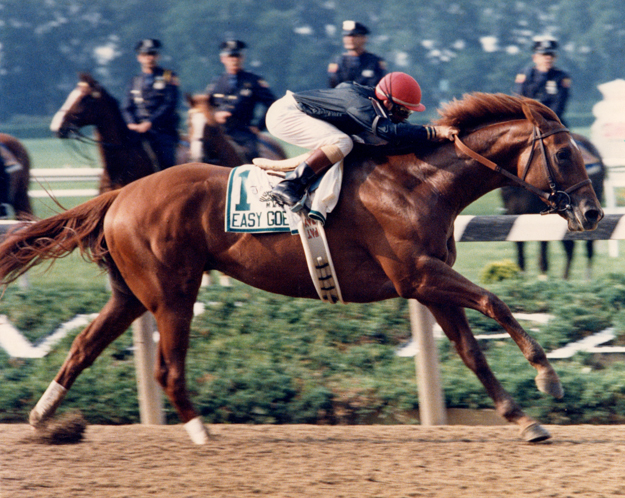 1998 - Another disappointment for Baffert
When Real Quiet and Victory Gallop reached the wire together at the end of the 1998 Belmont Stakes, no one - certainly not track announcer Tom Durkin - was sure who had won.
"It's too close to call," Durkin bellowed. "Was it Real Quiet or was it Victory Gallop? A picture is worth a thousand words and this photo is worth $5 million. Oh, no. History in the waiting. On hold until we get that photo finish."
Amid the chatter about who won were questions about whether bumping had taken place and if one of the horses might be disqualified. Might the stewards have to DQ a Triple Crown winner, who would lose a hefty bonus?
The photo-finish image provided the answer: Victory Gallop had won by a nose. The head-on video showed that jockey Kent Desormeaux had jerked Real Quiet's head to the right, to make him aware of Victory Gallop, which caused some contact before the wire. Since the guilty party had finished second, the stewards did not have to make a call, but they issued a statement saying that they would have disqualified Real Quiet if he had finished first.
Victory Gallop's trainer Ellliott Walden changed his strategy for the Belmont after realizing that his colt couldn't match Real Quiet's mid-race surge.
''We felt we had to let Real Quiet make his move, and weather the storm,'' Walden said. ''Don't try to go with him. He has such a tremendous burst, but let him go ahead and exert that energy and then see if we can come pick up the pieces late. That's exactly how it worked out."
For the second consecutive year, trainer Bob Baffert saw his horse turn into the stretch with the lead and a solid chance to take the Triple Crown. In 1997, Touch Gold snatched victory away from Baffert's Silver Charm and won by three-quarters of a length.
Facing questions that Desormeaux had moved too early, Baffert defended his jockey. After hearing about the stewards' comments, Baffert said he was happy that the race was decided on the track and not by a DQ.
"I'm glad he got beat," Baffet said. "That would have been worse. I would have been throwing chairs."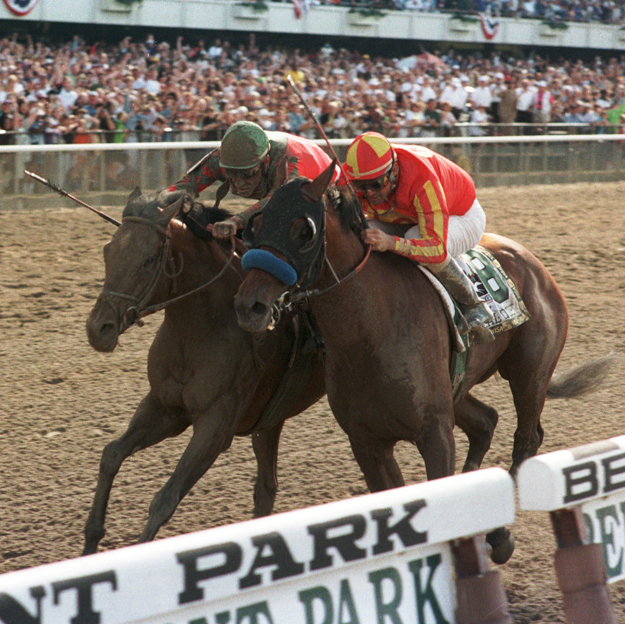 2003 - No fairy tale ending for Funny Cide
Funny Cide and his gang of everyman owners were so popular that Empire Maker was booed after his victory in 2003. The less-than polite reaction of many in the crowd of 101,864 didn't bother Hall of Fame trainer Bobby Frankel. He relished playing the villian
''You know what, I don't feel bad right now, to tell you the truth,'' Frankel said. ''I feel great. I won the race and that's what I wanted. I was thinking about the race all week and I was really, really confident."
Frankel entered the year believing that Empire Maker would win the Triple Crown, so stopping one was a satisfying substitute. As Frankel expected, the Juddmonte Farms colt delivered a big performance under jockey Jerry Bailey over the sloppy track on a grim, rainy day. He won by three-quarters of a length over Ten Most Wanted, while Funny Cide was third, another 4 1/2 lengths back.
"It's probably the most excited I've been in winning a race," Frankel said. "If anybody ever asked, 'What's your biggest thrill in racing?' This would be it because of the lead-up to the race with Funny Cide and New York and big crowds and everything.
"I just wanted to win so badly that I didn't care about [Funny Cide] winning [the Triple Crown]. I just wanted to prove that we had the better horse… I didn't think I could get beat."
Empire Maker handled Funny Cide in the Wood Memorial, but came out of the race with a bruised foot. Frankel lightened up on his training, and the Unbridled colt finished second to Funny Cide in the Derby.
American sports fans quickly fell in love with the story of Funny Cide's wholesome, outgoing owners of Sackatoga Stable and the horse they bought for $75,000. The ownership group rode from their Louisville hotel to Churchill Downs in a yellow school bus because it was the cheapest option it could find. After his Derby win, they still rented school buses for the Preakness and Belmont Stakes.
''What happened in the Derby was I played it real close because I was thinking too far ahead,'' Frankel said. ''I didn't really train him too hard. With him missing a day of training because of his bruised foot and with the way I trained him that week, it was too much for him to overcome. They call it a do-over. If I could do it over again, he would have won the Derby.''
Frankel skipped the Preakness with Empire Maker and waited for the Belmont. Funny Cide, the first New York-bred in history and the first gelding since 1929 to win the Derby, took the Preakness by 9 3/4 lengths. After a very fast work earlier in the week, Funny Cide went right to the lead in the Belmont under jockey Jose Santos. Sitting back a few lengths behind, Bailey realized that the race was his.
"When I turned up the backside, I knew I had Funny Cide," Bailey said. "He was pulling on Jose and my horse was very relaxed and that's the whole key going a mile and a half."
Bailey and Empire Maker pounced on Funny Cide on the second turn and took the lead between the three-eighths pole and quarter pole and delivered the first and only Triple Crown race victory of Frankel's distinguished career.
Sackatoga Stable's 10 owners and their group of 300 family members and friends wiped away tears and headed off to a party that would be held regardless of the outcome of the race.
"Empire Maker beat us today, but we beat him in the Derby," said Jack Knowlton, Sackatoga Stable's managing partner. "I think everybody in the world wants to win the Derby. Everybody remembers who wins the Kentucky Derby a lot more than who wins the Belmont."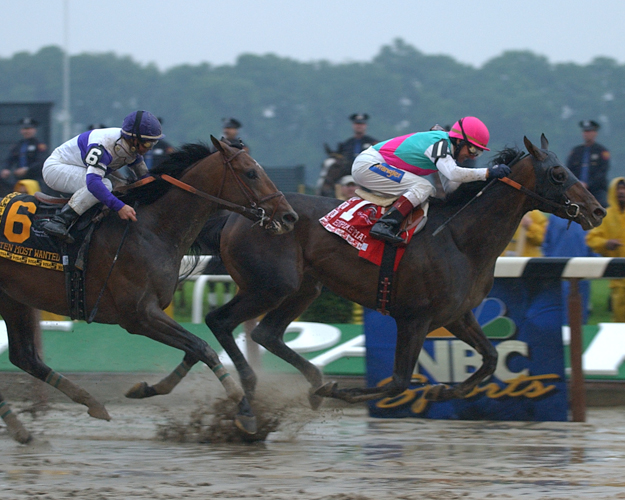 2004 – Apologies after Birdstone fells Smarty Jones
Birdstone's upset victory over Smarty Jones in the 2004 Belmont Stakes produced an unusual reaction from his owners, trainer, and jockey: heartfelt apologies for stopping a Triple Crown bid.
As they galloped out past the wire, Birdstone's rider, Edgar Prado, called out to Stewart Elliott, who was aboard Smarty Jones.
"I'm sorry, my friend," Prado said. "I really mean it."
In 2002, Prado had ridden long shot Sarava to a Triple Crown-denying win over speedy War Emblem, whose chances of completing the sweep were dashed when he stumbled to his knees leaving the gate. This was a different situation. Smarty Jones was unbeaten, extremely popular, and seemed well on his way to the Triple Crown before Birdstone caught and passed him near the finish line.
The dramatic stretch run had been played out in front of a record crowd of 120,139 that watched Marylou Whitney's little homebred colt methodically overtake the leader. Birdstone, 36-to-1 in the wagering, won by a length and paid $74. There was some booing by spectators unhappy that they did not see a Triple Crown winner. Birdstone was the product of Whitney's desire to rebuild the blueblood family's breeding and racing program, while Smarty Jones was a blue-collar type, bred and owned by Philadelphia car dealer Roy Chapman and his wife, Pat.
Whitney and her husband, John Hendrickson, were reserved in the interview room after Birdstone's victory.
"I'm sorry, sorry, sorry Smarty Jones couldn't win," she said. "We do love Smarty, and I think Smarty Jones has done more for the racing community and people who love horses. It gives everyone the chance to think, 'This could happen to me.'"
Birdstone's trainer, Nick Zito, had been second in the Belmont Stakes five times with 12 starters and said he would have been happy with a sixth runner-up finish.
When pressed early in the race, Smarty Jones took the bait and ran too hard, which sapped his energy and left him unable to respond when Birdstone arrived.
''I thought maybe if he gets on the lead by himself, and he'll relax, which he might have, but you know I had a horse on the inside,'' Elliott said. ''Then I had a horse on the outside, then a horse on the inside again. So he never got that chance.''