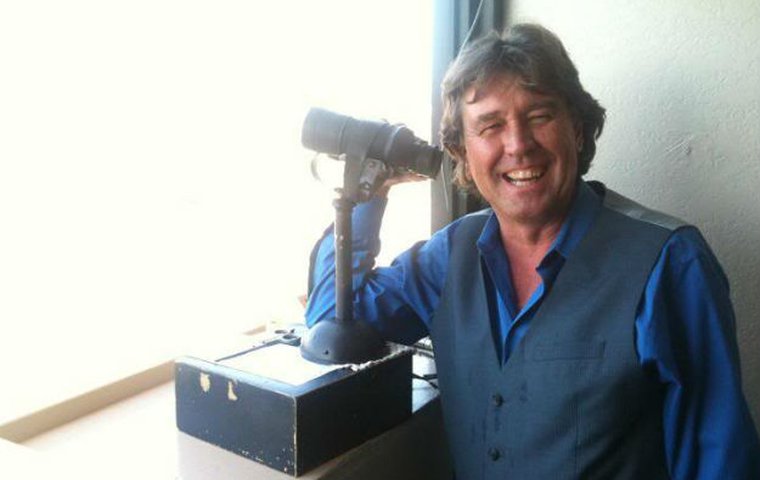 On opening day of Santa Anita's current winter-spring meet, most of the familiar elements were in place: swollen crowds and top-notch racing delivered beneath unseasonably pristine skies. But one essential ingredient was noticeable for its absence - that of long-time Santa Anita race-caller Trevor Denman.

This year was the first since 1984 that Denman's voice has been missing as Santa Anita begins to usher out the old to make way for the new.
Earlier this month, Denman announced he was stepping down after a much-celebrated 33 year-stint as the voice of Santa Anita, though he will continue to call races during Del Mar's two annual meets in the summer and fall.
But it's not only races that Denman reads voraciously. He will spend the intervening months in splendid isolation at home on his farm in Minnesota working on academic research projects - the continuation of a lifelong appreciation for the sciences and the humanities, namely philosophy, history and literature.
A native of Durban, South Africa, Denman moved to the United States in 1983, where recognition came quickly. Within months of calling his first race at Santa Anita in the fall that year, he was snapped up full-time by the track.
Since then, he's established his pre-eminence in the field both here and beyond, his distinctive style — razor-sharp insights delivered with revving-engine urgency — as familiar now to racegoers as the win, place and show. The snappy Denman epigrams ("This Is Unbelievable!" and "away they go") are also too numerous to list in full.
With his workload significantly lessened, Daniel Ross asked Denman to reflect on his career in an industry he has served for 44 years - a career in which he says he has "literally no regrets – not one".
Q. You've called races at Santa Anita for 33 years. Confined to taking the memory of only one solitary race from that period, what race would you single out?
A. Undoubtedly, Zenyatta winning the Breeders' Cup Classic [at Santa Anita in 2009]. That Breeders' Cup Classic was just fantasy. I've never experienced a reception like it. It's very, very rare in horse racing that you get almost 100 percent of everybody behind one horse. I think even the people who lost a bet were still in awe of her and cheered for her. I've never heard a reception like it when she came back.
Which horse would you single out?
Again, Zenyatta. She was the most thrilling. She was probably lucky that her running style led to goose-bumps in the finish. If a horse goes straight to the front and wins, or sits third and wins, like some of the great horses, they're not as dramatic as Zenyatta. It's so rare for you to get a horse to come out of the clouds like that.
And, when they do, they don't leave it to the last 50 yards. But she used to do it all the time. She looked like she couldn't win half the time. And she was so enormous, with a great character. She might not be the fastest horse I've ever seen, but she's the most thrilling horse I've ever seen. And she knew how to work the crowds. She did that right foot thing, as in, 'come on, you can do better than that'. And the crowd just went bonkers.
There probably will never get another horse like this. Zenyatta had everything going for her.
What moment would you single out?
This makes it a hat-trick for Zenyatta! When she ran that last eighth of a mile in the Classic.
Looking back over your career, what are most proud of?
Having brought the welfare of the horses to the forefront. When I arrived here, the whipping and the whips were diabolical. It is much better now. I was in the vanguard, behind Grace Belcuore [who established the California Equine Retirement Foundation in 1986], of aiding retired racehorses as well. There were almost no retired racehorse shelters in the 1980s. There are plenty now.
How did you get involved in the issue of animal welfare?
When I first came here, I couldn't believe they didn't have a retirement program. Grace Belcuore was the one who got everything going. She brought me on board as a spokesperson, and of course, I was very positive about it.
In the early days it was hard work. That was in 1985. My goodness, how things have changed. Now, these retirement horse farms are a dime a dozen, and the racetracks all help out. But to begin with, you were changing people's perceptions.
One rich guy I went to, he said, 'I'm not paying for other people's problems'. That's like saying: 'I'm not giving money to an orphanage because that's someone else's problems.' You were hitting them with a concept that they hadn't heard before. But they came around, and now it's 100 times better.
What person has had the greatest impact on your career?
Alan Balch [former senior vice president of marketing and assistant general manager at Santa Anita]. He had the sagacity to give a complete outsider a chance at Santa Anita.
How did your hiring come about?
I wanted to get out of South Africa, and I came to San Francisco to call a jockeys' international race. But I knew some trainers in LA, and stopped by Santa Anita and asked, 'can I call a race?' There had been a guy who had been in South Africa. So, Alan Balch called him and said, 'you were in South Africa, do you know this guy?' He replied, 'yes, geez, I know him. Let him call a race.'
So Alan let me call the race. And the next day, he sends some guy up into the grandstands who says, 'Alan Balch would like you to go see him'. And he let me call another race on the second day. I went back to South Africa and two weeks later I got a letter saying, 'hey, if you're interested in the job, let me know'.
The first few weeks were tough because, of course, people don't like change. It wasn't just a new announcer but a new accent. The first month was tough, but after that, it went very smoothly.
Did you shape some of your more memorable moments as a race-caller before the occasion, or were they spontaneous?
All my calls are totally spontaneous. I know some announcers pre-plan their calls, but to me it sounds phony when they are pre-planned. It has to be intrinsic, visceral for me.
What's the most difficult aspect of your job?
Staying focused for every race. I give 100 percent to every race no matter how minor it may be. One cannot become complacent.
What advice do you have for emerging race-callers?
No matter who you are, you are going to need some luck in getting the right job. It's the nature of the game. Try to learn about horses and racing. Visit the backstretch and soak up everything people tell you.
Racing is the only sport where the announcer is not necessarily an expert on the game. Become an expert. Knowledge of the game is so much more important than the voice.
You've mentioned how racing has made notable improvements in animal welfare (in whip use and aftercare, for example). What still needs to be done to improve horse welfare in the sport?
The claiming game needs to change. When a horse takes a big drop in class it almost always has a major problem. It is just so callous to say, 'there is something wrong with my horse, you take him'. One is risking the horse's life.
There should be a rule where you can only drop a horse one level at a time. America needs to catch up with the rest of the world on animal welfare. I know people don't want to hear that, but it is the truth and needs to be said.
I can speak first hand of England and South Africa. I own two racehorses in South Africa. If they just looked at you funny, they'd be scratched. One kicked the stall once, and he was off for three months with just a little bruising.
Somewhere along the line, America lost touch with horse care — not everyone, of course — but we need to be pulled back into line so that we treat horses more humanely.
Your race-calling career spans 44 years. During that time, in what area has horse racing made its greatest strides forward?
Ironically enough, probably in horse welfare. The days of nerving horses are over and there is a movement now to save retired racehorses, which there never was before.
In what area has horse racing made its most significant strides backwards?
The game has become a numbers game. The new handicapper often has no idea about horseflesh, it's just 'what figure does he have?'
In this year's Breeders' Cup Classic, I saw the selections of 14 highly respected handicappers and only four selected American Pharoah. Had he had the highest figures, they probably all would have selected him. The people who did not select him had no idea that they were looking at one of the best horses in decades.
To them, American Pharoah had four legs and a tail, just like all other horses. It's sad for racing.
Aside from your work at Del Mar, what does the future hold?
First, some time off. No pressures. Down the road I will do research into subjects that interest me and see what new adventures I can get into. I'll pursue my motto of 'what's the meaning of life - a meaningful life?'
I'm huge into the Teaching Company, which gives university courses on tape. I've got two or three with me at any one time.
I'm vegetarian, 99 percent vegan and the biggest project I'm doing research into right now is the vegetarianism of the Church Fathers and the Desert Fathers. The Desert Fathers were almost unanimously vegetarian. The Church Fathers, it's much harder to find out if they were. I'm making very good progress. I've found out a large number who were [vegetarian]. It's heavy going reading their writings. You have to read 50 pages to get one piece of relevant information. It's hard going, but I enjoy doing it.
Who do you admire most outside of horse racing?
Apart from my wife, my top 10 of the deceased, chronologically, would be Pythagoras, Epicurus, Seneca, Leonardo Da Vinci, Galileo, Voltaire, Thomas Paine, Percy Shelley, Gandhi and Nelson Mandella. You could throw Tolstoy in there too. I do not have a living hero, but Neil deGrasse [Tyson] would come closest.
You're stranded on a desert island with only one book. Given a choice, what book would it be?
The Demon Haunted World by Carl Sagan. If everybody lived their lives by what Carl Sagan says in there, man it would be a much better world. He's just so pragmatic.