The Prix de l'Arc de Triomphe is the world's most coveted horserace. How and why this came about is still debatable. Maybe it was its position in the calendar. Maybe it was its title: named after the monument that commemorates Napoleon's victories, it simply does not offer space above it. Maybe it was Paris. We shouldn't underestimate the effect on racing's opinion formers of their annual pilgrimages to the world's most elegant capital.

It's also the only one of the world's great all-aged races that has a recognised set of trials. Like the Arc, Sunday's three precursors will be run at Longchamp over the Arc distance of 2,400 metres (12 furlongs), and are prestigious in their own right. Their prestige, however, is based almost solely on what they tell us about what could happen three weeks later when the race almost everyone outside the United States now regards as the summit of racing achievement takes place.
The trials themselves raise their own questions, the biggest being the question of how much has been left to work on by the trainers of the fancied horses. The second biggest is the question of how horses who have distinguished themselves in the trials, usually run on good ground, will fare if the going turns soft for the main event, which it often does by early October.
Of course, Arc discussions have already begun. They usually begin before the European Classics have even been completed. This year, however, they began before any of the classics had even been run. What started them was the reappearance in the G1 Prix Ganay at Longchamp at the end of April of last year's dazzling Arc winner, the apparently invincible Treve.
Unbeaten as a 3-year-old, the daughter of Motivator had been so overwhelmingly the best on the first Sunday of October 2013 that it was widely assumed the Ganay would be a victory lap - the start of a new campaign that would lead to the first Arc repeat victory since Alleged in 1977-78.
However, those who made the assumption reckoned without Cirrus des Aigles, on his favourite course, over his perfect trip (10 furlongs), on his perfect ground, and with two preps under his belt. The Ganay was an extraordinary race. At least twice, maybe three times, Treve got her nose in front in the straight, almost inviting the rugged old gelding to crack, but Cirrus des Aigles doesn't do that when he gets his conditions - once it was only by a length and a half that he succumbed to Frankel - and in the end, it was the filly who finally emptied.
Never mind, thought Treve's idolaters. It was understandable in the circumstances. When she comes out again for the Prince of Wales at Ascot, she'll show her brilliance is undimmed.
Again there were excuses when she didn't. Perhaps it was the fast ground. Perhaps the 10-furlong trip was now too short for her. Perhaps she injured herself on the flight from France in a way that didn't show up until the race. There were even thoughts that the battle with the redoubtable Cirrus might have sapped her will.
Harry Herbert, racing adviser to Qatar's Sheikh Joaan, in whose colours Treve won her Arc (this year the name has changed to Al Shaqab, but the ownership remains the same) won't have anything to do with that last suggestion.
"She came back after the race with a very sore back and she was footsore, too," Herbert said. "That was obviously the reason she ran as she did, but she still tried her guts out, and in the end it wasn't exactly a bad performance to finish third behind two very good older horses as she did. The vet, Duncan Moir, made the diagnosis and Frankie [Dettori] was adamant that she never felt like herself. Maybe she'd lashed out on the way over or in the van or something. But anyway, she just was not herself."
Immediately, though, objective analysts and those who just love to debunk anything laden with superlatives began to look for Arc alternatives, and they were not hard to find.
As they turned in startling performances of their own, the Derby winner Australia, the German Derby winner Sea The Moon, the King George winner Taghrooda, the Prix de Diane winner Avenir Certain, and the three lurking "Beasts from the East" - Just A Way, Gold Ship, and Harp Star - all got mentions in debate.
Treve, meanwhile, slipped from all but loyal minds. From being the one it was hard to imagine getting beaten, even if she didn't make normal improvement from 3 to 4, she became the forgotten superstar. What has happened to her since that dark day at Ascot?
Herbert, just back in England after visiting Treve at Criquette Head-Maarek's yard, had no doubts at all last week about her well-being.
"She recovered quickly after a rest, and since then there has been a huge and remarkable transformation in her condition," Herbert said. "She's like a flower that's just blossomed in the summer. From a physical perspective, she looks absolutely fantastic, far better than she did at Royal Ascot and far better than she's ever been."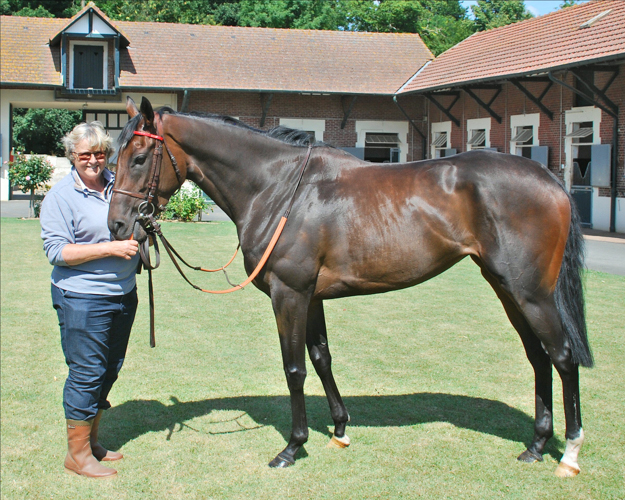 Criquette Head-Maarek confirms the Herbert view: "The back injury was not too serious and, after she came back from Ascot, I gave her three weeks' rest. Since then, she has improved fantastically in her physical condition. She's put on weight and she's more relaxed than she was last year. Last week, she did a very good piece of work indeed and she hasn't worked too hard since then. The (G1) Prix Vermeille on Sunday will be her next race. In a way, it will be a prep because it's always better to have a prep before the main target after a long time off the course. But she is very nearly ready."
The Vermeille, for fillies and mares, is often seen as the final leg of the French fillies' triple crown - the first two being the Prix Poule d'Essai des Pouliches (French 1,000 Guineas) over a mile in May and the Prix de Diane (French Oaks) over 10 ½ furlongs in June. Whether it's the most significant of the Arc trials is open to doubt, but in a year like this it may be.
Last year, Treve became the sixth to complete the Vermeille-Arc double. This year, Treve will meet a real test from the unbeaten Avenir Certain, a filly who brings to the trial much the same unbeaten profile Treve arrived with last year, and from others, though not including Japan's putative super-filly, Harp Star, who like her compatriots Just A Way and Gold Ship will not be arriving in France until Sept. 20.
Another possible opponent on Sunday with serious credentials is Tapestry, who got the better of Taghrooda in the G1 Yorkshire Oaks last month, although she may run instead in Saturday's G1 Matron Stakes over the possibly less suitable trip of mile at Leopardstown, part of the Irish Champions Weekend, which the filly's owners, Coolmore, are anxious to support.
There is a strong theory that the weight for age scale (and the 3-pound sex allowance) gives 3-year-old fillies a great advantage in the Arc itself - and that now, as a 4-year-old, Treve will find life more difficult, just as she made it nearly impossible for her opponents last year.
The facts, however, barely support that theory, if they support it at all. In the last decade only three 3-year-old fillies have won the Arc. These were Zarkava, Danedream, and Treve, and all were exceptional by any standard. What's more, they would very probably have won their Arcs with a lesser weight allowance than those of their age and sex receive from their elders. (11 pounds from older males, 8 pounds from older females). So the concession of weight may not be insurmountable.
The downside for Treve supporters is the fact that only four 4-year-old fillies - Ivanjica in 1976, All Along in 1983, Urban Sea in 1993, and Solemia in 2012 (who was lucky to have beaten the mind-wandering Orfevre) - have been successful in the Arc since Allez France 40 years ago.
Of course, exceptional horses, exceptional talents in any sport, can make nonsense of statistics; but statistics are always worth examining particularly when it comes to trials.
Of the other two trials on Sunday, winners of the Prix Foy (for older horses) have by far the least impressive record in the real thing, a stat that demonstrates both the frequency of retirement of top 3-year-olds and the enormity of the task for a 4-year-old at the weights. Only Allez France in 1974 (using the Foy as her trial before the Vermeille was opened to older fillies) and Sagace (1984) have gone on from the Foy to win again three weeks later.
Sunday's entries include last year's Epsom Derby winner Ruler Of The World, who has not been seen since a below-par run in the Dubai World Cup in March, and fellow Ballydoyle stablemates Magician (winner of last year's Breeders' Cup Turf) and Kingsbarns. Expect at least one of them to run. Grand Prix de Saint-Cloud scorer Spiritjim is another possible.
On the other hand, the other trial on Sunday, the Prix Niel, has produced no fewer than 12 winning colts who have gone on to win the Arc in the same year - but oddly, not one since Rail Link in 2006. Does that mean we're due for a 13th? Supporters of Sea The Moon and other 3-year-old colts will hope so.
Coolmore's recent G1 Secretariat Stakes winner Adelaide is a possible on Sunday, along with Ectot, the probable favourite and the likely mount of Frankie Dettori after Al Shaqab recently bought a half-share in him.
There are other Arc trials elsewhere. It may be something of an insult to suggest that Germany's greatest race, the Grosser Preis von Baden (12 furlongs), should be regarded as a trial for anything. But it has been used as a stepping stone in the past, notably by Marienbard (2004) and Danedream. Last week it shook up the market when Sea The Moon failed to hold off Ivanhowe, who has now joined the others who've been chewed over for many months more as possible Arc winners.
The Irish would be equally put out by the notion that Saturday's Irish Champion Stakes (10 furlongs), centrepiece of the Irish Champions Weekend, is anything but an end in itself, but really it's generally regarded as an Arc trial too. This time Australia renews York rivalry with The Grey Gatsby, and a special performance from either, or both, may see them in the Bois de Boulogne on Oct. 5.
But the trial that will surely draw most attention is the Vermeille - and mainly because of Treve. This will not just be because of her own reputation but because of the fact that three-time Arc winning jockey Frankie Dettori, her partner in the Ganay and at Ascot, has been replaced at Criquette Head-Maarek's request by Thierry Jarnet. We are assured that no insult to Dettori is implied. Jarnet rides Treve in all her work and is probably not far from being her best friend.
Suddenly she's the forgotten star no more. Suddenly - after recent defeats for Sea The Moon and Taghrooda and the general expectation that Australia will not run over as far as a mile and a half again - she's Arc favourite once more. After the twin disappointments this year, though, there still has to be much uncertainty.
Dettori, of course, will now be hoping for something encouraging from Ectot in the Niel to keep his Arc hopes alive.
The Arc trials have always asked almost as many questions as they've answered. That's their nature, and their fascination.
One thing we can be sure about is that the crowd at Longchamp will be relatively small, made up mostly of the cognoscenti and a heavy contingent from the international media. (The French themselves aren't great racegoers, not even on the most interesting days). There will be no scrum to get in, no obstructions to those who wish to view the statue of Gladiateur (French-trained winner of the Derby at Epsom in 1865 and immediately dubbed "the Avenger of Waterloo") that adorns the lawn in front of the main wrought-iron gates.
Whether the overall crowd will surpass the 7,800 who were already queueing outside Sapporo Racecourse in Northern Japan when its gates opened at 8:30 a.m. on the day Harp Star beat Gold Ship in their final home prep last month probably depends on the weather. But what doesn't is the number of words that will be produced in the immediate aftermath of Sunday's three trials at Longchamp, or the amount of head scratching they will engender.