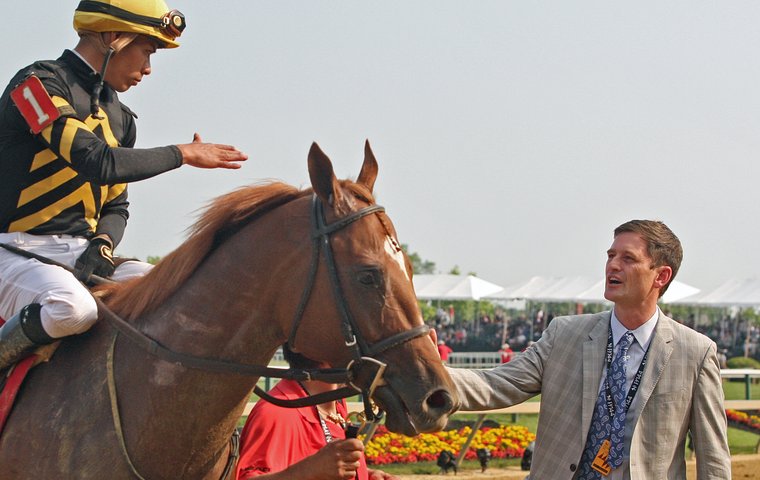 Two-time Kentucky Derby winning trainer Doug O'Neill is the first to note that his barn succeeds thanks to team work. That's why it was particularly difficult for O'Neill to lose instrumental team member Jack Sisterson when the bright young assistant left to train on his own. But both men knew it was time: Sisterson had an offer he couldn't refuse.

The legendary Calumet Farm had approached, promising the 33-year-old his own string of 50 horses in May, 2018. "We miss him a ton, but he was ready, maybe even over-ready to go on his own," O'Neill said. "He couldn't have landed a better job."
The offer was the culmination of years of working towards a goal. Sisterson, who grew up in Durham, England, always had racehorses. "My family had horses on a very cheap level," he said. "I can remember it was always in my blood to have a future in it. I fell in love with the sport on day one."
Sisterson learned to ride with his sisters, while also pursuing soccer. "I wanted to be a jockey and held onto that dream as long as possible, but it went out the window when I started to grow. I wanted it so much that I put bricks on my head at one point, hoping to stop my growth." Sisterson, who is long and lanky, finally turned full time to soccer. "It got to a point where soccer took over."
Kentucky Derby celebration
He landed a dream scholarship to the University of Louisville, where he could pursue playing forward on the college's soccer team while attending their Equine Industry Program as well. Just down the street from the university is Churchill Downs, where Michael McCarthy, now on his own with horses like City Of Light to his credit, was the assistant trainer for Todd Pletcher.
"I remember it like it was yesterday," Sisterson said of starting work for Pletcher and McCarthy. "The rest is history."
His soccer career finished – Sisterson has questionable knees that now make it difficult to even ride - he transferred to the O'Neill barn in time to meet an unraced 2-year-old named I'll Have Another. Less than a year later, Sisterson took the son of Flower Alley to the Kentucky Derby and found himself in the winner's circle, celebrating with roses.
After I'll Have Another won both the Derby and Preakness Stakes, Sisterson was among the barn's team members that walked alongside the scratched Triple Crown hopeful during a bittersweet parade at Belmont Park. I'll Have Another would have been favored in the Belmont Stakes. Instead, injury led to his early retirement.
Next came Breeders' Cup winner Goldencents, then unbeaten 2-year-old champion Nyquist. Sisterson was regularly seen ponying Nyquist to the track before the bay colt's win in the 2016 Kentucky Derby, just four years after I'll Have Another. After a brief stint in the sales world, Sisterson returned to O'Neill.
"I got to really walk the walk with every horse," Sisterson said. "Every step they stepped, I was stepping with them. I accompanied alongside on the pony during training, then led them over in the afternoon to race. It was a huge learning curve for me, but I'm very grateful for Nyquist, Goldencents and I'll Have Another."
Only two years after that came the chance to work for Calumet. First established in 1924, Calumet has been home to Bull Lea, Whirlaway, Twilight Tear, and Citation. It has since undergone two major ownership changes, most recently in 2012 with Brad Kelley currently heading the operation. O'Neill trained a handful of Calumet horses, which was Sisterson's first connection with the renowned operation.
In the spring of 2018, Sisterson had a string of O'Neill's horses at Keeneland, which sits beside Calumet Farm in Lexington. The young assistant took classy 3-year-old Blended Citizen to Belmont Park in New York for the G2 Peter Pan Stakes on May 12; Blended Citizen won in what was Sisterson's final act for Team O'Neill.
"I moved back to Keeneland and started training for them right after that," Sisterson said. Three months later, homebred Next Dance became his first winner, scoring at Belterra Park.
Different characteristics
Sisterson had four winners in 2018, including New York stakes winner Oxy Lady. She finished fourth in the G1 Starlet Stakes at Los Alamitos to wrap up Sisterson's first season. He has since had 13 more wins, including three G3 victories in 60 days with Lexitonian, Coachwhip, and Bandua, who later ran third in the G1 Arlington Million.
Lexitonian came first, taking the Chick Lang Stakes by a head on the Preakness undercard May 18. The chestnut son of Speightstown has since added the Concern Stakes at Laurel Park. Coachwhip followed on June 1 by taking the Arlington Matron by 3½ lengths. Bandua followed in the G3 Arlington Handicap on July 13. A $150,000 Keeneland November weanling purchase by The Factor, Coachwhip was knocking on the door for a breakthrough win. He was G1-placed last year at Arlington Park while under the care of Dermot Weld, and had been second and fourth in Graded company in 2019.
Sisterton was on the mark again at Arlington eight days ago, when the promising 2-year-old Flap Jack was a four-length winner of the listed Arlington-Washington Futurity under fellow Brit Sophie Doyle.
"I love them all," Sisterson said. "I am at the barn at 3am every morning and I feed them myself. Every horse has different characteristics. One might be a 'morning person' and get so happy to be fed breakfast. You love each one, whether they are competing at the lowest or the highest level."
And Sisterson hasn't forgotten where he began. "I thank Doug every day via text. If it wasn't for him, I wouldn't be here," he said. "He forced me to make mistakes so that I could learn. I prefer being thrown in the deep end, that's how you grow. He put me in positions to make last minute decisions, and I really benefited from that. I got to work with Kentucky Derby winners and Breeders' Cup winners, as well as claiming horses. I experienced the highs and the lows. Doug is probably sick of me texting him thanks."
But O'Neill is following Sisterson's career with genuine interest. "He's a family member. It's like seeing your brother do really well," he said. "He's got a great work ethic and he's a natural with the horses. You can tell he's been around them his whole life."
The quality that O'Neill admires most is Sisterson's ability to separate each horse as an individual. "They aren't machines, they can get off form a little bit. Jack's a patient guy, he really tries to learn every horse and what their strengths are, what they might need to be a better athlete. I couldn't say more good things about him."
Sisterson is more than willing to put the work in to succeed. "No matter what, strive to do your best with anything in life," he said. "Put your head down, set goals, and really achieve the standard you've set for yourself. I have a vision, and Calumet fortunately provides for that vision. It's up to me to execute that."