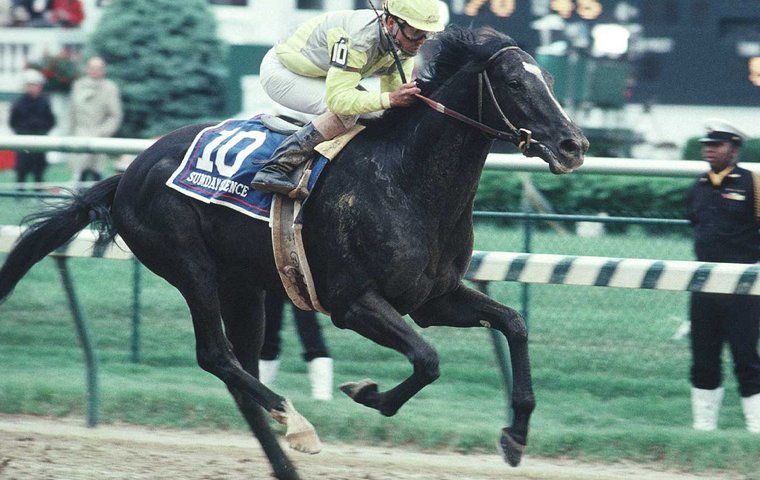 As befits what was by far the richest race of the week, the $675,000-to-the-winner G1 Queen Elizabeth Cup at Kyoto in Japan was where it was all at as far as the latest TRC Global Rankings are concerned. And, beyond that, Sunday's race illustrated in incredible detail the awesome legacy of the mighty Sunday Silence

The winner, Queens Ring, and the neck runner-up, Sing With Joy, are both daughters of Japanese stallion Manhattan Cafe, who was the week's biggest points gainer in the rankings (+8pts, which shot him up from #264 to #171 in the sires' standings). Manhattan Cafe is a triple G1-winning son of Sunday Silence.
The third, Mikki Queen, is a daughter of Deep Impact, who of course is a son of Sunday Silence. The fourth, Pearl Code, is by Victoire Pisa, who is a son of Neo Universe, who is a son of Sunday Silence. And so on. There were 15 runners in the race (over a mile and three furlongs for fillies and mares). Thirteen of them were granddaughters of the 1989 Kentucky Derby, Preakness and Breeders' Cup Classic winner (one on the dam's side) and one was a great-granddaughter.
Only one runner was not closely related to the legendary stallion, who was exported to Japan because he didn't appeal to American breeders. She finished 11th.
The Queen Elizabeth also produced the week's other eight-point gainer - Queens Ring's trainer, Keiji Yoshimura, and that helps him climb from 235 to 171 in the trainers' table.
And her owner, Chizu Yoshida (+ 7 pts), is the week's biggest climber in the owners' standings, moving up 164 places to #127.
Japan-based Italian Mirco Demuro, who rode Queens Ring, is a five-point gainer and is now up one place to world #6 in the jockeys' rankings. He shares that slot with Sydney-based James McDonald, Godolphin's first jockey in Australia, who is under a cloud right now, having stood himself down voluntarily after he was accused of being involved in betting on a horse.
TRC Global Rankings: the week's biggest climbers
JOCKEY: Aurelien Lemaitre (France). Highlight of the week winning a G3 at Toulouse last Friday on the Godolphin filly Powder Snow; 5pt gain; moves up from 156 to 136
OWNER: Chizu Yoshida (Japan). Highlight: owns Queen Elizabeth Cup (Kyoto) winner Queens Ring; 7pt gain; moves up from 291 to 127.
TRAINER: Gustavo Romero (Argentina). Highlight: winning G1 Gran Premio Nacional on the dirt at Palermo on Saturday with He Runs Away; 6pt gain; climbs from 468 to 333.
SIRE: War Chant (Australia). Highlight: the son of Danzig's daughter, Silent Sedition, won a G3 on Saturday at Sandown, Melbourne; 6pt gain; climbs from 408 to 271.
Famous name on the way up
So You Think (Australia). Highlight of the week for the 10-year-old Coolmore stallion, a 10-time G1 winner: his daughter La Diosa won Saturday's gavelhouse.com 44th NZ 1000 Guineas at Riccarton Park, New Zealand; 5pt gain; climbs from 282 to 210.