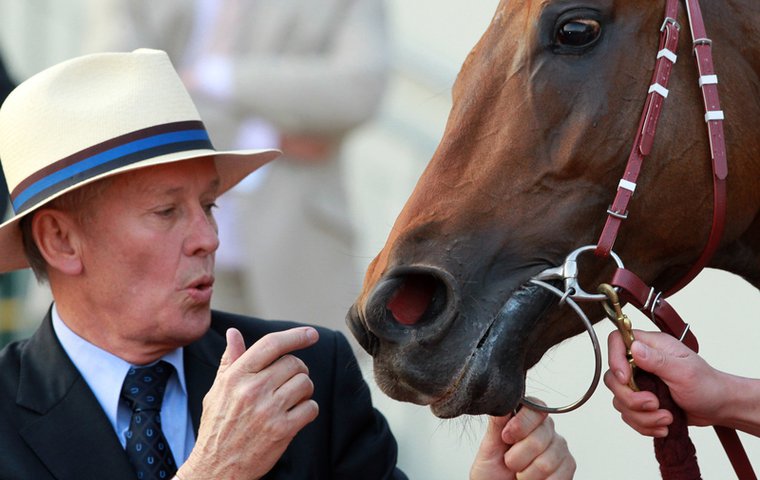 The Master is on the move. Perennial Hong Kong champion trainer John Moore makes a significant surge in the TRC Global Rankings this week after a successful weekend at Sha Tin, and he is now on the verge of assuming what many would consider to be his rightful place in the world top 10.

The 66-year-old Australian has long been viewed as one of the planet's supreme horsemen, and that is underlined by his appearance at #11 in the trainers' standings (up from 18), thanks to an impressive 11-point gain after a successful weekend at Sha Tin.
Moore, who has topped the territory's trainers' prize money lists every year for the past decade, is the week's biggest gainer in all four categories of the rankings, alongside his Hong Kong rival Tony Cruz, who makes an important move himself - from from 35 to 26.
Key race for Moore was the six-furlong G2 Bochk Wealth Management Jockey Club Sprint, a contest packed with quality horses and won by his 6-year-old Not Listenin'tome, a 42-1 shot ridden by world #2 jockey Hugh Bowman, although most of the post-race buzz concerned the performance of the fourth, the Moore-trained 'Beast from the East' Able Friend.
It was an enormously encouraging return after a long lay-off for the huge gelding, long the darling of Hong Kong's race fans, and Moore said later that he would now go for the $3 million Longines Hong Kong Mile back at Sha Tin on December 11.
This is still relatively early in the Hong Kong season, of course, and Moore, son of legendary Aussie jockey (and 11-times HK champion trainer) George Moore, will surely climb still higher in the TRC Global Rankings as his powerful stable gets into full swing.
There are relatively few races counting for ranking points in the territory compared with other significant jurisdictions, but the algorithm that drives the system values the ones there are very highly, partly because of the quality of competition - and partly because of their rarity.
Hong Kong has just 41 group races counting towards the rankings in the current three-year window. Compare that with the other racing nations included in the standings:
Counting Group/Graded races in 3-year window, by country
USA 1338, Australia 972, Great Britain 446, Japan 379, France 338, Argentina 250, Ireland 197, Brazil 172, New Zealand 150, Germany 132, Canada 128, Chile 107, South Africa 103, Italy 86, UAE 85, Peru 57, Hong Kong 41, Sweden 11, Turkey 9, Norway 9, Uruguay 4, Singapore 4, Denmark 3
This means that, while the racing in the territory is among the best in the world, there are very few opportunities for the participants there to show that. The rankings algorithm acknowledges that, and builds in an adjustment (as it does - by degree - for all jurisdictions in similar positions).
You can expect a further advance this season from Cruz, too. His 11-point gain is due in no small part to his 1-2 in another Sha Tin Group 2 on Sunday, the Bochk Wealth Management Jockey Club Mile, in which Beauty Parlour, ridden by Zac Purton (up from #47 to 39 in the jockeys' standings with a seven-point gain), short-headed Romantic Touch (Matthew Chadwick - up 112 places to 346 with a four-point gain).
The pair was just a neck in front of Sun Jewellery, who is trained by another of the outstanding HK conditioners, John Size (up 14 places to #75), and was ridden by champion Joao Moreira, who gained one point over the week and stays at world #10.
TRC Global Rankings: the rest of the week's main climbers
JOCKEY: Nash Rawiller (Australia). Highlight of the week winning the G2 Longines Jockey Club Cup at Sha Tin on Sunday; 9pt gain; moves up from 136 to 107.
OWNER: Mizuki Noda (Japan). Highlight: owns Mikki Isle, winner of the week's richest race, the G1 Mile Championship at Kyoto on Sunday; 7pt gain; moves up from 44 to 35.
TRAINER: Hidetaka Otonashi (Japan). Highlight: trains Mikki Isle (see paragraph above); 6pt gain; climbs from 54 to 45.
SIRE: Dylan Thomas (Australia). Highlight: the son of Danehill standing at Castle Hyde Stud in Ireland is the sire of Sha Tin G2 winner Notlistenin'tome; 6pt gain; climbs from 43 to 30.
SIRE: War Chant (Australia). The son of Danzig is mentioned in this slot for a second week in a row. Last week he climbed from 408 to 269, this week he goes up to 192 after Variation's win in a G2 at Ascot, Australia, on Saturday; 6pt gain.
Click here for a list of the week's biggest points gainers