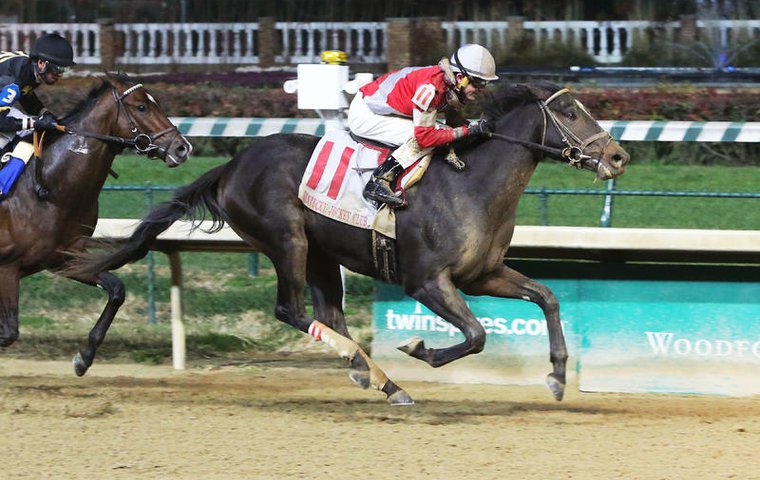 Favourites Kitasan Black (Japan Cup) and Gun Runner (Clark Handicap) produced the standout performances last week, but it is a U.S.-based Australian who hasn't been glimpsed on the world stage for more than three years who is the headline act in the latest TRC Global Rankings.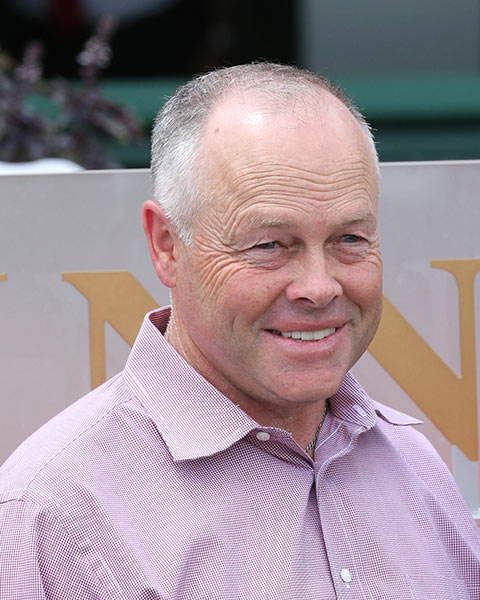 Trainer Ian Wilkes (left) last made an impact in international racing when he trained Fort Larned to win the 2012 Breeders' Cup Classic at Santa Anita, and the resident of Louisville, Kentucky, notched his last major victory when that same horse won the Stephen Foster Handicap at Churchill Downs the following June.
Last week, though, Wilkes was mopping up graded races as if they were modest claimers, and the result is one of the biggest points gains of the year in the trainers' standings, and a huge leap back up the table from #260 to world #141. That puts him much closer to his high of #87, which he achieved on January 26, 2014 - the first TRC Global Rankings date back to the start of 2014. And it looks like there could be more to come.
Star of the show for Wilkes, the former assistant to Hall of Famer Carl Nafzger who took over the stable after Nafzger went into semi retirement a decade ago, was the 2-year-old Ghostzapper colt McCraken, who landed the G2 Kentucky Jockey Club Stakes at Churchill Downs on Saturday and now looks a potential Kentucky Derby contender.
Wilkes, 51, landed another Churchill G2 the day before, with Linda, and he also won a G3 there last Thursday, with Thatcher Street, a son of Nafzger's 2007 Kentucky Derby winner Street Sense.
Indeed, Wilkes, who grew up in New South Wales and later worked for legendary Aussie trainer Colin Hayes, has been enjoying a purple patch this autumn. "It just feels like I'm dreaming," he told Horse Racing Radio Network. "Don't wake me up yet."
His reviving fortunes are clear to see in his three-year trajectory in the TRC Global Rankings in the graph below.
Nafzger is still involved with the stable and will be looking after things while Wilkes takes a vacation in Australia soon, before returning to focus on racing in Florida, where he will be hoping the golden run continues in January.
The year's biggest points gainers
Wilkes's 14-point gain is the ninth time this year there has been a change of +14 or greater. The others, in date order, are:
+14 Brad Rawiller (jockey, Modal Country Australia) week ending Feb 14
+14 Brett Prebble (jockey, Australia) Feb 28
+22 Doug Watson (trainer, UAE) March 6
+15 Doug Watson (trainer, UAE) March 27
+14 S'manga Khumalo (jockey, South Africa) May 1
+19 S G Tarry (trainer, South Africa) May 1
+15 Mick Channon (trainer, Great Britain) June 5
+14 Gerald Mosse (jockey, France) Sept 25
The 22-point gain on March 6 marked a career high for American Doug Watson, who has been training in Dubai for two decades. TRC Global Rankings fully anticipated that he would have a brilliant World Cup night later in March (Watson had seven runners, resulting in a winner, two seconds and a third and 1-2 in the G2 Godolphin Mile) when elevating him 147 places to #101 for the performance of his horses on Super Saturday.
All six of his horses ran well, and he annexed a pair of Group 3s, the Burj Nahaar with Cool Cowboy and the UAE 1,000 Guineas with Polar River. He is currently ranked #125.
The three largest changes since the start of the rankings
+27 Tony Cruz (trainer, Modal Country Hong Kong) week ending Nov 23, 2014
Cruz had fallen down the rankings during the first year of its evolution, but his decline was sharply halted when a stellar week was capped by him sending out Peniaphobia to win the G2 Jockey Club Sprint and Blazing Speed to win the G2 Jockey Club Cup (Hong Kong Group races are relatively rare and very competitive). Cruz moved up 103 places to #77 as a result of this; he is now world #27 in the trainers' category.
+26 Richard Hannon (trainer, Great Britain) week ending June 22, 2014
In his first year with a license, Hannon announced himself to TRC Global Rankings in a big way at Royal Ascot, producing Toronado to win the G1 Queen Anne Stakes and Baith Alga to land the G2 Norfolk for juveniles. This moved him from #178 to #73 and he is now #31, having peaked at #6 as recently as October 25, 2015
+24 Joao Moreira (jockey, Australia) week ending March 30, 2014
Moreira was brilliant on Dubai World Cup night at Meydan, annexing a pair of Group 1s, the Al Quoz Sprint on Amber Sky and the Golden Shaheen on the John Moore-trained Sterling City. This was only the beginning of the Brazilian's rise through the TRC Global Rankings and moved him up to #101 from 196. He is currently ranked in his highest position of #10 for the seventh time.
TRC Global Rankings: other significant climbers this week
JOCKEY: Brian Hernandez Jr. (U.S.). Highlights of the week: he was on all three of the Ian Wilkes-trained graded winners at Churchill Downs; 12pt gain; moves up from 126 to 95.
OWNER: Ono Shoji (Japan). Highlight: owns Japan Cup winner Kitasan Black; 6pt gain; moves up from 64 to 46.
TRAINER: Geoff Woodruff (South Africa). Highlight: trains Master Sabina, winner of the G1 Gauteng Sansui Summer Cup at Turffontein Standside; 8pt gain; climbs from 302 to 207.
SIRE: First Samurai (U.S.). Highlights: the son of Giant's Causeway standing at Claiborne in Kentucky is the sire of Woodbine G2 winner Stacked Deck, and Aqueduct G2 winner Miss Sky Warrior; 8pt gain; climbs from 211 to 135.
Japan Cup footnote
Kitasan Black's victory in the $5 million Tokyo spectacular meant big gains all round. As well as owner Ono Shoji (mentioned above), sire Black Tide, a son of Sunday Silence (who else?), gained seven points and moved from 104 to 77, trainer Hisashi Shimuzu gained eight and climbed from 117 to 98, and jockey Yutaka Take gained five to move back into the world top 20 (up from 23 to 19).
Click here for a list of the week's biggest points gainers.