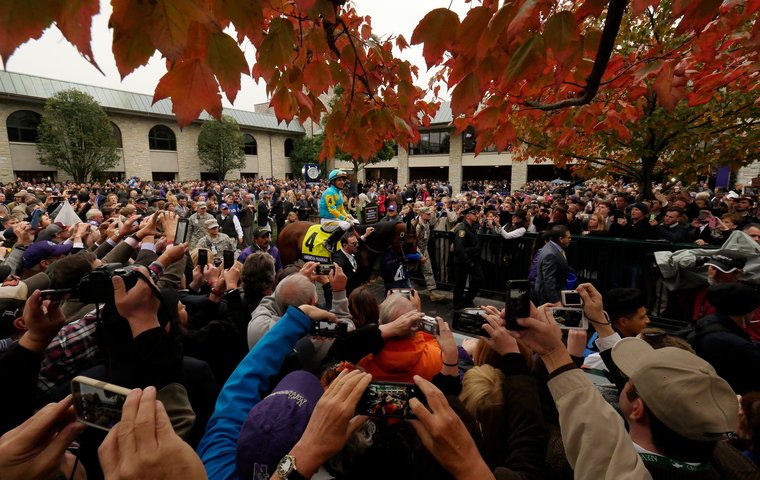 After nearly two years in development, the TRC Global Horse Rankings – representing a new approach to ranking racehorses – were launched yesterday. Using the near-decade of comprehensive worldwide Group and Graded race data that powers the other categories in our rankings, we have produced what we believe to be a fairer and more accurate system. Here, in the first of three articles looking back at how the rankings would have looked in previous years, James Willoughby traces the rankings of the best horses of 2014 and 2015.

The TRC Global Horse Rankings era began in 2014, the period that post-dated the career of the great Australian sprinting mare Black Caviar.
Our rankings are different from those you might see elsewhere because we combine every performance of a horse's career in Group/Graded races to evaluate its true worth, rather than just the best number.
That doesn't mean we cannot rank lightly raced horses according to their true worth relatively early. Proof of this can be seen from our first ever ranking, which was dominated by a horse who had just three Group races under her belt - the mighty French filly Treve.
Treve was coming off a super-impressive win in the G1 Prix de l'Arc de Triomphe at Longchamp in which she beat world #3 Orfevre by five lengths, with #11 Intello third and #38 Kizuna fourth. It's a feature of our rankings that we tend to like horses who have defeated rivals prominent in the global hierarchy themselves. On his next start, Japanese galloper Orfevre proved the worth of the Arc form by winning the G1 Arima Kinen back home by no less than eight lengths.

Treve's status remained intact despite a surprising defeat by Cirrus Des Aigles in the following April's G1 Prix Ganay, but things had to change at the top when she finished a rather tame third at Royal Ascot two months later, resulting in a loss of 34 ranking points. Something was clearly wrong with the champ, and TRC Global Rankings reflected as much, so we crowned a second world #1 in June, 2015 from Down Under:

Mick Price's flying machine Lankan Rupee became the only sprinter to head our rankings when he inherited the #1 position in the rankings of June 22, 2015. On his most recent start in April, he had won his fifth straight Group race – and third straight at G1 level – when dominating the T J Smith at Randwick from the front. Australian sprinting was – and probably still is – the hottest in the world on grass.
Brilliant though he was, Lankan Rupee's reign was to last 11 weeks until he slipped up in a G2 at Moonee Valley on the first run of a new preparation in September.

The U.S. turf miler Wise Dan richly deserved to be a world #1 at some point, even though he achieved it by default in these rankings of early September 2014. He ran only one more time after the date of these rankings, claiming an 11th G1 and 19th Graded race overall (only 18 of these were covered by our data, as one was in 2010) in the Shadwell Turf Mile at Keeneland. He had earned his place with wins in the G1 Breeders' Cup Miles of 2012 and 2013.
Wise Dan's run at #1 lasted just a month, however, until Treve returned to form in time to claim a second Arc:

A third straight defeat of the year for Treve in the G1 Prix Vermeille had seen her stock drop still further, but class proved to permanent when the big race rolled around. Somehow, trainer Criquette Head-Maarek conjured her back to form, and she responded by defeating #43 Flintshire and #10 Taghrooda by two lengths and a length and a quarter. The latter had won the G1 Oaks at Epsom and the G1 King George at Ascot and furthered her reputation again here.
For her part, Treve went on to win three of her four races in 2015 but could finish only fourth to Golden Horn in her bid to win Europe's greatest race for a third time. The final time she was seen at #1 was March of that year, after she was eclipsed by a new kid on the block Stateside:

It takes a lot to rank higher than a dual Arc winner, but TRC Global Rankings uses an ageing curve to ensure the rankings stay fresh. After all, recent exploits are more reliably reproduced than those in the distant past. As a result, there was room at the top for Shared Belief when Jerry Hollendorfer's two-turn terror annexed the G1 Santa Anita Handicap by more than four lengths.
The 2015 Big Cap was run on dirt, but earlier in Shared Belief's career he had showed himself highly effective on synthetic surfaces on the west coast of the U.S., winning the likes of the 2013 G1 CashCall Futurity on Cushion Track at Hollywood Park and the 2014 G1 Pacific Classic on Polytrack.
Shared Belief never won a race while world #1, being sidelined with a hip injury for most of 2015 which he sustained when pulled up in a G2 at Charles Town racecourse in April. Sadly, he died of colic that December as the brilliant winner of five G1s.
But this was the beginning of the era of a superhorse. On August 2, 2015, American Pharoah coasted to victory in the G1 Haskell Invitational at Monmouth to supplement the ranking points he had earned by winning the first US Triple Crown in 37 years. TRC Global Rankings later reflected his position as one of the all-time greats by awarding the first rating of 1500+, but that came only after he completed the so-called 'Grand Slam of Thoroughbred racing' in the Breeders' Cup Classic:

American Pharoah dominated the rankings for the rest of the year. Even when defeated in the Travers Stakes, he hung onto the top slot. Notice the strength of world racing at this point; three of the four previous world #1s – Shared Belief, Treve and Lankan Rupee – were still in the top 10:

And that was the situation for the rest of 2015. Although American Pharoah did not remain in training, horses stay in TRC Global Rankings until 200 days have elapsed since their last run. If they reappear subsequently, their career record still counts but they will be marked NA in the columns LAST and CHANGE to denote they are re-entries.