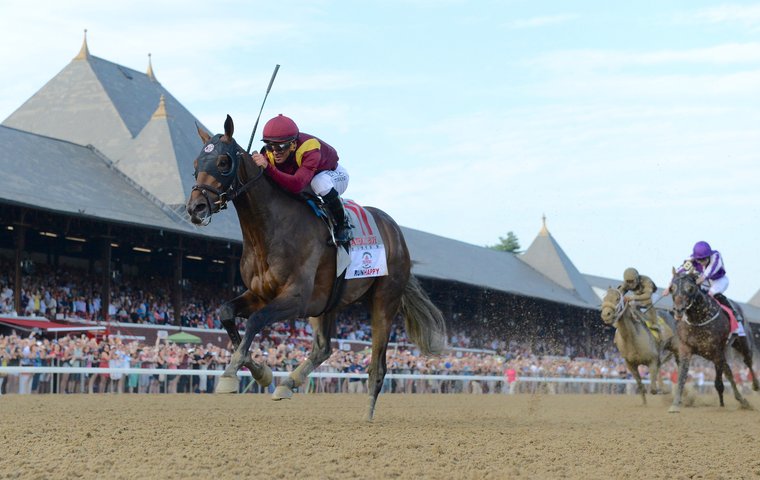 The winner's circle celebration after the 149th Travers Stakes at Saratoga Race Course was breaking up, yet when you looked at Sol Kumin you could still see the tears of joy in his eyes and hear the emotion in his voice.

"Yeah, I was crying," Kumin said. "It's the second time it's happened after a race."
If you know Kumin, you could take an educated guess at the other time he was overcome by emotion.
It happened about 2½ months ago at Belmont Park. Specifically, on June 9, when the magnitude of being a part owner of Justify hit home with him after his 3-year-old won the Belmont Stakes and became the 13th Triple Crown winner.
"In this game, the highs are high and the lows are low and you bounce around," Kumin said. "It's amazing how things work."
Back in June, Kumin dared to ponder thoughts that he could win the Travers with Justify and then stage a fitting celebration at his Fifth Avenue home in Saratoga, where his backyard overlooks the picturesque Oklahoma training track.
Those thoughts seemed to end late last month when Justify was retired, yet thanks to Catholic Boy and his four-length victory over Mendelssohn in the Travers on Saturday (see video below), there was surely a festive evening at the Kumin home.
"The Travers is a bucket list race for me. That's why this is so emotional," Kumin said. "It's been an amazing year, an unbelievable ride. I had Justify, (Florida Derby winner) Audible, (Lexington Stakes winner) My Boy Jack, but we thought with Catholic Boy, maybe we have a great turf horse and we'll have some fun with him the next few years."
Oh yeah, for Kumin and his partners, the son of More Than Ready has surely brought a ton of fun into their lives.
Less than three months after traveling the Triple Crown trail with only the 13th winner of the historic series, Kumin was linked to another horse with a rare quality.
While Triple Crown winners number a baker's dozen, a horse like Travers winner Catholic Boy is almost equally hard to find.
In a calendar year, there are a handful of horses who can win a Grade 1 at the classic distance of a mile-and-a-quarter. The same can be said of that limited number of horses who can win a ten-furlong Grade 1 on turf.
Yet, in Catholic Boy, Kumin, who owns the ridgling under the banner of Madaket Stables, and his partners, majority owner Robert LaPenta, Siena Farm and Twin Creeks Racing Stables, have a 3-year-old so exceptionally talented and versatile that he already holds the relatively unique honor of being a G1 winner on dual surfaces at a classic distance.
Beyond that, the 3-year-old division, which seemed to have found an heir apparent to Justify in Haskell winner and Kentucky Derby runner-up Good Magic, now faces a shake-up as Good Magic, a 7/5 favorite in the Travers, finished a startling ninth and uncoupled Chad Brown-trained stablemate Gronkowski, the 3/1 second choice, was only slightly more competitive in eighth.
The field was filled with a collection of the best 3-year-old males in training in North America, and even a quality filly in Kentucky Oaks runner-up Wonder Gadot, who faded to last, but in the end Saratoga lived up to its ages-old reputation as the Graveyard of Champions.
A new kind of equine star
The race unfolded with jockey Javier Castellano on Catholic Boy, the 7/1 ($16.20) third choice, pressing the early pace of Mendelssohn and those two staying in front throughout the mile and a quarter. It was Castellano's record-extending sixth Travers win, and it also gave the sport a new kind of equine star to celebrate. He's one with so much versatility that he could conceivably race next in either Joe Hirsch Turf Classic or the Jockey Club Gold Cup and could end the year in either the Breeders' Cup Classic or the Breeders' Cup Turf on November 3 at Churchill Downs.
How rare is that?
Dirt probably looms large in his future, for as LaPenta said, "Dirt is where the money is," and listening to LaPenta makes sense since he's one who deserves the most kudos for the Travers victory.
Trainer Jonathan Thomas has surely done a superb job with Catholic Boy. His resume is brief, as he never saddled more than 18 horses in a year until last year, but his work with the ridgling has been masterful.
"Jonathan puts his horses in good spots," Kumin said. "They are winning at all kinds of distances and surfaces. He's articulate, he's smart, he's thoughtful. He's worked with good people. He knows how to rehab horses. He's going to be the next big trainer in this game."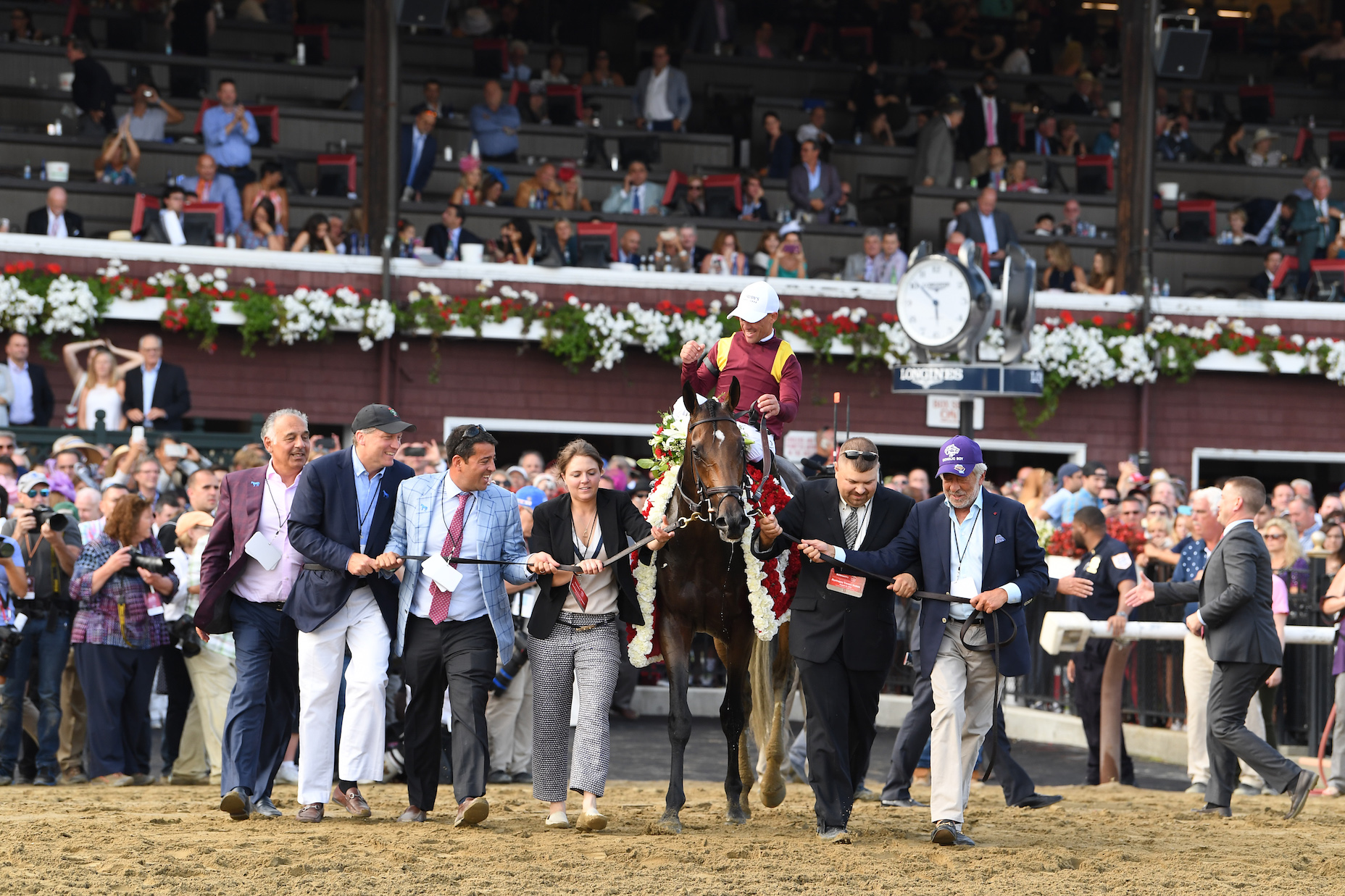 Yet if not for LaPenta, Catholic Boy might have spent his August in a turf race.
The son of More Than Ready started his career last year with two wins on turf and then finished fourth to Mendelssohn – the same $3 million yearling he beat in the Travers – in the Breeders' Cup Juvenile Turf.
After that, with an eye toward the Triple Crown, he was tested on dirt and won the Remsen at Aqueduct. He remained on the main track until he bled and finished a distant fourth in the Florida Derby and then shifted back to turf and won the G2 Pennine Ridge and G1 Belmont Derby, each time heroically winning a stretch duel with the talented Analyze It.
While all that was happening, in late March, LaPenta became seriously ill and hovered death until his disease was diagnosed as Legionnaire's Disease and he was treated with the proper medications.
After such a frightening scare, it was not surprising that the 73-year-old LaPenta pushed to move Catholic Boy back on dirt to chase his own bucket wish of a Travers win.
"I've been coming to Saratoga since I was 18," LaPenta said. "This race has always been my dream. Even more than the Kentucky Derby. Some people might not understand that, but the Midsummer Derby has always been my dream."
Given Catholic Boy's past success on dirt and some sharp workouts over the track, Thomas bought in and the script was set for a heart-warming victory that changed the 3-year-old landscape.
"I give Bob a lot of credit," Kumin said. "I wasn't sure the horse would take to the dirt. I was scared when he turned for home. I was afraid he would start sputtering, but he breezed so well that it gave Javier confidence. That gave Jonathan confidence. Bob pushed for the Travers and it was the right move."
It was indeed the wise move and an emotional one, too, for LaPenta and one of his partners whose tears told the story of how there can be life and even some joy after a Triple Crown winner leaves the scene.