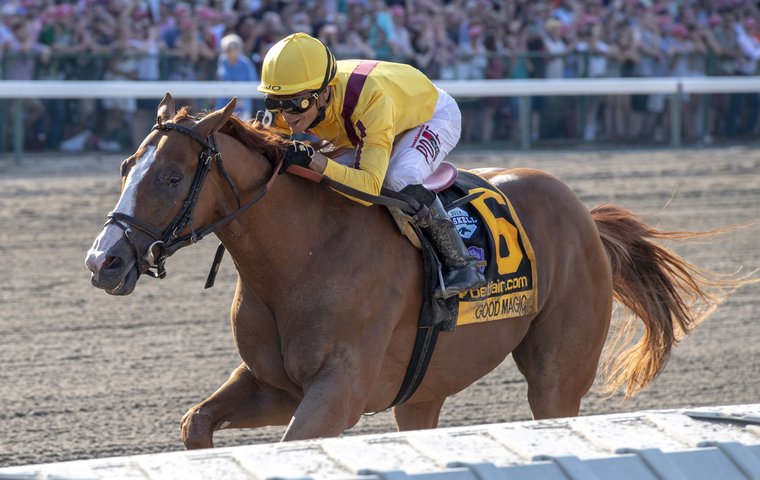 Winning the Travers Stakes places a 3-year-old in rare company. It's a measure of brilliance with champions such as Arrogate, Street Sense, Bernardini, Point Given, Easy Goer and Forty Niner adding a regal touch to the list of winners in the last three decades.

Good Magic will try to add his name to the superb horses on that list tomorrow when he tackles ten rivals in the famed Midsummer Derby at the Spa.
Yet regardless of what happens in the mile-and-a-quarter late summer classic, the 3-year-old son of two-time Horse of the Year Curlin has already placed himself on an even more exclusive list associated with the Travers.
For Good Magic is indeed a rare breed.
He's that exceptional colt who was gifted enough to be named the 2-year-old champion male and yet durable and classy enough to simply compete in the Travers. As proof, there have been 46 editions of the Travers since 1972 and only six 2-year-old champions have won the centerpiece stakes of the Saratoga meet.
An even more astonishing number is that a mere ten 2-year-old champions have raced in the Travers during that period.
Remarkable horse
Good Magic, when the starting gates at the Spa spring open at 5:44 p.m. Eastern Time, will become No. 11 – and, enhancing the accomplishment, will likely assume that spot as the betting favorite in the historic 149th Travers.
"He's gotten better and has improved from two to three," trainer Chad Brown said. "He's a top horse, a rare horse. He's a remarkable horse. That he could be a champion at two and a favorite in the Travers at three is truly a testament to his durability and consistency and ability."
A 46-year span bridges today with a period in the early 1970s when horses would routinely run on one or two weeks rest throughout lengthy careers. Yet, in more recent years, when 2-year-old champions disappear from sight and become the answer to a trivia question once the curtain goes down on the Triple Crown, Good Magic's feat is even more impressive.
In the last 27 runnings of the Travers dating back to 1991, only one 2-year-old champion, Street Sense in 2007, was able to capture the Midsummer Derby. Yet, when you expand the parameters to include juvenile champions who just took part in the Travers, the fields during the last 26 years have included only two Eclipse Award winners, with that other stellar Eclipse Award recipient being none other than 2015 Triple Crown champion American Pharoah.
Think about it. Good Magic can share a bond with Street Sense and American Pharoah, who finished second behind Keen Ice in the Travers.
And the list of equine celebrities doesn't stop there. If he wins, he'll join fellow 2-year-old champs Street Sense, Rhythm (1990), Easy Goer (1989), Forty Niner (1988), Chief's Crown (1985) and Honest Pleasure (1976) as a Travers winner since 1972. By running, he'll match the accomplishment of those six plus two Triple Crown champions, American Pharoah and Affirmed (1978), Fly So Free (1991) and Lord Avie (1981).
It's certainly impressive company, from top to bottom.
Great honor
"He's a very special horse," Brown said after hearing the short list of Eclipse Award winners who have raced in the Travers. "Any time you can be mentioned in a conversation with horses like Easy Goer, American Pharoah and Affirmed, it's a great honor."
Adding to the comparisons with stars of the past, Good Magic enters the Travers as much more than just a blast from the past. Unlike the typical 2-year-old champ who at three fails to re-capture the dominance of his juvenile campaign, Good Magic has thrived under Brown's astute care and matured into a special horse who was a champion at two and, with the help of the retirement of Triple Crown champion Justify, rates as the consensus leader of the 3-year-olds in training in late August.
"Chad has done a tremendous job with Good Magic," said co-owner Barbara Banke. "He has such a great feel for the horse and knows how to get the best out of him."
Owned by Banke's Stonestreet Farm and Bob Edwards' e Five Racing Thoroughbreds, Good Magic showed great promise from his early days as a homebred weanling at Stonestreet.
Lavish price tag
While Good Magic was entered in the Keeneland September yearling sale, Banke was convinced to keep him. Edwards was brought in as a partner and they kept him for a winning bid of $1 million.
A lavish price tag may have been attached to him, but the chestnut colt followed an unorthodox path to the 2-year-old championship. After Good Magic finished second in his career debut, Brown brought the Kentucky-bred back in the Champagne Stakes at Belmont Park and he finished second to Firenze Fire. Undaunted by starting a maiden in one Grade 1 stakes, Brown did it again when he shipped Good Magic west to Del Mar for the Breeders' Cup Juvenile and his faith was rewarded with a 4¼-length victory as he became the first maiden to ever win the prestigious stakes.
"Chad has always believed in Good Magic," Jose Ortiz, the colt's regular rider, said. "It said a lot when he took him to the Breeders' Cup as a maiden and got the job done."
At three, in his second start of the year, he won the G2 Toyota Blue Grass Stakes to earn a spot in the starting gate for the Kentucky Derby. After finishing second in the Derby and fourth in the Preakness, Brown gave Good Magic a two-month freshening and had him in peak form for his most recent start, when he registered a comfortable three-length victory over Bravazo in the G1 $1 million betfair.com Haskell Invitational at Monmouth Park on July 29.
"At the top of the stretch at the Haskell, when I saw Jose looking back, I knew we were in great shape. When you can put your binoculars down at the eighth pole, and relax and just watch the rest of the race, it's a great feeling," Edwards said. "Everything about this horse is phenomenal. You can't fault him for anything."
In the Travers, Good Magic will face a tougher challenge from a diverse array of ten rivals as he seeks to become the first horse to win both the Haskell and Travers since Point Given in 2001. A 2/1 morning-line favorite, Good Magic must contend with another talented 3-year-old from Brown's barn, Belmont Stakes runner-up Gronkowski (3/1), the talented filly Wonder Gadot (5/1), Catholic Boy (8/1), a Graded stakes winner on turf and dirt, Preakness runner-up Bravazo (12-1), Wood Memorial winner Vino Rosso (10/1) and runaway UAE Derby winner Mendelssohn (12/1), among others in a deep field.
It promises to be a demanding test for Good Magic, yet the same can be said for those horses who will try to reach finish line before Brown's champion.
"Good Magic is doing great. I wouldn't trade spots with anyone in the field, and I know Barbara feels the same way," Edwards said.
Ortiz's confidence
Ortiz, who has been aboard Good Magic for the last seven of his eight career starts, is also thrilled with the way Good Magic has continued to progress and improve.
"He's always been a great horse, but obviously at three he's matured and he's stronger now," Ortiz said. "He's made a very good transition from two to three. Chad has done a great job, like he always does. I'm very confident going into the Travers."
Much of that confidence was built during a pair of losses in the Triple Crown, when Good Magic was arguably Justify's most formidable foe.
In the Kentucky Derby on a sloppy track, it was Good Magic who took aim at Justify at the top of the stretch and battled him to the wire while winding up second best by 2½ lengths. Two weeks later in the Preakness, again on a sloppy track, and this time an incredibly foggy, racetrack, Good Magic battled Justify from the break and they remained together until the final sixteenth, when the Bob Baffert-trained colt edged away.
Bravazo rallied to finish second, a half-length behind Justify, and Travers starter Tenfold was third, a neck behind him. Good Magic was another neck back in fourth, only a length behind the winner, yet a strong case can be made that, without Good Magic pressuring Justify and doing some hefty lifting on the front end, Bravazo and Tenfold would not have been as close as they were to the colt who became the sport's 13th Triple Crown winner.
Precious Triple Crown memories
"It's fair to say he was the one who made Justify run so hard," Brown said. "Unfortunately we couldn't get the better of Justify, but we're still here and hopeful of a big effort in the Travers."
A third battle with Justify never materialized as Good Magic skipped the Belmont Stakes and Justify was retired last month. Nevertheless, the Triple Crown left Edwards with some precious memories.
"Good Magic turned in two great efforts in the Triple Crown and pushed Justify more than anyone else," Edwards said. "We would have loved to have one more shot at Justify on a dry track with an outside post, not to say we could have beaten him, but we would have loved one more shot at him. Justify was a phenomenal horse, a freak of a horse, and it was a great thrill to run against him."
Considering how draining the Triple Crown races turned out to be, that Good Magic was able to return to the races and continue to take major steps forward in a stellar career speaks volumes for his durability and a pedigree that's long on quality and consistency.
Aside from being a son of Curlin, the Stonestreet star whose eight G1 triumphs included the Preakness, the Breeders' Cup Classic and the Dubai World Cup, Good Magic is out of Glinda The Good, a mare by Hard Spun, who was a frequent rival of Curlin and Street Sense during their memorable 2007 3-year-old season.
Good minds
"He's by Curlin and his broodmare sire is Hard Spun so I guess you could say he has double durability," Banke said. "Curlin was famous for never missing a work. He worked every week of his racing career. He never took a break. He never had a problem. He was very consistent and very sturdy. The other good thing about the Curlins is that they have very good minds. They take good care of themselves and they don't waste a lot of energy being crazed."
That resilience and calm demeanor will continue to come in handy as Good Magic seeks to craft a legacy in the post-Justify months of 2018 and beyond. The Breeders' Cup Classic is the year-end target for the Stonestreet homebred and both Banke and Edwards say they intend to race him at four if he remains sound.
"We're happy to have our guy back," Banke said. "He looks great. He's training well. He's happy and we're looking forward to a good close to the season.
"He deserves his spot in the sun for the rest of the year and next year will give him another chance to prove how good he is."
Surely that can happen in the coming months, yet when you consider the list of stars he can join on Saturday, a case can be made that Good Magic is already established as a horse who belongs in special company.