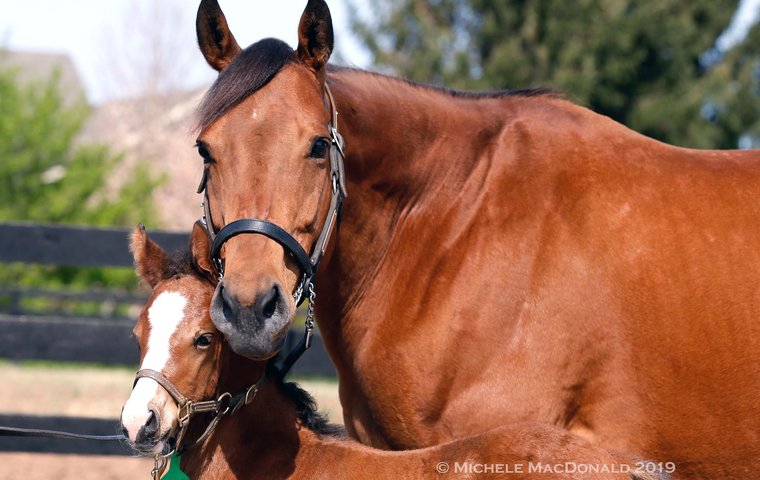 Wrapped in the days bridging winter's lionlike bluster and the arrival of spring's gentle touch of lambs, a similar kind of natural epiphany has unfolded at Hill 'n' Dale Farms in Kentucky.

The transformation reached a critical stage when Lady Eli, the champion mare who heroically returned to Grade 1 glory after battling back from an attack of laminitis that could have killed her, lay down in her deeply bedded stall to give birth to her first foal on March 21.
Hill 'n' Dale owner John Sikura and farm manager John Rasmussen already had been experiencing waves of anxiety about this moment. As Rasmussen succinctly noted, "It's always life and death when you have a foaling — it can only go one of two ways."
With Lady Eli, who had been purchased by Sikura on a $4.2 million bid at the Keeneland November breeding stock sale, there were additional layers of concern assuming that both she and her foal made it through the crucial juncture of birth.
How would this fiery mare — nearly as well known for the orange traffic cones positioned at her racetrack stall warning passersby of her saber-sharp teeth as she was for wicked bursts of speed that propelled her to five G1 triumphs — take to motherhood?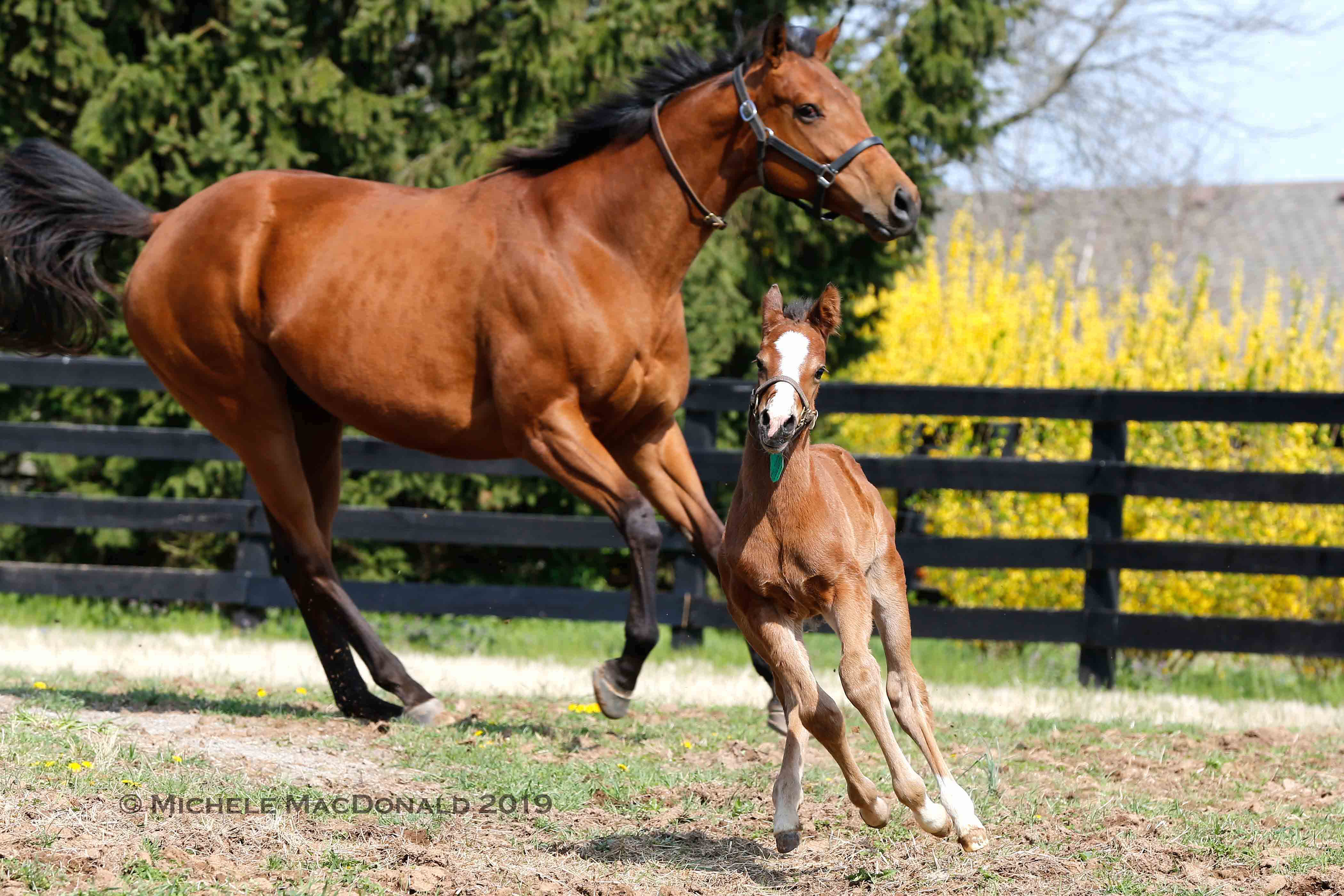 Just as winter melted softly into spring in the same month, Lady Eli has noticeably mellowed as she and her blaze-faced colt by War Font have bonded since his arrival into this world. And just as she rose to surpass the sternest challenges in racing, Lady Eli has, by all accounts at the farm, excelled in her budding new career as a broodmare.
Sikura, who described Lady Eli as being "very vigilant, tough, aware and protective of her space", said she now has "directed all of that energy to being a great mother".
"And she is a beautiful mother," he said after watching Lady Eli and her colt canter around a small paddock near his office in mid-April. "He's a lovely first foal, a great type and healthy — all you could expect from the mare. We're looking forward to growing a great athlete. So, we're going to breed her back to War Front and we're anticipating the future," he said.
For Rasmussen and his staff, the colt's birth, Lady Eli's reaction to him and their subsequent time together has evolved as ideally as they could have wished.
"She's really done everything you could ask of a maiden foaling mare as far as accepting the foal and taking care of the foal and teaching him how to behave. And the experience has mellowed her, which is good," Rasmussen said. "As you know, she was pretty high strung on the track and this has really evened her out."
The foaling itself proved to be "straightforward" and without incident, he recounted.
"About an hour before she had the colt, she got uncomfortable. She obviously wasn't sure what was happening, but she was acting a little like she was in pain. She then broke her water and had the foal 15 or 20 minutes after that," Rasmussen said.
"She got up fairly quickly and was curious about what was behind her there. But she immediately knew it was her baby and just took to it. It's always scary with maiden mares, but it was particularly so with her because you know how independent she is. But she has done everything right. She's just top class," he said.
In the first few days after the foaling, Lady Eli was a bit tentative about the interaction of Hill 'n' Dale staff members with her colt, but Rasmussen did not cite any behavior beyond the realm of ordinary.
"She was a little protective in the beginning, which is normal because they just want to take care of their baby, but now that he's a little older, she's kind of backed off that attitude a little bit," he said. "The first few days, it took a little time to get a hold of him and her both.
"But she couldn't have done any better than she has," he added.
During the course of regular farm duties, such as feeding the horses and cleaning stalls, Rasmussen and his staff began to notice Lady Eli subtly changing. As they would enter the stall where she and her colt reside or when they would prepare them for turnout, Lady Eli was, day by day, less aggressive.
"She's just more like a normal broodmare now than she was before, when you always had to kind of guard yourself and be ready for anything because she would more than likely come after you with her ears pinned and teeth first," Rasmussen said. "But that has changed. She's just more relaxed."
At the same time, Lady Eli has been diligent in caring for her colt. When asked to describe how he saw the 7-year-old daughter of Divine Park guide her baby through an introduction to life, Rasmussen said she was particularly attentive to how close he was to her when they first were released in their paddock.
"When you turn them out the first time, you typically always see the foal run next to the mare. But they don't know that when they're born — that's something the mare teaches them; that's a protection thing," he noted. "Some maiden mares will not know that they have to teach their baby that so they will just take off and leave the baby behind.
"But Lady Eli is always just a short distance away from him. The first week or so she followed him around the paddock, versus the other way around. That's how mares do it — show them to stay close — and that's pretty impressive," he said. "Now that he's a little older, he'll venture off a little bit and she's not as concerned about it, but I promise you she always has her eye on him, which is how you want mares to be."
As soon as she and her foal are led out of their Hill 'n' Dale barn, with longtime employee Abi Orantes holding one of the shanks, Lady Eli glances around to be sure there are no dangers in the landscape and then fixes her gaze on the colt. If he is not directly beside her, she repeatedly looks back to be sure he is safe.
As Rasmussen points out, there is a different glow in her eyes these days. Gone is some of the keenness sparked by racing competition and the rigors of training, replaced by a kindly devotion to her colt.
Little charmer
Orantes has played a significant role in this metamorphosis, the first small degrees of which began with her adjustment to the relaxed pace of life at the farm.
"She likes her surroundings and she likes Abi leading her out. That's her main guy and that's how she does best," Rasmussen said. "In the beginning, we were really treating her just like a stallion because that's kind of how they are — they like the routine and being with the same person. That's how she does best, too, and we try to keep her in her comfort zone."
While Lady Eli is the newest star in the Hill 'n' Dale broodmare band, a leading light by virtue of her performances as well as her auction price when sold by Jay Hanley and Sol Kumin, her colt is a scene stealer, even in her electric presence. It's impossible not to be charmed by him.
A glowing bay, like his dam, and marked by his sire with a pair of white socks in addition to his blaze, the colt leaps forward in exuberance when following Lady Eli to their paddock. As soon as they are released, he boldly scampers in ever-widening circles, cajoling her to keep up as she shakes her head and strides after him, dutifully intent on keeping her young one in line.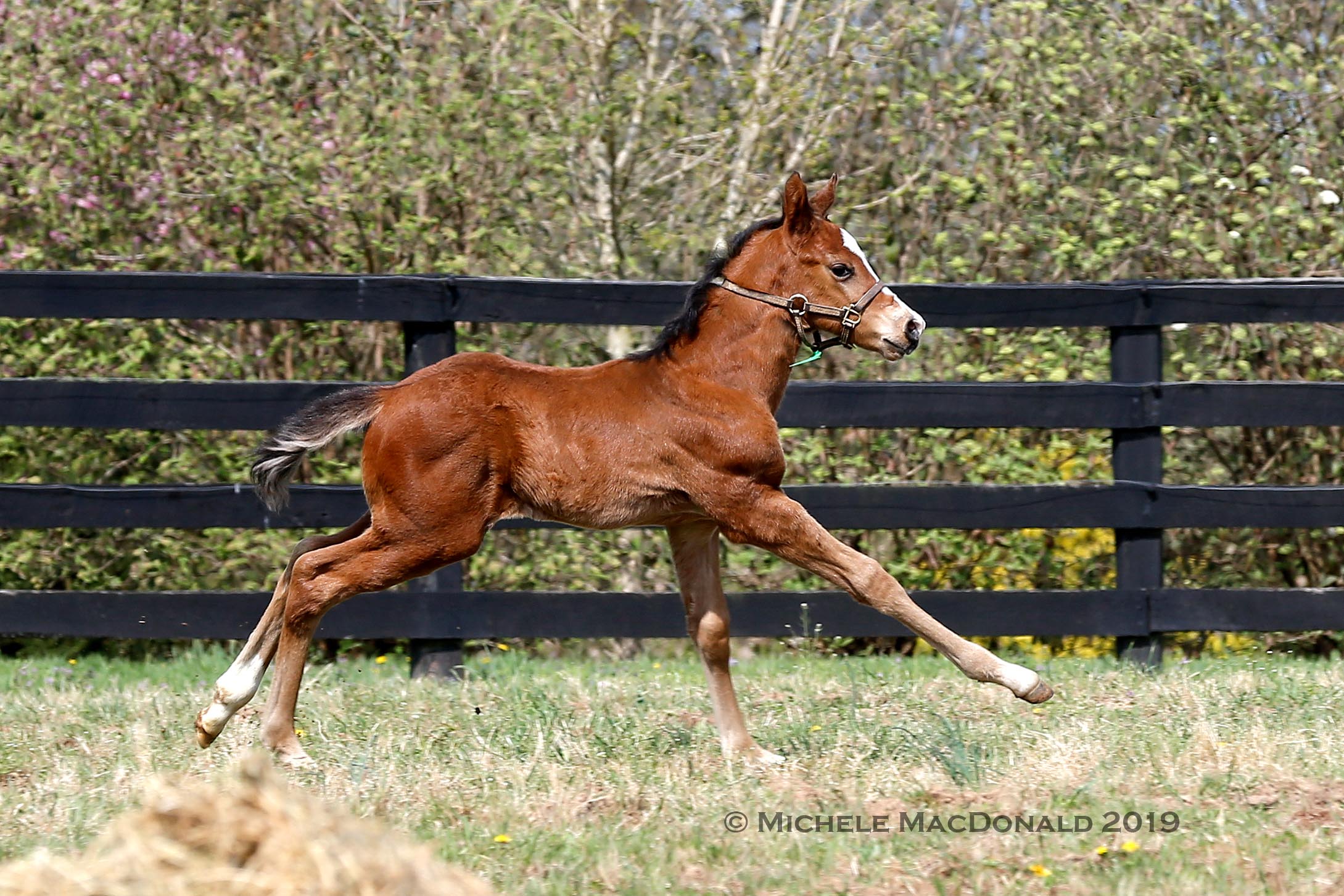 "He's got a little bit of her in him, I think, because it's almost like he knows there is something special about him. He almost carries himself that way, like he is proud of himself," Rasmussen said. "He just knows that he deserves the air that he is breathing. He's full of energy and feeling good."
"He bounces around and acts like a little man, like a kid at private school waiting for the chauffeur to show up," Sikura said, laughing. "He has a confidence about him, which is great."
Alert and curious, the colt is well aware of visitors and awards them with a series of balletic spins and leaps followed by bursts of running as fast as his legs will power him. When his audience turns to leave, he flops into the grass, his eyelids blinking, as Lady Eli hovers protectively over him.
Since Hill 'n' Dale is a commercial breeding farm, Rasmussen indicated that the colt likely will one day be the featured attraction in a sale consignment. But there are no firm plans and for now, Lady Eli and her colt have months to enjoy the pure equine pleasures of grazing and galloping together.
"In a few weeks, they will be out in a bigger area with more mares and foals. We have to get Lady Eli bred back and hopefully we'll pronounce her pregnant real soon," said Rasmussen. He added that Lady Eli's feet have not troubled her and are judiciously managed due to the laminitis she experienced.
Extraordinary heart
"They're not normal feet and they never will be, so she wears a special shoe. But it's like you and me, we wear comfortable shoes, too, the ones that fit the best. And this is the one she likes, so that's the one she gets to wear," he said. "There's no reason to change anything because she is happy. We're just maintaining what is there. I don't foresee her having any problems in the future."
It's far too early for any forecasts of what Lady Eli's War Front colt may be able to accomplish at a racetrack or sale, or if she will be able to give him and future foals the extraordinary heart that fired her dauntless career and enabled her to defy laminitis. But her characteristics, including her gentle mothering skills, are all that any breeder could desire.
"We're optimistic about the future," Sikura said.
"She's a special mare," Rasmussen observed while reflecting on the simple yet memorable moments he has witnessed of this ferocious champion evolving into a nurturing dam.
"The way she has accepted her colt has been really special to watch," he said. "I've seen that before, but I've also seen the opposite, too, where they don't accept the foal and become almost a little worse in temperament. So, I'm just glad that she took the path that she did.
"She'll be like this for the rest of her life. She's just at peace," he declared.