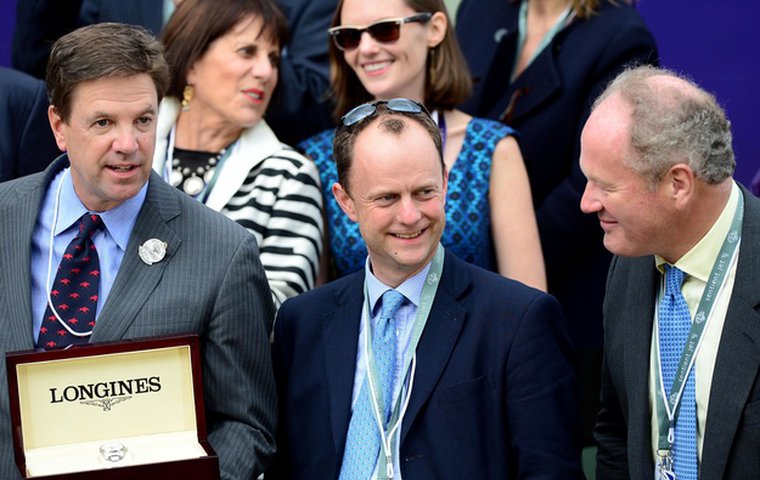 It says much about the Niarchos family that David Lanigan was among the entourage cheering home Main Sequence in the G1 $3 million Breeders' Cup Longines Turf. It was Lanigan who trained the horse in England before his transfer to Graham Motion's stable at the close of last season.

You'd have thought Lanigan would have had mixed emotions as Main Sequence erupted down the Santa Anita stretch to overhaul Flintshire. Not a bit. "It felt great," he said. "I wasn't surprised at all. Everything I felt the horse was capable of came to fruition on Saturday."
Victory marked the culmination of a long and sometimes painful journey for the 5-year-old son of Aldebaran. Lanigan saddled him to finish runner-up to Camelot in the 2012 Derby at Epsom, after which winning races like the Breeders' Cup Turf would have seemed entirely plausible. Instead, the horse embarked on a losing run of nine races before his transfer to Motion.
"We tried everything we could with him," the 39-year-old Lanigan reflected. "He had a physical problem as a 2-year-old and he did well while we were able to manage it. But his form fell away, and when Maria (Niarchos) wanted to keep him in training after his 4-year-old season, I felt it was time for a change."
Main Sequence, who races under the Niarchos family's Flaxman Holdings Ltd banner, had some debilitating physical issues with his back that horses can sometimes grow out of. However, much to Lanigan's angst, having the horse gelded at the end of his sophomore season in 2012 made little difference.
"On his second run as a 4-year-old [in the G3 Brigadier Gerard Stakes over 10 furlongs at Sandown Park] he came to win the race, but I could see he wasn't going through with his effort," Lanigan recalled. "He wouldn't engage top gear, and he'd sweated up in the paddock like a filly that had gone over the top."
Lanigan felt that the flat, turf ovals in the U.S. would be kinder on the horse than the oft-undulating nature of racetracks in Britain. Indeed, the exaggerated contours of Epsom, akin to an equine roller-coaster, may have exacerbated Main Sequence's condition.
"Another factor was that the 12-furlong (turf) division in Europe is extremely competitive," Lanigan said. "He would have better opportunities in the U.S, so I suggested that's where he should go."
For all that, did he not feel a tinge of regret when he saw his former charge storm down that Santa Anita stretch? "Not at all," he insisted. "I had to do what was right for the horse. It would have been selfish and wrong to do otherwise because the whole thing is a big team effort. And Maria has been a family friend since the day I was born."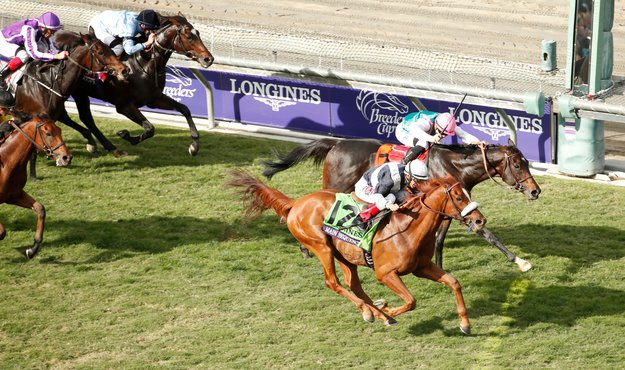 That friendship has flourished over decades. Maria Niarchos' father, Stavros, was a partner in many horses raced by Robert Sangster – among them Sadler's Wells – that were destined to stand at Ireland's Coolmore Stud in the 1980s. At that time, Lanigan's father, Bob, was general manager at Coolmore in addition to running his own operation at nearby Tullamaine Castle Stud.
David, for his part, spent five years working at Johnny Jones' Walmac International, in Kentucky, which was home to the iconic, Niarchos-owned racehorse and sire, Nureyev. Each winter he would break in the Walmac yearlings and take them down to Aiken, in South Carolina, for pre-training.
A keen amateur rider, Lanigan, then 28, might have stayed in the U.S. permanently but for a summons from Sir Henry Cecil to become his assistant. He was at Cecil's right arm when the late trainer saddled Light Shift, owned by the Niarchos family, to an emotional victory in the G1 Oaks at Epsom in 2007.
Lanigan, who trains in Lambourn, 70 miles west of London, makes an annual visit to Oak Tree Farm, near Lexington, to run his eye over the Niarchos-bred yearling crop. That's when he saw Main Sequence for the first time; the second was when the colt was scheduled to be sold at Keeneland in one of the lesser September books.
"He was by Aldebaran, who had already been sent to Japan," Lanigan remembered. "He didn't have a fashionable page but that didn't concern me because all those (Niarchos) pedigrees are fantastic." It also doubtless appealed that Main Sequence's third dam, Lingerie, was dam of Light Shift.
Main Sequence was thus withdrawn from the sale to join Lanigan in England. Three years later he would make the return journey to join Motion en route to his Breeders' Cup triumph. The high esteem in which Lanigan always held the horse was finally unleashed.
"When you train horses they become like your kids," Lanigan said. "And like your kids, you always want to do what is right for them. Sometimes you have to let them go."
The consolation for Lanigan comes when he looks around his stables at night and sees the heads of 16 Niarchos-owned horses looking back at him. "That makes me a very lucky man," he ventured.