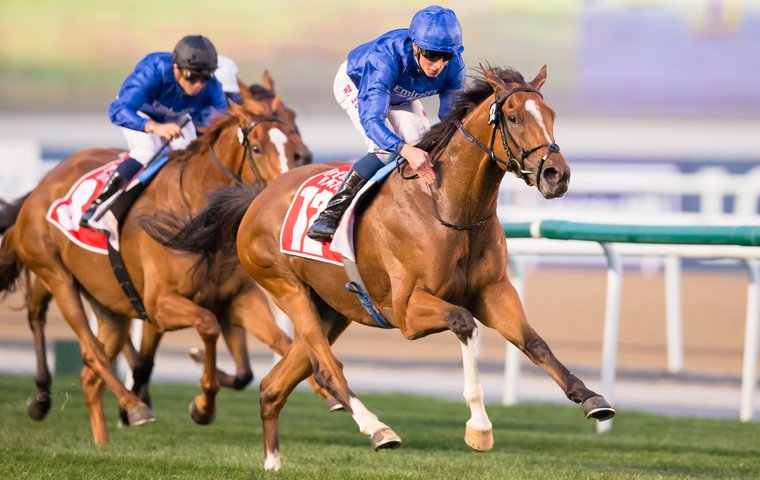 Charlie Appleby, the world's No.1 ranking trainer, is taking advantage of every technological aid at his disposal to train a squad of the best Godolphin horses by remote control.

Following the postponement of Saturday's Dubai World Cup because of the coronavirus pandemic, Appleby remains in Newmarket in the UK, while a reduced number of staff have stayed in Dubai to help supervise an elite collection of stable stars.
Big names such as Ghaiyyath, Cross Counter, Barney Roy and Magic Lily are based at Marmoom, Sheikh Mohammed's private training grounds, 25 miles outside Dubai, which is normal procedure in the weeks leading up to World Cup.
Obviously, circumstances are very different this year, and while a group of British and French-based horses, including the Roger Varian-trained Defoe, the Charlie Fellowes-trained Prince Of Arran and Freddy Head's Call The Wind, were to ship out of Dubai on Tuesday, Appleby said the Godolphin horses would remain there in the short term.
"Our horses are in Dubai on a permanent 'ticket', so it is a different set of quarantine rules for them as compared to those who went out specifically to run on World Cup night. Normal procedure is that our horses remain in quarantine for 28 days after the big night, in any case," he added.
Appleby said the regular routine of daily exercising was continuing, not just at Marmoom but at his home base, Moulton Paddocks in the UK. "Each horse has their set training program and this is followed whether I'm present or not. We at Godolphin are fortunate to have outstanding staff, who are totally dedicated.
"I can see Facetime and WhatsApp being very useful when I want to check something physically on any horse. We already have access to videos of work, which I can study. And, of course, there is telephonic contact speaking to our riders, which is normal practice, in any case."
While there is uncertainty about when racing can resume, the key Godolphin horses have been ticking over nicely in Dubai during the winter, with racing campaigns at Meydan laying a solid fitness foundation for what may lie ahead.
"Everybody around the world is feeling the terrible effects of this pandemic, and our thoughts go out to all concerned. In our bubble, we have had to take stock. We are so fortunate in having an owner as supportive as His Highness Sheikh Mohammed."
The 2018 Melbourne Cup winner Cross Counter has returned from his crack at the Longines Turf Handicap in Riyadh in good order, according to the trainer. The Teofilo gelding finished fifth behind Call The Wind, running strongly for a long way before the weight concession to the first four home took its toll.
He is a strapping stayer, who promises to find a new level of performance in his mature years. "I'm very pleased with him. We will just keep him ticking over for the time being," Appleby said, which is a comment that could be applied to most of the Godolphin squad being trained remotely in Dubai.