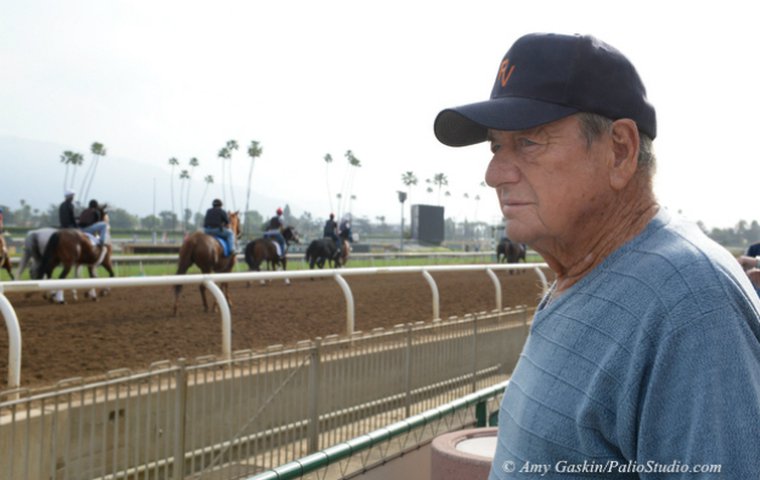 Wallpapering floor to ceiling all four sides of his office at Santa Anita in a dusty and time-worn collage of photographs spanning decades are nearly all of trainer Bruce Headley's 120-plus stake race victories during a career that has lasted a trifling 55 years.

The oldest is a grainy sepia-tinged win picture dated 1962 – Poonastar's victory in the Junior League Stakes at Hollywood Park, a young, sandy haired Headley with a touch of James Dean about him. The most recent is of Street Boss winning G1 Bing Crosby Handicap in 2008, the trainer's sandy hair decidedly thinner, admittedly, but the young man from 46 years before still visible behind softened edges.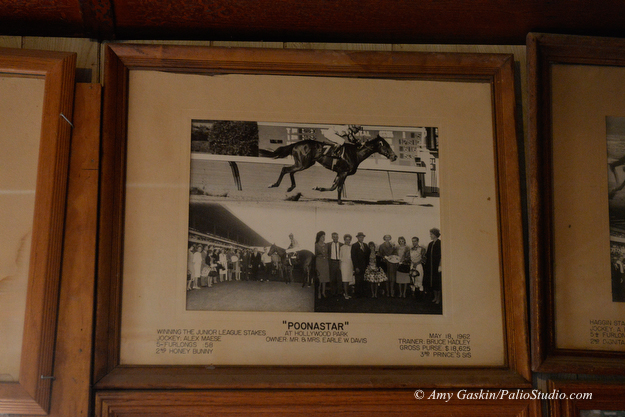 The effect Headley's office has on first time eyes is two-pronged. The first is to be led through a pictorial journey over the last 50 or so years of racing in California - the shadowed peaks of Santa Anita's San Gabriel Mountains and Hollywood Park's bulging grandstand captured at different lights, years, and seasons in the style of the impressionists.
But the room also speaks of a man who, now 81 and having spun $500 worth of war bonds into the rich silk of a long and storied training career, is not only conscious of his achievements but is eager to see them held aloft for all to see.
"I started out with nothing and grew up learning under great horsemen. But the only difference between me and other great trainers is that they train for other people and I've always trained for myself," Headley said with typical bluntness at his dining table in his Arcadia home, old family photographs spread before him. Headley refers to one vital component of his success – that he has owned, either in whole or in part, a significant portion of the horses that have leaned their chests against the webbings in his barn.
"I've always invested my own money since I've started and owned the majority of my horses, which gives you the purse as well as everything you make when you sell them. No other trainer today has done what I've done."
To the uninitiated, Headley has a braggart's air about him. But bluster is only bluster when it blows hollow. And even a cursory glance over his resume reveals a trainer who might just be onto something when he says that his induction into the California Thoroughbred Breeders Association Hall of Fame in February of this year was "about time."
You can't argue with a Breeders' Cup winner: Kona Gold, in the 2000 Sprint, (replete with a track record time for good measure). There are seven individual G1 winners: Kona Gold (x2), Street Boss (x2), Variety Road (x2), Kalookan Queen (x2), Bertrando, Got Koko, and M One Rifle.
Along the way there have been any number of headline upsets, as in 2003 when Got Koko put Azeri's 11 race winning streak to the sword in the G2 Lady's Secret Stakes at Santa Anita. Or when Variety Road misread the script and, unbending beneath a bruising Laffit Pincay ride, stole the show from the millionaire triumvirate of Snow Chief, Ferdinand, and Broad Brush in the 1987 San Fernando Stakes at Santa Anita. Then there's the aftermath of the 1986 San Marcos Handicap when Charlie "The Bald Eagle" Whittingham was left spitting feathers after Headley's Silveyville stuck yet another pin in the movie-idol bubble of Whittingham's Strawberry Road.
But perhaps the most notable aspect of Headley's success isn't so much the length of his roll-call of big winners so much as that many of them were massive over-achievers – that is if their price tag was any accurate gauge of talent. Ask Headley about the size of the checks he wrote for some of his highest earners, and he can tick them off like he's reading from a grocery list.
"Kona Gold, I got him for $35,000 [and he earned $2,293,384 in prize money]. Son of a Pistol was $23,000 [earned $854,540]. Lakota Brave was $50,000 [earned $447,904]. Got Koko was $30,000 [earned $960,946]. Silveyville cost $23,000 [earned $1,282,880]."
Top of the pile is Street Boss, who won the 2008 Triple Bend Invitational and Bing Crosby Handicaps among an impressive trophy haul.
"I got him for $91,000, and I sold him for a symphony as a stallion to the Sheikh [Mohammed]. I remember the Sheikh asking me how it was I won the races I did with Street Boss, and I told him that it was simple: I had a running son of a bitch," he said, shaking with a rattling sort of laugh that's always quick to surface. "It kind of shook him up a bit, let me tell you – but I wanted to shake him up.
"The thing about all those stake wins I've had, all 123 of them, they've never had any vitamin shots, no jugs [of electrolyte solutions], no liver and iron supplements. Nothing," he said, broaching another facet of the Headley success story – an approach to training racehorses that is almost Amish in its disdain of modern practices.
"I did it completely on hay, oats, and water. I don't have sore horses. If I do, I turn them out. I never go into the joints [with intra-articular injections]. I rest them. That's why I've had stakes winners aged five, six, seven, eight, and nine. That's why there's been only four horses that have won graded stakes races at nine years of age at Santa Anita, and I've trained two of them: Kona Gold and Softshoe Sure Shot. My horses last, you see."
Beneath the weather-hardened confidence, however, there's something inherently contradictory about Headley. An old school cowboy never happier than when on horseback—he continued riding into his seventies—his home speaks of an art connoisseur with a refined palate for the masters.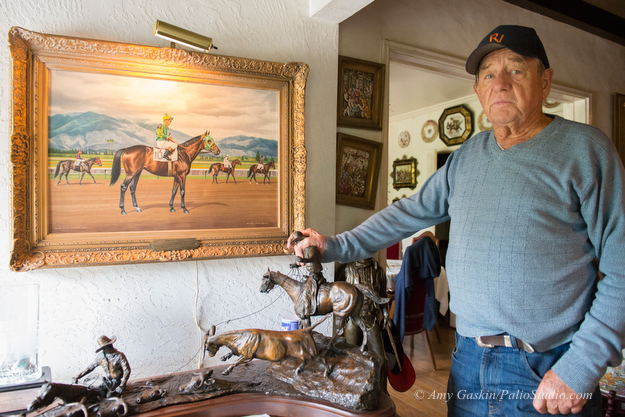 For someone who never graduated high school, there are not enough sheep in the world to pull the wool over his eyes.
And for all his self-aggrandizement, Headley is the first to admit that his feet are very much planted on the shoulders of giants.
"I think that one of the reasons I've been so successful is because of the great people I've been around and learned from. I grew up watching trainers like Charlie Whittingham, Buster Millerick, Les Holt, and Ralph West - all those great guys. If I'd been born 20 years later, I wouldn't have been around them. They'd already started to die off."
From these giants of the past, Headley hand-picked certain methods, amalgamating and sculpting them into his own training regime that is about as different from anything witnessed at the track of a morning.
Rather than jog his horses to warm them up before galloping, for example, Headley's horses will walk to the track before launching straight into a gallop.
"I copied that from R.H. [Red] McDaniels [winningest trainer in the U.S. in the early 1950s] He used to hit the gap and let them gallop straight off then jog them home. Jogging them home keeps them busy, so they learn not to get hot."
Rather than slowly ease into a piece of work, Headley will draw his horses to a complete stop half a furlong before the pole before working them.
"I got from Buster Millerick [trainer of Native Diver] who always had blazing works. When you pull them up beforehand you let them get all their oxygen, and that way they never quit in the straight. That's why I always have blazing works. They've got a full tank of oxygen."
The day before a piece of work is always an easy one. "I copied that from Jim [James] Maloney, who trained Gamely. He said he always gallops his horses easy the day before he worked them to keep them fresh."
And he chokes on his coffee if he sees a rider taking too strong a hold of the reins. "We were always taught as riders to hang on to a horse like a water-skier. But Bill Shoemaker started riding them like a downhill skier - he had a forward pitch. He stood on his toes and was real light-handed. He was floating. I watched him, and transferred that floating style of his to the morning.
"With this type of method, the float, you're standing on your own toes and balancing on your hands across their neck. That way, a horse is carrying his own head and you don't constrict his coordination. But if you take a strong pull, think of the force through your hands back down to your feet. You're needing another 25-30 pounds to hold him. You're adding 25-30 pounds of pressure onto his forelegs that way."
Some methods he's forged from fresh rock, like never schooling his horses in the paddock of a morning. "I found out that when you take them at 10 o'clock in the morning, when you bring them back they won't eat lunch. They're all excited. My equation is to take them over with a good handler and you don't have any problems."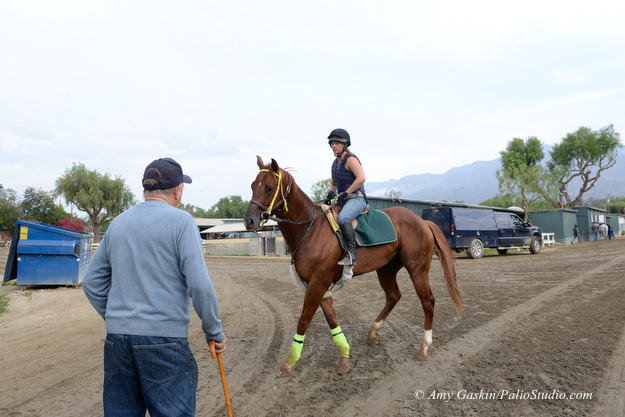 Considering the water into wine affect Headley has had on his horses, it's only fitting that his own story has at its core the same rags-to-riches narrative.
His parents kept a small farm in Uplands in the foothills of the San Gabriel Mountains, East Los Angeles, though neither were especially interested in horseracing. It was his aunt and uncle who stoked the fire, taking him to Santa Anita of a weekend. "I was very lucky because my uncle worked for Mr. [Charles] Strubb [who owned Santa Anita]. I started going racing in 1939, and I saw the likes of Seabiscuit and Kayak run against each other."
At 14, he headed to the fabled Suzie Q Ranch in La Puente—where he met a young Bill Shoemaker—to learn about racehorses. And at 16, he quit school and left home to forge a career in the saddle. "I always wanted to be a jockey, I only weighed 87 pounds in the ninth grade. I thought I could do it but my hands and feet were too big."
The world he joined upon leaving school was more akin to a traveling circus. "The racing circuit in California back in the fifties took us from Santa Anita up to Golden Gate, then Hollywood Park, Del Mar, back up to Bay Meadows and over to Tanforan." And for someone still wet behind the ears, life at the racetrack was as sharp a shock as a plunge into icy waters.
"I grew up quick. I had to. I've got a whole load of stories about hustlers and free-loaders and guys that stole money. The racetrack was great. There was always some creep, always some good guy, always some sharp guy around, and you learned quickly who to keep separate from. I never hung around with anybody who couldn't do something, who wasn't somebody. I never hung around with bad running mates – I picked good running mates. I always have. You've got to be a judge of people, like horses."
His body having swiftly caught up to his hands and feet, Headley's dream of becoming a jockey was pushed aside in favor of a training career. His grounding in lickety-split speedballs that he later became synonymous for came working as an exercise rider for the likes of Ralph West.
"[West] had all the fastest 2-year-olds in California at the time. I started to learn about how to train 2-year-olds with [West], how to get them out of a gate, how to have them change a stride and go a certain time."
Headley took his training license out in 1959 and promptly bought his first horse, Thorium, using $500 worth of WWII bonds his grandfather left him. "She was a bucking son-of-a-bitch - she must have bucked me off about 12 times." Luckily, Thorium could run as fast as she could buck, and she proved Headley's first winner as a trainer on Sep. 29, 1959, at Pomona Racetrack.
The first few years were a struggle for the rookie handler, however – that was until he met Kjell Qvale (pronounced Shell Kavaaley), at a party one night. Qvale was a leading automotive executive and long-time president of Golden Gate Fields who would become one of Headley's staunchest supporters throughout his career.
"We hit it right off. The first horse we brought together was Trondheim in 1966, and we won four straight with him, including the Dinner Stakes [at Golden Gate] and a couple at Hollywood Park - the Haggin and Cabrillo Stakes. And then we went to Chicago."
Trondheim was scheduled to run in the Washington-Arlington Futurity for 2-year-olds, but was found to have a fractured knee after a lightening work out.
"My groom thinks for sure the mob hit him on the knee because after the work he wasn't lame or sore or anything, but the next morning he couldn't walk. It was a slab fracture of the knee, though it looked more like a wound than anything.
"I wouldn't be me if it wasn't for Qvale," he added. "I trained his first stake winner and his last winner before he died, Carlsbad Mountain. And if it wasn't for him, I wouldn't be where I'm sat today."
But Qvale isn't the only mainstay of Headley's life and career with a Gordian Knot of a name. Headley also ascribes a handsome portion of his success to Aase (pronounced Osa), his wife of over 60 years.
"If I didn't marry this beautiful genius I wouldn't have managed what I did. She would always save money for us to buy horses at the sales. She's worked for the National Horsemen's Benevolent and Protective Association. She also does a lot for the women on the backside. I think I married a wife who loved racing even more than I did."
The rest of Headley's career—all the stakes winners, the big-race upsets, the peaks and the troughs, the track records, and the Breeders' Cup victory—have all been well documented. But so too has he long been vocal in his criticism of what he sees as failures within the sport to adequately address some of its greatest ills.
Always first among this list is the issue of drugs, which he tackles from two angles. The first concerns what he sees as an over reliance by trainers on veterinarians to keep horses sound and racing.
"There's too many trainers giving things like cortisone injections into joints instead of resting and recuperating horses. I don't think people were harder on their horses years ago, but I think they were greater horsemen because in those days when horses got hurt people stopped and blistered them and turned them out. That's before modern medicine and cortisone and such came in. The old horsemen went for a cure instead of a band-aid. That's why I've never been an injecting trainer."
The other angle concerns what he considers a system too leniently policed against drug violators. "If you get some kind of positive, like with frog juice or demorphin or any of those drugs, get them off the track. Rule them off completely. Gone. We used to have a very strict [California Horse Racing Board]. In the old days, you shivered in your boots. Now, you can simply hire a lawyer that can make a bunch of excuses."
The slice of revenue that off-track betting takes from the tracks is another gripe. "I think that HRTV and TVG have cannibalized racing. That's why the owners and horsemen are going broke because we have to share too much with them instead of the racetrack and the horsemen getting their fair share."
And Headley sees the recent closure of Fairplex Park as symptomatic of a wider malaise in the way racing in California is managed.
"If I was a director on the CHRB, I would have told them that we would take away their off-track wagering site if they didn't keep the track open. Right now, racing here is like a dry lake when fish slowly suffocate from no water. It's like that."
Undiminished is how he describes his love for the game, despite what troubles it faces. Diminished though is his involvement.
In comparison to the days when he rode 15 horses a morning before spending the remainder of the day breaking youngsters in the pens and loose-boxes squeezed into the yard behind his home, responsibilities around the stable have been delegated. Much slack from the day-to-day running of the barn has been picked up by his daughter, Karen, who runs a number of horses under her own name. And the question of retirement is raised.
"I'll retire when I get deaf and dumb, I guess," he said, the rattling laugh returning. "I never thought of retiring. It's too much fun. Retiring's for someone who really works hard all their life, like digging wells or putting up oil fields. Hard labor. This is a sport. This is something that's fun. So, if you've loved it your whole life, why would you stop now? I love training too much."