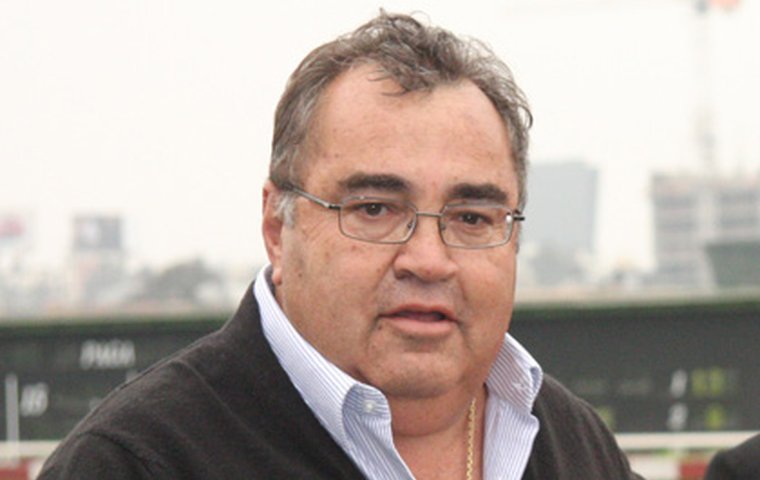 There is a new world-record holder for all-time career training victories in the shape of the remarkable Peruvian-based veteran Juan Suarez Villarroel, who recently surpassed the longstanding mark set by the late Dale Baird in North America.

Chilean-born Suarez, who is based at the Hipodromo de Monterrico in the Peruvian capital Lima, went past Baird's mark on September 8, when he saddled the 9,446th winner of his career.
The feat means that both the world's all-time leaders for trainers and jockeys come from South America, with the legendary Brazilian Jorge Ricardo still active in Argentina at the age of 57 as he closes in on the 13,000th success of an extraordinary career.
Suarez, who stands at #100 in the TRC Global Rankings, saddled a four-timer on the 12-race card at the Jockey Club del Peru on September 8. He equalled Baird's world-record mark of 9,445 when Farmer's Gold led home a 1-2 for the stable in the third race under jockey Edwin Talaverano, and wasted little time going ahead as Rey Ariel charged home inside the final furlong to win the next race, again at the head of a Suarez 1-2 in a 1,000-metre handicap (5f) on dirt under Jose Avila. Click here to watch a recording.
Not done yet, the prolific Suarez also won two further races later on the card with Pulpito and Ancon. Since breaking the record, the trainer has continued in similar vein, his overall total standing at 9,458 as at September 15, according to Pagina de Turf.
Born in Chile, Suarez moved to Peru with five brothers in his teens and followed in his father's footsteps when taking out a licence in 1980. Perennial leading trainer at Monterrico, he has won every major race of the Classic calendar in Peru, among them a multitude of G1s, including seven winners of the Derby Nacional, a race won by his father eight times between 1968 and 1980.
He has also had success abroad, notably through Al Qasr in the prestigious G1 Gran Premio 25 De Mayo at San Isidro in Buenos Aires in 2012.
Former world-record holder Dale Baird recorded his total of 9,445 winners in a 46-year training career from 1961 to 2007, mainly operating at the lower reaches of the North American circuit. Recipient of a special Eclipse Award to honour his achievements in 2004, he was leading trainer in the U.S. by wins 15 times.
The vast majority of Illinois-born Baird's victories came at Mountaineer Racetrack (formerly Waterford Park) in West Virginia, where he was leading trainer every season from 1981 to 2000. He died in a car crash in December 2007 and remains the only North American-based trainer to reach 9,000 winners.
ALL-TIME LEADING TRAINERS BY CAREER WINS
(as at September 15; *still active)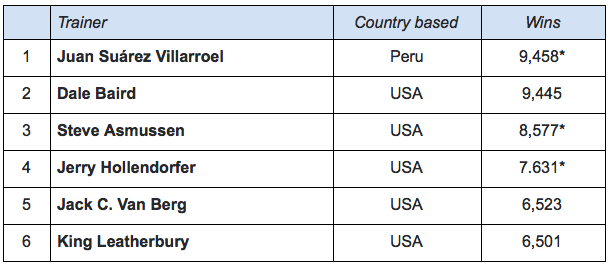 ALL-TIME LEADING JOCKEYS BY CAREER WINS
(as at September 15; *still active)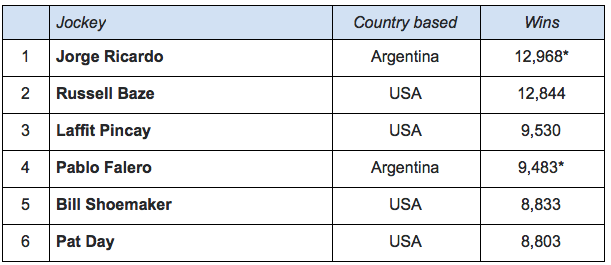 All statistics compiled by Pagina de Turf​