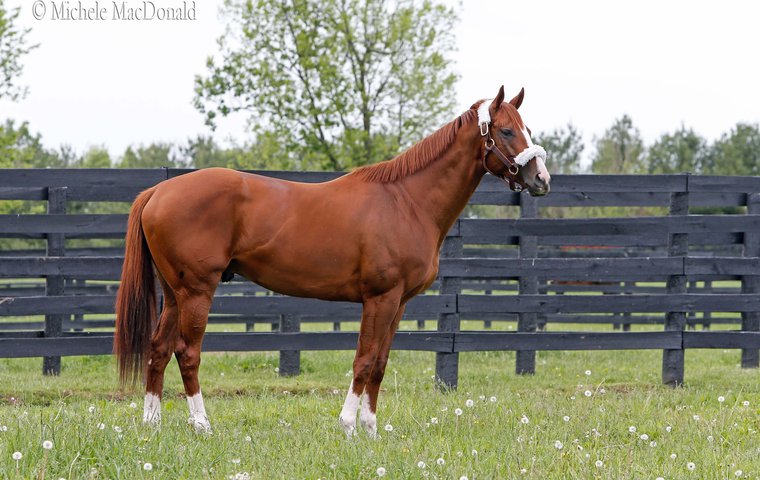 Even before California Chrome begins his new career as a stallion in about two months, co-owner and breeder Perry Martin is harboring expectations equal to the unparalleled standards the flame-colored chestnut has burned into history as North America's all-time leading earner.

"I hope and expect that he's going to displace Tapit as the top United States sire," Martin declared in early December after working with Taylor Made Farm at the Keeneland November sale to acquire nine mares at a total cost of $2.79 million to be bred to California Chrome.
Since Tapit has set North American records for single-season progeny earnings in each of the last three years and sired 21 Grade 1 winners, beginning with champion Stardom Bound in his initial crop - and is top U.S. sire in the TRC Global Rankings, Martin's hopes are soaring beyond earthly bounds.
As he pointed out, however, there are reasons for optimism: California Chrome has a far superior race record, featuring seven Grade 1 victories, including the Kentucky Derby and Preakness Stakes, compared to Tapit's single elite-level success, and they share the same sire line. Tapit is by Pulpit, while California Chrome is by Pulpit's son Lucky Pulpit.
Undeniable good looks
On the other side of the ledger of possibilities, there is no shortage of outstanding racehorses who did not succeed at stud, such as recent U.S. Horses of the Year Invasor and Skip Away, who also had pedigrees on the modest side of market dynamics, as does California Chrome. Regardless, Martin and Taylor Made are not shadowed by doubts.
"There's just something about this horse," mused Taylor Made Vice President Frank Taylor, who has been involved in every aspect of California Chrome's life since the farm acquired an interest in the now 5-year-old in July 2015.
He pointed to California Chrome's athleticism, soundness and undeniable good looks, not to mention the achievements that earned him the 2014 gold Eclipse Award as Horse of the Year, such as Grade 1 wins on dirt and turf during his 3-year-old campaign. California Chrome most likely will reap another Horse of the Year prize for 2016, a season in which he lost only once while unleashing a series of electrifying performances, even running away with the $10 million Dubai World Cup with a saddle and girth that had slipped precariously.
With all that in mind, "I think it's crazy how good this horse is going to be," Taylor said of California Chrome's stallion potential.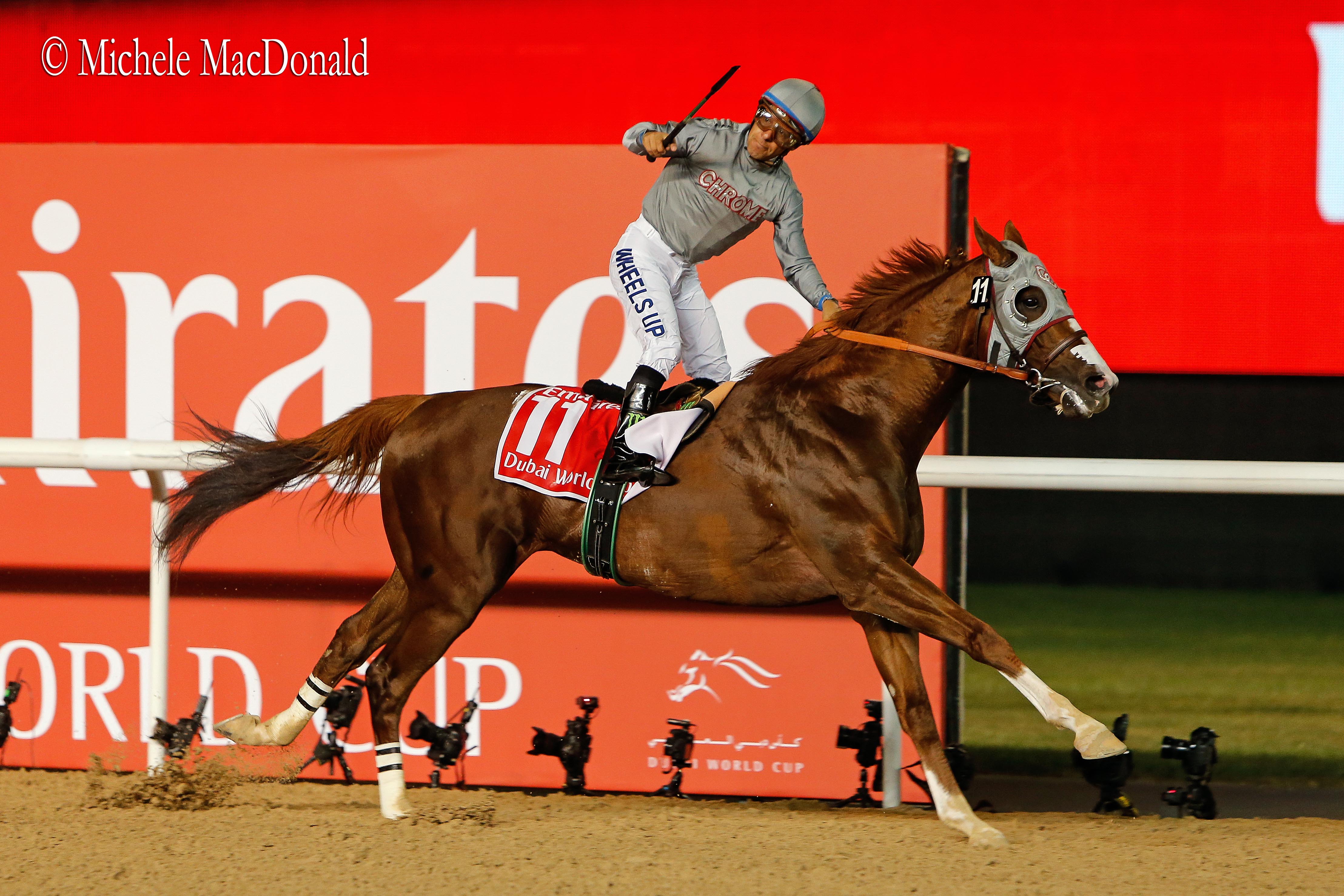 Regardless of the commercial market's tendency to disdain stallions whose pedigrees lack cache — skeptics point out that California Chrome was the product of an $8,000 mare and a $2,500 stud fee — breeders are responding to the champion with the enthusiasm an exceptional runner should command.
"It's been really, really strong, and he's getting great support," said Taylor of the reaction following the announcement last month that the champion would stand for a fee of $40,000 for approved mares, adding that Taylor Made also has been actively recruiting mares that are particularly suitable for California Chrome.
"We're excited about it," Taylor said in looking forward to California Chrome's initial breeding season. "We've been able to be selective, and we've turned down quite a few mares."
"When we say 'approved mare,' we mean it," Martin added. "We're being very selective with the mares (accepted for California Chrome's book)."
The Tiznow precedent
Taylor said there also is a certain sense of déjà vu regarding California Chrome as a stallion, particularly as to questions about his potential. When Taylor Made invested in another prominent racehorse bred in California with a relatively obscure pedigree for the commercial market, there were many skeptics about his prospects as well.
That horse, two-time Breeders' Cup Classic winner Tiznow, has gone on to do extremely well as a sire.
"People said the same things about Tiznow," Taylor said of pedigree skepticism, "but now they've forgotten that he's by Cee's Tizzy."
Breeders who have bought shares in California Chrome and become part of what Taylor refers to as the 'Super Syndicate' of ownership now number around 19 individuals or entities, although Martin indicated he may sell more of his shares before breeding season begins.
So far, breeders have submitted over 100 mares for consideration for California Chrome, with about eight to 10 valued in the $1 million range, Taylor said.
He expects California Chrome's book to be full, with about 130 mares, before his scheduled final start in the $12 million Pegasus World Cup on January 28 at Gulfstream Park, and then more mares, if they are particularly well qualified, can be added as the season unfolds, up to a ceiling of around 160.
Marquee mares
One of the marquee mares awaiting California Chrome is Champagne Royale, the dam of G1 winners Majestic Harbor and Danza, the latter of which finished third behind California Chrome in the 2014 Kentucky Derby. A 15-year-old daughter of French Deputy, Champagne Royale was purchased by Kiki and Louise Courtelis's Town & Country Farms for $825,000 at the 2014 Fasig-Tipton November sale.
Town & Country, which has worked closely with Taylor Made, also plans to breed Beholden, dam of a pair of stakes winners including Saratoga G3 victor Brazen Persuasion, to California Chrome. Beholden was included in the first book of mares covered this year by Triple Crown winner American Pharoah, while Champagne Royale visited leading second-year sire Uncle Mo.
Marie Jones, a longstanding client of Taylor Made who bred Breeders' Cup winners Ashado, Speightstown and Drosselmeyer with her late husband, Aaron, plans to send two of her best mares to California Chrome, Taylor said.
Warbling, by Unbridled's Song and a $1.1 million purchase by the Joneses in 2010 following a racing career in which she won at the G2 level and was G1-placed, is set to be covered by California Chrome after producing a colt by Tapit this season and a filly by Distorted Humor in 2015.
Investors in Chrome
Jones also will breed Mamma Kimbo, a G2 winner by Discreet Cat who was a $1.2 million purchase at Fasig-Tipton in 2013, to California Chrome. Mamma Kimbo is off to a good start as a broodmare; her first foal, Balandeen, a colt by Bernardini, won twice as a juvenile this season and finished second in the Street Sense Stakes at Churchill Downs.
Another investor in California Chrome, the Ran Jan Racing operation formed by Jan Van de Bos Naify and her late husband, Robert Naify, plans to breed two accomplished mares to California Chrome: half sisters Alexis Tangier, a multiple stakes winner by Tiznow, and Moulin de Mougin, a G2 winner by Curlin. The Ran Jan mares are out of Cambiocorsa, a multiple graded winner herself who has turned into a blue hen, having also produced G2 winner Schiaparelli.
Peppers Pride, the mare who went 19-for-19 in a racing career exclusively in her home state of New Mexico, also is in California Chrome's book. Her most recent foal is a yearling filly by Malibu Moon named Wampus, bred by Mike Stinson and Joe Allen.
Mares also will be supplied to California Chrome by China Horse Club, a shareholder, and other relatively new investors in the syndicate, KatieRich Farms and Fred Hertrich III. China Horse Club bought 15 mares at the Fasig-Tipton and Keeneland November sales for a total of $9.355 million, while Hertrich acquired 10 fillies and mares at an overall cost of $1.024 million, giving both breeders lots of options.
Notable purchases
Mares selected by Martin and Taylor Made at the sale specifically for California Chrome included the $560,000 Theworldweknow, a 4-year-old by Speightstown who is a half sister to G1 winner Marylebone and who is carrying her first foal to the cover of American Pharoah, and the $500,000 Roughing, a half sister to G1 winner Diplomat Lady and G2 winner Dream Play who was in foal to Uncle Mo.
Other notable purchases by Martin for California Chrome included Evasion, an Empire Maker mare out of champion Inside Information and thus a half sister to champion Smuggler; Uchitel, by Afleet Alex and a half sister to G1 winner Composure as well as the dam of Arkansas Derby runner-up Suddenbreakingnews, and Our Biggest Fan, by Distorted Humor and a half sister to graded winners Gottcha Gold and American Freedom.
Taylor said he is working with breeders to emphasize strong conformation characteristics as well as pedigree highlights in the mares they submit. Taylor Made President Duncan Taylor also has been seeking particular bloodlines that he feels will provide superior nicks with California Chrome.
During the November sales, Duncan Taylor said that, since California Chrome's dam, the Not For Love mare Love The Chase, is inbred 3x3 to Buckpasser's champion daughter Numbered Account, mares carrying more lines of Buckpasser are high on his preference list for California Chrome, as are mares by other stallions that carry the blood of the stellar foundation mare La Troienne.
Genetic jewels
Both Buckpasser and Numbered Account descended from the female line of La Troienne, who appears in the pedigrees of many outstanding runners, sires and producers, and California Chrome has a total of seven strains of La Troienne in his pedigree.
"We think he'll make a great stallion," Duncan Taylor said, pointing to the genetic jewels California Chrome possesses as well as the fact that he is the most successful runner yielded by the prolific A.P. Indy sire line. A.P. Indy, California Chrome's great-grandsire, injects one of the lines of La Troienne into the genetic mix as his granddam, Lassie Dear, is by Buckpasser.
Lassie Dear also is the granddam of Belmont Stakes winner and established sire Lemon Drop Kid, who has been pinpointed as a broodmare sire that would be good for California Chrome, Duncan Taylor said. Other broodmare sires that are appealing include Super Saver and Bluegrass Cat, who share Numbered Account as their fourth dam.
Mares with Triple Crown winner Seattle Slew in their pedigree also are desirable, he noted, pointing out that Seattle Slew's dam My Charmer is 4x4 to La Troienne's influential daughter Baby League, who is fourth dam of Numbered Account. Pedigrees featuring Private Account also rate highly, as that exceptional broodmare sire is a son of Numbered Account.
Duplicating some of these genetic facets in matings with California Chrome could be alchemy for racing gold.
Scientific data
"I've used this analogy before, but when you find an old painting in the attic and you think it can't be worth that much and you clean it up and wipe it off and find out it's a Monet — that's sort of how (California Chrome's) pedigree is," Duncan Taylor said.
Pedigree analysts will discover that unexpected depth. For example, California Chrome's eighth dam, the Sir Gallahad mare Betty Derr, also is the granddam of Kentucky Derby winner Iron Liege and the great-granddam of Derby winner and Horse of the Year Swaps.
Intriguingly and unusually in the international world of bloodstock, California Chrome's female line traces back to the pre-Revolutionary War era with only American-bred mares; his female ancestors survived that time of strife as well as the Civil War to create the heritage of the modern era's richest racehorse. California Chrome's 21st dam, Black Selima, who was registered to be black in color, was by British-bred import Fearnought, a sturdy and highly successful Colonial-era sire who was a grandson of the Godolphin Arabian, and she was produced by the Godolphin Arabian mare Selima.
Bloodlines, however compelling, are only one element in successful breeding.
Martin said he also is relying upon scientific data and computer-assisted analysis, including heart measurements and conformation matching software, in assessing and purchasing mares for California Chrome. So far, he has acquired 11 mares in total, including some privately, with resources provided by the horse's earnings and the sale of Love The Chase, who was in foal to Tapit, for $1.95 million at the Fasig-Tipton November sale.
Practice sessions
While assembling mares is currently the focus at Taylor Made, where California Chrome will be joined by other first-year stallions Mshawish, Not This Time and Protonico in the upcoming season, along with Graydar, Astrology and Northern Afleet, there will be an unusual challenge ahead.
California Chrome is slated to run in the specially created Winter Challenge over 1 1/16 miles at Los Alamitos Race Course on December 17 before going on to the 1 1/8-mile Pegasus World Cup, which is set to become the richest race ever run in the world.
Once he has competed in the Pegasus, California Chrome will be shipped to Taylor Made in Nicholasville, Kentucky, where he will have only a week or two to get ready for breeding season. Most stallions are introduced to farm and breeding shed routines, including test breedings, over longer periods of time so that they can ease into their new work patterns.
"Judging from watching Chrome, he won't be a problem," Frank Taylor said. "He's smart and easy to handle. We'll have about a week and he'll be ready to go. I don't think it will be an issue."
Taylor Made has three calm resident mares whose ovaries have been removed that are used in practice sessions for stallions, and they will play a major role in introducing California Chrome to his new career.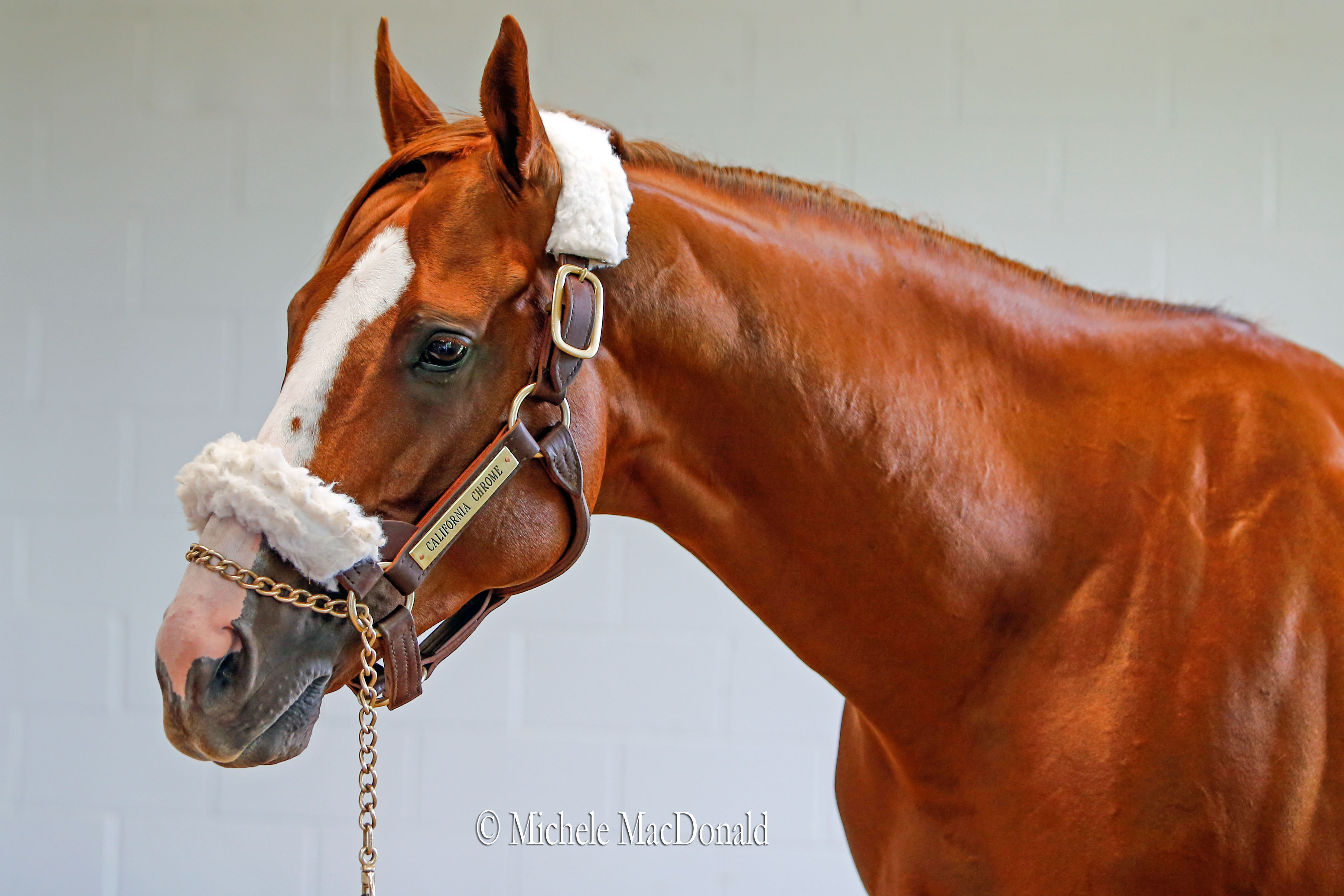 Once he becomes acclimated to covering mares, California Chrome will begin the breeding season in mid-February with the anticipation that he can sire offspring possessing his floating stride, high cruising speed and striking looks. Whether he can live up to Martin's desire that he displace Tapit or whether his stud record will be eclipsed by his own brilliant racing exploits will only be revealed over time.
"Nobody knows where a good stallion will come from. You can't predict it," Frank Taylor said while noting many of California Chrome's assets that point to a likelihood of success. He confided that, in storybook fashion and defying the norms experienced with most horses, California Chrome has done "everything perfectly" since Taylor Made became involved with him.
"From the time we bought into him, he hasn't had one bad day. He hasn't had a fever, he hasn't missed any feed," said Taylor. Despite the rigors of racing, the soon to be 6-year-old is even 20 pounds heavier now than he was prior to the Dubai World Cup, which was part of a six-race win streak that was only broken when the chestnut gave four pounds to Juddmonte Farms' Arrogate under the conditions of the Breeders' Cup Classic and was caught in the final yards after setting the pace.
"California Chrome is just getting bigger and stronger — he's loving what he's doing," said Taylor.
Retirement a difficult decision
Deciding whether to retire the horse after the Pegasus World Cup was difficult, primarily because California Chrome is clearly thriving in his training, with all signs pointing to a probability he could achieve more. However, after considering breeders' interest and the mares that were being assembled, as well as recognizing fans' sensitivities about the horse's future, Martin and the Taylors decided to call time on his racing career and begin breeding him in 2017.
Whatever happens in the next chapters of his saga, California Chrome owes nothing to anyone. He has won 15 of 25 starts and banked $14,452,650; if he can win the Pegasus World Cup, where he could encounter Arrogate again, he would collect $7 million and become the first horse anywhere on the globe to surpass $20 million in earnings.
He's already repaid all the money Taylor Made invested in him and bestowed Martin with memories to treasure all his life. If California Chrome can sire colts and fillies with a good measure of his own speed, stamina, soundness and heart, that will the ultimate conclusion to his unique tale.
"We've been so blessed," Frank Taylor said, speaking for all who have been connected with California Chrome. "It has just been unbelievable. I've never had this much fun before."