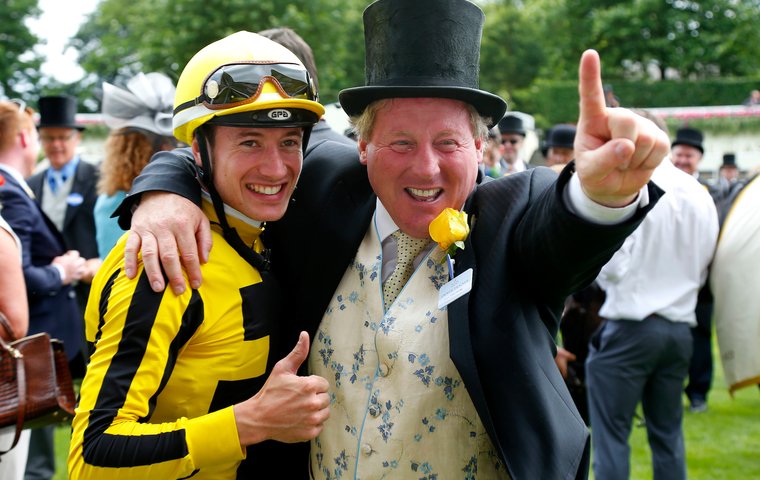 There was a collective sigh of relief within the European breeze-up community earlier this month when the bulk of a challenging sales season drew to a close at Goresbridge. Several still have Arqana's Summer Sale to look forward to and others will turn their attention to yearlings. However, for Con Marnane and everyone at Bansha House Stables in Tipperary, the year is just beginning.

For the past few seasons, Marnane has made a fine job of maintaining a string with Matthieu Palussiere in Maisons-Laffitte, France. For the most part, the pair are working with horses sourced inexpensively out of auction, and the winners have flowed freely in the colours of Theresa Marnane, among them many with the quality to hold their own at a good level.
2017 was the year of Different League, a mere €8,000 foal purchase, who provided the Marnanes with one of the best days of their racing lives when landing the Albany Stakes at Royal Ascot. And now Marnane is dusting off his top hat again in anticipation of another Royal Ascot assault - yet not with just one horse but seemingly with an array of competitors akin to a small army.
How it all started
Since Awesome Day captured her debut at Lyon Parilly on April 5, the Marnane-Palussiere machine has sent out 18 additional 2-year-old winners in France. The group comprises a collection of inexpensive yearlings, including the dual winners Mister Vancouver and Junius Brutus, alongside homebreds Forever In Dreams, an unbeaten daughter of Dream Ahead, and Love To Excel, who provided his sire Es Que Love with his first winner.
Then there are the breezers, those that failed to find new homes during their earlier engagements at the breeze-up sales. Given that the group already includes Ascot hopefuls On A Session, Rolling King, No More Regrets and I'm The Man, who were bought back at figures ranging from £24,000 to 77,000gns, the Bansha House team would seem to have already had the last laugh.
"It started when we sent two over to race in France a couple of years ago," says Marnane. "They were two cheap fillies and both of them won. They did well and we sold them, and more importantly they went on to do well for the people that bought them.
"The following year, we got a bigger string going, and it's grown from there."
He adds: "We have a very good team of people in Ireland and then there's a very good team of people with Matthieu in France too. I've been happy with the horses all the way through this year. Their skins have been good and they've been healthy horses, and more forward as a result."
Marnane's Bansha House Stables has long been at the forefront of Europe's breeze-up scene.
A keen eye for a young horse, a talent which has been inherited by daughter Amy, allied with that strong Tipperary team means rarely does a year pass when Bansha House isn't represented by a graduate of note. Multiple G1 winner Rio De La Plata, July Cup heroine Fleeting Spirit and the G1-winning 2yos Palace Episode and Amadeus Wolf are among those to have passed through the breeze-up system, and they complement a current list that is headed by the Poule d'Essai des Pouliches heroine Teppal and Temple Stakes winner Sands Of Mali.
Physical-over-pedigree approach
In keeping with several of Marnane's Palussiere string, Sands Of Mali does not boast a particularly fashionable background. He is the best runner sired by Panis, a veteran stallion who has been either killed off or gelded in print by various industry commentators over the years - by contrast, the son of Miswaki currently resides at Haras des Faunes and is in the midst of a career best season. However, the fact remains he is a €2,500 stallion who invariably covers small books.
Sands Of Mali is also typical of the physical-over-pedigree approach that Marnane often takes, particularly when shopping in France. For instance, the highly regarded Show Must Go On, who recently ran second in the listed Prix La Fleche at Maisons-Laffitte, was a €12,000 Osarus yearling purchase and is one of just eight 2yos by the Oasis Dream horse Reply, who stands for €2,000.
Junius Brutus, a Cockney Rebel colt who is unbeaten in two starts and heads to the Coventry Stakes, cost just €6,500 at Tattersalls Ireland last September, while the aforementioned Awesome Day, by the disappointing Diamond Green, was a €7,500 yearling. By contrast, Chantilly conditions race winner Trois Mats is another classy individual by the upwardly mobile Wootton Bassett; yet he cost just €18,000 out of Arqana's Autumn Sale.
Then there is their support of former Bansha House graduates. In the case of Rio De La Plata, the Marnanes have had an involvement in two of his three stakes winners in Aiming For Rio, who won a listed race following her sale to Godolphin, and Rioticism. They also campaign his promising 2yo Princesse Isabelle, a €10,000 yearling who won earlier in the year at Strasbourg.
"We got Panis going," says Marnane, "and we've had a few good Rio De La Platas. Then we got Dabirsim going last year with Different League.
"Several of the 2-year-olds this year were bought at the Osarus sale. For me, it's all about the physical, but that's particularly true there."
There is real excitement, however, over the future of several of the Bansha breezers, eight of whom - On A Session, Rolling King, I'm The Man, the listed-placed No More Regrets, Reel Bizzy, Pardon My French, Oh My Oh My and Zorro Cass - have won already.
They are arguably led by On A Session, a £60,000 buyback out of the GoffsUK breeze-up, who was quick to gain his share of newsprint as the first winner for Noble Mission. Unbeaten in two starts at Lyon Parilly and Angers, he heads to Royal Ascot with a fair weight of confidence behind him in the Chesham Stakes, as does Rolling King, a More Than Ready colt who landed his Chantilly debut at the expense of fellow Marnane runners Pardon My French and Zorro Cass. Although beaten by fellow Ascot hopeful Trois Mats last time out at Chantilly, he is expected to progress again on quicker ground.
Up for sale
Pardon My French could also take his place in the Chesham, while No More Regrets heads to the Albany Stakes, but not before going under the hammer at the Goffs London Sale on Monday night, alongside Junius Brutus.
"A lot of the credit has to go to Amy," says Marnane. "She bought three at Keeneland last September and two of them - Rolling King and On A Session - are going to Ascot. And then the previous year she bought Corrosive, who's going to the Britannia.
"Rolling King is a good horse and then On A Session has won the same two races as Different League. He learnt a lot the last day - we told Antoine Hamelin to teach him something and he pulled him back, brought him through horses and he won well."
Even so, for all their success, there is no getting away from the fact that these breezers are currently adding weight to the Bansha system via default.
"There was no middle or lower market this year and a lot of horses have been left," he says. "I think one of the reasons is that there is this desire for horses to do fast times. And we don't push our horses, they're not pushed to do fast times. They forget the good horses that didn't go fast on the day."
Celebrations on the track
Luckily for Marnane, disappointment in the sale ring has been swiftly overwhelmed by celebrations on the track. The achievements of Different League, who sold at Tattersalls for 1.5 million guineas to the Coolmore partnership and Peter Brant after running second in the Cheveley Park Stakes, are still fresh in the memory and there is the strong impression that another victory at the Royal meeting would mean the world.
"We get a real buzz out of it," he says. "We'll never forget Royal Ascot last year - what a day. Different League was always a big, strong girl - she was almost like a National Hunt store at the yearling sales, which is why people were turned off her [she didn't sell for £14,000]. But she was very well named - she was in a different league!
"What she did is exactly why people go and buy horses. They're dreaming. And then they might bring in their friends and family and then they're enjoying it too, which can only be good for the sport. We're all entitled to dream and you never know what might happen."
Those dreams might just materialise this week with another Royal Ascot winner or two.