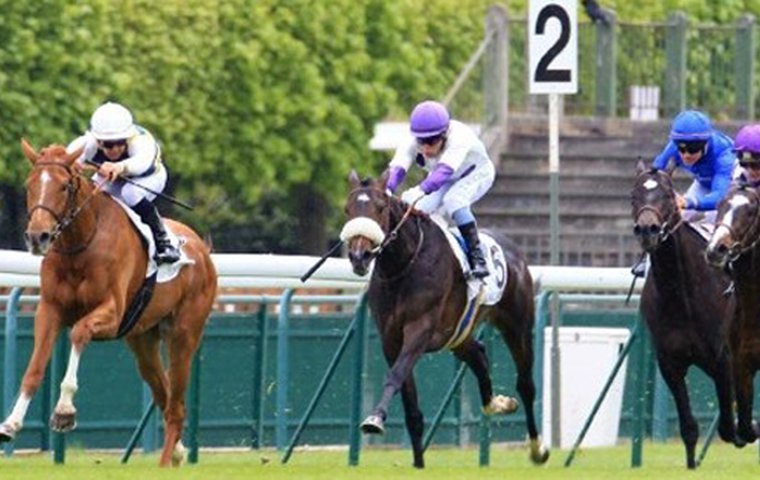 While many of France's elite 3-year-olds are flexing their muscles at Longchamp Racecourse on Sunday in the country's first two Classics of the season, one horse who has already proved himself among the most exciting of the current crop will be back home in his yard with something very different on the agenda. Emmanuel Roussel reports on the unusual case of Gailo Chop.

Read more about OTI, Gailo Chop's part owner.
He could be the best 3-year-old in France, yet not only will he not be in the line-up for Sunday's G1 Poule d'Essai des Poulains (French 2,000 Guineas) at Longchamp, but he will not be there either for the G1 Prix du Jockey Club (French Derby) at Chantilly Racecourse on June 1 even though a horse who has achieved what he has would certainly be among the favorites to win it.
Gailo Chop (pronounced gay-low shop) has now won his last four races, including two of the main preps for the Prix du Jockey Club, and has shown signs of improvement each time while other main Classic contenders have failed to deliver. But he is a gelding, and therefore is not allowed to take part in Classics in France or most of the rest of Europe.
So watch out, United States, Gailo Chop is off to Belmont Park.
The plan, hatched after a half-share in the horse was bought by an international ownership group based in Australia, is for an ambitious trip to New York for the new $1.25 million Belmont Derby Invitational over 10 furlongs (2,000 metres) on turf on July 5.
Gailo Chop is trained - far from the traditional training centres around Paris where most of the other leading French 3-year-olds are to be found - at Mont-de-Marsan in southwest France at the stable of Antoine de Watrigant, a 52-year-old renowned for handling jumpers and speedy 2-year-olds.
This is a horse whose achievements have already outrun what you would expect from his pedigree. He's by the Juddmonte-bred sire Deportivo (GB) out of the obscure Marignan mare Grenoble, who won only once in 30 races mostly over 10 to 12 furlongs. Before giving birth to Gailo Chop, she had four other relatively undistinguished offspring.
Deportivo won a handicap at Royal Ascot after ending his first season with British trainer Roger Charlton as a beaten favorite in the G2 Prix Robert Papin at Maisons-Laffitte. He stood at Britain's National Stud for three seasons before being transferred to Walton Fields Stud in Leicestershire in the English Midlands, where he came to the attention of shrewd French owner-breeder Alain Chopard.
In 2010, Chopard brought Deportivo to his 270-acre Haras des Faunes, approximately 25 kilometers (16 miles) east of Bordeaux, where about 100 mares stand on a regular basis. Chopard is an accomplished talent scout when it comes to discovering an underrated sire. He recently found Panis and Indian Rocket, for instance, and floods the French market with talented 2-year-olds every season. The unconventional Chopard seems to see the French market as representing a game you can win only if you ignore tradition and accepted practice.
Yet at first, Gailo Chop did not look likely to be one of Chopard's successes. He was a stocky, somewhat heavy, and apparently unintelligent colt, de Watrigant recalled.
"After a couple of months at home, his breeder-owner Alain Chopard and I decided to geld him," de Watrigant said. "There was nothing that special about him and we did not feel at that time that his pedigree justified more concern than that. He came back in July and started to show us more good things on the gallops, but even more at the track."
Gailo Chop won his second time out at La Teste De Buch Racecourse and ended his first season with a mile Listed win at Nantes Racecourse.
"The ground was heavy that day and he had had to overcome an awful trip to win it," de Watrigant said. "He was caught wide most of the way and came from the rear to win, which is especially difficult there. People kept on saying there wasn't anything in the race, but my colleague Dominique Sepulchre confirmed a special horse was needed to overcome such adverse conditions."
By that time, Gailo Chop, a very strong chestnut, had become well mannered, friendly, and easy to deal with.
"He only becomes a warrior on the track, which is exactly what we look for, really," de Watrigant said. "Earlier this season, we tried to stay ahead of the pack and went straight for the Listed Prix Maurice Caillault at Saint-Cloud.
"We hadn't had a chance to work on the turf because we had had floods over here," he said. "Yet, he thrashed the field and won by 2 1/2 lengths. Then, it was the G3 Prix La Force (10 furlongs) and the G3 Prix Noailles only two weeks later over 10.5 furlongs (both at Longchamp). Both times he set new records for the race, and he was only marginally off the course record in the Noailles.
"He has surprised us every time. But it seems to me that, even though he won over the mile at 2 and most recently over an extended mile and a quarter, he may not stay further."
Gailo Chop was wearing new colors in the Prix Noailles as OTI Management, one of the biggest ownership companies in Australia, had become his part owner with Chopard.
Emmanuel de Seroux, of the U.S.-based bloodstock agents Narvick International, managed the agreement and was also instrumental in pointing the gelding to Belmont Park.
"The only race we could think of for him was the G2 Prix Guillaume d'Ornano, in August at Deauville, but that is way away," de Watrigant noted. "Emmanuel de Seroux, who knows everything about American racing, told us about the Belmont Derby and its boosted purse. It kind of opened our eyes."
Antoine de Watrigant has never saddled a horse in the U.S., but he won't be the first person from his region to compete in American racing. Leading trainer Jean-Claude Rouget was the pathfinder and is now used to sending horses to the States from his Pau base, not far from Mont-de-Marsan, and Gailo Chop's regular jockey, Julien Augé, worked for a few months with Christophe Clément at Belmont.
According to de Watrigant, Gailo Chop is so easy-going that the journey won't bother him. It takes about seven hours to drive a van from Mont-de-Marsan to Longchamp and so far nothing has fazed him. He usually arrives two days before his starts in Paris and an extra eight-hour flight, in the company of his morning rider Brice Benouni, shouldn't be a problem.
"It is a bit of a dream come true," said de Watrigant, who trains about 30 horses and has worked with Chopard for five years. "We'd never have dared to supplement Gailo Chop in the Prix La Force hadn't Rouget overcome the region's inferiority complex, let alone think about running in the U.S. It is also a good thing for the Mont-de-Marsan training center. Before us, Xavier Thomas-Demeaulte, Didier Guillemin, and Philippe Sogorb [trainer of Vorda, who was seventh in the Breeders' Cup Juvenile Fillies Turf last year] have promoted our great working environment and I hope we will be up to it too."
After Belmont, it's back to France for Gailo Chop before a decision is made in September about his future.
---
Tomorrow: The ownership group likely to campaign Gailo Chop in Australia.