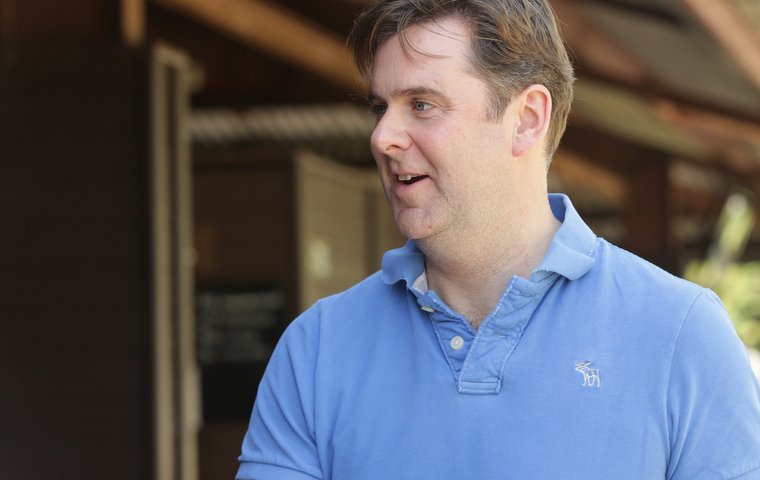 British Bloodstock agent Alastair Donald is quick to express just how much he is enjoying spending time in the hot New Zealand summer as he conducts business during the National Yearling Sale at Karaka.

Donald cut his teeth in the New Zealand Thoroughbred breeding industry during a gap year in his education as an 18-year-old, spending time at the old Thornton Park Stud in the Central Districts during an eight-month stint in the country.
"This is my first time back since my year off when I was 18," he said. "I spent 8-9 months where I worked at, what was then Thornton Park for the Chitticks, and also some time at Little Avondale Stud and also at a sheep station.
"When a Hong Kong client asked me to come over this year, I was keen as it's a quiet time at home in England, in the cold."
Donald spent time in his early years in the industry working for various employers while learning the trade, before establishing his own agency. "I worked through jobs in racing and was first an agent in 1999 with Luke Lillingston," he said.
"I worked for him for 10-11 years where he used to send me on a world trip every year and I specialised in horses in training for Hong Kong, Australia and America. I left Luke and established an agency with Ed Sackville where, these days, we do a lot more yearlings.
"I did a lot of work for John Moore in Hong Kong for about 15 years. I now work more with the owners directly but still buy a few for trainers. Hong Kong has been very lucky for us. We've had three Derby winners and 38 Group 1 wins.
"Viva Pataca was the first horse that really got me rolling and, since then, we've had Collection and Designs On Rome win the Derby while Military Attack was Horse of the Year, plus Time Warp and Glorious Runner."
Donald is back at Karaka at the behest of two of his Hong Kong clients, who were keen to continue to tap into the New Zealand yearling market.
"Two of my Hong Kong owners, who I know buy here, contacted me and asked me to come," he said. "I've bought five so far. There have been some nice types, although I have been quite specific on what I want for Hong Kong.
"I'm enjoying the sales as it's very well organised, the hospitality is great and it's seriously easy here looking around the horses. I hope that these do well and I can come back. All five horses I have bought have solid pedigrees."
Donald outlaid $240,000 for a More Than Ready colt from the Lansdowne Park draft, along with $100,000 for a Per Incanto ex Ritzy Lady colt from Curraghmore. His two Pierro colts were sourced from Curraghmore and Little Avondale Stud for $260,000 and $160,000 respectively. He also went to $130,000 to secure a Pins colt out of stakes-placed mare Deliciano.