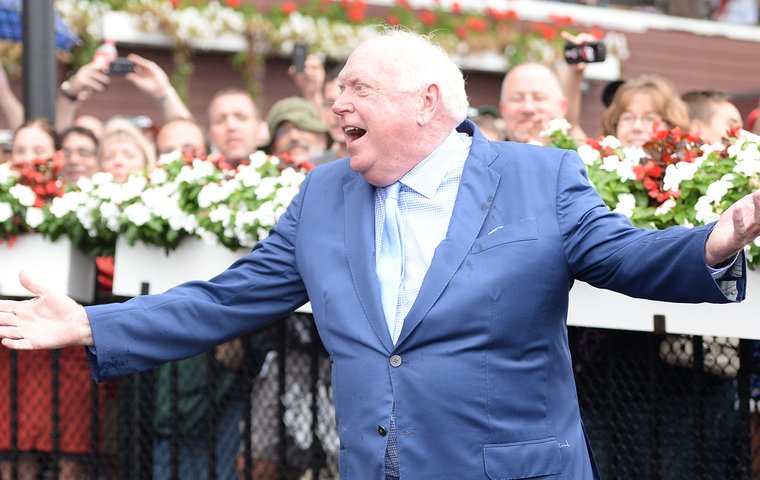 When Tom Durkin retired as a track announcer in 2014, ending an unparalleled career of more than four decades spent calling many of America's most famous races and becoming one of the sport's most beloved figures, he was often asked to rank his favorite race calls.

Each and every time, Durkin politely refused. For him, the question was akin to asking a parent to rank their children.
Yet last week, after more than 2½ years of retirement, Durkin authored a race call that will no doubt have a very special place in his heart and will never be forgotten by those fortunate enough to hear it.
And it didn't happen inside an announcer's booth or even at a racetrack.
The setting was a restaurant just outside Louisville. Durkin, one of handful of West Point Thoroughbreds investors who owns a share of then Kentucky Derby contender Always Dreaming, was attending a party with about 100 of the stable's partners, workers, family and friends.
Vintage Durkin
It was a festive night that took an unexpected turn when Durkin stood up on a small platform and launched into this animated call of the upcoming Kentucky Derby, complete with Always Dreaming crossing the wire first and the crowd wildly cheering Durkin's vision of the outcome.
"Tom got so red in the face doing it," said West Point President and CEO Terry Finley. "It was kind of like hearing a really good singer in their late 60s. They might miss a note or two, but when you hear them you know that in their prime they were best in the world. I started bawling while I was listening to it, and it's Durkin's fault I was so emotional the next few days. He titled my emotions that way with his race call."
Aside from a little rust, it was indeed vintage Durkin. Just as he did when he spent 24 years as the race caller for the New York Racing Association and served as the longtime voice for the Triple Crown and the Breeders' Cup, Durkin painted a vivid picture of the action that would unfold on the first Saturday in May at Churchill Downs.
Two days after Durkin's impromptu call, Larry Collmus, Durkin's successor at NYRA and on NBC Triple Crown telecasts, captured the excitement of the final yards of the 143rd Kentucky Derby with the words: "They're coming to the line and the dream comes true. Always Dreaming has won the Kentucky Derby!"
Indeed, he did. Just as he did in Durkin's call.
Wild celebration
"I got the call right on Thursday night," Durkin said. "I used all the horses but I made sure Always Dreaming won and let's just say it was a very popular call."
It was also a result that sparked a wild celebration involving majority owners Vinnie Viola and Anthony Bonomo and their families, and the newest members of the partnership, Anthony Manganaro of Siena Farm and Finley and five West Point investors, one of whom most assuredly became the first person to ever call the Kentucky Derby and to own a share of a Derby winner – and had the time of his 66-year-old life experiencing it.
"When you're calling a race like the Derby and it's over, you feel a certain satisfaction," Durkin said. "There's also relief it's over. But last Saturday when Always Dreaming crossed the wire there was just elation. Looking at pictures people have been sending me, I was a very happy guy. I found myself laughing at the absurdity of it. It was surreal. My basic reaction was laughing uncontrollably."
Though he enjoyed the proverbial last laugh, the start of the race was anything but a laughing matter for Durkin as he narrowly avoided a serious injury while Thunder Snow was being removed from the race track. The UAE Derby winner began to buck shortly after leaving the starting gate and was quickly taken off the track after falling hopelessly behind the field.
'Pinned to a wall'
"I was watching the race in the tunnel between the paddock and the track and the field is just coming by us when all of a sudden I hear everyone screaming 'Get out of the way. Get out of the way' and they opened the rail leading to the tunnel. In comes the outrider and Thunder Snow," Durkin said.
"Thunder Snow is a wild horse and he practically pinned me to the wall. Being afraid of horses already, I was scared that I was going to get kicked. He had his butt end angling right over to me. I had to put my hands on his hips and push him away from me to straighten him out and keep him away from me. Believe me, he was a wild horse. If he had kicked me, you could imagine the headline, 'Derby owner dies before the race is over.'"
Durkin survived that ordeal and, by the time he started watching the race again, the field was on the backstretch. What he saw did little to calm his frazzled nerves.
"They put up a time of 46⅖ [46.53 seconds] for the opening half-mile and, from my research over the years of the Derby pace, I knew that was too fast," Durkin said. "It was no good. He was right up there behind a fast pace and I thought to myself, 'oh well.' But I was glad to be proven wrong."
Glad might be an understatement. Deliriously overjoyed might be a better choice of words as Durkin watched jockey John Velazquez guide Always Dreaming to a 2¾-length victory for trainer Todd Pletcher over a sealed, wet-fast track.
'Screaming lunatic'
"I saw a photo of Tom on the racetrack after the race and he's there smelling a rose. It was completely over the top," Finley said. "I guess if that doesn't encapsulate everything that's good about Tom Durkin and how much he enjoyed that moment nothing will."
For Durkin, his euphoric reaction to Always Dreaming's victory put in perspective the 180-degree difference between calling a race and living the grand life as part-owner of a Kentucky Derby winner.
"When you're watching the Kentucky Derby and calling it, that's a completely different experience than being a minority owner," Durkin said. "You're looking at everything in a non-prejudiced way when you are calling the race, but, when you're watching the race as an owner, you're just watching your own horse and rooting for him. I was a screaming lunatic when they hit the top of the stretch. I'm not sure of what I said, but three days later I'm still hoarse.
"The work experience and the other-side-of-the-glass experience are not at all alike, other than they both have something to do with horse racing on the first Saturday in May. The day of the race as an announcer, I used to go to the track and go over my notes, over and over and over again to make sure I'm ready. For weeks before that, you look at tapes, read stories and worry about making a mistake more than anything else. A lot of intense preparation goes into calling the Derby.
"Last Saturday at Churchill Downs, I'm out there yucking it up, socializing, people-watching, mint julep drinking and it's a completely different deal. I guess I was a little nervous, but it was a good nervous. Calling the race is a bad kind of nervous."
Colorful calls
Always Dreaming's victory was certainly poignant as Durkin spent more than a decade of his incredibly popular run as NYRA's track announcer calling races involving Pletcher and Velazquez. Pletcher, like so many fans of New York racing, loved Durkin's colorful calls and took pleasure in helping to give Durkin a memory that will always bring the retired announcer unbridled joy.
"Tom is a living legend and he's a fun guy to be around. It was pretty cool to have him become part of the partnership and enjoy what's turned out to be a very exciting time for all of us," Pletcher said. "For a guy who was used to being a part of so many big races, it's nice in a sense to see the game give something back to him and provide him with the same kind of excitement he gave so many people over such a long period of time. He deserves to enjoy a moment like owning a Kentucky Derby winner."
Finley also derived no end of pleasure from helping Durkin and the other West Point partners savor a moment filled with overwhelming emotion.
"The great part for me is making a difference in people's life," Finley said. "We all get a little older. We won't be on earth forever. We're all mortal. So the fact we were able to give five people a memory on that Saturday afternoon that will last with them for the rest of their lives is special. Three generations later, too, relatives will still talk about how their great-great grandparents owned a Kentucky Derby winner. That will stay in those people's family, my family, for decades to come and be etched in their family history. That's an awesome aspect of this."
Emotional send-off
To fully understand the warm response to Durkin's good fortune as an owner, you have to appreciate the love fans had for his race calls, especially during his 24-year run as NYRA's track announcer. Be it a cheap claimer or a graded stakes, his calls were colorful, witty and descriptive and were the perfect coupled entry for a huge showdown.
"Tom's greatest asset was that he could make every race different than the previous race," said NYRA backup announcer John Imbriale, who worked alongside Durkin for more than two decades. "He put his own touch on every race, which is not easy to do."
Durkin gave racing lines such as the "unconquerable, invincible, unbeatable Cigar" and spawned a legion of imitators for the way he channeled his inner pirate and reveled in the victory of a horse he called "Arrrrr, Arrrrr, Arrrrr."
In turn, he was embraced and treasured by New York fans like a Derek Jeter or a Mariano Rivera and given the same kind of emotional send-off as the Yankees' stars after calling his final race.
On a dark, rainy Aug. 31 afternoon of 2014, after Durkin called the Spinaway Stakes complete with a spectacular mention of a "splashtastic" romp by Condo Commando, he triumphantly walked down from the announcer's booth to a trackside retirement ceremony. En route, he was greeted with loud roars of cheers from a packed grandstand that applauded every sentence he spoke while thanking them for their support.
No regrets
"For Tom to come back and be front and center with the Kentucky Derby winner, this is a little bit of Hollywood, especially since you would be hard-pressed to find a racing personality more popular and respected than him," Imbriale said. "I told a few people after Tom's retirement ceremony at Saratoga that it was the most heartfelt, emotional, warmest, most memorable, ceremony, occasion, whatever you want to call it, that I have seen at the racetrack. Nothing comes even close. The emotion everyone had and gave to him will stick with me forever. It cannot be topped. I think it surprised him a bit and he was taken aback. That was a great, great moment that worked out so well. It's going to be tough for anyone to match that response."
Recipient of the 2015 Eclipse Award of Merit, Durkin says he has absolutely no regrets about retiring and harbors no intentions of returning to the job that made him famous. He's far too busy with creative ventures for that.
Durkin recently built a sound studio in the basement of his Saratoga Springs, New York, home and runs a business doing voice-overs called "What Can I Say For You?"
He's lined up work doing audio for diverse projects such as children's books and John Perrotta's book Half a Chance. He's done commercials for Bleacher Report and car dealerships. During the racing season at Saratoga, he can be found leading tours at the National Museum of Racing and Hall of Fame or calling backstretch bingo games on Wednesdays.
Ownership ventures
This summer, you'll also find Durkin in an owner's box, basking in his association with Finley and West Point.
"We met about a year after he retired," Finley said. "We had gotten to know each other over the years but he was the consummate pro and never got too close to horsemen, but you could up a better relationship with him over the years. He told me he'd love to get into the horse business. He wanted to pay his own way with no special treatment. He wanted to be an ambassador for us. He started coming to 2-year-old sales with us and bought a few.
"It's just a good feeling to have an iconic figure like Tom with us. He's the best announcer in the history of the sport, who is so beloved in racing circles, and he still wants to help the business by participating in it, knowing people still like to be around him."
While calling races for NYRA, Durkin became involved in harness racing, owning horses with his friend, Joe Spadaro, for about ten years. One of their horses, Coraggioso, won 23 races, including a $250,000 stakes, and earned about $650,000, according to Durkin.
A little more than 10 years ago, he even joined with some NBC colleagues, including Tom Hammond, Mike Battaglia, Bob Neumeier and Donna Brothers, in buying a Thoroughbred.
"We thought if that horse ever got to the Breeders' Cup it could be a problem so we named her Conflictofinterest," Durkin said of a filly who won one of nine starts in 2006 and earned $24,515 for her media connections.
Wise investment
After he left NYRA, Durkin wanted to become more active in the Thoroughbred industry and found West Point to be the best fit for him.
"It made a lot of sense to get involved with West Point," he said. "More people can participate in partnerships. Generally, owning a racehorse is not a good financial investment. But, in the investing world, the first thing they tell you is to diversify. I find it's better to own a small piece of five horses than a big piece of one. It makes more sense and it's five times the fun."
Pletcher agreed that partnerships can be a wise investment for people with looking for a way to gain access to yearlings and private purchases beyond their individual resources.
"The beauty of partnerships is that they give people like Tom access to the kind of horses they could not buy into on their own," Pletcher said. "It gives them great access to the game and you can see the great time they have with it."
Since joining West Point, Durkin has been a part of the year's two biggest American races. Earlier, he had a share of the West Point group that bought a share of Breaking Lucky, who finished eighth at 74-1 odds behind Arrogate in the $12 million Pegasus World Cup.
"The Pegasus was kind of like the first Breeders' Cup Day. No one knew what to expect. The place was really vibrant and alive. The crowd was into it and to get Arrogate and California Chrome facing off again was tremendous. Just being around those big events is pretty cool," Durkin said.
A share in Always Dreaming
Always Dreaming came into Durkin's life when Finley and Manganaro, who became friends during Finley's 2014 bid to become the head of the New York Thoroughbred Horsemen's Association, talked about acquiring a horse together.
Finley then contacted Viola, owner of the National Hockey League's Florida Panthers. Both men are graduates of the U.S. Military Academy at West Point and Finley talked to his friend about the possibility of acquiring a share of one of the promising 3-year-olds Viola owns.
In the past, Finley had bought a share of Viola's 2015 Breeders' Cup Dirt Mile winner Liam's Map.
This time he inquired about Battalion Runner and Always Dreaming, but settled on Always Dreaming for a hefty price tag. At the time, the son of Bodemeister was coming off an allowance race at Gulfstream Park and was being pointed toward the Florida Derby
"Vinnie said okay on Always Dreaming, but it was an exorbitant price. He didn't give us a discount on it," said Finley, who recouped a chunk of the purchase price when Always Dreaming won the $1 million Florida Derby in his stakes debut. "But I have to thank Anthony Manganaro for all of this. Without him, I never would have bought the share of Always Dreaming."
When Finley offered Durkin a share of Always Dreaming, he didn't hesitate to join the group.
The rest is a part of history that could take an even more intriguing twist in the weeks to come.
Triple Crown possibilities
For all of the great races he called, Durkin never called a Triple Crown sweep. On eight occasions, he called a Belmont in which a sweep was on the line but it failed to materialize, yet he has no regrets about missing out on a historic call and at times jokes about it.
Yet with Always Dreaming the likely favorite in the Preakness and, if all goes well at Pimlico, a trip to Always Dreaming's 2-year-old home of Belmont Park next on the agenda, perhaps what Durkin could not do in the announcer's booth just might, with some grand luck, happen in the owner's box.
"What if this is Tom's Triple Crown? Can you imagine if Tom ends up owning a piece of a horse that wins the Triple Crown," Imbriale said. "It would be irony of ironies. Right now, I'm not sure of what the biggest cause of concern will be."
That last line, of course, was borrowed from one of Durkin's well-known race calls, the 1994 Travers featuring Holy Bull and Concern.
Perhaps if Durkin ranked his work, that call might be near the top of the list.
But for now, even after stepping in front of a microphone more 10,000 times to detail the action in a horse race, there's one very recent call that has a special significance for Tom Durkin - and it happened a few days before the race even took place.
Who would have thought that could be possible?