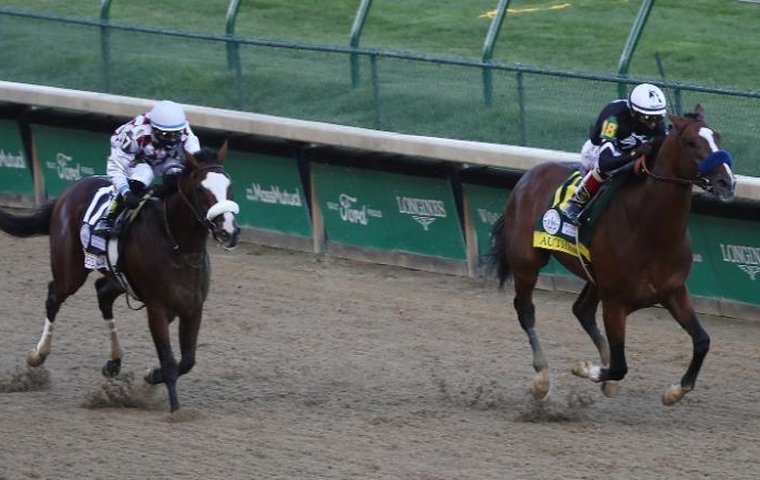 This being the third week of the new TRC Global Horse Rankings - but the first to feature some of the world's top horses - let's look at a few horses and races last week to exhibit some of the features of the rankings that make them both powerful and unique.

First to the U.S. Classics at Churchill Downs last Friday and Saturday:
Kentucky Derby (G1)
Runner-up Tiz The Law drops to #8 from #4 after losing 18 pts. He now stands on 1251pts.
Winner Authentic is up to #32 from #147 (1145pts, +136)
Kentucky Oaks (G1)
Winner Shedaresthedevil is a new entry at #188
The second, Swiss Skydiver, drops seven places to #52 from (1090pts, -8)
However, Gamine, who was third, climbs to #48 from #52 (1096pts, +7)
Tiz The Law loses points for finishing second because these rankings attempt to predict, and thus imply, expected future performance. Tiz The Law's previous record was of such outlying quality that he had to win to maintain his standing - just as the betting suggested. Meanwhile, the magnitude of Authentic's rise reflects the statistical shock of this improved performance over a very highly ranked foe. Bob Baffert's colt will rise still higher if he confirms this because our system has to be somewhat conservative owing to his previous races.
Kentucky Oaks winner Shedaresthedevil deserved her win on the day, but she will need to bolster her resume a fair bit to be ranked in front of the placed horses.
Of the two beaten favourites, the system moves Gamine up a bit and Swiss Skydiver down a bit - counter to their placings - because Gamine was running in only her third Graded stakes and Swiss Skydiver her seventh. This is now Gamine's third-best effort but it is Swiss Skydiver's second-best. Prior to this, Swiss Skydiver was rated higher than Gamine only because there was more evidence to go on.
Prix du Moulin de Longchamp (G1)
This is the field ranked according to heir TRC Global Rankings before the race and their betting odds on the PMU:
#15 Pinatubo 1.4/1
#22 Persian King 3.6/1
#49 Circus Maximus 5.3/1
#63 Siskin 4.5/1
#71 Romanised 11.0/1
#146 Victor Ludorum 6.2/1
Pinatubo headed our rankings and headed the betting. But, in the race, he appeared to be given too much to do by jockey James Doyle and couldn't close enough to defeat Persian King, who rebounded from a bad beating behind #15 Palace Pier in the G1 Jacques le Marois on heavy going at Deauville. Here's how the race panned out.
And here's how the TRC system handles the result, with the horses in finishing order this time:
#12 (from 22) Persian King 3.6/1
#16 (from 15) Pinatubo 1.4/1
#58 (from 49) Circus Maximus 5.3/1
#83 (from 63) Siskin 4.5/1
#81 (from 71) Romanised 11.0/1
#163 (from 146) Victor Ludorum 6.2/1
Persian King is now ranked above Pinatubo partly because TRC Global Rankings does not take the run of the race into account (a future iteration using sectional times for all races could) but also because the inherent randomness of a race is subsumed by the rankings changes. In other words, if the Moulin result was the only thing you knew about the two horses, the rankings would have Persian King and Pinatubo further apart (remembering that the way the race was run is not factored in) because a defeat of just under two lengths is pretty definitive in rankings terms (70 percent or thereabouts of these occasions result in the winning horse confirming the form).
The change in rankings is proportionate to what we should learn from the result without overfitting (relying too heavily on one race to infer the correct position to rank a horse), which is what we believe conventional ranking systems can be guilty of.
An interesting feature of Persian King's ranking is that he is now three places ahead of the Marois winner Palace Pier. Immediately after the race, the former's trainer Andre Fabre: "You can consider him the best European miler, matched alongside the Marois winner. He's the same class as Palace Pier."
C'est vrai, n'est-ce pas?
The best European middle-distance horse - at least on TRC Global Rankings - is the mighty Enable. We learned little new from her G3 September Stakes win at Kempton Park on Saturday, of course (see video below), except that she posted a Racing Post Rating of 121, which slightly increases confidence in her recent well-being, even if it falls below her very best efforts.
Remember, Enable's peak TRC ranking score is 1521pts as detailed in the second part of our history of the rankings, published last week. So, we don't think she is as good as that now. She's on a score of 1389pts, but that is still easily good enough to lead the world.
Yet the difference between a historically significant score of 1521 and 1389 (these indices reflect the probability a horse will defeat a generic rival considered the average of all horses in the data) leaves room for an up-and-coming rival to eclipse Enable in Paris. Tiz The Law's defeat at Churchill Downs, and his ensuing loss of standing, means we now have a new world #1 3-year-old. Her name is Love and she is a huge threat to Enable when the pair meet in the Arc in just over three weeks.
Here is a graph showing the TRC horse rankings trajectory of the big three contenders for the Arc (before the announcement was made that Ghaiyyath is running in the G1 Irish Champion Stakes on September 12):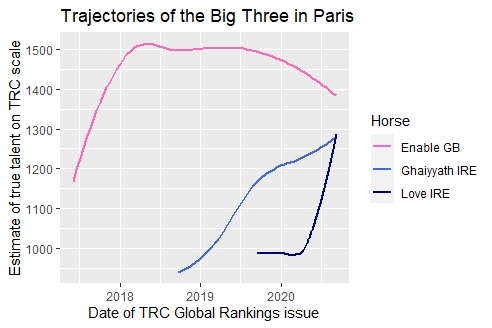 Apart from Authentic and Persian King, major rankings rises within the world's top 50 horses came from Monomoy Girl, By My Standards and Gytrash.
Monomoy Girl won the G1 La Troienne at Churchill Downs and gains 95pts to rise from #47 to #21. Her resume is a fair bet better than this still, as a look at her performances ranked by our system shows: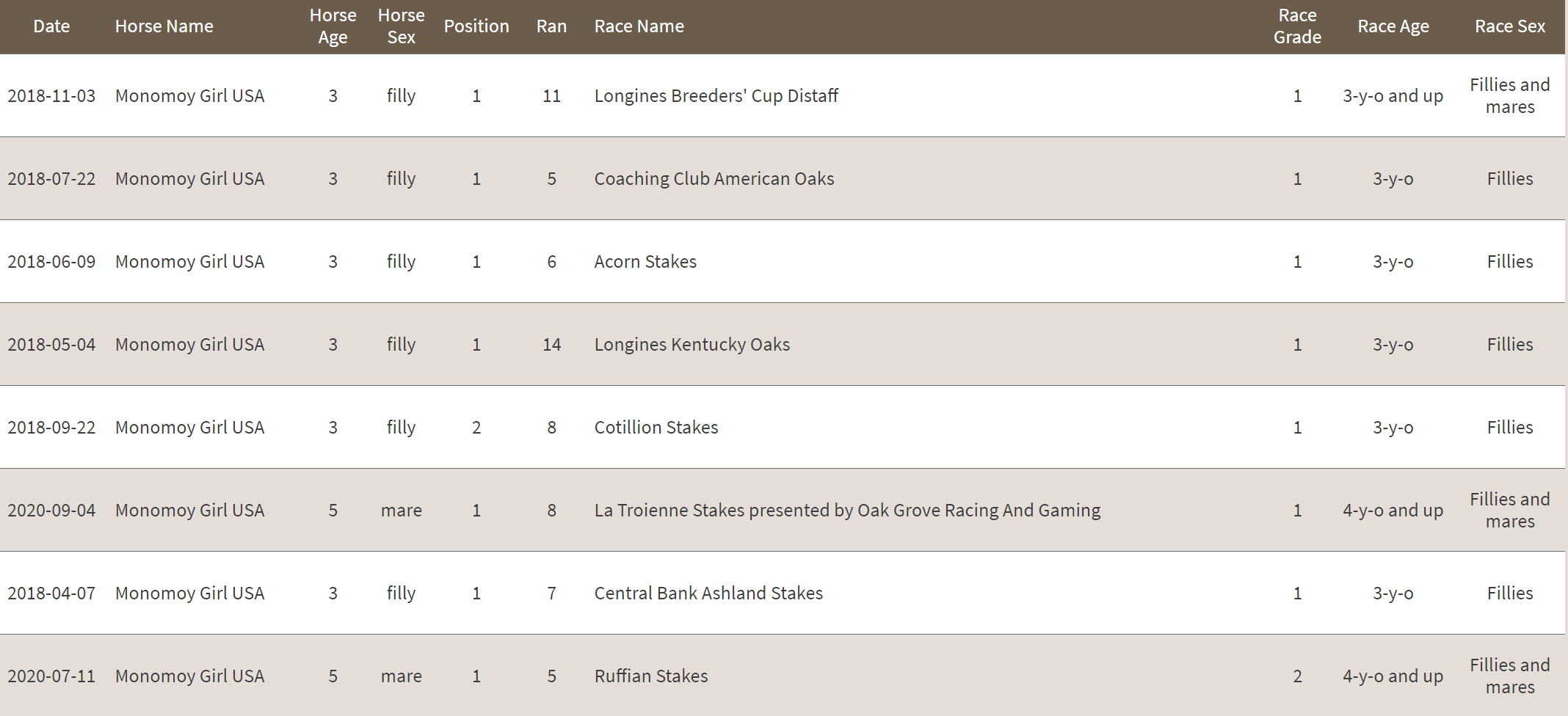 TRC Global Rankings considers no fewer than five of her performances superior to this one! It's only the fact she has been lightly raced of late that reduces confidence in her current global standing. Monomoy Girl is a former world #13 as referenced by this snapshot of the top 20 horses as we saw them in the rankings of May 12, 2019:

You should be able to pick out a few old friends in that list!
For his part, U.S. dirt two-turner By My Standards won his fourth G2 race at the same Kentucky venue. He gains 31pts to 1154 and rise from #39 to #26 in the process. Bret Calhoun's pride and joy has also been second in a G1 Whitney and G2 Stephen Foster from only seven tries in Graded stakes, which is why he is world's highest-ranked horse not to have won a G1.
Finally, Australian racing - which is so often guilty of putting flattering grades on their races - actually staged a contest deserving of a much-higher billing when world #8 Nature Strip met world #42 Gytrash and others in the fast-run five-furlong G3 Concorde Stakes at Randwick on Saturday. They bet 9/20 Nature Strip and 4/1 Gytrash in concordance with the rankings, but the 5-year-old upstart gained the verdict over his older foe and gains 48ts to move from #42 to #26 (see video below).
After just nine tries in Group races (compared with his rival's 15) he is a coming force in the division.
But Nature Strip was returning from a spell in this key prep race for next month's richly endowed Everest Stakes at the same track, and his reputation is not too badly damaged. True, he loses 26pts and falls from #8 to #11 (again, such a high ranking carries with it an expectation of standout performance) meaning that #9 Battaash is now our highest-rated sprinter in the world, but he will be sharper for this and is bang on target to improve on last year's fourth in the Everest.
Gytrash could also have a say in that, however.