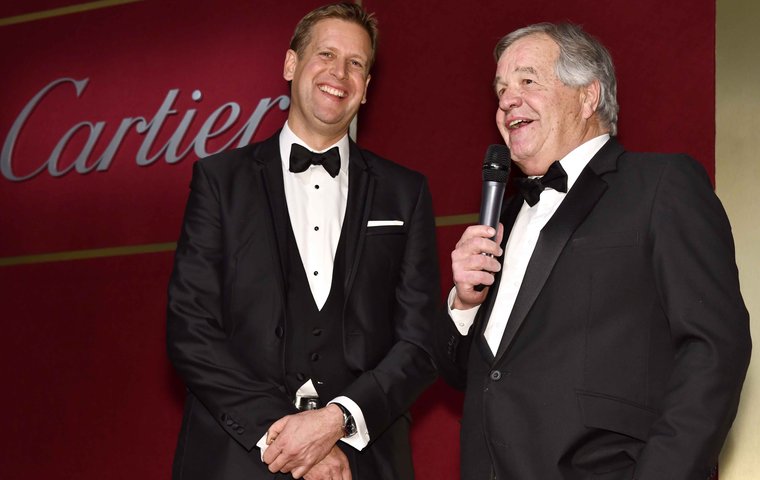 One look at the graph below will tell you just how appropriate it is that Sir Michael Stoute received what is arguably European racing's supreme individual honour at the Cartier Awards on Tuesday evening.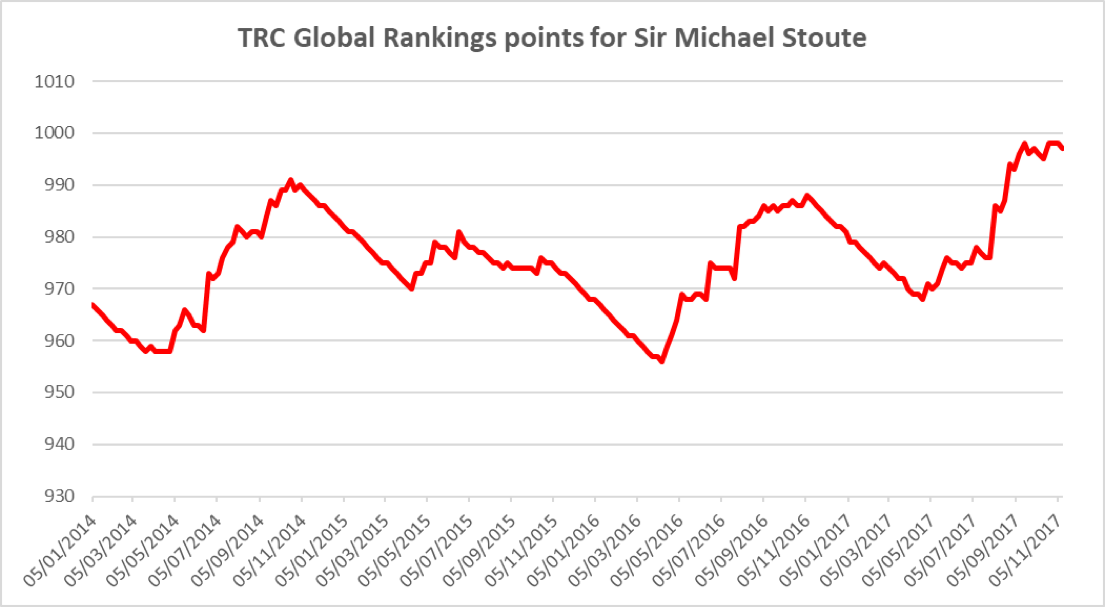 Stoute, an outstanding trainer for the past five decades, was presented with the Cartier/Daily Telegraph Award of Merit for 2017 at London's Dorchester Hotel. It may be exaggerating it to say this year has seen a Stoute renaissance, but the graph shows it has certainly been a season in which the most powerful operations have been reminded that he is still very much a force to be reckoned with.
Indeed he told interviewer Ed Chamberlin after receiving the award that he still "had the fire" when it came to competing at the top level.
He now sits at #11 in the world trainers' rankings having recently hit a three-year high of 998 points. Yet just 18 months ago, he had 956 points and was ranked 35th. Remember, had the TRC Global Rankings existed for the last 40 years, Stoute would certainly have been world #1 on many occasions and a fixture in the top four or five for much of that time.
His impressive upward trajectory since the British season began in earnest back in April is a sign of the success he has nurtured from horses like Crystal Ocean, Poet's Word, Expert Eye and, most significantly, Ulysses. The 4-year-old Galileo colt, who won the Cartier Older Horse category on Tuesday thanks to a brace of G1 victories in the Coral-Eclipse and Juddmonte International, was one of four nominees for Cartier Horse of the Year but had to give way in that to the five-time G1 winner Enable. But for the Arc and King George-winning filly's exploits, Ulysses may well have been given the nod himself.
(The other two nominees were Cracksman and Ribchester.)
2017 CARTIER AWARD WINNERS
*Cheveley Park Stud (world rank 21) are part-owners of Ulysses
Stoute's is a remarkable story. He was born on October 22, 1945, in Barbados, where his father, Ronald, was chief police commissioner. Michael was one of four sons for Ronald and wife Dorothy.
The police commissioner's house in Barbados was next to the famous Garrison Savannah racecourse, and a ladder over the fence was the young Stoute's introduction to horse racing.
Educated at Harrison College on the island, he gained early hands-on experience when helping out local trainer Frankie Thirkell, and he also wrote pieces for local newspapers The Advocater and Daily News. His media experience was further enhanced when he acted as commentator in Barbados and also in Trinidad, where he worked alongside subsequent ITV News At Ten stalwart Sir Trevor McDonald.
At the age of 19, Stoute made the move across the Atlantic to Britain. His trip was initially prompted by a desire to further his career in the media, and he made it to the final six candidates for a racing position with the BBC. He eventually lost out to Julian Wilson.
Deciding to stay in the UK, he made the journey north to Yorkshire and worked for trainer Pat Rohan for the next three years before switching to the home of flat racing, Newmarket, where he was employed by Tom Jones and Doug Smith.
In 1972, he decided to go solo and began training in Newmarket with 15 horses in his care. Sandal, owned by his father, got the ball rolling for the rookie trainer at Newmarket on April 28, 1972, while the following year he put down an early marker of his training prowess when saddling the winners of two of the season's most competitive handicaps through Alphadamus (Stewards' Cup) and Blue Cashmere (Ayr Gold Cup).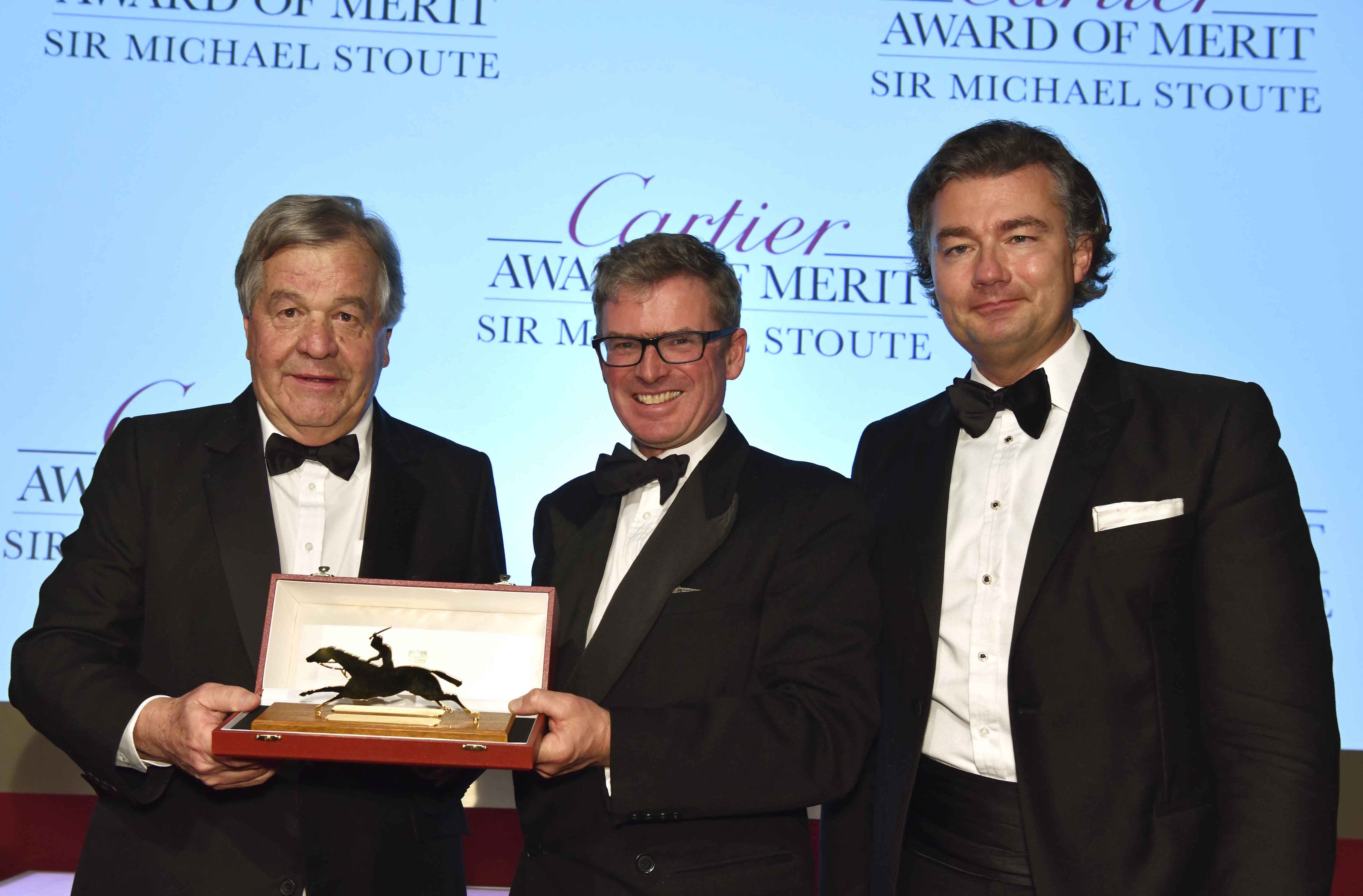 Having quickly proved his ability, it was not long before Stoute was eating at the very top table. In 1978, he sent out his first classic winner when Fair Salinia took the Oaks at Epsom Downs under Greville Starkey. The Sven Hanson-owned filly went on to win both the Irish and Yorkshire Oaks.
The same year also saw the birth of a colt who would become a superstar for Stoute. By Great Nephew out of Sharmeen, a strapping bay colt with a big white face was among a draft of yearlings sent to Stoute by the Aga Khan.
Named Shergar, he showed considerable promise as a juvenile in 1980, notably finishing second in the Futurity Stakes at Doncaster. However, it was as a 3-year-old that he came into his own. After tremendous victories in the Classic Trial at Sandown Park and Chester Vase, he ran away with the Epsom Derby by a record ten lengths under his 19-year-old jockey, Walter Swinburn.
Effortless victories in the Irish Derby and Ascot's King George VI & Queen Elizabeth Stakes followed later in the summer. Even a below-par effort in the St Leger could not take away from his earlier prowess and Shergar's exploits enabled Stoute to claim a first British trainers' championship.
Golden era
The 1980s were a golden era for the Stoute stable. Shahrastani, also owned by the Aga Khan and ridden by Swinburn, handed the trainer a second Epsom Derby victory with his dramatic defeat of Dancing Brave in 1986, while there also British classic victories in the 1000 Guineas (Musical Bliss 1989), 2000 Guineas (Shadeed 1985, Doyoun 1988) and Oaks (Unite 1987).
The Irish classics were also a significant source of success for the stable in the same decade, with Shareef Dancer (1983) and Shahrastani (1986) capturing the Irish Derby, Sonic Lady (1986) taking the Irish 1000 Guineas, Shaadi (1989) the Irish 2000 Guineas plus Colorspin (1986), Unite (1987) and Melodist (1988) recording three consecutive successes in the Irish Oaks.
With support from owners including the Maktoum family, the Aga Khan and the Sobell/Weinstock family, Freemason Lodge was matched only by Henry Cecil for dominance in Newmarket.
Away from the classics, other 1980s highlights included Ajdal, who was expertly handled to become champion sprinter in 1987, having begun the year as a classic contender, while Kribensis proved the trainer could mix it with the best of the best in jump racing, as the 4-year-old won the 1988 Triumph Hurdle at the Cheltenham Festival before going on to win the Champion Hurdle two years later.
Classic success continued during the 1990s, with Entrepreneur winning the 1997 2000 Guineas, and the decade also saw the emergence of a particular Stoute speciality - excellence with older horses. The Eclipse was annexed three times with older horses courtesy of Opera House (1993), Ezzoud (1994) and Pilsudski (1997). Ezzoud (1993 and 1994) and Singspiel (1997) also triumphed in the International at York.
With flat racing becoming ever more international, it was no surprise that Stoute's reach extended around the world in the 1990s. Singspiel (1996) and Pilsudski (1997) both won the Japan Cup and the remarkable duo were also first and second in the 1996 Breeders' Cup Turf at Woodbine (Pilsudski coming out on top), a feat the trainer regards with particular affection.
A tremendous innovation of the 1990s was Sheikh Mohammed's realisation of staging the world's richest race in Dubai during the spring. The Dubai World Cup was first run in 1996 and it was no surprise to see Stoute saddle the first British-trained winner of the contest in 1997 - the outstandingly tough Singspiel, who wore Sheikh Mohammed's famous red and white silks.
In 1998, Stoute was awarded a knighthood. His success over the world had considerably boosted the standing of his home country and his knighthood was in recognition of services to tourism in Barbados.
As a new century dawned, Stoute continued his trade as a master of his profession. There was more Epsom Derby success with Kris Kin (2003), North Light (2004) and Workforce (2010), who won in course record time and went on to fill a rare omission in Stoute's CV when winning the Prix de l'Arc de Triomphe.
Continuing Breeders' Cup success
The 2000 Guineas was gained in consecutive years thanks to King's Best (2000) and Golan (2001), while Russian Rhythm (2003) landed the 1000 Guineas. The one classic that had eluded the trainer, the St Leger, was finally won in 2008 thanks to Conduit.
His expert handling of older horses continued. A remarkable feat was achieved in 2002 when Golan won the King George VI & Queen Elizabeth Stakes at Ascot on his seasonal debut, while the trainer also won the same race again in 2009 with Conduit and in 2010, when Harbinger scored by a breathtaking 11 lengths.
Conduit also won the Breeders' Cup Turf twice - in 2008 and 2009.
Stoute has had seven Breeders' Cup winners in all - Kalanisi (Turf 2000), Islington (Filly & Mare Turf 2003), Dank (Filly & Mare Turf 2013) and Queen's Trust (Filly & Mare Turf, 2016) adding to the victories of Pilsudski and Conduit. That puts him ninth on the Breeders' Cup all-time trainers' list, and the top British-based trainer. The only non-American ahead of him is Aidan O'Brien (third overall with 12 wins). Stoute's runners have won $10.7 million in prize money at the meeting.
Always at home at the major racing festivals, Stoute's record of 75 winners at Royal Ascot is matched only by his late rival and friend, Sir Henry Cecil. A recent highlight among those victories was Queen Elizabeth's Estimate, who in 2013 became the first winner of the Gold Cup to be owned by the reigning monarch.
Stoute has won ten champion trainer titles in Britain, 26 classics in Britain and Ireland, and more than 150 G1 or G1 equivalents across Europe, North America, Asia and the Middle East.