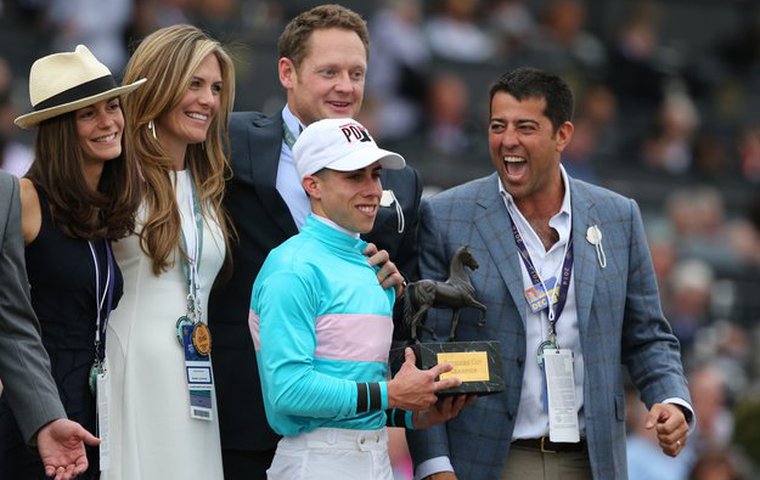 When the undefeated Lady Eli, last year's winner of the Breeders' Cup Juvenile Fillies Turf, enters the starting gate for Saturday's Belmont Oaks she will continue what her co-owner Jay Hanley calls an "unfathomable" journey for him and his partners.

It's just been five years since Hanley bought his first horse. Spurred by memories of standing shoulder to shoulder alongside his family in the grandstands of Belmont Park and Saratoga Race Course as a young boy, Hanley promised himself when he had the means he would become more than just a fan of the sport.
That time came in September of 2010 when Hanley acquired a yearling filly at Keeneland. The impetus for the purchase of Wild Grace, who went on to win two races and is now a broodmare for Hanley, wasn't meant to provide financial gain, but rather to serve as a salve during an incredibly emotional time in the Hanley household.
"We knew my mother was terminally ill with pancreatic cancer. She passed away on Christmas Eve of 2010. My father and mother had a very close relationship and I knew that there would be a huge void in his life," Hanley said. "Not that a horse could fill that void, but I was hoping to bring some joy to him, some distraction. And I bought Wild Grace in September of that year, knowing it would give him something to do and follow."
Wild Grace would be followed by other purchases for Hanley, but none as notable as the Chad Brown-trained Lady Eli. The 3-year-old, whose career record is unblemished in five starts, is the first horse bought by Sheep Pond Partners, an ownership group formed by Hanley. One of Lady Eli's co-owners is Hanley's friend, Sol Kumin, a hedge fund manager who recently celebrated a win at Royal Ascot in the G1 Diamond Jubilee with Undrafted, a horse he owns in partnership with Wes Welker.
Hanley, 43, has a background in finance and has a management degree from Harvard University. He said, however, his creative side won out and he left behind an investment banking position to launch his own company, Hanley Construction & Development, in Nantucket, Massachusetts. It's a general construction firm with a focus on high-end residential projects in Nantucket. The stable name, Sheep Pond, is derived from a local area there.
Perhaps akin to finding the perfect parcel of land on which to build a magnificent home, Hanley saw something he really liked in Lady Eli when scouting horses with Brown at the 2014 Keeneland 2-year-old in training sale. His eyes were drawn to a regal-looking bay by Divine Park, a sire who had yet to make a pronounced mark in the stallion market.
"We all thought she had the best breeze of any filly in that sale," Hanley recalled. "But more than anything, it was her physicality. As a young 2-year-old filly she almost looked like a colt. She moved so powerfully and seemingly effortlessly. We ultimately made the decision to buy her while in the back ring when we saw her walking around. She looked so powerful, but she had a grace about her as well. So what I was willing to give up was that her sire as of yet is unproven. But her female line was very proven. So, I said, 'Yeah, let's take a shot.'"
The $160,000 spent by Sheep Pond Partners to acquire Lady Eli, who is named for Hanley and Kumin's wives who are both Elizabeths, was money well spent. Entering the $1 million Belmont Oaks, a Breeders' Cup Challenge Series race and a "Win and You're In" for the $2 million Filly & Mare Turf, to be run at Keeneland Racecourse on Oct. 31, Lady Eli has earnings of $914,800.
In addition to her victory in the G1 Juvenile Fillies Turf at Santa Anita, Lady Eli has won three other stakes, Belmont's G3 Miss Grillo, Keeneland's G3 Appalachian, and the Wonder Again, the local prep for the G1 Belmont Oaks, which will be telecast Saturday on NBC along with the G2 Suburban Handicap from 5-6 p.m.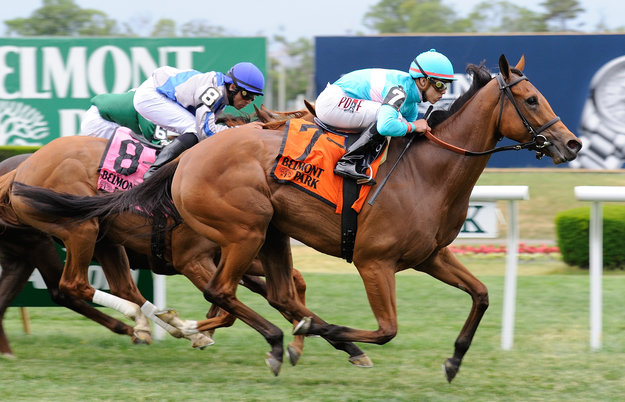 Lady Eli's style of running is breathtaking to watch. She has a wicked turn of foot that was on display in her very first race. In her maiden outing last year at Saratoga, she spurted free of two traffic jams in the stretch and unleashed a furious run that placed her nose on the wire ahead of nine rivals.
The victory didn't take either Brown or Hanley by surprise. Hanley said for weeks before her first race, Brown, whose record prior to the 2014 Breeders' Cup Juvenile Fillies Turf was 1-2-0 from seven runners, had touted her as a winner at the World Championships.
"We had a really good handle on the Juvenile Fillies Turf with our past record, and what it takes to not only get there, but to win," Brown said. "Before Lady Eli even ran, she showed me that more than likely she was the best Juvenile Turf filly [prospect] we had ever had. I thought she was exceptional. To have one that is better than the other horses I ran in the race, with no disrespect to those horses, was pretty exciting. There was a lot of anticipation there."
And the anticipation of what is next for Lady Eli continues to build for Hanley and his father, Robert, who will join his son at Belmont Park on Saturday.
"Oh, it's beyond Dad's wildest dreams," Hanley said of Lady Eli's success. "My original notion of giving my dad something to think about after my mother's death . . . well, I think that has worked."