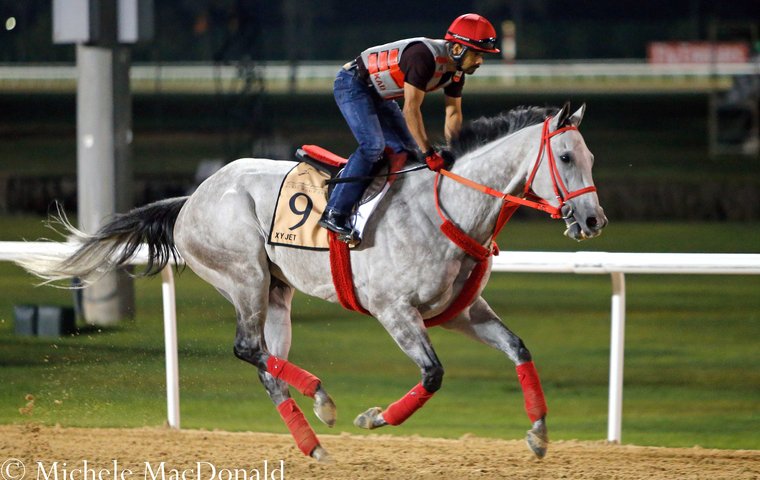 One knee surgery often is more than enough to seriously hamper, if not end, a racehorse's career, particularly a runner competing for some of the world's richest prizes.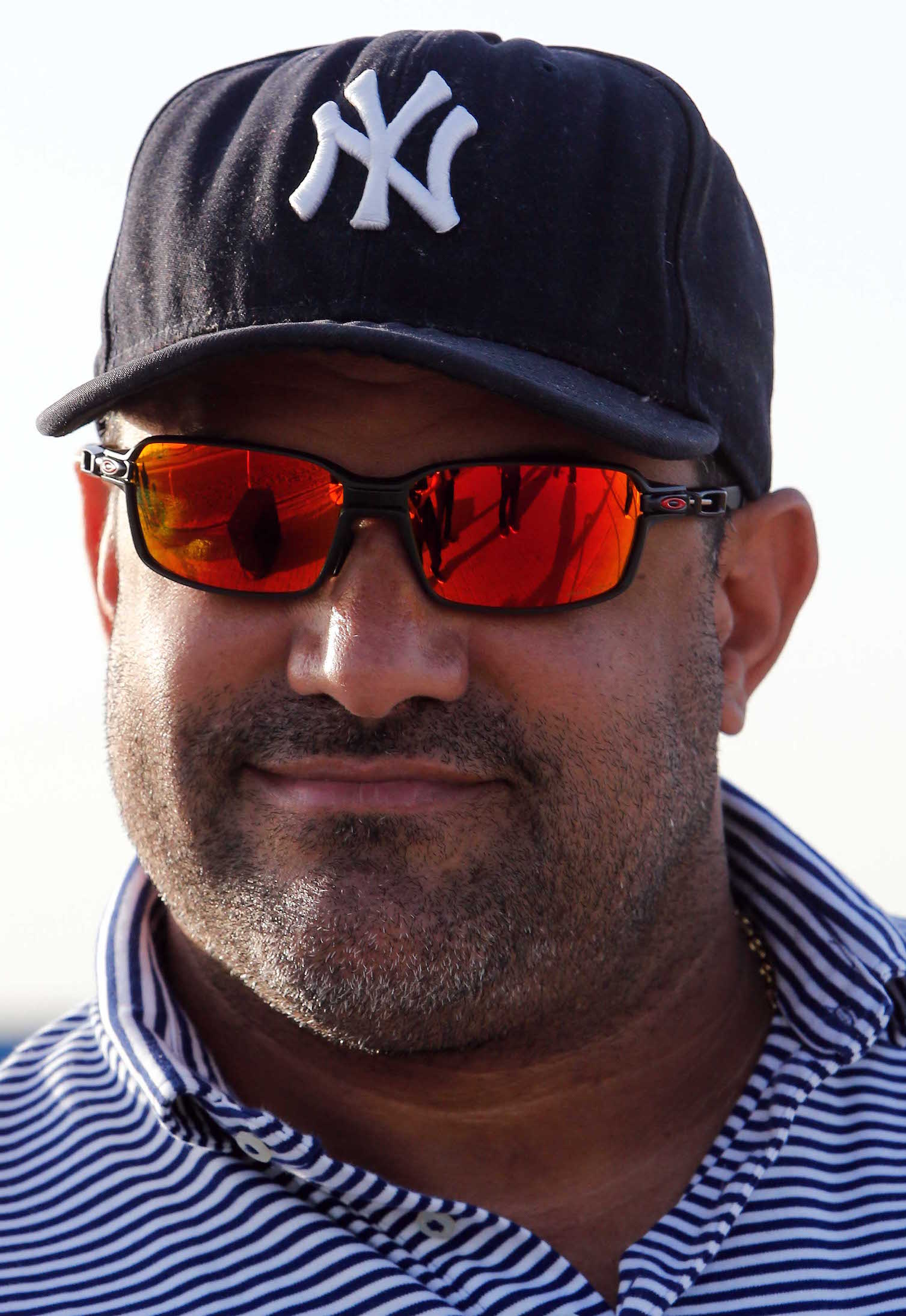 But not only has X Y Jet remarkably overcome three separate operations to remove bone chips from his left knee, he now is racing at a level superior to his past efforts, according to trainer Jorge Navarro (pictured).
The 6-year-old Kantharos gelding, who, despite a typically grouchy personality has earned a special place close to Navarro's heart due to his resilience, is poised to take on international competition in the $2 million G1 Dubai Golden Shaheen on the Dubai World Cup program at Meydan Racecourse on Saturday.
He will bring a three-race win streak with him into the starting gate as he faces rivals including American champion sprinter Roy H, Japanese challenger Matera Sky and previous Dubai Golden Shaheen winners Muarrab, Reynaldothewizard and Mind Your Biscuits.
"Every time he runs, I cry," the burly Navarro confided at Meydan after watching the dappled gray X Y Jet skip around the track under pale pink light just before sunrise. "We've been through so much together.
Questionable comments
"I've had him since he was two and he's never trained better," Navarro added before promising: "You guys are going to see just how fast he really is."
Navarro, who has been through some difficult times of his own, such as being slapped with fines last year after making questionable comments in a videotape about drugs in racing and after one of his runners tested positive for a prohibited substance, said the "ups and downs of racing" have affected both him and X Y Jet. Just like his horse, Navarro said he has overcome the adversity and just gotten better in the aftermath.
"I've learned from it," he said. "I didn't know how to act before; I was so arrogant. But I love my horses and I believe in my horses. And I'm a winner in life."
X Y Jet has been a major part of Navarro's rise in the racing world, an ascent that has included the trainer setting a record at Monmouth Park for saddling 56 winners in the 2016 season and saddling Sharp Azteca to a victory in the G1 Cigar Mile Handicap in 2017. Sharp Azteca would have joined X Y Jet in flying to Dubai, Navarro said, but the son of Freud was grounded in America with a slightly swollen suspensory ligament.
Of all his horses, X Y Jet was the one that allowed Navarro's most cherished dream to come true. Following the gelding's initial Graded stakes victory in 2015 and two subsequent stakes wins, he was invited to participate in the 2016 Dubai Golden Shaheen and thus fulfilled a longtime wish held by the trainer.
A Panamanian native who started his life in racing as a hotwalker, Navarro said he began to dream of participating in a Dubai World Cup program race when he "was just a kid" and watched on television as Cigar captured the inaugural running of what was at the time world's first $4 million horse race; now the Dubai World Cup purse stands at $10 million.
Cantankerous disposition
Two decades later, X Y Jet provided a ticket to Dubai and the realization of Navarro's dream, albeit in the Dubai Golden Shaheen.
"He's been so good to me," Navarro exclaimed about X Y Jet, who was bred in Florida by Didier Plasencia and is owned by Rockingham Ranch and Gelfstenstein Farm. "He brought me here to Dubai and he's given us such a ride."
The knee problems and his generally cantankerous disposition may make X Y Jet seem like the less than ideal racehorse, but there has never been much question that he has always been blessed with speed. After placing in his first four starts, X Y Jet won a maiden special weight race at Gulfstream Park West as a juvenile before immediately jumping into stakes company.
He finished second in the Pasco Stakes at Tampa Bay Downs in December 2014 and began the following season with a second in the G3 Hutcheson Stakes before finishing sixth in the G2 Swale Stakes at Gulfstream Park.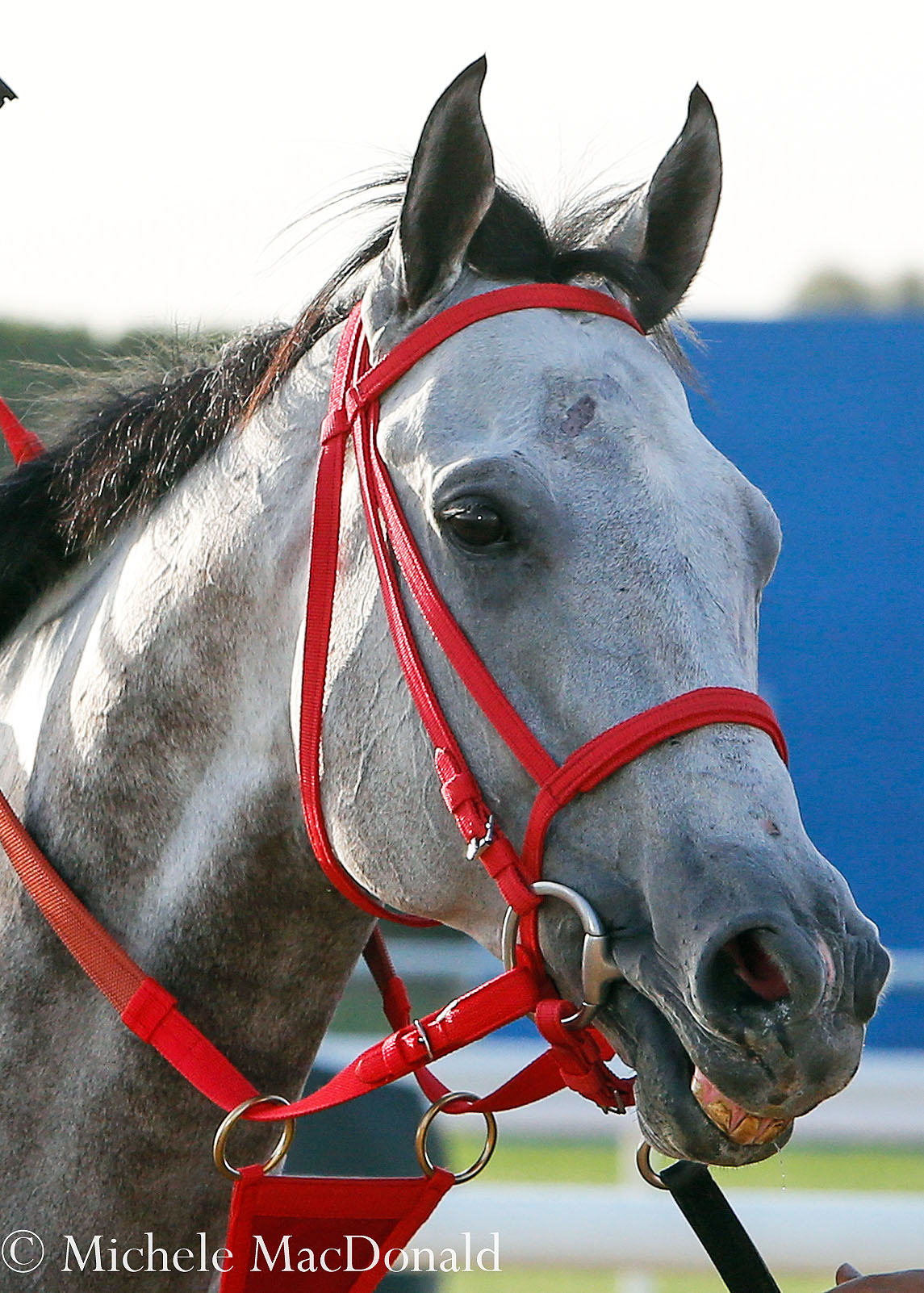 X Y Jet's career record then shows the first of several lengthy absences from racing; he was off from early March through mid-September of 2015, when he returned to win the first of five consecutive races including the G3 Mr. Prospector Stakes in December, the Sunshine Millions Sprint Stakes in January 2016 and the G3 Gulfstream Park Sprint Stakes in February.
Sent to Dubai, X Y Jet set the early pace in the 2016 Dubai Golden Shaheen and looked to have the race in hand but was run down in the final yards by Sheikh Hamdan's locally-based Muarrab, who won by a neck.
A six-month spell on the sidelines followed that race for X Y Jet prior to two starts in the autumn of 2016, including a third in the Frank J. DeFrancis Memorial Dash Stakes at Laurel Park before more than a year off from the most recent knee surgery.
Navarro said that X Y Jet was so difficult to handle during his recuperation from his second surgery that the horse was sent back to him to manage, perhaps without enough time to rest and completely heal. With the third surgery, "I told the owners that he needs more time," Navarro recalled, and the gelding was able to regain his health during a prolonged vacation.
Returned to racing last December, X Y Jet reeled off three consecutive stakes wins in impressive fashion, earning his return trip to Dubai. However, while his knee was back to full strength, his temperament had not improved.
'A sweetheart'
"No one wants to groom him in our barn," Navarro said. "Since we've been here [in Dubai], I'm grooming him. The first time we came to Dubai, I didn't touch him — I was worried he was going to hurt me. But this time, on the first day in quarantine, he heard my voice and started calling to me. There's something about Dubai that turns him into a sweetheart.
"He's so relaxed here; he loves it. The place is wide open and he has a mile and a half walk to the track and back to the barn, and the stalls are amazing — they have so much space. Now he's acting so nice that you could hug and kiss him," Navarro said with a laugh.
But, while X Y Jet may have softened his approach to the people in his life — including exercise rider Anthony Cruz, who broke three ribs when the gelding jumped in the air during morning exercise some months ago and rudely dislodged him from the saddle — he is perhaps tougher than ever in his racing.
"If he wants to go to the lead, that's it," Navarro said, signaling what might occur in the early stages of the Golden Shaheen. "Speed is his weapon."
In his string of three recent stakes wins, all at six furlongs [the virtual equivalent of the Dubai Golden Shaheen's 1200m], X Y Jet has completed each in under 1:10 while setting early fractions of less than :23 for the first quarter-mile and under :45.30 for the half-mile. In the Pelican Stakes at Tampa Bay Downs on February 17, X Y Jet rocketed out of the gate and blazed through :21.81 and :44.41 fractions before winning by seven lengths in 1:09.17.
'The fastest I've ever seen him'
Navarro concedes that X Y Jet hasn't been racing against horses like Roy H, who also enters the Golden Shaheen on his own three-race win streak, with two of those victories at the G1 level, but the trainer isn't worried.
"The last time he ran at Tampa, he really amazed me how fast he can get out of the gate. I think that's the fastest I've ever seen him," Navarro said. "If he belongs, he belongs [in the Golden Shaheen]. If not, we took a chance. There is nothing to lose."
While Navarro worries about X Y Jet incurring more chips in his problem knee during training sessions, he said that surgeon Dr. Joel Lugo of Ocala Equine Hospital, who has overseen the gelding's leg issues, has been pleased with how he has progressed.
"He's training great. This is the best he has ever trained," Navarro said, "and he is better than he has been in previous years.
"It means the world to me to be back in Dubai with him. Just to be here with him again is a thrill. Hopefully, this is the time he can get the big prize," he said. "If there is ever a horse that can come back from three knee surgeries, it's X Y Jet. He is all heart."