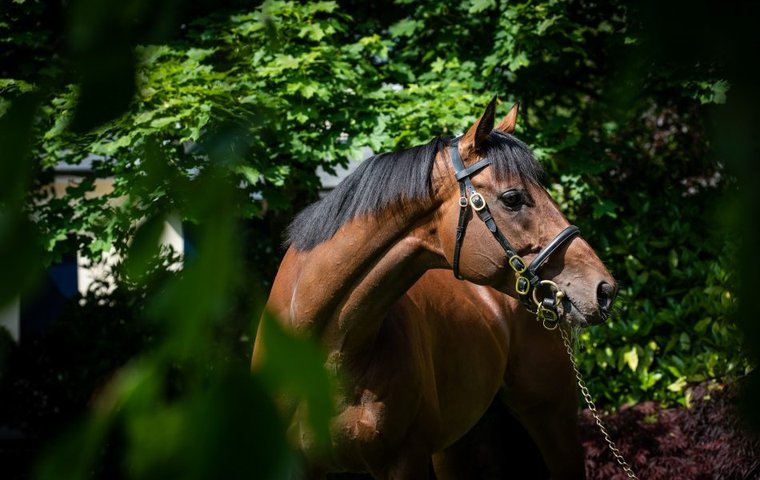 The first foals of top-class racehorses are always hotly anticipated and their appearances in the sales ring is the first major examination the fledgling sires will face in their careers. With the likes of multiple G1 winners Almanzor, Caravaggio, Churchill, Galileo Gold, Ribchester and Ulysses among the new first crop sires, the European foal sales were some of the most exciting for pedigree buffs, stallion farms, breeders and pinhookers in a number for years.

With Haras d'Etreham's European Champion Three-Year-Old colt Almanzor, Coolmore Stud's European Champion Two-Year-Old colt Churchill and unbeaten juvenile G1 winner Caravaggio, it is safe to say that they passed their first exam with flying colours.
Almanzor, who stood his first season at a fee of €35,000, sired 100 foals in his first crop, with 16 of them going under the hammer at Goffs November Foal Sale Part 1, Tattersalls December Foal Sale and the Arqana December Breeding Stock Sale. At all three sales, his progeny comfortably exceeded the average and median figures recorded and, unsurprisingly, it was at Arqana where he achieved his highest prices.
The most expensive foal by Almanzor was consigned by Haras d'Etreham as Lot 77, a filly out of the young Montjeu mare Fresh Air, who is a half-sister to the dam of the U.S. Champion Older Mare and five-time G1 winner Close Hatches and this year's G2 Wood Memorial Stakes winner Tacitus (by Tapit), who has also been placed in four G1s, including the Kentucky Derby.
Fresh Air is a granddaughter of the great Monroe, so this filly is a member of the outstanding Best In Show family. Bought by Ronald Rauscher for €260,000, she was the highest of four six-figure sales achieved by the sire at Deauville, where his average was €110,571 for seven sold, more than three times the average of €30,704 for the foal section of the sale.
Almanzor fell just short of achieving a six-figure average at the Tattersalls December Foal Sale, where five of his offspring sold for an average of 99,000gns and a top price of 160,000gns.
That was paid by Haras d'Etreham and SF Bloodstock for Lot 1030, a colt from Norelands Stud and the first foal of the G3 Prix de Caubourg and Prix du Bois second Fixette, a daughter of Kodiac from the family of G1 winners Free Eagle and Search For A Song. Blandford Bloodstock bought the most expensive Almanzor filly of the sale, going to 125,000gns for Lot 524 from the Wildenstein family of Peintre Celebre.
If one stallion were to be awarded a prize for top of the class, it would have to go to Coolmore Stud's G1 Phoenix Stakes and G1 Commonwealth Stakes winner Caravaggio, whose first foals made quite an impression everywhere they sold. All the signs were positive for the son of the brilliant Scat Daddy, whose paternal half-brother and stud mate No Nay Never has made such a sizzling start to his own stud career with the G1 winning Ten Sovereigns, who joins his sire and Caravaggio at Coolmore for the 2020 breeding season.
Handsomely rewarded
At Goffs, Caravaggio had 11 foals come under the hammer, with ten of them changing hands for an average of €90,700, which was almost double the average for Part 1 of that sale. His highest price there was €240,000 for Lot 553, a grandson of the G1 Falmouth Stakes winner Music Show sold by the Castlebridge Consignment to Brendan Holland's Grove Stud. He was one of three six-figure sales for Caravaggio at Goffs, whose returns climbed steadily higher at the subsequent foal sales.
The handsome grey stood the 2018 breeding season for €35,000 and he has handsomely rewarded breeders who patronised him in his first year.
At Tattersalls December Foal Sale, the average price for a Caravaggio foal was 101,421gns for 19 foals sold. Six of those made six-figures with the top price of 250,000gns paid by Abbeylands Farm for Amy Marnane's half-brother to this year's G1 Commonwealth Cup second and G1 British Champions' Sprint third Forever In Dreams, out of a half-sister to the European Champion Sprinter Marchand d'Or.
Caravaggio had just two representatives at the Arqana December Breeding Stock Sale, but both colts sold exceptionally well, with Lot 162 from the family of leading sire Polar Falcon and G1 winner and sire Le Havre making €135,000 to Margaret O'Toole, and Lot 11 selling for €120,000 to Magnolia Bloodstock. Elevage de Tourgeville's colt is the first foal out of the young Hard Spun mare Spindrift from the family of leading sire Sky Mesa, Bernstein and Della Francesca.
Scat Daddy's legacy
What makes the results for Caravaggio so exceptional is the support from pinhookers, with so many of his most expensive lots destined for next autumn's yearling sales. Confidence in Caravaggio's abilities as a stallion and his potential for success is high, and with No Nay Never making such a fantastic start to his career and Justify's first foals due in the spring, Scat Daddy's legacy looks assured.
Coolmore's dual 2000 Guineas hero Churchill was one of the best-looking horses to grace the track in recent years and, as a G1 winner over seven furlongs at two by Galileo, and a full-brother to a six-furlong G1 winner in Clemmie, he held enormous appeal for breeders.
That appeal transferred to the sales ring, with his first representatives proving extremely popular with buyers across Europe.
A trio of colts were first up for the four-time G1 winner out of a Storm Cat mare and all three were sold for more than €100,000 at Goffs. The sale average there was just shy of €50,000, but Churchill's average dwarfed that, coming in at an enormous €133,333.
His most expensive Goffs foal was bred on a variation of the Galileo–Pivotal cross that has produced G1 winners including Magical, Hermosa, Hydrangea, Love, Rhododendron and The United States. Lot 677 was offered by the Castlebridge Consignment once again and bought by the Hyde family's Camas Park Stud for €140,000.
Oak Lodge and Springfield House Stud consigned Lot 559, a son of Italian G3 winner So Many Shots and a three-parts brother to this year's G2 Derby Italiano winner Keep On Fly, who made €135,000 to Az Agricola S Uberto.
The third member of the Churchill three was Lot 757 from Woodford Stud, a half-brother to the G3 Gladness Stakes winner Onenightidreamed. He made €125,000 to Hamish Macauley.
At Tattersalls, Churchill was irresistible to buyers once more with his average just failing to make it into six figures at 99,556gns from nine sold, which was more than double the sale average of 44,251gns.
His highest-priced foal came from this sale with Peter and Ross Doyle and Baroda Stud going to 220,000gns for Norman Court Stud's half-brother to G2 Royal Heroine Stakes winner Nancy From Nairobi.
Again, as with Caravaggio, plenty of Churchill's foals were purchased by pinhookers, including those at the top end of the price brackets, which signals the positivity surrounding Churchill as a sire with those buyers expecting to return handsome profits on their investments next year.
Pleasant surprise
Slightly unexpectedly, but a pleasant surprise, was the demand for the offspring of another stallion bred on the same lines as Churchill. Cheveley Park Stud's European Champion Older Horse Ulysses was a hit at the sales with his representatives at the Goffs November Foal Sale in particular highly sought-after.
For four foals sold from five offered in November, he achieved an average of €93,750, with top prices of €175,000 and €150,000. Again pinhookers were among the buyers, with Yeomanstown Stud picking up Lot 581, a colt from the Castlebridge Consignment and the first foal of the listed-placed Troarn, who is a full-sister to Almanzor, for €150,000.
Jamie Railton bought the most expensive foal from Ulysses' first crop, from the same consignor, for €175,000. Lot 666 is a half-brother to the G2 Champagne Stakes winner and G1 Dewhurst Stakes third Seahenge by Scat Daddy.
Darley's first season sires Postponed and Profitable operated at different points of the distance spectrum during their racing careers and there was a distinct difference in their reception at the foal sales, with Profitable proving popular at Goffs while demand for Postponed was higher at Tattersalls.
G1 King's Stand Stakes winner Profitable, a son of Invincible Spirit out of a mare by Indian Ridge, had 27 foals sell in Ireland for an average of €42,093, which was slightly lower than the sale average. Two of those foals broke into six figures, with Hamish Macauley going to €205,000 to snare Lot 736, a filly from Oak Leaf Stud. She is a half-sister to this year's listed King Charles II Stakes winner and 2018 G1 Middle Park Stakes third Jash, by Kodiac, whose second dam is a half-sister to G1 winner Hibaayeb, the dam of Breeders' Cup Filly and Mare Turf winner Wuheida.
Intriguing feature
Lynn Lodge Stud were the purchasers of Profitable's most expensive son, Lot 535, Airlie Stud's half-brother to listed winner Gold Tail from the family of G1 Sprint Cup winner and ill-fated sire Red Clubs.
At Tattersalls, it was Postponed, a multiple G1 winner from ten to 12 furlongs, who was popular with buyers, his average of 61,818gns for 11 sold comfortably exceeding the sale average.
Norris Bloodstock consigned Postponed's most expensive foal, a half-brother to this season's G2 Prix du Calvados and G3 Prix Six Perfections winner Tropbeau, who was third in the G1 Cheveley Park Stakes. Lot 927 is a grandson of G1 July Cup heroine Frizzante and made 280,000gns to Stroud Coleman Bloodstock.
The range of prices for the offspring of first-season sires was an intriguing feature of the foal sales, from low prices all the way up to substantial six-figure sums. Not singling any particular sire out, as all were subject to variation at one sale or another, G1-winning miler Ribchester sired a €150,000 foal at Goffs but his average was €56,258, and, perhaps more tellingly, the median was €38,000.
Churchill immune
G1 Prix de la Foret winner Aclaim had a foal make €120,000 at the same sale, but his median was just €32,000 with an average of €50,833.
Profitable's average was €42,093, with a median of just €32,000 despite two six-figure sales. Even Caravaggio, who sired three six-figure foals, had prices ranging from €40,000 to €240,000. The only stallion who was immune from this at Goffs was Churchill, whose lowest price was just €15,000 less than his highest.
The trend was also visible at Tattersalls in those sires whose foals made six-figure sales. Again Profitable had a 105,000gns sale, but his average of 27,763gns was lower than the sale average and his median price was 28,000gns, although that was higher than the sale as a whole managed.
Postponed recorded big sale prices but had a median of just 30,000gns, while Ribchester's average was a healthy 51,818gns with a top price of 145,000gns, but his median was just 35,000gns, indicating once more a significant range of prices achieved by his offspring.
Perhaps that is a product of the ever-increasing book sizes that stallions cover every year. With so many foals by each of these sires to choose from, buyers are becoming increasingly discerning in their selection of potential purchases, and only those who boast the best pedigrees or are outstanding physical specimens achieve the returns their breeders anticipated when choosing a stallion for their mare.