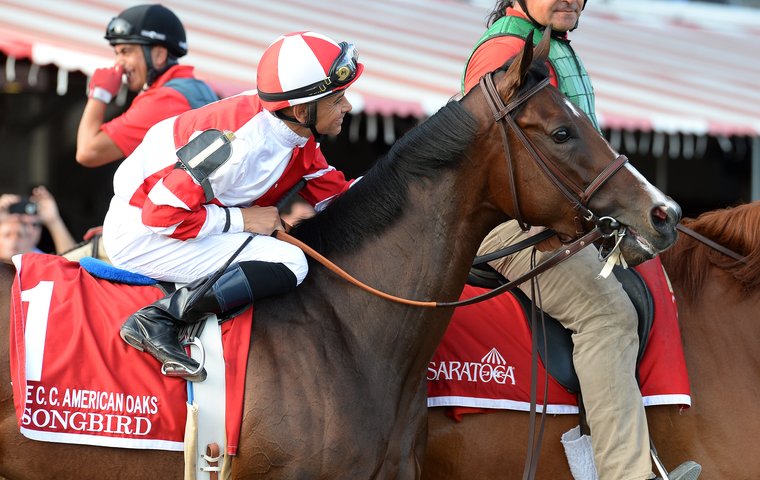 Have you heard the one about Songbird's first ever race? You haven't? Okay, so picture this: the paddock at Del Mar one hot afternoon in late July of last year. A lot of sweaty red-faced handlers are struggling to saddle a veritable St. Trinian's of naughty young fillies, some of them new to (and intoxicated upon) the giddy delights of race-day action.

Amid this Zumba class of dancing damsels stands Songbird, unfazed and unflustered, patiently allowing the humans either side of her to strap on the saddle. Only, the girth is too small. So, Songbird is asked to patiently wait some more while the valet runs to find a different longer girth. Songbird barely lifts a hoof - the saddle, balancing unsecured on her back the whole time, doesn't move an inch.
The valet eventually returns with a new girth. The saddle goes on. And Songbird registers win number one of 11 (and counting).
"If a horse is very intelligent that helps. Nothing rattles her," said Hall of Fame trainer Jerry Hollendorfer about Fox Hill Farm's 3-year-old daughter of Medaglia d'Oro. The day before, Songbird worked a half-mile in :46, in a manner described by Hollendorfer as "very nice, very professional".
"She's gotten to where she will relax and do whatever you want to with her out there on the racetrack," he added. "So, if you want her to sit and wait, she will. And if you want her to go and keep going then she'll do that."
Champion 2-year-old filly honors. Eleven starts, 11 wins. Seven G1s. One Breeders' Cup. Angelina Jolie in the looks department. Mother Angelica in the temperament department. Songbird's school card sure scores high in a lot of areas.
But it's the sheer inescapable brilliance of so many of Songbird's performances that has a lot of people savoring the G1 Breeders' Cup Distaff more than any other race at the two-day meet at Santa Anita on Nov. 4-5. That, and the possibility of finding out just how good Songbird really is. For the competition, as you would expect from a championship event, is looking to prove as hot as she has ever handled.
Champion 3-year-old filly of last year Stellar Wind enters the fray having twice landed the winning blow in her last two races against old foe Beholder. And, if Richard Mandella's three-time Eclipse awardee turns up anywhere near her best shape, Songbird will have to face down one of the best race-mares in recent memory.
"Obviously, theoretically, the race should come up tougher," said Hollendorfer. "But so far, I have great confidence in her that she can beat older this time."
Have you heard the one about the mayhem before the workout?
You haven't? Okay, so picture the scene: Santa Anita Racetrack one busy morning this past summer. Songbird has completed her one lap warm-up jog, and is stood waiting to begin an important workout before her next important race. Everything's hunky dory when Dante's Inferno suddenly spills over the racetrack - a rider gets tossed to the dirt and the loose horse wings it past Songbird, missing her by whiskers.
There's bellowing. There's shouting. The howling emergency siren goes off, echoes from which are detected by NASA's Voyager One space probe gazillions of light years away. Mario Andretti's behind the wheel of the ambulance as it tears onto the track to rescue the stricken rider.
But, amid this chaos and a Cirque du Soleil of impatient horses, stands Songbird, statue-still, the rider (a certain up-and-coming young jock by the name of Mike Smith) with his feet kicked out the irons. All that's missing is a Havana cigar and a glass of bourbon in each of the jock's hands.
"She just stood there like she was an outrider's pony," said Dan Ward, Hollendorfer's assistant at Santa Anita. He's the man charged with overseeing Songbird's daily preparations on those days when Hollendorfer is elsewhere, either with his string at Golden Gate Fields, in San Francisco, or at Los Alamitos Racetrack in California's South Bay.
"She didn't sweat, didn't jump around. Nothing," Ward said. "She probably could go out there with a big saddle on and stand out there all morning like those outriders."
It's this equanimity of temperament that has stood Songbird in such good stead thus far, said Ward, meaning that her two journeys back and forth from the east coast this year have taken minimum toll. Not that Ward believes there's anything particularly boast-worthy about her catalogue of air-miles to date.
"They were talking before this last race [the G1 Cotillion Stakes] that shipping might be catching up to her," said Ward. "But I didn't buy that." A truly grueling traveling campaign, he argued, rather more resembles the one notched by the former Hollendorfer trained Blind Luck, during the summer of 2010.
That year, Blink Luck traveled back and forth from the east coast six times, in the process grabbing wins in two G2s (the Fantasy Stakes and Delaware Oaks) and in two G1s (the Kentucky Oaks and Alabama Stakes). She also grabbed second-place finishes in the Cotillion and the Breeders' Cup Distaff.
"Blink Luck shipped six times that summer, and Songbird's twice the size of Blind Luck," he said.
Songbird, you see, is already – how can I put this polite – a fine-sized young lady. In words sure to ring ominously in the ears of her opponents, Songbird has improved physically over the summer, said Ward (and he expects further improvement between three and four, with an intended older campaign in mind).
"When you're looking every day you can't see a difference, but when I saw her after a month at Saratoga when she came back, she looked bigger," he said. "She looked taller and more filled out."
Songbird's Saratoga odyssey was bookended by victories in the G1 American Oaks and Alabama. In between, Songbird stayed at the New York track, tended to by her exercise rider (Edger Rodriquez) and groom (Cesar Orantes, though Luine Villalta is her regular groom back in California). Then there's Christina Jelm – a bloodstock agent who moonlights as Hollendorfer's travelling assistant when he sends his horses to race out of state.
"I'm like the grandmother," said Jelm, over the phone. "I get to go on the road, spoil them and then I send them home again."
The Jelm-Hollendorfer connection is one for proponents of the "ain't it a small-world" philosophy of life. The families Jelm and Hollendorfer lived within miles of each other in the same little town of Bath, in Ohio. Jelm's father, Charles, and Jerry Hollendorfer were friends, going to the same middle school and university.
Charles opted for a life in real estate, but encouraged his horse-mad daughter to contact his old friend for help and advice when, in her early 20s, she took out a training license.
"I was hard-headed about doing everything on my own back then," said Jelm. And it wasn't until about five years ago that Jelm junior finally made Hollendorfer's professional acquaintance. She helped him select and buy a batch of six 2-year-olds at the OBS Sales in Ocala, Florida. Since then, she's had a hand in buying G1 winners like Wild Dude, Sam's Sister and Sweet Lulu.
Of all the good horses Jelm has had dealings with over the years — either as a trainer, assistant or bloodstock agent — Songbird is easily the pick of the litter. "She's what we all strive for – she's just perfect in very way."
And Jelm has noticed behavior traits in the young filly that resemble those of other noted bigwigs. "One of her favorite things to do in the shedrow is to stop in the corner, put her head up, put her ears up, and just listen and watch – she could stand there all day doing that."
One day recently at Parx Racing, Jimmy Barnes, Bob Baffert's assistant trainer, noticed Songbird's unusual party trick. "And Jimmy said to me, 'that's what American Pharoah used to do.'"
You must have heard the one about what happened after her last race
You haven't heard this one, either? Well, picture this: Parx Racing one Saturday afternoon late September, and Songbird has just completed the one and one 16th miles of the Cotillion in a tidy one minute 44 seconds.
Laboring in her wake are the best of her sex and generation: Carina Mia, a G1 Acorn Stakes winner; Cathryn Sophia, a G1 Kentucky Oaks winner; and Land Over Sea, a G1 Kentucky Oaks runner-up. But Songbird has just dispatched them with all the fuss of a clock-watching filing clerk. Still, Songbird's entitled to be a little bit tired, isn't she? It's not supposed to be that easy, right?
"She pulled up and she wasn't even blowing, she wasn't dragging her feet coming back, she was just so full of energy," said Smith, whose two hands never left the reins the whole way around the Pennsylvania track.
"I was like, 'man!' That for me was even more impressive than the race, if I was honest with you."
For Smith — in the saddle for all 11 of her races — there are certain Songbird traits that stand out. "It's her mechanics – she's made so well." As well as the pace she shows early in her races. "She has that naturally high cruising speed, not too many can get in front of her."
All of which bodes well for the BC Distaff - what will arguably be her toughest assignment to date, and her first against older mares.
Smith sees as a plus the comparative ease of Songbird's last race against the gut-buster Stellar Wind and Beholder served up to each other in the G1 Zenyatta Stakes early this month. Songbird also has an extra week to recharge the batteries.
(Interestingly, Hollendorfer sees it a different way. "Maybe it didn't take anything out of them. Maybe it put something into both of them," he told me)
Still, Smith doesn't underestimate the darlings of the Sadler and Mandella stables. "They're both champions, aren't they?" And Smith knows that the Distaff could prove the first time that he has to really get busy aboard Songbird. "I've never had to get into her. Certainly never got to the bottom of her."
Not that he has any doubts about her resolve under fire. "I'm not worried about that. All I'll have to do is get after her and she'll do it."
"Maybe I'm wrong, but I would have to say she's going in there as one of my biggest chances," Smith added. "I know horse racing. She's got to get her opportunities. I've got to do my job. But, as far as her record goes, and what she's been able to do, you would have to go in really confident."