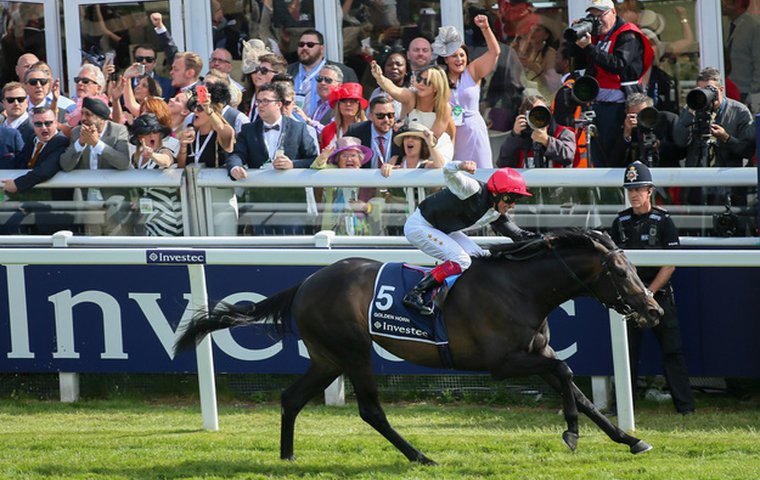 American Pharoah, Duramente, and Golden Horn. Three brilliant 3-year-olds on three different continents. All in 2015.

This is becoming a vintage era of horse racing. If only people followed the sport in the same numbers as previously, they would see it also.
Three years ago, for instance, British racing witnessed the final season of the phenomenon that was Frankel. There is zero doubt that the Sir Henry Cecil-trained Juddmonte colt was one of the best horses of all time. We cannot yet say that of the trio above, but it will certainly be fun finding out if it is true.
In the U.S., an epoch-defining horse has now finally arrived. Pharoahs usually make curses, not mend them. American Pharoah, the Misspelt Marvel, ended a 37-year run in which creeping superstition had induced some to formulate reasons that the Triple Crown had become an unfair test of the so-called modern Thoroughbred.
The experience of the 147th Belmont Stakes was hardly unfair on American Pharoah. In the Preakness Stakes, opponents who took him on had finished exhausted, so nobody took him on at all in New York. Not to diminish the accomplishment of this now-great horse, nor the well-judged ride given to him by Victor Espinoza, but -- to channel Vince Lombardi -- what the heck was going on out there? (Did the other jockeys take a business decision?)
When a horse runs at even pace in a dirt race, he is usually getting the sand kicked in his face by every one of his opponents and being forced wide. American Pharoah's pace line of 24.06 – 24.77 – 24.58 – 24.34 – 24.32 in the rail path was freakishly even, and it would have been tough to lose off that for a horse of his monstrous talent.
Earlier on Belmont day, the John Gosden-trained Golden Horn ran a different-looking race from American Pharoah, facing a tougher trip on Epsom Downs Racecourse's idiosyncratic undulations, and he hadn't been wearied by the exertions of two previous classics.
This colt is very special. He accelerated from off strong fractions to reach the quarters of stable companion Jack Hobbs over a furlong out, then switched up to another gear to put him away. This was an amazing performance, make no mistake, and he hit the line very hard while three and a half lengths clear.
British racing's Triple Crown is nowhere near so storied as that in the U.S., mainly because it is virtually an anachronism. The colts' version constitutes the 2,000 Guineas over a mile, the Derby over a mile and a half, and the St Leger over more than a mile and three-quarters. The series spans four months.
Two years ago, however, Coolmore's Camelot won the first two legs and was second in the third. It was highly creditable, but the Leger is not so strongly contested as the Belmont tends to be, mainly because a win over the distance is considered unflattering to the profile of modern stallions.
In terms only of talent, I would definitely choose Golden Horn over American Pharoah, but talent is only part of the equation in sport – accomplishment is the bigger factor. Like Cecil before him, Gosden will take a relatively conservative path to the Arc in October, a race in which he could possibly meet the third of our global superstars, Duramente.
This colt could be the second coming of Deep Impact, although it must be hoped the Japanese have more information about the task of winning the Arc nowadays. Deep Impact arrived at Longchamp in 2006 without a race in more than three months. Japanese horses are good, but not that good. He ran a fine race to finish third (subsequently disqualified for a banned substance) but tired as if not at his physical peak.
Horses cannot win G1s any more impressively than Duramente in the Tokyo Yushun (Japanese Derby) at the end of last month. He did not achieve anything like the same merit rating as American Pharoah or Golden Horn, but to have won in such amazing style suggests he is a lot better than the race let him show.
Having earlier aced the Satsuki Sho (Japanese 2,000 Guineas) at Nakayama in April, Duramente needs only the Kikuka Sho at Kyoto in October to complete his own Triple Crown. That, however, would clash with the Arc, which has come to be seen as a nonpareil among targets for the Japanese Thoroughbred in recent years.
Of the three horses, it seems as if the management of American Pharoah is the most problematic from now on. It could be argued there is plenty to lose and not much to gain from racing on, given his stud value can hardly be higher than now. However, the Breeders' Cup Classic purse of $5 million is still significant (Bayern, also trained by Bob Baffert, picked up $2.75 million for first place last year).
Horse racing may not resonate like it used to with the interests of the wider sporting public, but it still holds considerable appeal for the uber rich. The wealthy racehorse owner – that much-reviled individual – has put a lot in, and the sport is giving a lot back.