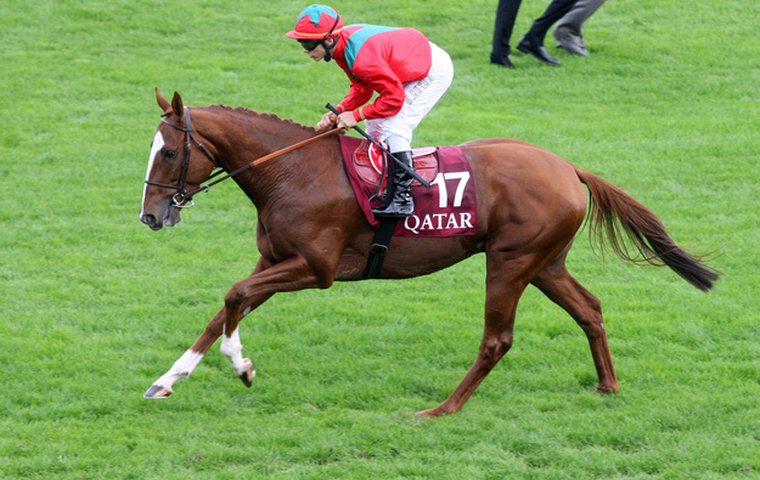 When Lope de Vega retired to Ballylinch Stud in Ireland at €15,000 ($18,625) for the 2011 season he was neither the most expensive nor the most popular of the new sires.

New stallions are more often than not judged on their own sire, their physical looks and their recent form on the racecourse. At the beginning of 2011, Lope's father, Shamardal, was not seen in quite the same light as Dubawi or Galileo, the sires of Lope's contemporaries Makfi and Rip Van Winkle. And Lope de Vega had never run outside France and had not won since the G1 Prix du Jockey Club in June 2010, finishing unplaced in his three subsequent starts. He had always been an impressive individual, but there were those who considered he lacked physical class and had a suspect attitude.
Suffice to say that the doubters have since had cause to think again.
Lope de Vega has made an outstanding start to his career as a stallion and is Europe's champion first season sire by prize money. By mid-November, he was the sire of 21 winners of 29 races and around $1.13 million. He has stamped his authority on his contemporaries in a manner not seen since Oasis Dream started his stud career back in 2007. Like Oasis Dream in 2007, he is the sires of four Group winners and a series of other 2-year-olds with the potential to be top class.
Lope de Vega's four Group winners are Belardo, winner of Britain's top 2-year-old race, the G1 Dewhurst Stakes, the unbeaten Italian champion Hero Look, winner of the G2 Gran Criterium, and the English G3 winners Burnt Sugar and Royal Razalma.
In addition, Flaming Spear, Consort, and Very Special in England and Endless Drama in Ireland have been among the most impressive maiden winners on big tracks this year. In France, Lope has had the Group-placed Ride Like The Wind and Baltic Comtesse, as well as several promising maidens carrying the colours of Germany's Gestüt Ammerland. Dietrich von Boetticher's Gestüt Ammerland bred and raced Lope de Vega and remains one of his principal shareholders and supporters.
Taken together, around 25 percent of Lope de Vega's runners are already top class or have shown enough to suggest that, given normal improvement, they will be in the future. Any such criteria is, of course, bound to be subjective but the only other sires with more than 50 foals producing 2-year-olds of this standard in 2014 are Galileo and Oasis Dream.
Few things in the breeding world are more difficult to predict than stallion success but, despite subjective doubts about his looks, his pedigree, and his racing ability, Lope de Vega had three big things going for him from the start.
The first, which may turn out to have been decisive, was his syndication and ownership structure.
Until recently, the European stallion market was dominated by the major stallion farms - Darley, Coolmore, and Juddmonte, in particular – and they have not syndicated their best stallion prospects. Lope de Vega is one of the first prominent sires to be not only independent from these giants but also to have a syndicate of breeders to support him. Others to come to the fore recently include both Le Havre and Siyouni.
Lope de Vega's three major shareholders in the Northern Hemisphere own a majority of the horse and therefore control most of the breeding seasons available. Lope de Vega's syndication agreement limits him to 130 mares in the Northern Hemisphere. (Lope de Vega has been shuttling to Patinack Farm in Queensland, Australia for the Southern Hemisphere season. The stud, owned by troubled former coal billionaire Nathan Tinkler, is up for sale.)
Ammerland, Ballylinch, and SF Bloodstock are major breeders who have supported the horse every year in the Northern Hemisphere. Ammerland has, for instance, five 2-year-olds by him with Andre Fabre and several others with John Hammond. Ballylinch bred two of his Group winners to date, Belardo and Burnt Sugar.
The quality of mares covered in a stallion's second and third season is often significantly lower than the first, but this was not the case for Lope de Vega because of the support of these major shareholders.
The second important factor in his favour was that he is an outcross to all of the most successful and popular stallion lines in England and Ireland. He is a great grandson of Storm Cat but has no Sadler's Wells, Danzig or Danehill in his pedigree and so can cover most of the available mare pool. He is closely inbred to Machiavellian, who has few active sons, out of a mare by Vettori, who has no active sons, out of a mare by Kendor, who has few active sons aside from Kendargent.
This may seem a technical point or one of interest only to pedigree fanatics, but Lope de Vega is not the only outcross stallion who has come to the fore over the last few seasons in Europe, Le Havre and Kendargent being two other examples.
Third, Lope de Vega was an outstanding racehorse who put up two top performances in races that are becoming very significant guides to future stallion success.
The Prix du Jockey-Club has been run over 10 ½ furlongs since 2005 and its first six winners include four important stallions, Shamardal, Lawman, Le Havre, and Lope de Vega.
Since 2005, it has become possible to attempt the Poule d'Essai des Poulains and Prix du Jockey-Club double. These two classics are run three weeks apart over a mile and then 10½ furlongs. The only two to complete the double are Shamardal and Lope de Vega, while Le Havre came close, having been runner-up in the Poule d'Essai before winning the Jockey-Club in 2009.
Like many of the most significant tests, the Poule d'Essai at Longchamp and the Prix du Jockey-Club at Chantilly are run over courses that are far from straightforward. Once there are more than 10 runners, as there are nearly every year, the draw becomes of vital importance as those drawn wide have almost no chance.
This is where Lope de Vega achieved something out of the ordinary. He won the Poule d'Essai when drawn 15 of 15 and the Jockey Club from stall 20 of 22.
At Longchamp, he was held up and was able to accelerate past his field in the straight. At Chantilly, he was obliged to sprint to take up the lead and then maintain a similar pace up the hill past the Chateau and then down the straight, sprinting more or less for 10 ½ furlongs.
The Poule d'Essai and the Jockey-Club demand a particular blend of speed and stamina and, by overcoming the additional handicaps of the draw and the way the races were run, Lope de Vega showed he has these qualities in spades.
----------
Jocelyn de Moubray is a bloodstock consultant based in France and author of The Thoroughbred Business (publisher Hamish Hamilton Ltd.).