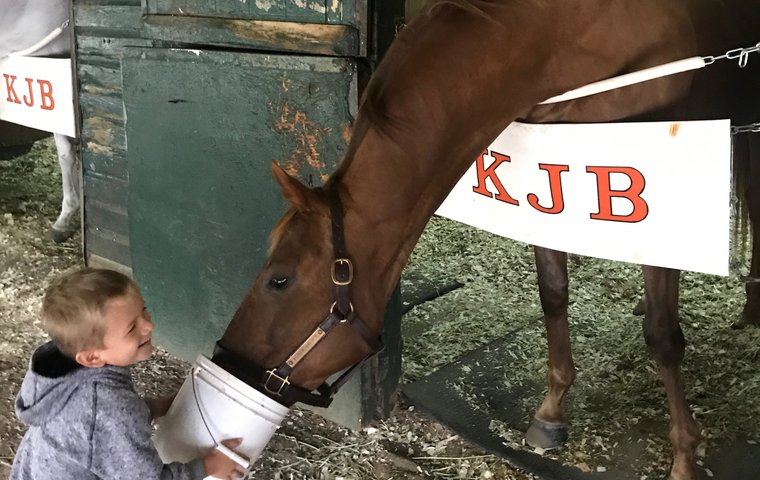 To understand Ruler On Ice's current life — which is one of relaxation on owner George Hall's farm — you have to understand his past.

In 2011, Ruler On Ice surprised everyone when he won the Belmont Stakes at 24/1. Finishing behind him that day were the likes of Kentucky Derby hero Animal Kingdom, Preakness winner Shackleford, and future Breeders' Cup Classic victor Mucho Macho Man.

Ruler On Ice ran for the last time in 2014, and five years on from that, his connections continue to keep him happy in his retirement.

Back in 2011
Trainer Kelly Breen, based out of Monmouth Park, always had faith in the gelding, and Ruler On Ice proved him right by providing him with his first win in a Triple Crown race. However, Breen also was honest about the fact that Ruler On Ice was sometimes too fiery for his own good. Figuring out what made him happiest was a key to the horse's success throughout his career.
"It's like trying to take baby steps with this horse," Breen said following the Belmont. "He acted up trying to get into the paddock, and in the winner's circle he pulled his antics. We're slowly getting used to what he likes. He has his own van. You know, when he came over here, the attendant held him the whole way, which you don't usually do for a horse shipping 60 miles away. The attendant was holding him, petting him, and it is what we needed to do to get him here."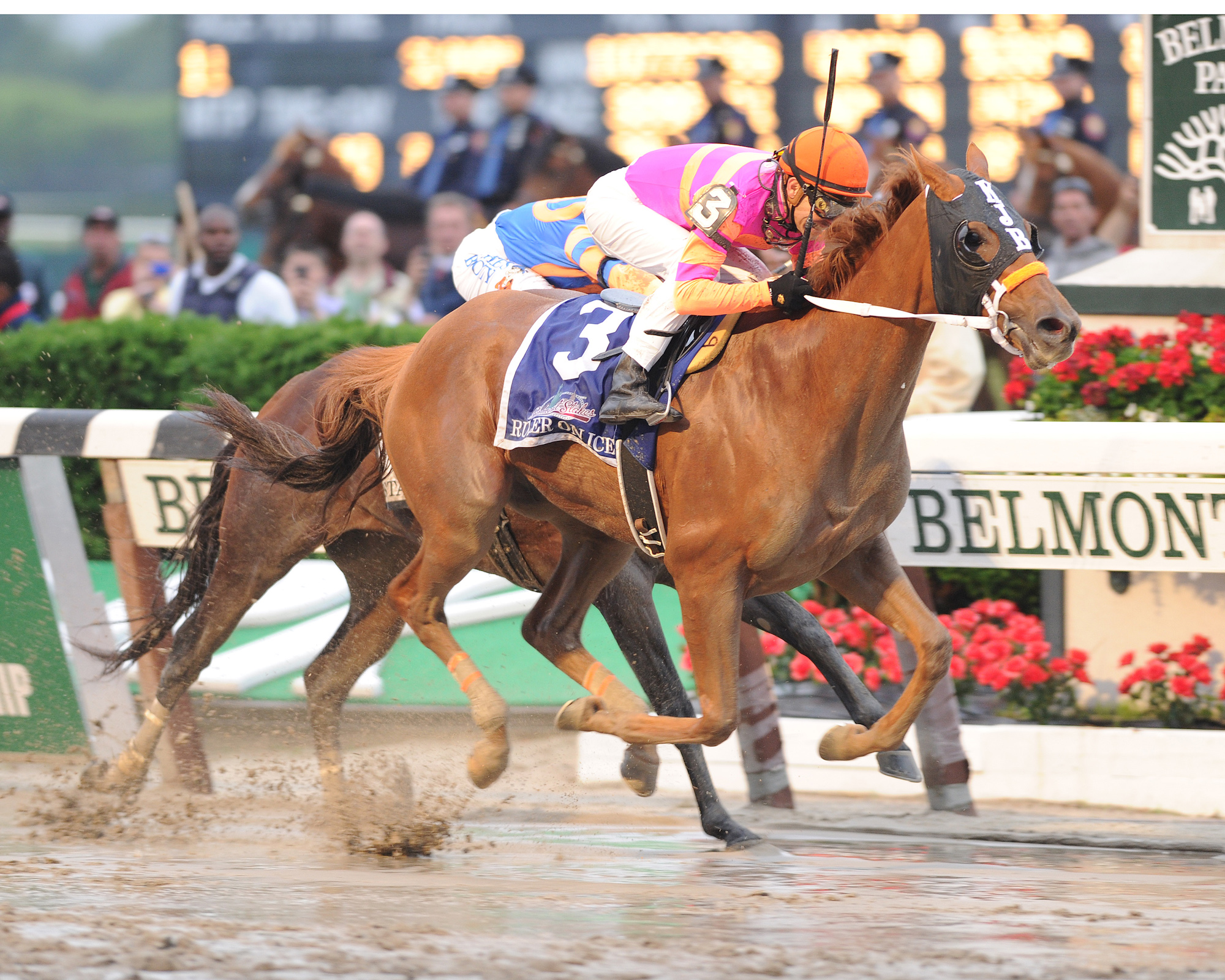 Before the biggest victory of his career, Breen also had made some changes with Ruler On Ice. He was moved to a quieter barn at his home base, and in the Belmont, the gelding competed in blinkers for the first time.
"It was part of the maturity issues," said Breen. "He didn't mature as fast as we wanted him to. He's already a gelding, so we can't castrate him again. We are trying to do things to keep him happy. He's in our 'B Barn'. He's not in the 'A Barn', where he kicked the walls all day long. He still kicks the walls in our other barn, but not as bad as he did.
"He likes to be off the beaten path. It made him happy. He likes Monmouth Park. He likes going out and training first thing in the morning. He's the first horse on the track. You try and have a happy horse."
For all of his antics, Ruler On Ice was always an honest sort in that he made his tricky temperament known from the beginning. A $100,000 Keeneland September yearling purchase, the son of Roman Ruler was sent to Florida for his early training.
"This horse had antics, even going back to when he was being broke at Barry Eisaman's farm in Ocala," said Breen. "Barry called me up. He said, 'Everything is great, everything's going fine, but ...' You always have the 'but'. He said this one horse is a little nuts, and I think that we need to geld him or else we're going to have trouble. He's going to hurt somebody because that's how nutty he can be."
Retirement plan
The Belmont was by far Ruler On Ice's greatest win, but he remained competitive at the highest level that season, including finishing second in the Pennsylvania Derby and third in both the Haskell Invitational and the Breeders' Cup Classic. The gelding raced on in 2012 and 2013 before being retired after his only start in 2014 due to minor leg issues.
In the end, Ruler On Ice earned $1,709,566, and he finished in the top three in 12 of his 23 career starts. Bred by Liberation Farm and Brandywine Farm out of the Saratoga Six mare Champagne Glow, he is a half-sibling to fellow G1 winner Champagne d'Oro.
Ruler On Ice was sent to Kentucky to live out his days on his owner's farm, but, four years into his retirement, his connections decided he might want something to do. So, last year, appropriately enough around Belmont time, Ruler On Ice returned to Breen's barn at Monmouth for a change of scenery and to see if he still loved the mornings at the track.
"At one point he wasn't so happy out at the farm, so we were going to try and make him into a barn pony," said Breen. "He came back to us, and he was looking fantastic, but he was so high-spirited out of the barn. We ended up not being able to consistently put the western saddle on him and stand him out on the track."
Ruler On Ice wasn't interested in being a pony. Instead, he was interested in being put back in training, which was not what his return to Monmouth was about. For three months, Breen tried to get his famous charge to settle into a more sedate role, but he simply wasn't interested.
"He acted a little bit like his old nutty self, so we couldn't do it," said Breen. "He was used to being ponied, and he still wanted to be ponied. He did not want to be the pony. We had to bring him around on the track with another horse just so he would go around it and relax. We couldn't get him to be the barn pony. He was just too high-strung."
Still, Breen and his team enjoyed having the Belmont winner back in the barn for the summer. When autumn came, he was sent back to Kentucky, and these days, Ruler On Ice seems to be enjoying farm life once more.
"He's back at the farm in Kentucky, and he's happy again," said Breen. "He's doing well there. It was really nice to have him back at Monmouth Park last year though.
"Winning a Triple Crown race was one of the greatest days of my life. My family was there, my father was there, who has passed away. It was a day I will never forget. There are certain days – your kids being born and winning the Belmont – things don't get any better than that. We want Ruler On Ice to be happy."