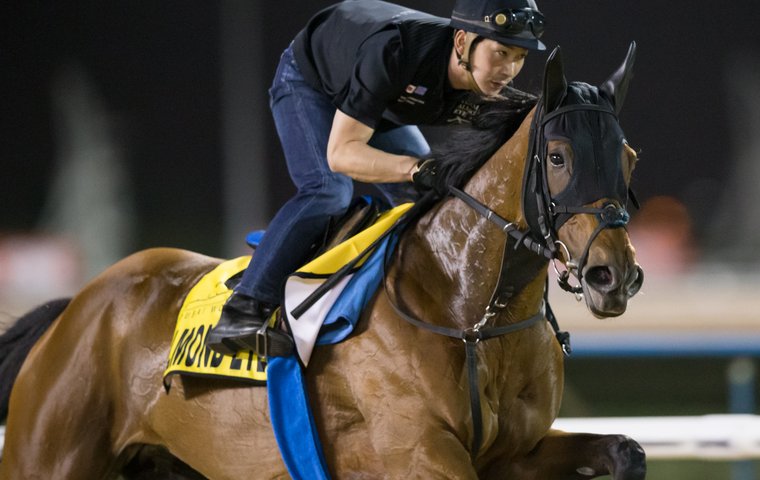 Ever since she first flashed her brilliant speed in the Oka Sho (Japanese 1000 Guineas), Almond Eye has quickly gained notoriety as the most exciting filly from Japan since Gentildonna. The comparisons don't end there as Almond Eye later went on to capture all three legs of the Filly Triple Crown and the Japan Cup, the same grand slam as Gentildonna managed in 2012.

Earlier this year, she was named the Japan Racing Authority's 2018 Horse of the Year, just as Gentildonna had been in 2012 and she will continue on that same general path by making her first start as a 4-year-old in Dubai.
Almond Eye is likely be be compared to Gentildonna for the rest of her life, but this season will be her opportunity to continue to carve her own path, a task she started by setting a world record for 2400m in the Japan Cup last year. Instead of running in the Longines Dubai Sheema Classic like Gentildonna did, she will head to the Dubai Turf Sponsored by DP World instead. It has been a move that has been continually questioned by the media, but her connections had clear answers at the ready.
"I had considered the Dubai Turf first as it is a one-turn race and will be easier on her since it will be her first start back," said trainer Sakae Kunieda, who is #60 in the TRC Global Trainer Rankings.
Silk Racing president Masashi Yonemoto added: "We took Mr Kunieda's suggestion for her that, since horses like 2014 Longines World's Best Racehorse Just a Way have won this race and it is so highly rated each year, it would be a good option for her. She has run so well from 1600m to 2400m that 1800m will be a good distance for her."
When asked if the Prix de l'Arc de Triomphe was still the plan for her, Kunieda explained that the final decision will be made by her owners at Silk Racing Club. "We want to take it one step at a time," he said.
Yonemoto added: "For now, there is no set plan for her autumn campaign. We will see how she does in Dubai and how she comes out of it and from there make the decision on what is next. We only want to think about the race here before us. It is very exciting to get to go abroad with her and we hope it goes well."
The daughter of Lord Kanaloa (world-ranked #15), in her first start out of her homeland, will be taking on two other Japanese mares who have proven form abroad.
Vivlos won the Dubai Turf in 2017 and was second last year before finishing second in the Hong Kong Mile in December. And Deirdre ran third in the Dubai Turf last year and second in the Hong Kong Cup in December.
If 4-year-old Almond Eye can win this year's renewal, she will manage to do what Gentildonna could not in triumphing in her first international start.
"Normally, I'd be a little on edge about starting here fresh off a break," said regular jockey Christophe Lemaire. "But she has enough ability to overcome that, so I am not worried." When asked about it, Kunieda said: "She runs well when fresh."
As she sets out to make her own legend, she is accompanied by her regular rider in Lemaire, who is currently the fifth-ranked jockey in the world. She has become wildly popular in her home country and the fan enthusiasm for her Dubai debut cannot be understated with fans making their own flags and stickers and the sale of Almond Eye stuffed animals, hats, and other various kinds of memorabilia.
Her trip to Dubai sparked a massive jump in the number of Japanese journalists covering the Dubai World Cup meeting.
She is likely to be the one to beat on Saturday and will have a massive target on her back, but given her closing kick, she'll be a fast-moving target. "Even I don't know where her limit is yet," Kunieda said. "She means a lot to me, giving us this opportunity to travel with her. She is a really special filly."