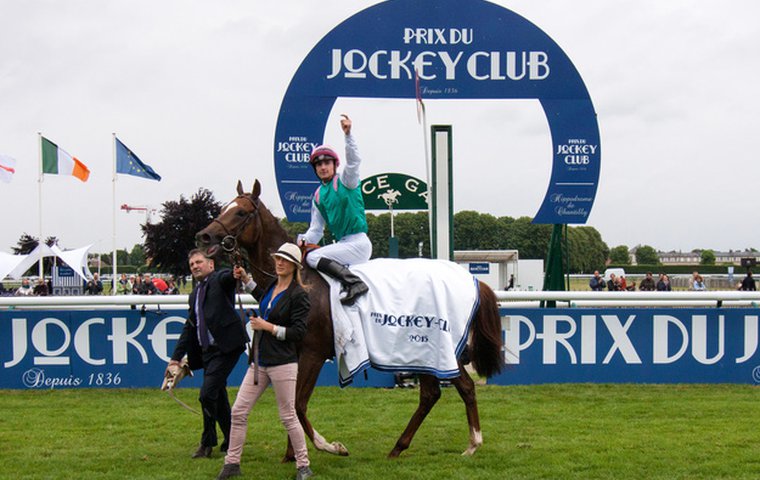 It was in June when Vincent Cheminaud finally made the big decision. The youngster who has been sweeping all before him ever since he burst through in French jump racing as a teenage kid a couple of years ago, including winning France's biggest jump race at the age of 20 and becoming champion jockey, decided to turn his back on steeplechasing and try his hand on the flat instead.

It may have been an emotional decision, but it was not a difficult one. For Cheminaud has been just as big a sensation on the flat since he first tried the alternative (and much more financially rewarding) discipline at the end of 2014. Indeed, just a few days earlier he demonstrated his extraordinary flair to the world when he rode the Juddmonte-owned Dubawi colt New Bay to victory in the Prix du Jockey Club (French Derby).
That colt, unbeaten under Cheminaud in two runs since, is generally 4-1 second favourite behind Treve for the Arc on Sunday.
New Bay is under the care of master trainer Andre Fabre, perennial French champion and seven times an Arc winner, and a man who was quick to spot Cheminaud's potential. The pair have already forged a formidable partnership, although the youngster is much in demand for other leading stables when available.
2014 was a marquee year for Cheminaud over the jumps. He took G1 jumping honours in the Grand Steeple-Chase de Paris (France's equivalent of the Grand National) on the Guillaume Macaire-trained Storm Of Saintly, and the Prix Alain du Breil (French 4-year-old Champion Hurdle) for another powerful yard, that of Jean-Paul Gallorini, with Roll On Has. He rounded off the year with another G1 success, this time for Britain's champion trainer, Paul Nicholls, on Zarkandar in the Grand Prix d'Automne Hurdle.
Family's surprise at Cheminaud's career choice
Known for his modesty and discretion, Cheminaud has always preferred to let his riding speak for him. Success in the French Derby, a place on Team Europe for the Shergar Cup international jockey challenge at Ascot in August and his recent American G1 success have meant he has had to get used to the media attention as racing fans the world over clamour to know more about the boy wonder who caught Fabre's eye.
His recent arrival on the global flat racing scene has meant a move from the holiday town of Royan in the South West of France to Chantilly, but the jockey and his young family have adapted quickly.
It was a relaxed Cheminaud, accompanied by girlfriend Apriliaa and son Lucas, who was interviewed at the home of his agent, Hervé Naggar, after an evening race meeting at Chantilly Racecourse.
Vincent is the son of successful jump jockey Christophe Cheminaud, who recently took out his trainer's licence and was the sole inspiration behind the youngster's choice of career.
"I never rode ponies at all when I was young, but when I was a teenager I decided one day that I wanted to do the same job as my dad," he said. "It took my family by surprise as I had never shown an interest in riding before that.
'I was far behind the other students at the riding school'
"I started in the AFASEC, the French racing school, when I was 13 and I knew very early on that this was what I wanted to do. It was a completely new experience for me, and I was quite far behind the other students, who had done pony racing or show jumping beforehand. It took two years for me to really learn to ride, but I enjoyed every minute of it."
Cheminaud worked with his father for trainer Emmanuel Clayeux for the three years of his apprenticeship. "I started jumping very early there," he said. "I never considered being a flat jockey as I think you need to be based at the apprentice school in Chantilly for that and also all I wanted to do was beat my dad's racing record. He was still riding at the time.
"Unfortunately he had a bad fall, which ended his racing career, just after I took out my jockey's licence, so we never rode together in a race."
The teenage Cheminaud moved to prominent trainer Arnaud Chaille-Chaille when he graduated from the apprentice school, and spent two years there. "He gave me rides very quickly and helped me a lot in my early career," said Cheminaud. "After my 18th birthday, I decided to become freelance as I needed a change of air."
The trainer who had an instant impact
He spent six months riding for trainer Francois Nicolle before beginning the association with Guillaume Macaire that would have an instant impact on his career.
"In my opinion Macaire has been the best jumps trainer in France for many years," said Cheminaud. "I have always believed that, in order to be the best jockey, you need to work with the best trainers, whether that be on the flat or over jumps. He seemed interested when I went to see him and we had the perfect start thanks to Storm Of Saintly's success in the [G1] Prix Ferdinand Dufaure just one month into our association.
"A jockey is not much without top horses, and he was the one that launched my career. You need luck in this job, but you also need to know how to use that luck correctly.
"The following year we won the Grand Steeple-Chase de Paris together, which was the reward for a lot of hard work behind the scenes. I was only 20 at the time, so I don't think I realised just how lucky I was to win such a race so early in my career."
After such a strong start to his riding career over jumps, it may have come as a surprise to many when Cheminaud's name started appearing in racecards at Longchamp and Chantilly as well as at Auteuil, France's premier jumps track.
He had previously ridden many AQPS (French non-Thoroughbred) horses on the flat and had numerous rides in the discipline for Chaille-Chaille as he could ride at weights as low as 117 lbs (8 stone 5lb, 53 kilos).
'I met Andre Fabre, and my entire world changed'
He began riding more frequently on the flat towards the end of 2014 with the objective of losing his claim in 2015. An encounter with renowned agent Naggar, who has been instrumental in guiding the careers of many jockeys, including Olivier Peslier, Stephane Pasquier and Pierre-Charles Boudot, saw him achieve that and much more.
"Hervé put me in contact with Andre Fabre, and my entire world changed," said Cheminaud.
"I think we work well together because I am quiet and reserved; success hasn't changed me. That's just my nature; words don't win races so I would rather people focus on my riding. I have had so much to learn, but Mr Fabre has really trained me in his way of working. He frequently sent me off in front in the gallops in order to learn more about pace, which has helped me enormously in my race riding."
He added: "The two disciplines are so different and they give you very different sensations as a jockey, but my experience over jumps been a huge help to riding on the flat. I reduced my number of rides over jumps after the French Guineas [when Cheminaud and New Bay were second to better fancied stablemate Make Believe] and started to be more select about which horses I rode.
"When you are riding at that level on the flat, you can't take unnecessary risks of having a fall. The 'Grand-Steeple' is the most prestigious race over jumps in France, and I think my career would not have taken this path if I had not won it."
U.S triumph on Flintshire a real highlight
Making the move from jump to flat racing also meant a change in weigh-room colleagues for Cheminaud. The strong camaraderie between jump jockeys is renowned in racing circles. "They are very different people in flat racing and, although I knew some of the jockeys previously, I found it quite difficult to settle into the weigh-room early on," said Cheminaud.
"I have finally found my place now, and I don't regret the move at all. I have applied the same rules to my flat career as I did early on over jumps, and I am learning all the time from riding for the best trainers."
For Cheminaud, there are two clear high points to the months that have followed his French Derby success.
"The experience I gained from riding in the Shergar Cup was phenomenal," he said. "It was huge for someone who was still an apprentice to represent France against some of the world's best jockeys at Ascot, which for me is the best racecourse I have ever seen. Another big step in my career was the success of Flintshire in the G1 Sword Dancer Stakes in Saratoga. I loved riding in the U.S.A. and I look forward to returning in the future."
The next step for the young jockey will be on Sunday, when he renews his partnership with New Bay in the Arc. So how is he coping with the mounting pressure?
"People have always expected a lot from me; early on in my career because of who my father was and now from my early success. I definitely feel pressure but in a good way, and it will not change the way I ride.
"Small mistakes are quickly blown out of proportion, so I do my best to avoid them. I am not an extrovert, but I do get pleasure from reading positive articles about me in the press.