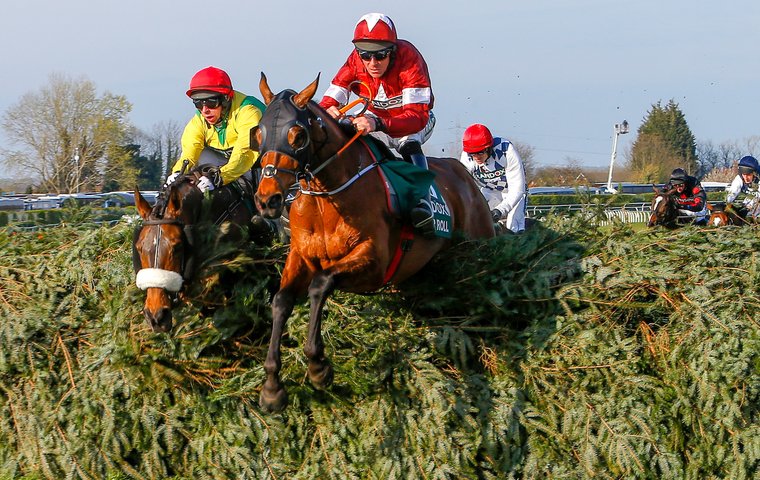 From today until Friday one race meeting will make headlines on the front and back pages of national newspapers in Britain and Ireland and receive network television coverage unmatched in most parts of the world. As Britain is credited with developing horse racing in its modern form, the casual reaction might be: 'So, what's unusual about that?'

Well, from an international perspective, the rare thing is that we are talking about the Cheltenham Festival, the most popular meeting in the British racing calendar — and it's jump racing.
For the uninitiated, that is racing over steeplechase fences and hurdles, at distances from two miles (3200m) to three miles six furlongs (6000m), featuring a type of horse more equipped for gruelling staying contests than the shorter, flashier tests of speed on the flat.
And, it should also be pointed out, unlike race fans in America, Australia, and most other countries, for those in Britain and Ireland jump racing is more popular than the flat.
Armies of punters on both sides of the Irish Sea have been approaching this week with the enthusiasm and anticipation of small children waiting for Santa Claus.
For the industry itself, National Hunt racing, to give it the formal title, provides an added dimension to the overall racing economy. While the majority of owners might set out to uncover a G1 winner, a Classic winner even, they are very likely to be disappointed. But, thanks to jump racing, there is another opportunity, and they can take comfort in knowing that a racehorse who might fall short on the flat can still shine over jumps.
And therein lies one of the unheralded marvels of a racing jurisdiction low on prize money and high on tradition.
Only last year, a 5-year-old named Interconnected, a winning point-to-pointer, who had finished second in a Newbury novice hurdle, became the highest priced National Hunt horse sold at public auction when knocked down to owner Darren Yates for £620,000. Of course, many others are rumoured to have sold privately over the years for more. (Point-to-points are an amateur introduction to jump racing).
Coolmore in Ireland are proud of their jumping links and happy to advertise that the six leading living jump sires stand at studs under their banner. Topping the list are St Leger winner Milan, G1 scorer Flemensfirth, four-time Ascot Gold Cup hero Yeats, as well as the great staying influences Westerner, Getaway and Mahler, the latter a Royal Ascot winner who was placed in a Melbourne Cup.
A popular NH sire will regularly serve books of 200 or more, so the economics are plain to see and underline the logic in Britain and Ireland continuing to promote opportunities for stayers on the flat. The stars in the staying races usually make great jump sires. Stayers appear more cherished than in other leading racing capitals. In essence, jump racing provides a safety net for the entire industry.
It could be argued that the most popular jumper around today, Tiger Roll, is one who was caught by that safety net.
He was purchased for 70,000 guineas by John Ferguson for Godolphin. Being a son of the Derby winner Authorized, who had been snapped up by Darley, there were expectations that he could make his name on the flat. However, in the event, he left Godolphin unraced.
In most other countries, that would have been about it. Nobody would ever have heard of him.
In fact, Tiger Roll was bought for 10,000 guineas by jumps trainer Nigel Hawke, who must have thought he had made a killing when selling the horse after one start for 80,000 guineas to Ryanair boss Michael O'Leary's Gigginstown operation in Ireland.
In case you missed it, Tiger Roll has won the last two Grand Nationals at Aintree, and this week he is on target to win at Cheltenham for the fifth successive year. He runs in Wednesday's Glenfarclas Chase, over a tricky cross-county course he has already mastered twice. To illustrate his versatility, four years ago he won the Triumph Hurdle, the two-mile championship hurdle race for 4-year-olds (the juveniles of jumping), then the following year he took the four-mile National Hunt Chase (since reduced in distance), followed by his two cross-country triumphs.
There will be wild scenes, even by Cheltenham standards, if he makes it a hat-trick … and then it will be on to Aintree for a crack at racing immortality on April 4. The great Red Rum won three Nationals, but they were in 1973, 1974 and 1977. Tiger Roll has a good chance of making it three in a row.
Tiger Roll's breeder, Gerry O'Brien, might have been hoping to breed a Derby or St Leger winner when he sent his mare Swiss Roll to Authorized. After all, the mare had produced Ahzeemah (by Dubawi), who won the G2 Lonsdale Cup and was runner-up in an Irish St Leger.
There were to be no Classics for the horse, yet the great racing safety net meant he would go on to achieve even greater fame and glory in the eyes of the British and Irish public.