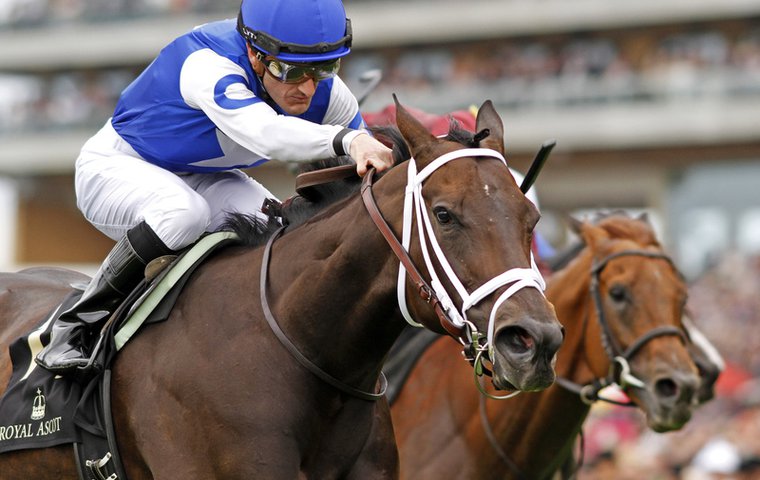 TRC blogger Nick Luck, the six-times British racing broadcaster of the year and Channel 4 Racing anchor, recently returned home from a stay in the U.S., where he is a regular on NBC's coverage of the Breeders' Cup. He took the opportunity to cast a long, hard look at the state of American racing.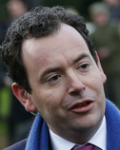 When it comes to self-flagellation, the Thoroughbred industry has few peers. And, of all racing nations, America can wield the cat o'nine tails better than any.
Give it five minutes, it can thrash itself raw over just about any subject you care to mention: attendance, betting handle, slot machines and pari-mutual takeouts; marketing, TV exposure, its editorial and viewing numbers; drug use, animal welfare, integrity and track management; not to mention the shifting priorities of the breeding industry.
If you want to know just how hard the mongers of doom toil to press the point, consider a sample of headlines from the last couple of years:
Why horse racing continues to fade
Reasons for the Decline of Horseracing
Lasix: the drug debate which is bleeding U.S. horse racing dry
And, my favourite:
American horse racing isn't dead - but it's getting awfully close
And these headlines are from articles written by established racing or sports journalists, never mind the PETA or Animal Aid-inspired bile that will always attempt to slay the sport so long as it hasn't slain itself already.
Now, I like a good moan as much as the next person, but racing's ability to short its own stock is persistently staggering. From a journalist's viewpoint, however, the imagery of decline is so accessible, it is almost impossible to resist.
I could just as easily, for example, have begun this article with a (true) tale of walking through Belmont Park shortly before Post Time early last July, crossing its vast, empty, dusty, parking lot; walking into the cavernous betting hall - in its heyday the bustling preserve of wisecracking handicappers (make a romantic reference to Damon Runyon here. Ed.) - to be greeted by the sight of a solitary 70-something standing dutifully to the tinny strains of the National Anthem on the echoing public address. And so on.
Coming less than a month after American Pharoah's Belmont Stakes victory, I could perhaps have persuaded a pliable sub-editor to go with the headline Pharoah fails to shroud racing's crumbling remains. Or something equally brilliant.
Yes, we are supposed to scrutinise, to question, to pick at the seams of received wisdom. And, yes, racing is weird and unwieldy and full of organisational anachronisms and odd people, but - on the way back from California - I managed to jot down 10 equally disjointed rejoinders to the idea that the sport is gasping for breath and needs marking DNR.
1. The Horses
Yes, those four-legged creatures quite crucial to the game, but whose merits or otherwise are often strangely overlooked in discussions of this kind. Put simply, there are some magnificent athletes on show in America: eight out of the top 20 ranked horses in the 2016 Longines World's Best Racehorse Rankings are U.S.-trained, more than in any other year since these classifications were compiled and comfortably more than any other nation.
Happily, by the end of 2016, we have come to relativise everything to American Pharoah because we believe California Chrome and Arrogate may justifiably be called his superiors, rather than because he has left behind a sense of yearning and emptiness.
2. The Connections
It may be a happy accident, but many of the top U.S. owners seem to share the fans' desire to see the horses race on beyond their 3-year-old careers. We are set for a little more Chrome, and hopefully a whole lot more Arrogate, Songbird, Tepin and co. It goes without saying that it is a good deal easier to sell the established superstars, particularly if racing's appeal is to be maintained beyond the Triple Crown.
From a broadcaster's viewpoint, the cooperation of U.S. horsemen comfortably outstrips that of their European counterparts, though the gap is admittedly narrowing. After this year's Breeders' Cup Juvenile, the owner of runner-up Not This Time insisted Robbie Albarado talk to "the fans first" (meaning NBC viewers). I am yet to encounter such largesse in England!
3. The World
I'm riffing on a theme here somewhat, but Bat Masterson's decision to bring Tepin to Royal Ascot this year - combined with Mark and Norm Casse's outstanding training of the mare - was evidence that the "special relationship" might burgeon in racing terms, if nothing else.
More than simply a sportsman's appreciation of their buccaneering sense of adventure, this represented one of America's best taking on and beating the best of Europe free of raceday medication and on an entirely unfamiliar track.
As such, an entire racing nation was afforded a huge boost to the esteem in which it is held internationally.
From 2017, Royal Ascot will be shown live on NBCSN.
4. The Turf
The main track races will always rightly hold pride of place - and can produce the most magical theatre in the right circumstances - but it can never be a bad thing if the sparring heavyweights of the dirt are fully complemented by the more balletic qualities of the top turf horses. Home-trained horses won four out of the six turf races at the Breeders' Cup, and these races may become slightly higher hanging fruit for European raiders.
First, many of the country's top trainers have a much stronger interest in grass racing than has been the case - Chad Brown, Mark Casse and Graham Motion the obvious examples. Second, a richer choice of turf stallions is emerging in Kentucky, with Magician, Noble Mission and English Channel set to be joined by Ironicus, Hit It A Bomb and - most notably - Flintshire.
5. Stamina
What makes a great dirt horse? The ability to show speed, and then to stretch that speed around two turns without faltering. There have been times in the last decade when you wondered whether 2:00 for a mile and a quarter would ever be beaten again, given that all the middle-distance races were won by horses either clinging on for dear life or plodding on grimly from an unpromising position.
The last 18 months have seen performances redolent of a bygone era, with horses stretching their speed with flair.
American Pharoah looked as though he could run as far as you wanted; Arrogate looks bottomless in that respect. Interestingly, both are trained by Bob Baffert, who says he "loves speed". Are the breeders beginning to realise that you need to run fast and run long?
6. The Pegasus
This is absolute 24-carat gold dust for the naysayers, who can be found brooding and sulking in the nooks and crannies of cyberspace over a concept they have instantly dismissed as 'ludicrous'. Well, here's the deal - we have no idea how successful it will prove, but, for the time being, you have got the following ingredients: the extension of the career of America's most popular horse, the rematch from an epic Breeders' Cup Classic, and coverage on network television. And everyone's talking about it.
Given how hard it is to launch any sporting event from scratch, that is not a bad start.
7. Attendance
Now this is a tricky one, as everyone knows that racetrack attendance figures can be a rich tapestry, woven in many different ways. The boutique meets at Keeneland, Del Mar and Saratoga all registered strong or record attendances, the Breeders' Cup scored its highest number on a Saturday at Santa Anita since 1986 (and a record total over the two days), while the Kentucky Derby raked in the second highest attendance ever (the highest, incidentally, was the previous year, so this has naturally been reported in some quarters as a failure!)
As such, the sport's marketing and social media efforts must be of some merit and, for all many will sneer at the 'social' racegoers, the unsuitability of their attire and their consumption of alcohol, you cannot discriminate on the grounds of what you perceive to be genuine enthusiasm for the sport. There are so many components that allow racing to compete in the leisure market - sometimes they might seem at odds with one other philosophically, but they must be allowed to coexist.
8. Welfare
This is as important as it gets: without confidence in its own ability to care for its human and equine athletes, how can racing in the modern age possibly sell itself as a responsible pastime, let alone as a vehicle for wagering?
The quickest way to feed the mythology that racing is cruel, corrupt and degenerate is to close ranks, be defensive, and to fail to acknowledge and be somewhat comfortable with an inherent level of risk.
After the deaths of Barbaro and Eight Belles, it could justifiably have been perceived from the outside that U.S. racing had sleepwalked into a PR disaster, allowing the mainstream media to conflate their fatalities with a raft of unrelated, if sometimes valid, welfare issues.
The establishment of the Equine Injury database in 2008 can now show that equine fatality has fallen consistently since that year, with a 14 percent decrease between 2014 and 2015. As significantly, the more rigorous collection of injury and fatality data can be used to improve training standards and track conditions.
9. The Racetracks
With the benefit of hindsight, the synthetic revolution was an expression of panic that the U.S. could no longer be taken seriously as a racing nation with traditional dirt surfaces. The narrative focused on the surface as 'bad' and attritional in itself rather than as a function of its sourcing and maintenance.
As handicappers and horsemen gradually rejected the synthetics, the onus was upon the racetracks to deliver and maintain a dirt surface with a more scientific and robust approach, as an unacceptable level of injury and fatality would prove devastating to the sport.
A relative consistency of surface across the country, and continuing development of new technologies, should enable greater confidence all round.
10. Medication
When I posted on Twitter recently the 8/20 U.S. horses in the World's Best Racehorse Rankings that I discussed earlier, I was met with countless (European) responses besmirching those horses on the basis that they achieved their ratings with the benefit of medication.
While I have always thought the notion of 'drugged-up U.S. cheats' vs. 'clean-as-a-whistle Europeans' is massively flawed, and that nuances of medicating Thoroughbreds are misrepresented by the British media, it is a challenging position to defend.
Of course, the panacea remains impossible without more serious remedial work in harmonising the jurisdictions across the U.S. with regard to drug-testing policy and - most crucially - ensuring a level of out-of-competition testing that falls roughly in line with the rest of the world.
What is encouraging is that James Gagliano, president and COO of The Jockey Club, wrote as much and more on this very site last month, showing that there remains a clear awareness of the damage wrought by a disunited policy. If his mindset becomes prevailing wisdom, my cautious optimism for the future of American racing would become boundless.