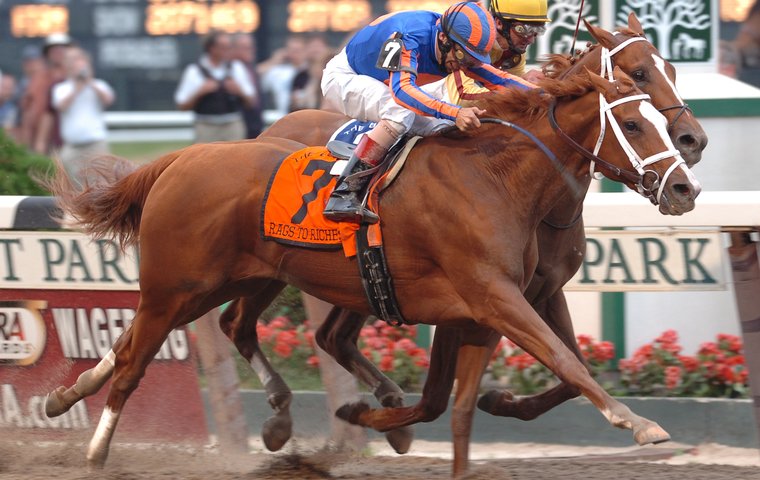 A popular stallion has hundreds of opportunities to sire a Frankel, an American Pharoah or a Golden Horn. A mare has about 15 at best, and probably nearer ten. Few make a significant impact, but some shape the breed to a huge degree, and here we have a look at ten of the most notable from the past 50 years.

Inevitably, the greatest influence is wielded through a top sire son (or grandson), so most of these claim successful stallion descendants. But some have excelled primarily through their daughters, and all have a large collection of broodmare descendants still being mated with the best stallions. Their stories update yearly.
With that in mind, this list is compiled from results already obtained, rather than results anticipated. So Kind, the dam of Frankel and Noble Mission, does not make this list now but may do so in three or four years' time. Rafha has two significant stallion sons in Invincible Spirit and Kodiac, but her daughters have had less impact. Magnificient Style has a superb record at stud, but her son Nathaniel has been represented by just one crop so far and her daughters have foaled smart rather than outstanding runners so far.
There are many other distinguished mares who were left out with reluctance. These are the ones who made my personal list, in alphabetical order.
Alruccaba
(1983; Crystal Palace-Allara, by Zeddaan)
Minor juvenile winner Alruccaba earns her place her because of her female descendants, although top-class miler Aussie Rules, plus Michelangelo and Midas Touch, both placed in the English St Leger, descend from her.
She had 13 foals before her death in 2002, of whom 11 were fillies. They included Alleluia, Alouette, Arrikala and Last Second, all either Pattern winners and/or G1 placed, plus the non-winner Jude, arguably the best of them all at stud.
Last Second has made most of her impact with colts, notably G1 Poule d'Essai des Poulains winner Aussie Rules. Alleluia is best known for Prix Royal-Oak winner Allegretto. Alouette is responsible for the G1-winning pair Albanova and Alborada. And Jude, purchased as a 3-year-old, was source of a long line of high-class fillies during her Coolmore career, notably Yesterday and the mother-and-daughter team of Quarter Moon and Diamondsandrubies.
Crucially, there are many well-credentialled mares from this family visiting the best sires in Europe, and there is far more to come.
Bahamian
(May, 1985; Mill Reef-Sorbus, by Busted)
Stallions, both actual and perhaps future, lift Bahamian into this list. Her grandsons include Oasis Dream (Green Desert-Hope) as well as Beat Hollow (Sadler's Wells-Wemyss Bight), and among her great-grandsons are 2015 Banstead Manor Stud newcomer Kingman (Invincible Spirit-Zenda) and last year's Prix du Jockey-Club winner New Bay (Dubawi-Cinnamon Bay), who is standing at Ballylinch Stud in Ireland for his first season in 2017 at a fee of €20,000.
Oasis Dream remains one of the most popular and influential sires in Europe, and Kingman is priced (£55,000) to follow suit.
Accompanying these are a collection of top-class racemares and broodmares; Irish Oaks winner Wemyss Bight and Poule d'Essai des Pouliches winner Zenda (Zamindar) are top of the list, but Bahamian's daughter Coraline has foaled three Group winners to date including G1 winner Reefscape.
The surprise is that Bahamian's lasting legacy may be speed; fifth in Diminuendo's Oaks (1988), she stayed further than 12 furlongs and was stoutly bred, out of a mare who was demoted from first to second in the 1978 Irish Oaks. The speed comes via her modest daughter Hope (Dancing Brave), whose best offspring took after their speedy sires.
Blush With Pride
(1979; Blushing Groom-Best In Show, by Traffic Judge)
A superbly bred winner of the G1 Kentucky Oaks and Santa Susana Stakes, Blush With Pride kept her highflying profile going at stud. She failed to produce a G1 winner, but she did foal three high-class racemares in Better Than Honour (Deputy Minister), Maryinsky (Sadler's Wells) and Smolensk (Danzig). Crucially, the first two in particular have excelled at stud.
Better Than Honour produced Belmont winners Jazil and Rags To Riches and holds the record ($14m) for the most expensive broodmare knocked down at auction. She is also grand-dam of G1 winner Streaming.
Fillies' Mile runner-up Maryinsky produced quadruple G1 winner Peeping Fawn (Danehill) plus fellow G1 winner Thewayyouare (Kingmambo), best known as the sire of Toast Of New York.
Smolensk has produced G-placed Spendthrift stallion Can The Man (Into Mischief).
Coup de Folie
(1982; Halo-Raise The Standard, by Hoist The Flag)
Coup de Folie's influence spreads far and wide, and across the distance spectrum, and her impact started early. A high-class juvenile in France, Coup de Folie foaled three G1 winners (Machiavellian, Exit To Nowhere, Coup de Genie) and a G2 winner (Hydro Calido) with her first five foals.
Machiavellian became an important sire, most notably of Dubai World Cup winner Street Cry, renowned as the sire of U.S. standouts Street Sense and Zenyatta. In Europe, Machiavellian's main sire-line agents are the Cheveley Park Stud father-and-son team of Medicean and Dutch Art.
Coup de Genie was a fine broodmare, with top-level winners Bago, Denebola, Emollient and Maxios tracing to her. Coup de Folie's other foals had less impact , although non-winning daughters Salchow and Rafina produced high-class juveniles Way Of Light and Admiralofthefleet.
Fall Aspen
(1976; Pretense-Change Water, by Swaps)
Few mares match juvenile G1 winner Fall Aspen for the quality of her own produce, and fewer still possess the world-wide legacy of the U.S.-bred mare. In the U.S., she was represented by G1 winners Northern Aspen and Timber Country (BC Juvenile, Preakness), and in Europe by Group winners Elle Seule, Mazzacano, Colorado Dancer, Hamas (July Cup), Fort Wood (Grand Prix de Paris) and Bianconi.
It is the subsequent generations, however, who spread Fall Aspen's influence. Colorado Dancer foaled Dubai Millennium, whose most important son is Dubawi. Fort Wood was an outstanding sire in South Africa. Elle Seule produced three good performers of her own in Mehthaaf (1,000 Guineas), Elnadim (July Cup), and Only Seule, whose top-class daughter Occupandiste has established a legacy of her own topped by 2013 Prix du Jockey-Club winner Intello.
Dubawi is Fall Aspen's most potent descendant at present, though Intello had his first yearlings this year while Timber Country is broodmare sire of Mukhadram, whose first foals appeared this year.
Glorious Song
(1976; Halo-Ballade, by Herbager)
The U.S. champion older female of 1980 became an equally important broodmare and her influence today is global. Her most potent agent is her son Rahy (Blushing Groom). He missed the top class as a racehorse but excelled at stud in the U.S., siring outstanding filly Serena's Song (dam of Sophisticat) and the very smart Mariah's Storm.
Of these two Mariah's Storm is proving more influential; she is dam of Giant's Causeway, and grand-dam of Irish 1,000 Guineas winner Marvellous and 2015 notables Gleneagles and Storm The Stars. Rahy's other top progeny included Dreaming Of Anna and Fantastic Light.
Glorious Song also foaled Rakeen, a smart performer and successful South African sire, but her best runner was Singspiel, a G1 winner on three continents and a fair sire with highlights, notably miler Solow and middle-distance filly Dar Re Mi. Glorious Song had just three daughters, but each has produced a top-level winner, including Morn Of Song (produced Mezzo Soprano) and Ring Of Music (Campanologist).
Highclere
(1971; Queen's Hussar-Highlight, by March Past)
The oldest mare in this list, 1,000 Guineas and Prix de Diane winner Highclere earns her place through the exploits of her grandsons Nashwan, Nayef and Unfuwain (all out of high-class racemare Height Of Fashion) and her great-grandson Deep Impact.
The last-named is heir in Japan to Sunday Silence's mantle and is one of the most important sires in the world today. Deep Impact is descended from Highclere via his dam Wind In Her Hair - second in the 1994 Oaks and also grand-dam of high-class miler Jeremy - and grand-dam Burghclere (Busted), a three-parts sister to Height Of Fashion (Bustino). Deep Impact's full-brother, Black Tide, is the sire of last month's Japan Cup winner, Kitasan Black.
Height Of Fashion is also grand-dam of 2009 1,000 Guineas winner Ghanaati (Giant's Causeway), and there are many other descendants of Highclere in the Shadwell broodmare collection
Lassie Dear
(1974; Buckpasser-Gay Missile, by Sir Gaylord)
U.S. racing in particular owes a huge amount to Lassie Dear, whose legacy in American terms is high-class stamina. Her own racing record - a G3 win - and produce record, though respectable, were not particularly noteworthy. But her daughter Weekend Surprise foaled AP Indy (Belmont winner) and Summer Squall (Preakness), while another daughter, Charming Lassie, produced Lemon Drop Kid (Belmont).
Between them, those three stallions have had much influence in the nine-furlong-plus division of U.S. racing over the past 20 years and are represented by a host of stallion sons and grandsons.
Lassie Dear - a half-sister to French G1 winner Gay Mecene - also has influence in Europe, not least through her grand-daughter Love Me True (Kingmambo), whose stallion sons include South African resident Duke Of Marmalade (sire in 2015 of European classic winners Nutan, Simple Verse and Star Of Seville) and 2013 Epsom Derby winner Ruler Of The World, now at Coolmore in Ireland.
Miesque
(1984; Nureyev-Pasadoble, by Prove Out)
Dual Breeders' Cup Mile winner Miesque earns inclusion for three reasons - her own racing career, her stallion son Kingmambo, and the broodmare prowess of some of her descendants.
Through Kingmambo - who died earlier this year - she is a frequently encountered name in pedigrees today; he is the sire of stallions such as Archipenko, Henrythenavigator, Japanese champion sire King Kamehameha, King's Best and Lemon Drop Kid, and he appears in the pedigree of Golden Horn.
Among Miesque's daughters, Monevassia (Mr Prospector) has set up a dynasty of her own by foaling dual G1 winner Rumplestiltskin (Danehill), dam of Yorkshire Oaks winner Tapestry (Galileo). Another of Miesque's daughters, listed winner Moon Is Up (Woodman), is grand-dam of 2014 Poulains and Breeders' Cup Mile winner Karakontie (Bernstein), who is standing his first season at Gainesway this year. There are many well-credentialled broodmares from this family, and more outstanding performers will emerge from it.
Urban Sea
(1989; Miswaki-Allegretta, by Lombard)
Arc winner Urban Sea is one of the most distinguished racemares in this list, but she surpassed this at stud. She would earn her place here simply as the dam of Galileo (Sadler's Wells), but you can add to him Sea The Stars (Cape Cross) as well as fellow G1 winner Black Sam Bellamy (Sadler's Wells) and young Gilltown sire Born To Sea (Invincible Spirit).
She had several talented daughters, among them G1 winner My Typhoon plus All Too Beautiful and Melikah, both placed in Oaks, and Group-placed Cherry Hinton. Most are dam and/or grand-dam of stakes winners.
Ballydoyle/Coolmore is packed with young members of this family, and a few sit in Darley's collection thanks to Melikah. Inbreeding to Urban Sea is highly likely in the future, if it hasn't happened already.