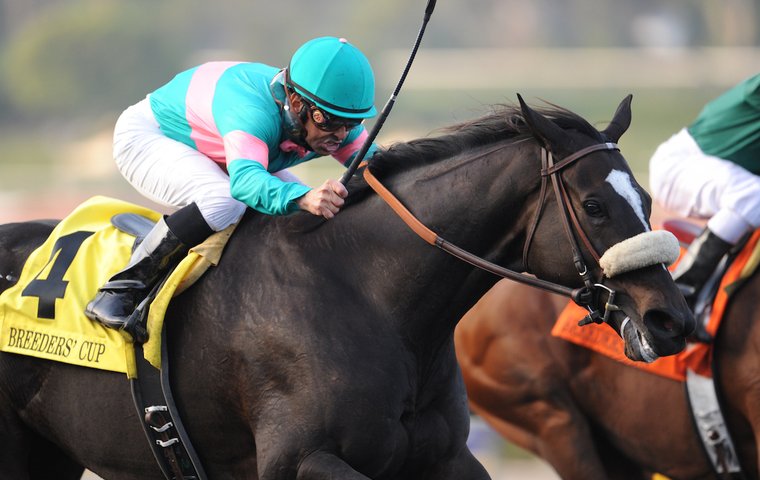 Early last year, we listed a top ten of horse racing pop songs. Admittedly, the 'chart' was fairly esoteric in places – and totally subjective in others – but at least it seemed to meet with a generally positive response.

However, that initial list was never intended to offer a comprehensive selection and several people suggested other ditties that might have been included. Here, then, for no reason other than it gives us an excuse to post another set of videos, are ten more horse racing-related songs.

And remember: only songs with horse racing (and not horses in general) have been considered. Or at least, those making specific reference to the sport - so massive hits like America's 'Horse With No Name' and the Osmonds' 'Crazy Horses' do not fit the bill.

Many thanks to everyone who suggested suitable examples, several of which are included this time around.

10. Yes - Going For The One
https://www.youtube.com/watch?v=HMwlvmqQZOw
Trying to make sense of any progressive rock lyrics is usually an effort in futility, and there's plenty of evidence here for anyone who fancies a bit of cosmic mumbo-jumbo. However, what cannot be denied is that the first two lines from prog-rock legend Jon Anderson state the following: "Get the idea cross around the track/Underneath the flank of Thoroughbred racing chasers." It was the lead track, and second single, off the 1977 album of the same name which reached #8 on the Billboard album chart. In the UK, the single made #24.
9. Lee Rocker - Race Track Blues
https://www.youtube.com/watch?v=QwCHf7DZE34
When he is not busy strutting as a member of Stray Cats, double-bassist Lee Rocker does his own thing, though any racetracks involved in his repertoire usually feature cars of some description. This one, however, provides an exception as our narrator does his dough at a variety of venues, revealing: "I knew I was in trouble at the Sarasota (sic) Springs/Never won Trifecta, never feelin' like a king/Rollin' into Del Mar, rockin' Hollywood Park/Money kept on burnin' through the dark." Find this tale of gambling woe on the 2006 album The Curse of Rockabilly; it starts with a bugle call – on guitar.
8. Liza G Fly - Zenyatta
https://www.youtube.com/watch?v=pz2kvJf22gs
A cheery toe-tapping country-flavoured paean to the great racemare from the late Liza G Fly, who passed away after battling cancer in 2016. In her early years, she was an exercise rider for the likes of Charlie Whittingham and Neil Drysdale, plus Jack van Berg, her partner, whom she pre-deceased by 18 months. Zenyatta's owner was Jerry Moss, the boss of A&M Records, who named her after The Police's third LP Zenyatta Mondatta. Moss funded a video for Liza's song, splicing her words with action replays and racecalls from the mare's career. Listen up for some wonderful rhyming couplets: "Destiny smiled on that Street Cry daughter / she grew up and became Zenyatta" (pronounced Zen-yah-ta, of course).
7. Richard Thompson - The Angels Took My Racehorse Away
https://www.youtube.com/watch?v=O-bgFPrMTOc
Seminal British folk-rock star Richard Thompson touched on matters equine with this rollocking elegy to a deceased racehorse on 1972's Henry The Human Fly, his first solo album after leaving Fairport Convention. The departed horse in question is a 16hh filly who won the Lanark Silver Bell. "There's a racecourse in the sky/And that's where all the racing horses must go by and by," suggests Thompson. "And I believe every steward, lord and groom/I believe that they're calling her home."
6. The Band - Up On Cripple Creek
https://www.youtube.com/watch?v=EisXJSsULGM
Bob Dylan's former sparring partners dipped into the racing world during this southern honky-tonk rock number written by lead guitarist Robbie Robertson. Among the narrator's adventures way down south with Little Bessie is a day at the track, where our hero cashes a 5/1 ticket, though it is doubtful he makes much of a killing as he bets only on the show. Bessie, for her part, goes all-in on another horse. The fifth song on The Band's eponymous second album, Up On Cripple Creek also released as a single (reaching #25 on the Billboard Hot 100) in November 1969; a live rendition feature on the celebrated concert film The Last Waltz.
5. Peter Sarstedt - Where Do You Go To (My Lovely)?
https://www.youtube.com/watch?v=L8XQZYIiNgo
Well-known late 60s standard by the late singer-songwriter Peter Sarstedt spent four weeks at number one on the UK singles chart in 1969. The song tells the story of Marie Claire, born into poverty in Naples but struggling to find contentment despite a life among the Paris jetset. Among a plethora of high society characters referenced over many verses is the Aga Khan, who sent Marie-Claire a racehorse for Christmas. However, she seems unimpressed by the gesture, keeping it "just for fun, for a laugh, ha-ha-ha". Presumably it wasn't a potential Shergar in ability terms.
4. Elbow - The Fix
https://www.youtube.com/watch?v=-ITMRHJnaJY
There's skulduggery afoot at Epsom Downs, the home of the Derby no less! English rock band Elbow tell us "the fix is in" and they're not taking any chances: Mickey Finns (drugs liable to induce incapacity) have been administered and rivals' saddles have been loaded, while the subject of the gamble has had his "Pegasus pills". With Richard Hawley joining for guest vocals, lead guitar and co-songwriting, The Fix is included on Elbow's Mercury Prize-winning album The Seldom Seen Kid, released in 2008, when it reached #5 on the UK chart. It also features the anthemic One Day Like This, the band's signature tune.
3. The Hold Steady - Chips Ahoy!
https://www.youtube.com/watch?v=UOFeaedv3Uc
A spot of guitar-based Brooklyn-styled indie rock from the Hold Steady on this single from their third album, Boys and Girls in America. Released in 2006, Chips Ahoy! Is the eponymous six-length winner – "the fifth horse in the sixth race" – on whom the narrator's girlfriend has a $900 bet. Backed by a splendidly odd video featuring Zorro, a hobby horse and a rocking-horse routine that might not be out of place at a gentlemen's club. Noted for their "lyrically dense storytelling" and once described as "America's best bar band", the Hold Steady are still going strong in 2020.
2. Dillinger - Race Day
https://www.youtube.com/watch?v=oCc9w69_amo
A bit of righteous reggae for you, courtesy of Jamaican reggae superstar Dillinger, who recalls a day spent at Caymanas Park in island capital Kingston. "Move it mi jockey," he implores, shouting encouragement to four-time champion jockey George HoSang, also known to the locals as 'Chiney' before he switched to North America in the late 1970s. According to the Jamaican Observer, HoSang is "probably the best rider to ever set foot in a stirrup at Caymanas Park", where he partnered 642 winners. Also released as a single under the title Caymanas Park, Dillinger's track is on the 1976 album CB200.
1. Christy Moore - The Ballad of Ruby Walsh
More than a few people suggested Ruby Walsh was the greatest jump jockey ever when he made an emotional farewell to the saddle at the Punchestown Festival in April 2019 – and fans of the legendary Irish folk singer Christy Moore may well insist this 2009 offering is the best racing song ever.
"Hey Ruby, hold her back, give her a crack (or perhaps the craic) and up she'll go," goes the chorus as our narrator gets his bacon saved by his hero at the Galway Races, with Walsh's dad Ted and Tracy Piggott among those given a namecheck before Moore casts a wryly humorous eye on the social scene at this annual pilgrimage. "There's Bethlehem and Cheltenham and Lourdes and Limerick Junction," suggests Moore in a eulogy that could hardly be more Irish if it dressed itself up as a leprechaun with a shamrock in its pocket cradling a pint of Guinness and whistling The Fields of Athenry.
Added bonuses …
Saint Etienne - Mario's Cafe
https://www.youtube.com/watch?v=lCQSolojNKs
Frankly there are any number of musical offerings with a racing reference of some kind, but your author couldn't leave this one out, if only because I like it more than any of the others! That said, the reference to equine sport is tenuous, as 'Barry', one of the many characters frequenting a cafe in London's Kentish Town peruses the Racing Post before ordering coffee and more toast. Mario's Cafe is the lead track on the wonderful 1993 album So Tough from terrific London-based melancholists Saint Etienne.
Pavement - Kentucky Cocktail
https://www.youtube.com/watch?v=8QCZwZ3q-zg
We mentioned this one last time without posting a link, which seems rather neglectful given Pavement member Bob Nastanovich's massive affinity with racing. So here it is, as recorded for the John Peel show in 1992 and collected on the 'Luxe and Reduxe' version of their debut LP Slanted And Enchanted. Always remember, folk: "Lasix love can't be traced."
Blinky & the Roadmasters
https://www.youtube.com/watch?v=T6mevHyu3no
Many thanks to the correspondent who alerted us to this one, remembering a vacation on St Croix in the U.S. Virgin Islands, where Blinky & the Roadmasters did their thing. This homage to the great Cigar is taken from their album Crucian Scratch Band Music. Frontman and founder Sylvester McIntosh (also known as 'Blinky') died aged 83 in November 2017, having been a central figure in the Crucian music scene since the 1950s.
Fugue for Tinhorns (from Guys and Dolls)
https://www.youtube.com/watch?v=BAIlVCStp3c
… and here's this one from the 1955 musical, just because more than one person suggested it. Three small-time gamblers, Nicely-Nicely Johnson, Benny Southstreet and Rusty Charlie, argue over which horse will win a big race. Not sure it really counts as a pop song but heck, we've stretched this concept far enough as it is and surely no-one will quibble …