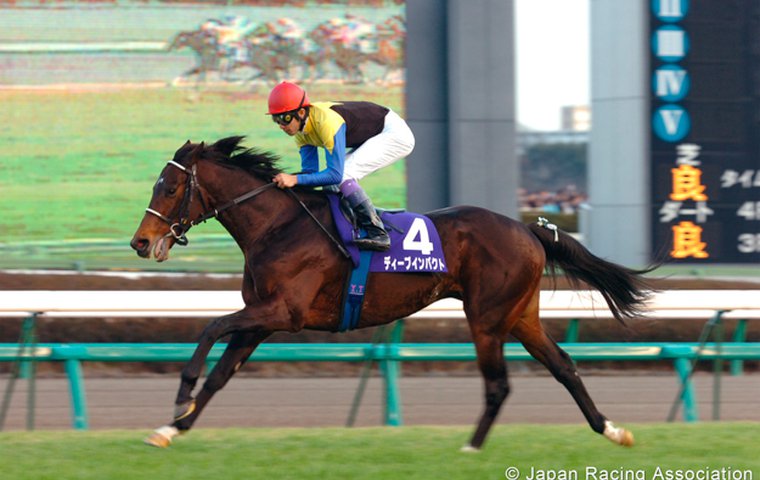 With the nation's most famous race, the $5.6 million Japan Cup, being run at Tokyo next Sunday (November 24), Nicholas Godfrey offers his selection of the ten greatest racehorses that country has ever seen.

It is no straightforward matter to compile something like this. Attempting to compare the qualities of horses from different eras is hardly the easiest of tasks – and that statement must surely go double for Japan, where the racing industry has been transformed out of all recognition by massive levels of bloodstock investment since the 1980s.
With special emphasis on the nation's ultra-powerful middle-distance division, nowhere is this sea-change more obvious than in the international arena. An insular outlook meant Japanese horses used to be a novelty outside their own shores, but now they are a regular feature on the global stage, to be feared wherever they turn up – as victories this year for Almond Eye in Dubai, Deirdre at Goodwood and Mer De Glace and Lys Gracieux in Australia have demonstrated.
Given this vast improvement in Japanese stock, any list of the nation's greatest of all-time must be dominated by horses who have raced relatively recently. However, in a bid to ensure some historical validity, a couple of hugely influential horses from yesteryear also feature here.
Either way, it says something for the quality of the Japanese Thoroughbred that several big names have not made the cut, among them Just A Way, who became the only Japanese-trained horse ever to top the official world rankings with a mark of 130 for his astonishing Dubai Turf victory in 2014. Close, but no cigar. His impact just wasn't quite as enduring – or, dare we say it, deep - as certain others…
1. Deep Impact
foaled 2002 (died 2019)
b c Sunday Silence - Wind In her Hair
Trainer: Yasuo Ikee
Jockey: Yutaka Take
Owner: Kaneko Makoto Holdings
Career record: 12 wins from 14 starts
Horse of the Year 2005, 2006; Hall of Fame 2008
The spectacular Deep Impact was the horse Japanese racing had been waiting for. A son of Sunday Silence, the founding father of Japan's estimable breeding industry, as a 3-year-old he became Japan's first unbeaten Triple Crown winner for 21 years, establishing his reputation via a series of electrifying last-to-first bursts down the stretch under regular partner Yutaka Take.
Though he suffered a notorious agonising defeat under baffling riding tactics in the Arc as a 4-year-old, this equine phenomenon ended his career with a record-equalling seven JRA (Japan Racing Association) G1 wins after exhilarating victories in the Japan Cup and Arima Kinen.
While official handicappers undervalued the Japanese superstar's claims, thanks to his three-length victory in the latter contest he was the top-rated horse on Racing Post Ratings in 2006, in effect their world champion. A wonderful career at stud followed before his untimely death this year.
2. El Condor Pasa
Foaled 1995 (died 2002)
b c Kingmambo - Saddlers Gal
Trainer: Yoshitaka Ninomiya
Owner: Takashi Watanabe
Career record: 8 wins from 11 starts
Horse of the Year 1999; Hall of Fame 2014
Never worse than second in 11 career starts and beaten just once at home, El Condor Pasa was a pathfinder for Japan in the modern era, playing an integral role in the nation's obsession with the Prix de l'Arc de Triomphe.
Having won the Japan Cup as a 3-year-old, the U.S.-bred spent the following summer in France, where he won the Grand Prix de Saint-Cloud. Made second favourite for Europe's most prestigious race after winning the Prix Foy, he attempted to make all at a relentless gallop in gruelling conditions, being three lengths clear a furlong and a half out before succumbing only to the mighty Montjeu with the remainder six lengths further adrift.
His Timeform rating of 136 remains the highest ever achieved by a Japanese-trained horse.
3. Narita Brian
Foaled 1991 (died 1998)
B c Brian's Time - Pacificus
Trainer: Masaaka Okubo
Owner: Hidenori Yamaji
Career record: 12 wins from 21 starts
Horse of the Year 1994; Hall of Fame 1998
Recognised as the 'Horse of the 20th Century' in Japan, American-bred Narita Brian established his massive reputation by storming home for wide-margin victories in all three legs of the Triple Crown in 1994, culminating in a seven-length triumph in track-record time at Kyoto in the Kikuka Sho.
Also a champion juvenile, he went on to defeat older horses in the Arima Kinen and, though his form dropped down a level after that, he still twice won the prestigious Hanshin Daishoten. He was retired as the world's leading money earner until his mark was surpassed by TM Opera O in 2000.
4. Orfevre
foaled 2008
ch c Stay Gold - Oriental Art
Trainer: Yasutoshi Ikee
Owner: Sunday Racing
Career record: 12 wins from 21 starts
Horse of the Year 2011; Hall of Fame 2015
Eurocentric opinions of this talented but temperamental performer will forever be coloured by the 2012 Arc, where he threw away seemingly certain victory in dramatic circumstances, veering sharply right across the track under Christophe Soumillon and handing the race to Solemia, who scored by a neck.
Still, Orfevre was a Triple Crown winner as a 3-year-old and a six-time G1 winner in Japan. Also second in the 2013 Arc, he won two runnings of the Prix Foy before his career ended with a bravura eight-length victory (his second in the race) in the Arima Kinen, after which 60,000 people stayed on for his retirement ceremony at Nakayama.
5. Symboli Rudolf
Foaled 1981 (died 2011)
b c Partholon - Sweet Luna
Trainer: Yuji Nohira
Owner: Symboli Bokujo
Career record: 13 wins from 16 starts
Horse of the Year 1984, 1985; Hall of Fame 1987
A mid-80s superstar during the years before Japanese racing really embraced a more international outlook, Symboli Rudolf won six G1s altogether and was twice named Horse of the Year.
The nation's first undefeated Triple Crown winner in 1984, he was third to compatriot Katsuragi Ace in that year's Japan Cup before becoming the home team's second the following season; at the time, he was generally considered the greatest horse of all-time in Japan.
There wouldn't be another domestic winner of their greatest race until Symboli Rudolf's son Tokai Teio in 1992.
6. TM Opera O
Foaled 1996 (died 2018)
ch c Opera House - Once Wed
Trainer: Ichizo Iwamoto
Owner: Masatzugu Takezono
Career record: 14 wins from 26 starts
Horse of the Year 2000; Hall of Fame 2004
Although he never raced abroad at a time when most of Japan's races were restricted to domestic-breds, it is difficult to argue with TM Opera O's brilliant career record. A Classic winner and champion at three, he was unstoppable the following season during an unblemished eight-race campaign including all of Japan's top middle-distance events for older horses, among them the Japan Cup, where Godolphin's Fantastic Light was third.
Though he won only twice from seven runs as a 5-year-old (among them a narrow Japan Cup defeat), he retired as the world's all-time leading money earner ahead of the great Cigar and held the accolade for more than a decade.
7. Lord Kanaloa
Foaled 2008
b c King Kamehameha - Lady Blossom
Trainer: Takayuki Yasuda
Owner: Lord Horse Club
Career record: 13 wins from 19 starts
Horse of the Year 2013; Hall of Fame 2018
Never out of the first three in 19 career starts (and finishing third only once), Lord Kanaloa got better with age – to the extent that he has every right to be regarded as Japan's best sprinter of all-time. He emerged as a world-class performer as a 4- and 4-year-old, twice winning the prestigious Sprinters Stakes at home and looking in a different league from international rivals in Hong Kong in both 2012 and 2013, when he produced his most stunning victory with a five-length demolition of his Sha Tin rivals.
He even won a G1 over a mile in the Yasuda Kinen in 2013, while an outstanding start to his stud career has been highlighted by the brilliant Almond Eye.
8. Gentildonna
Foaled 2009
b f Deep Impact - Donna Blini
Trainer: Sei Ishizaka
Owner: Sunday Racing Co Ltd
Career record: 10 wins from 19 starts
Horse of the Year 2012, 2014; Hall of Fame 2016
Although her status is under serious threat from Almond Eye, Gentildonna is arguably the No. 1 filly or mare in Japan's racing history after a record-breaking career in which she scored seven times at the highest level, among them a coveted international success in the Dubai Sheema Classic in 2014, after which jockey Ryan Moore described her as "exceptionally talented".
The only horse ever to regain the Japanese Horse of the Year title, she landed the fillies' Triple Crown during her Classic season, when she also became the first 3-year-old filly to win the Japan Cup; 12 months later she achieved another notable first when she became the only dual winner of the race. After winning the Arima Kinen on her final start, she was retired as the world's leading money earner (according to TRC calculations).
9. Almond Eye
Foaled 2015
b f Lord Kanaloa - Fusaichi Pandora
Trainer: Sakae Kunieda
Owner: Silk Racing
Career record: 8 wins from 10 starts
Horse of the Year 2018
Such are the exploits of Japan's current golden girl, Almond Eye, that she is already spoken of as the nation's best since Deep Impact and potentially the number one filly the nation has ever produced. Blessed with an amazing turn of foot, she was totally dominant last term, following up her fillies' Triple Crown with a breathtaking victory in the Japan Cup, where she obliterated the race record time before coming back in March at Meydan for an emphatic display in the Dubai Turf.
Another smashing success in the Tenno Sho (Autumn) was her sixth in top company; victory in Hong Kong next month, where she is bound to start a heavy favourite for the Longines Hong Kong Cup, would put the stamp on her claims to greatness.
10. Shinzan
Foaled 1961 (died 1996)
b c Hindostan - Hayanabori
Trainer: Bungo Takeda
Owner: Kokichi Hashimoto
Career record: 15 wins from 19 starts
Horse of the Year 1964, 1965; Hall of Fame 1984
Generally recognised as the best racehorse to run in Japan in the post-war era, this son of an Irish Derby winner was only the second winner of the Japanese Triple Crown in 1964, during the first of his two Horse of the Year seasons. As a 4-year-old, he went on to win a string of the nation's top races in those pre-Japan Cup days, notably the Takarazuka Kinen, Tenno Sho (Autumn) and Arima Kinen.
After a successful career as a stallion, he died aged 35 years and three months in July 1996; he was the longest-lived Thoroughbred ever recorded in Japan.
HONOURABLE MENTION …
Haiseiko
Foaled 1970 (died 2000)
b c China Rock - Haiyu
Trainers: Masama Ito, Katsutaro Suzuki
Owner: Oyu Horseman Club
Career record: 12 wins from 22 starts
Hall of Fame 1984
There may have been more talented racehorses than the legendary Haiseiko, but none has gained such a lasting place in the affections of the Japanese public. The first racehorse to win 200 million yen in prize money, he became a people's champion, on his own doing much to popularise horse racing in Japan in the 1970s.
Untouchable at Tokyo's second track, Ohi, on the National Association of Racing (local government) second-tier circuit, he broke into the big leagues of the JRA, where he won the Satsuki Sho (2000 Guineas) and was placed in both subsequent legs of the Triple Crown. When he was retired, the song Saraba Haiseiko (See Ya Heiseiko), sung by a jockey, was a hit in Japan; there are statues of him at his beloved Ohi and Nakayama.