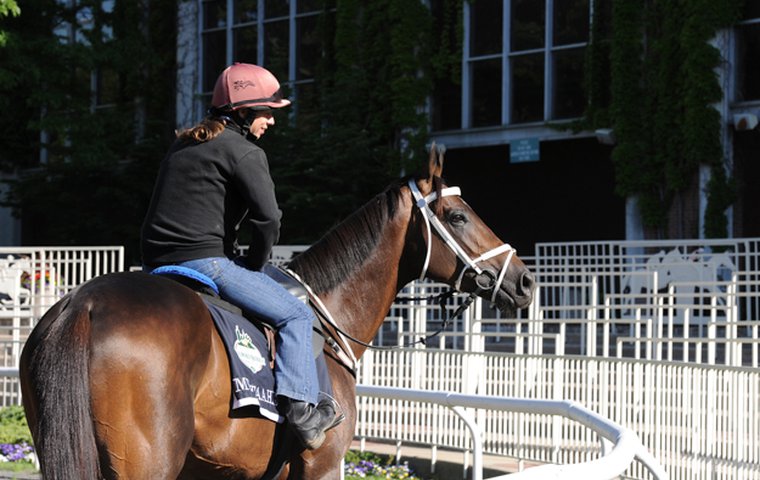 From Dubai to Chicago to Louisville to New York in the span of four weeks, road warrior and U.A.E. Derby winner Mubtaahij is eschewing all forms of transportation -- at least for the moment -- as he prepares for the $1.5 million Belmont Stakes.

Two days after finishing eighth in the May 2 Kentucky Derby for owner Sheikh Mohammed bin Khalifa bin Saeed Al Maktoum, the colt's South African trainer, Mike de Kock, announced the Belmont Stakes on June 6 was next on Mubtaahij's itinerary. On May 14, Mubtaahij and his handlers on this odyssey, Trevor Brown, Mathew de Kock, and Lisa Moncrieff, left Churchill Downs by van bound for New York.
Mubtaahij and Team de Kock's travel adventures began when they embarked on a 24-hour journey from Dubai -- with a stop in Amsterdam -- and arrived in Chicago on April 15. The horse's initial preparations for the Kentucky Derby took place at Arlington Park. He left there on a van headed to Churchill Downs on April 27.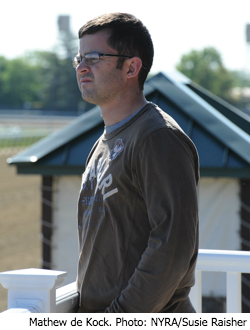 It's seems entirely fitting that this globe-trotter's stall, which is situated on the eastern-most end of Barn 22 at Belmont Park, affords him an unobstructed view of the busiest equine and automobile intersection on the backstretch.
On a delightful spring morning, 13 days before the G1 Belmont Stakes, Mubtaahij's watchful gaze took in both the parade of horses headed to the track for training and the long line of cars stopped to allow their passage.
Brown, de Kock's traveling assistant, said the horse, whose name means "cheery" or "elated" in Arabic, is curious by nature, and appears to enjoy the hustle and bustle of Belmont's barn area.
"He's a very laid back horse," Brown said. "No matter what stall we put him in, no matter the environment we put him in, he accepts it straightaway. I prefer the stall he is in here because it keeps his mind occupied."
Mubtaahij has also been occupied outside of his stall. He's been trained aggressively for the 1 1/2-mile Belmont Stakes, with several timed works since arriving in New York.
"We have five weeks in between races, and we are going a bit further, and we have to put some stamina work into him," Brown said. "He's a fit horse, but you can't back off completely because they will lose their fitness. If you lose one day [of training], it takes two days to get them back.
"I am lot happier working with him on this track," he added. "He seems to move better on this track than he did at Churchill. I do feel like he is stretching out better on this track."
Joining Brown on this U.S. tour is de Kock's 23-year-old son, Mathew, and Moncrieff, Mubtaahij's exercise rider. Mike de Kock, who manages an international stable of around 200 horses in multiple locations, including his native South Africa, England, and Dubai, is scheduled to arrive in New York early next week. In the meantime, Brown has been sending his boss video of Mubtaahij's every move.
The South African-born Brown, a former jockey, spends the majority of the year in Dubai, which is where Mubtaahij was based this winter. Additionally, Brown, 42, does a fair amount of travel for his job, accompanying de Kock's horses when they race in Hong Kong and Singapore. He also is a frequent visitor to Mauritius, an island located in the Indian Ocean, where South African horses are quarantined before being allowed to enter other countries.
But until now, Brown never had the opportunity to mail postcards from the Big Apple. With only two horses to look after -- [in addition to Mubtaahij, the de Kock-trained Umgiyo, ninth in the G1 Turf Classic at Churchill Downs on Derby day, is being pointed to an allowance race on the Belmont Stakes undercard] -- Team de Kock has taken advantage of what is offered outside of the stable gates of Belmont Park. Just like many first-time visitors to New York City, they made a pilgrimage to one of the world's most popular tourist attractions, a place where even the most seasoned traveler is likely to find himself agape at the spectacle that is known as Times Square.
Brown, with a wry smile playing on his lips, said, "There was a trip to Times Square . . . that was different. Times Square was . . . well . . . it was eye-opening."
Moncrieff, who has galloped horses for de Kock for six years, warned the interviewer she "wasn't much for talking." She used words such as "lovely" and "professional" and "gentleman" to describe Mubtaahij. Moncrieff, 38, was slightly more expansive in her answer when queried about her experience at the Kentucky Derby.
"I've done Royal Ascot, obviously, but the [Derby] was bigger and wilder," she said with a grin as she ran a brush over Mubtaahij's sleek and dappled bay coat.
Mathew de Kock, who oversees about 90 horses in his father's Johannesburg stable, has been absorbing all he can about American racing while here.
An accomplished golfer, de Kock was offered a scholarship to attend the University of Iowa five years ago, but turned it down to take a place in his father's stable.
"I'm a very competitive person and I like the adrenaline rush of competing in sports," he said. "But if I was realistic, I probably wasn't going to be a professional [golfer].
"I enjoy the science of horses, getting them ready to run, and being around the stables every day," de Kock continued. "It just clicked, and the bug bit me, and that was it."
Among the many differences that de Kock has observed over the last several weeks with regard to North America's approach to horse racing compared to that of South Africa is the media's keen interest in the Triple Crown races.
"The coverage is great, and I like the fact that horses are treated like celebrities, like it should be," he said. "We lack that in South Africa. I really think it's good to get our sport out there, and get more people involved. It's been fun to see how the media handles it here."
Perhaps de Kock's biggest takeaway from his time in the United States will be something he tucks away for future use.
"It's a great opportunity for me to see how things are done in America, with the dream and hope that one day I will have my own Kentucky Derby runner."