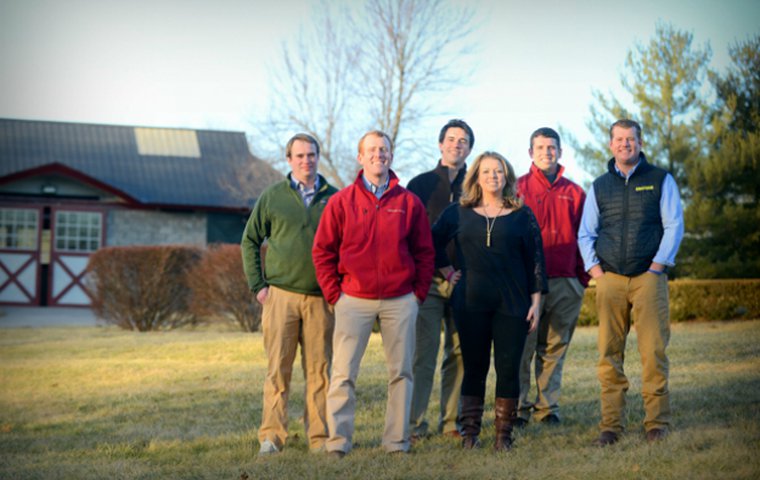 They're called "The Nexters."

No, they're not characters bent on taking over the galaxy in the latest science fiction saga or controversial figures in a television reality show.

But if you're in the global Thoroughbred business, more than likely you will cross paths with them at some point, if you haven't already.

The Nexters are the next generation of Kentucky's Taylor family who founded and operate Taylor Made Sales, known as the world's leading consignor at bloodstock auctions. Their Taylor Made Farm has made a lasting mark in the stallion business with the likes of the late Unbridled's Song, and they have boarded mares and raised champions for decades on behalf of notable breeders, including Marie Jones and her late husband, Aaron.
All in their 20s, the Nexters already have worked with leading horsemen around the world, obtained higher education in a variety of fields and embraced the latest technology and media advances.
Yet they are holding tight to their family's guiding principle—that they can accomplish more together than individually—as they begin the next chapter in their own lives and in the remarkable story of Taylor Made.
"We're bringing them in to make us better, so we can serve more people and do more exciting things within the industry," said Taylor Made Chief Executive Officer Duncan Taylor, who founded the farm in 1976 when he was 19. Taylor Made recently released a statement of how the operation has revised its organizational chart to best utilize Nexters.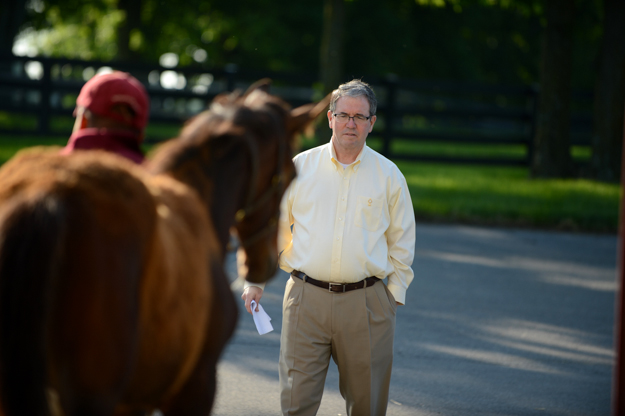 Taylor and his brothers Ben, Frank, and Mark, who are joined in the business by their boyhood friend Pat Payne, have built Taylor Made into a giant success story, evolving from little more than a pitchfork and a pickup into horse sales of more than $1.6 billion. As articulated by Duncan, they rely on an old-fashioned work ethic combined with a vision for the future.
Duncan has studied business succession plans and presided over developing goals for the year 2020 as part of a design to harness the skills of the Nexters while giving them a chance to ride the business to further glory.
Each of the six Nexters currently working for Taylor Made brings different skills to the business while sharing appreciation for the opportunity that has been extended.
"We all get along and work in synergy with one another and we all have different things that we do well," said Marshall Taylor, 28, the eldest of Duncan's five children who is an assistant to Mark Taylor, Taylor Made vice president of marketing and public sales. "We've got six of us now and there's an even younger generation coming up, and I think the best thing you can possibly have going forward is the synergy and the different skills. That is really valuable."
"I have some big shoes to fill as far as my Dad and uncles go, but that's what I'm looking toward in time," said Joe Taylor, 27, who serves as a broodmare manager and whose father, Frank, is vice president of boarding operations. "I want to get a foundation so that when I go into a barn and look at these horses, I can see as much as they can see."
Some of the Nexters already are more adept in fields such as technology and communications than their parents.
"They are way ahead of us. They live it. Like this document," Duncan said on a recent morning, picking up a printout of the new organizational scheme and laughing. "Hell, I'm the CEO and I don't have it, but the damn thing is on Facebook already."
Duncan Taylor—and all the others from both generations—was inspired by his father, the late Joseph L. Taylor, who managed globally prominent Gainesway Farm for about 40 years and taught his children and grandchildren how to care for horses.
Known in the family as "Daddy Joe," Joe Taylor planted the initial idea that sprouted into Taylor Made when he suggested Duncan work with Mike Shannon to board mares shipped to Kentucky for breeding to Gainesway stallions. John Nerud and Tartan Farm were among the first clients, sending mares including Magic, a Buckpasser half-sister to 1968 Horse of the Year Dr. Fager who became the third dam of Kentucky Derby winner and influential sire Unbridled.
The Nexters all cherish personal recollections of how "Daddy Joe" combined strong leadership with gentle parables while schooling them, beginning with early tasks such as picking up rocks in paddocks.
Duncan's unceasing desire to reap success from hard work, another tenet passed on from his father, lies at the core of Taylor Made. A devout Catholic, he half-jokingly declared that another key to Taylor Made's success is what he calls "the Catholic business plan."
"With Catholics not practicing birth control, back then it was like every two years my parents had a kid. So when I was 22, Chris [who later passed away] was 20, Ben was 18, Frank was 16, and then there was [an eight year] gap to Mark. So I say that was the Catholic business plan," Duncan related.
The brothers and their wives and Payne and his wife have continued on with that plan to some extent, bringing up 19 children among them for the next generation.
Since the Thoroughbred business can be decidedly volatile, the Taylors have tried to stay a step ahead of market dynamics. One of their first adaptations was to handle horses owned by clients slated for auction, and that initiative jetted off; Taylor Made's auction sales soared from five yearlings in 1978 to 400 by 2000.
"As the farm grew and I had to take on more administrative roles, there was always another brother, who had the same work ethic and knew about the horses and knew about our philosophy of taking care of customers, to come in right behind me," Duncan said. "That's where the Catholic business plan came into play. Another brother would move into each role.
"I always said I would have gone broke or messed it up because I would have been so tight that I wouldn't have hired the right kind of person to replace me, and I would have gotten somebody who wasn't very skilled, and the quality of the product would have gone down," he added. "But I had another brother who could work as an indentured servant for a while. So, it enabled us to grow and to serve the customers well."
Whereas Duncan had grown up baling hay and driving tractors on family property, his younger brothers spent "every breathing minute" working with horses at Gainesway or Taylor Made when they weren't in school. The Nexters, particularly the boys, were immersed in the business in similar fashion, although they could roam over the now sprawling 1,600-acre Taylor Made complex compared to the family's original 120 acres.
"I started helping my grandfather when I was about six, working with my cousins. I've wanted to work for Taylor Made probably ever since," recalled Brooks Taylor, 29, who is Ben Taylor's eldest of three children and sells stallion seasons.
Katie Taylor Marshall, the eldest of Frank's five children, remembers that "we always worked on the farm." She is the only woman in the Nexters so far, and she playfully refers to herself as the "pot stirrer" of the group.
"I think I always really loved horses. I can't remember a time when I didn't," said Katie, 29, who graduated from Midway College with a degree in business management and is an assistant to farm manager Tom Hamm and her father, as well as a manager of bloodstock investment packages.
That love was nurtured by her family, with her parents deciding she should start with miniature horses for safety reasons. She received her first mini when she was just four, and her mother, Kim, brought the little horse home in the family station wagon. At age five, Katie was given another mini, which her grandmother, Mary Emily, kept as a surprise in her basement.
Katie's story illustrates how the Nexters have been encouraged—although not pushed—into the family business. Since she enjoyed showing miniature horses, she was given the chance, beginning at age 13, to work summers on a miniature horse breeding farm, and she went on to positions with Raul Reyes' Kings Equine in Ocala and as a surgery technician at Rood & Riddle Equine Hospital in Lexington.
The experiences the Nexters bring to Taylor Made are diverse as each has tried to learn by working in various phases of the business.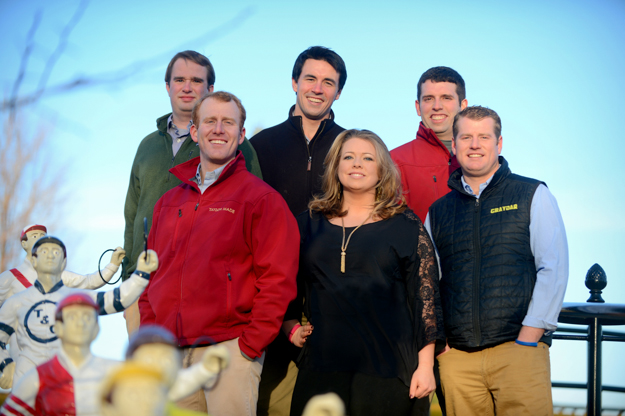 Marshall, who earned a degree in racetrack management from the University of Arizona, worked as a groom for a dozen years, adding stints breaking juveniles, working with mares and foals, and doing yearling prep. He also worked with trainer Todd Pletcher, handling stars including Scat Daddy, Rags to Riches, and English Channel.
Joe earned his degree in animal science from the University of Arizona's Racetrack Industry Program and managed yearling prep for BryLynn Farm of Ocala, worked 2-year-old sales for Kings Equine, and served a brief stint with trainer Dale Romans. For two years, Joe was WinStar Farm's yearling manager.
"It was like a dream job," Joe said. "I had some ideas they used, and I brought some of what they did back with me."
Two sons of Payne, Taylor Made's vice president of sales who became a partner in the business seven years ago, also are Nexters, with Alex Payne, 28, working as a yearling manager while completing his studies at the University of Kentucky. Logan Payne, 26, the youngest of the Nexters, is a stallion groom caring for Old Fashioned and Northern Afleet.
"In 2011, when I was starting my senior year of college, my brother Alex was about to go out to Taylor Made and start working with the yearlings and they needed an extra hand," Logan recalled. "I just went out there; I had never really handled horses. Of all the Nexters, I was a late starter, but I just kind of took to it. I've loved it ever since."
Logan harbored a desire to travel to Australia, and he knew horsemanship could be his ticket, so he focused on quickly learning the skills. He then spent eight months prepping yearlings for Widden Stud in New South Wales, where he began to envision his future in the horse business.
Brooks Taylor, 29, has been working at Taylor Made since he was 12 and has held regular positions since 2001. "Once I got in college, I started going to other countries," he said, reeling off an impressive CV spanning jobs with the de Chambure family's Haras d'Etreham in Normandy, France; John Messara's Arrowfield Stud in New South Wales; and Haras Carampangue and Haras Santa Maria de Araras in Argentina, as well as affiliated farms in Brazil.
While the Nexters were gaining horse experience, Duncan Taylor and his brothers continued to cultivate the growth of Taylor Made. They tried to ensure fairness for the Nexters and other staffers, some of whom have been key team members for decades and instructors of the young Taylors.
To gain insights, about eight years ago Duncan joined The Alternative Board (TAB), an organization that assists business owners who do not have outside boards of directors. After reviewing Taylor Made's needs, he brought in account managers to work directly with clients, allowing the operation to handle more customers yet retain family-style service.
With advice from TAB, Duncan and his brothers set up a process for the Nexters to get involved. As youths, their parents paid them for farm tasks. When they could legally work, they earned minimum wage, and after they reached certain goals, they advanced to higher levels.
There were lots of lessons along the way. Duncan recalled that Marshall became very excited at the Saratoga yearling sale when he was about 12, urging the family to buy an Unbridled's Song colt from their consignment. So, Duncan suggested his son put together a partnership.
"I wanted a horse so bad. I was asking everybody up there if they wanted to go into a partnership," Marshall reflected. "I remember it was Mr. [John] Magnier that I think gave me about $100. It was fun—a good experience."
The Nexters became a familiar presence at sales, donning Taylor Made burgundy ties and blue shirts as they held horses or ran cards, answering questions with a congenial "Yes, ma'am" or "No, sir." Duncan said he frequently let the young Taylors bid on horses up to a limit below the reserve prices for the experience.
One year, when a Colonial Affair filly failed to meet her reserve, the Taylors formed a racing partnership that included client Sam Pollock and some Nexters. As it turned out, the filly—named Seven Four Seven—could fly, and she became a multiple stakes winner and G2-placed earner of more than $400,000.
When the Nexters' beloved grandfather Joe Taylor passed away in 2003, some of them formed JLT Bloodstock, named in his honor, and successfully operated the pinhooking venture for five years. Their graduates included G3 winner Praying for Cash, who finished second in the G1 Haskell Invitational Stakes and banked $429,260.
As time went on, Taylor Made's founding brothers refined their plans to create similar opportunities for all their children while trying to avoid any kind of dynastic hierarchy.
"It was a thought-out way of them progressing up through the business," Duncan said. "That's worked well so far, but it continues to be a challenge. Not that we, thank God, have any disgruntled people or anyone mad, but you continue to put things in place to try to think of the future and let them know what the ground rules are—and everyone has to operate within the ground rules so there are no surprises.
"My Dad's ingraining in us that we can do better together than apart has somehow stuck with these cousins," he continued. "I don't see them fighting or arguing or trying to be the center of attention. That's a blessing."
In addition to its mission statement focusing on horsemanship and marketing, Taylor Made also has developed a vision statement for the year 2020, when the operation will be in its 44th year of business.
"In 2020, we will have the [Nexters] fully integrated into the family business. They are leaders within our industry and are the driving force of our future success," the statement reads.
"What I would like to do is have the business as well organized, as well documented and as well thought out as a McDonald's franchise. They can repeatedly give a consistent product to a customer and meet their expectations," Duncan said.
"We have a different kind of clientele and we're going to build a different kind of experience, of course, but we're going to continuously strive to get it down so we can deliver when a person has a top filly off the track, has a yearling to sell, or a broodmare to board. We're trying to deliver an experience where they not only have a good chance of raising a good horse, but a big element is they can enjoy it. They can think, 'These people are taking care of it,' " he said.
By setting goals including development of international business contacts and utilization of technology advancements that help assess sale horses, Duncan forecast "there will be plenty of opportunities.
"A lot of these Nexters in the next 10 years are going to fill [significant business] roles as our company grows. I don't know this, but they're liable to take over mine, Frank's, and Ben's jobs," he said.
All the while, there could be more Taylors coming along, siblings of the initial Nexters and the first grandchildren of Taylor Made's founders, continuing to weave family ties through what has become one of the industry's iconic businesses. The Nexters are living their parents' vision, sharing the labor and the rewards, as they, in turn, imagine enhancing Taylor Made's future.
Perhaps Katie articulated best what Taylor Made means to the Nexters as she related how the birth of her own daughter, Mary Emily, led her to want to work fulltime in the family business.
"I look back on my life, and the times that meant the most to me...were just the day in and day out going to work and spending time with my grandfather and my Dad and my uncles and cousins," she said. "That's what the farm is about. I want my own daughter having that same experience. And no matter where I go or what I do, I have an army of Taylors to fall back on."