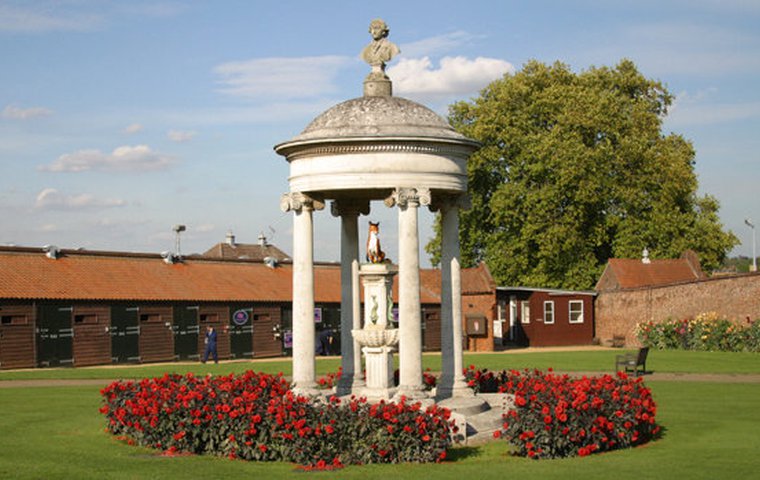 For nearly 250 years, Tattersalls has held a place at the forefront of the British bloodstock industry, ranging from its hard-earned supremacy over rivals during the 18th century to its current position as a worldwide leader in its field.


As a measure of its international influence today, Tattersalls welcomed buyers from more than 50 different countries in 2013, which in turn contributed to a record-breaking annual turnover of 248,689,000 guineas. In fact, every one of Tattersalls' sales in 2013 posted an increase in aggregate, led by the October Yearling Sale, which reached incredible new heights when Sheikh Joaan al Thani's Al Shaqab Racing paid 5 million guineas – an European record for a yearling at auction – for Lodge Park Stud's Galileo sister to Oaks heroine Was. Less than a day earlier, a packed ring had witnessed MV Magnier going to 3.6 million guineas, a short-lived record in itself, for a Galileo colt out of Shastye from Newsells Park Stud. Little wonder that the sale concluded with an aggregate of 70.3 million gns, a record for a European yearling auction.
"Bloodstock proved to be remarkably resilient in the aftermath of the 2008 crash," said Jimmy George, Tattersalls' director of marketing. "To claw back so much of the drop in market by the end of 2012 was remarkable, but to achieve a record annual turnover in 2013 was even more so and a credit to the quality of horses that vendors bring to Tattersalls.
"There is still a lot of economic uncertainty in the world and it might be too much to expect each sale this year to improve on 2013. But I think the key to this year is that we're still dealing with relatively small foal crops."
Forward-thinking yet mindful of tradition, Tattersalls is innovative in such areas as race sponsorship and e-commerce, but has retained the quirk of selling in guineas, a practice that dates back to its inception.
Its presence within the Irish industry is greatly enhanced by Tattersalls Ireland, which plays a particularly key role within the jumps markets, while in recent years, mutually beneficial alliances have been formed with Australian auction house William Inglis & Son and fledgling French company Osarus.
HISTORY
Newmarket has been the undisputed home of horseracing in Britain since the reign of Charles II, but it wasn't until 1884 that Tattersalls actually purchased a site, Park Paddocks, in the town. Even then, the company didn't move their offices to Newmarket until 93 years later.
Instead, Tattersalls, established in 1766 by Richard Tattersall (1724-1795, was initially based solely in London, first at Hyde Park Corner and then in Knightsbridge.
Tattersall was born in Lancashire to a family to whom farming and racing assumed a strong importance. In later life, he became stud groom to the Duke of Kingston, and in 1766 came a major step closer to realizing his ambition of establishing a prominent sales house when securing land in Hyde Park Corner in a 99-year lease from Lord Grosvenor.
The first printed advert for a Tattersalls sale appeared in July 1779 in The Morning Post and Daily Advertiser. At the time, Tattersall owned the undefeated Highflyer, and when the son of Herod developed into a 13-time champion sire he naturally reaped the rewards. While Tattersall received as much as £2,000 a year in stud fees for Highflyer's services that figure paled in comparison with the commissions generated through the sale of Highflyer's stock.
Upon Tattersall's death in 1795, ownership of the company transferred to his son Edmund (1758 - 1810). Edmund's son, Richard Tattersall (1785 - 1859), assumed control from his father, and was followed by his own son "Young Richard" (1812 - 1850). It was Young Richard who sold the Londesborough dispersal in 1860, in which the 1853 Triple Crown winner West Australian changed hands for 4,000 gns.
Building of the new Knightsbridge premises took place under the supervision of Young Richard's cousin, Edmund Tattersall (1816 - 1898). In 1896, a world record was set through the sale of Dewhurst Stakes winner Meddler for 14,500 gns. Exported to the U.S., he later became a champion sire.
As control of the company passed to Edmund Somerville 'Sommy' Tattersall (1863 - 1942), records continued to tumble. In 1900, the Triple Crown winner Flying Fox was purchased by Edmund Blanc for 37,500 gns, while in 1932 the 1925 St Leger winner Solario was sold for 47,000 gns to a British syndicate headed by Lord Glanely and Lord Rosebery. In the meantime, Classic winners such as Sceptre – whose 10,000gns sale to Robert Sievier in 1900 smashed the previous yearling record of 4,000 gns – Fifinella, and Blenheim each passed through the ring.
Sommy Tattersall was the final descendant of founder Richard Tattersall to take the helm. In 1939, partners Gerald Deane, Robert Needham, and Terence Watt assumed greater control of the company and, in 1942, the void left by Watt's death in action during World War II was filled by his cousin Captain Kenneth Watt.
An excellent auctioneer, Ken Watt was also instrumental in bolstering Tattersalls' fortunes. Named a partner in 1947, he was swift to improve the facilities at Park Paddocks in Newmarket, firstly buying up more land before overseeing the construction of a new sale ring. Designed by Sir Albert Richardson, the new building was ready for business in 1965. By that time, Tattersalls' sole focus was on Newmarket, having ceased to sell in Doncaster several years earlier.
A number of breed-shaping horses passed through the ring in the years that Watt chaired the company. Bull Hancock's visit to the December Sale in 1951 resulted in the purchase of Rough Shod and Knight's Daughter, both of whom became outstanding influences for his Claiborne Farm, and a year later George Blackwell of the British Bloodstock Agency paid 10,000 gns for Lady Angela on behalf of E. P. Taylor - she later bred Nearctic, sire of Northern Dancer.
In 1967, a record 137,000 gns was paid by the World Wide Bloodstock Agency for the then two-year-old Vaguely Noble. Although expensive at the time, he enhanced his value by taking the following year's Arc and was later syndicated for $5 million.
The first million-guinea yearling was sold 16 years later at the 1983 Highflyer Yearling Sale. Three yearlings broke the magic million-guinea barrier that week led by a 1.55 million-guinea son of Hello Gorgeous knocked down to a syndicate that included Robert Sangster. Three years later, the ring played host to the Jim Joel dispersal, at which 20 horses realized 3,937,200 gns including 1,000 Guineas heroine Fairy Footsteps, who topped the group at 720,000 gns.
Watt was succeeded as chairman in 1983 by his cousin Michael, son of former partner Terence. It was Michael Watt who oversaw Tattersalls' acquisition of the Fairyhouse sales complex in Ratoath, Co. Meath, from where Tattersalls Ireland operates today.
Tattersalls has been chaired for the past 21 years by Edmond Mahony and continues to flourish. Further records have been set, notably last year when the yearling Galileo sister to Was sold for 5 million gns, and top miler Immortal Verse set a European broodmare record of 4.7 million guineas.
The current team of directors comprises Andrew Bedford, Gavin Davies, Jimmy George, John Morrey, Paul Ryan, and Todd Watt. Mahony and Watt are also long-standing auctioneers and are complemented in that department by Ollie Fowlston, Simon Kerins, John O'Kelly, and Alastair Pim.
THE CRAVEN SALE
The bar was set extremely high when every one of Tattersalls' 12 Newmarket sales in 2013 recorded an increase in turnover. Nevertheless, the trend continued when the first auction of 2014, the February Sale, posted rises across-the-board, and hopes are high that the Craven Sale, the company's flagship breeze-up sale, will follow suit April 16 - 17.
This year's catalogue contains 166 juveniles, down from last year, when the 182-strong sale included Round Tower Stakes winner Great White Eagle. The son of Elusive Quality topped proceedings when selling to McCalmont Bloodstock for 760,000 gns.
"The Craven is the premier two-year-old sale in Europe, and it consistently turns out a good number of winners and high-class horses," said Tattersalls' marketing director Jimmy George. In recent years, G1 winners Rosdhu Queen, Derby runner-up Libertarian and German 2,000 Guineas winner Caspar Netscher all have come through the ring at the Craven sale.
"Numbers wise, the Craven Breeze-up is slightly smaller this year, but in terms of quality it is a very good catalogue and the consignors will have the two-year-olds beautifully prepared as ever," George said.
Many of Europe's leading sires are represented, including Galileo, Danehill Dancer, and New Approach, while there is also representation from top American sires such as War Front and Kitten's Joy.
Stand-outs on paper include a Galileo three-parts sister to Irish Derby winner Frozen Fire (Lot 99), a brother to Breeders' Cup Juvenile Turf winner Pluck (Lot 13), a Speightstown colt out of 1,000 Guineas heroine Sleepytime (Lot 22), an Oasis Dream filly out of G1 winner Sweet Stream (Lot 29) and a Smart Strike colt out of top American filly Diamondrella (Lot 85).
Willie Browne's Mocklershill has topped the consignors' standings since 2004 and sends 13 two-year-olds to Newmarket this time around, including those by War Front, Blame, and Fastnet Rock.
"I have a good bit of quality, they're a good bunch, so I'm hopeful," Browne said. "But they've got to go out and do it on the track, and it's starting to get very speed orientated - a lot of people are timing them now."
Last year's sale returned an average of 89,660 gns, an improvement of 22 per cent, leading McCalmont to comment: "I've done Keeneland, Barretts, and Palm Meadows [Fasig-Tipton] this year and this is the strongest sale I've been to."
His view is echoed by agent Tom Malone, who purchased Caspar Netscher for 65,000 gns with Alan McCabe in 2011.
"It was a very strong sale last year. The appetite for the game seems to be increasing all the time," Malone said.
"Times have a massive bearing on how these horses sell now. So some can slip through. I bought a nice horse last year, Red Primo, who won first time out last week for 27,000 gns - he did a nice time without going really fast and he slipped under the radar. So they still can be bought.
"I like the Craven. Plenty of winners always come out of it."
On April 29, the focus will switch to France when Osarus, in whom Tattersalls formed an alliance in November 2012, stage their breeze-up sale in Pornichet.
"Osarus was similar to the investment we made in Inglis," George said. "We took a stake in Inglis with the view of buying into a company that shares a similar ethos and structure to us. It gave us exposure to a different marketplace that could only be beneficial.
"As sales companies, we all keep a close eye on the global markets - this is a global industry and we're always scouring the globe for opportunities. Osarus is a fledgling company with a hard-working team that is carving a niche in the European market. And it's giving us greater exposure to an area of the French market that we weren't too familiar with."
TRADITION AND INNOVATION
Race sponsorship also continues to provide a key element of Tattersalls' business. The Tattersalls Gold Cup, run May 25 at The Curragh, is in it's 30th year of sponsorship and complemented at the same meeting by the Tattersalls Irish 2,000 Guineas.
In Britain, Tattersalls have raised the bar through the Tattersalls Millions, a sales race series worth £1.3 million ($2.2 million) for graduates of Book 1 of the October Sale. Tattersalls are no strangers to sales races, having once staged the Houghton Sales race in 2000. But the race series model offers a greater spread of owners the opportunity to win prize-money, thus providing a new angle to the concept. Run for the first time in 2008, the Tattersalls Millions now comprises six races run at Newmarket for 2- and 3-year-olds.
"I almost wish that we had launched the race series model earlier," George said. "The idea is to provide as many opportunities for owners to win substantial prize money as possible - the biggest problem facing British racing is prize-money - and a race series, rather than just one big pot attached to one race, is the most effective model to do that.
"The dynamics of Book 1 fit the sale race model and we're not immediately thinking of attaching one to Book 2."
Tattersalls may be a traditional company, but it was the first European sales house to stream an auction live and currently has a strong presence on Twitter and Facebook. Visitors to the company's website on sale day are directed to "Sales Day live," a dedicated page where the auction is streamed in real time alongside searchable results and a live blog.
"The e-commerce side is hugely important," George said. "We were the first European sale to broadcast a sale live and one of the first to produce an app. The vast percentage of entries today are made online and the take-up of that has exceeded our expectations.
"The breezes have been broadcast live on TV for many years and we've consistently produced video reviews of the major sales for the past three years.
"We are traditional and conservative in some ways, but fully endorse the e-commerce ethos, and we are always looking to develop that side of the business."
One of Tattersalls' more traditional sides is trading in the guinea (£1.05), a practice that dates back to Richard Tattersall's day in the 18th century. Tattersalls is the only business in Britain that still sells in guineas – and there are no plans to change.
"The guinea is unique and part of our heritage," says George. "Some of our new clients probably find it intriguing, but overall our clients are familiar with it and understand it. It provides a transparent system."
With the cream of European bloodstock regularly on offer at the October Yearling and December breeding stock sales, Tattersalls have long attracted a vast base on international buyers. Last year, for example, marked the arrival of Al Shaqab Racing, which spent 10.26 million gns in October and another 900,000 gns in December.
The December Sale has also proven a particularly happy hunting ground for American breeders. Bull Hancock of Claiborne Farm is one notable example, but more recently, successful buyers include the Seitz family of Brookdale Farm, whose acquisitions include Glint In Her Eye, dam of Jeremy, and Kalpita, dam of top Hong Kong performer California Memory.
"We've been buying for the past ten years at the December Sale," said Joe Seitz, Brookdale Farm's director of sales. "It's a sale that offers a depth of good quality bloodstock and a great opportunity to tap into those families that don't always come around in the U.S.
"We go there looking for European families, ones from large establishments where we know the families are going to be well looked after. It was a strong sale last year and it was tough to buy but we managed to come away with two."
According to George, Tattersalls has contributed "the thick end of £1 million" through its inward buyers' program for international buyers. It also offers racehorse sponsorship to yearlings purchased at a Tattersalls sale.
"We've contributed well into seven figures in racehorse sponsorship since its inception," George said. "We sponsor approximately 250 - 300 horses per year - effectively, every yearling that goes through Tattersalls is eligible and that can be hugely beneficial to owners."
As the largest bloodstock auctioneers in Europe, Tattersalls naturally also assumes a major presence within Newmarket, and in recent years it has provided vocal opposition to Lord Derby's plans for housing development on his nearby Hatchfield Farm site. Outside bloodstock, they are involved in the retraining of racehorses and regularly sponsor shows to that effect.
"Tattersalls are very conscious that it's the oldest company of its type in the world and has a legacy that we are anxious to preserve," George said. "Many of the team have been with Tattersalls for decades and many of our clients have been coming here for decades, which speaks volumes for the company.
"Fundamentally, our role is to work with and for our clients. Sellers and buyers need to be confident of doing business here and we aim to provide a venue where we hope they can conduct business in the best way they can."