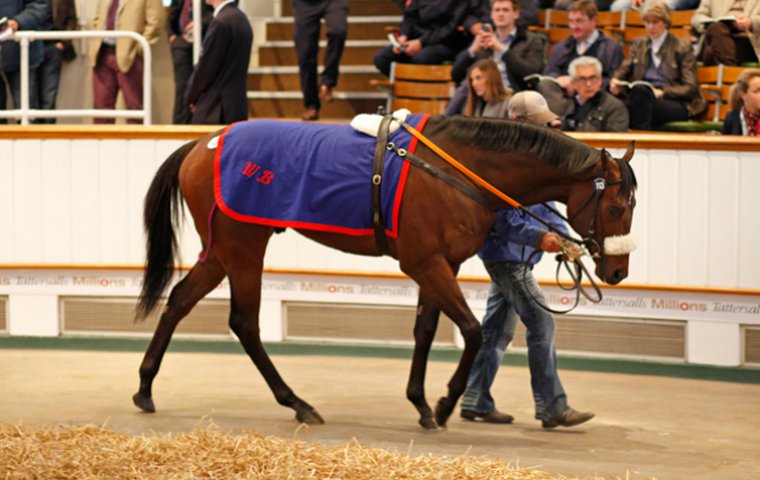 There is no fairer way to catalogue a sale than alphabetically but, as we saw during this week's Tattersalls Craven Sale in Newmarket, when a cluster of good horses are catalogued together, contrasting perceptions of trade can result.

When the dust had settled on day one on Wednesday, industry professionals reached for descriptions such as "tricky," "patchy," and "tough." Double-digit decreases were recorded across-the-board - the average took a bad hit, falling 31 percent to 80,585 guineas - and only two horses broke the 250,000-guinea barrier, compared to five during the comparable session in 2014. Proceedings were led by a 300,000-guinea colt from the first crop of Canford Cliffs who was knocked down to agent Charlie Gordon-Watson.
Yet the feeling persisted that Thursday's group of horses were a stronger group, and so it proved, to the extent that, by the close of trading, a sale record median of 71,000 guineas had been established alongside a new top mark of 850,000 guineas. Thanks to a flurry of late high-profile transactions, seven horses realised 250,000 guineas or more, the same number as in 2014.
A colt by the commercial darling War Front from Willie Browne's Mocklershill led the way, selling for 850,000 guineas to Jamie McCalmont and Alex Elliott on behalf of Coolmore and partners. Although he failed to threaten last year's sale record of 1,150,000 guineas, paid by McCalmont for another son of War Front from Mocklershill, he became the second most expensive horse to ever change hands at the Craven Sale. In fact, until last year, the 800,000-guinea mark hadn't even been breached.
All told, 96 (79 percent) of the 121 horses offered sold for a total of 9,893,500 guineas, down six percent from 2014, and an average of 103,057 guineas, which represented a drop of 9 percent. The median rose 1 percent to 71,000 guineas. Of the 92 pinhooks on offer (those that were listed as sold on their previous trip through the ring), 34 made a profit for their connections (taking into account approximate expenses on top of purchase price).
"Last year's record-breaking Tattersalls Craven Breeze Up Sale was always going to be a hard act to follow, especially with a smaller catalogue," said Tattersalls' Chairman Edmond Mahony, "but the second highest price ever for a European breeze up 2-year-old, a record median, and a considerably improved clearance rate, are all positives to take from this week's sale."
The sale-topping son of War Front represented one of the riskier pinhooks of recent years, having been knocked down to Mockershill for a hefty $400,000 at last year's Keeneland September Sale. However, his sire can continue to do no wrong in commercial eyes and, when this colt turned in a strong breeze on Newmarket's Rowley Mile on Tuesday, it seemed likely that the gamble would pay off.
Added to that, he has a fine female family as a half-brother to G1 Spinaway Stakes winner Mani Bhavan and G2 winner Hear The Ghost. He was bred in Kentucky by Will Farish and Lazy F Ranch out of the winning Coronado's Quest mare Rehear, a relation to Speightstown.
Like last year's 1,150,000 guineas colt General Marshall -- who was subsequently placed on six of seven starts for Aidan O'Brien and Mike de Kock -- was bought to race on behalf of the Coolmore partners, who have enjoyed notable success with the sire through the likes of War Command and Declaration Of War.
"Obviously I was delighted with how the War Front sold," said Willie Browne, whose draft realised a total of 1,701,000 guineas to ensure that Mocklershill was leading vendor for the 11th consecutive time. "He was an expensive yearling but it's worked out. He'd been training very well and has pleased me right the way through.
"The sale wasn't great for me during the first night. But it picked up on the second day and I'm happy overall."
Mocklershill also sold an Exceed And Excel colt out of Torentosa for 310,000 guineas to Michael Wallace and David Redvers. The agents signed on behalf of the China Horse Club and Qatar Racing, the partnership that combined forces to purchase Just The Judge for 4,500,000 guineas at last year's Tattersalls December Mares Sale.
It was quite a drop down to the second dearest lot, an Exchange Rate filly out of Ruler's Charm who sold to agent Oliver St Lawrence on behalf of an undisclosed client for 350,000 guineas. Sold by Norman Williamson's Oak Tree Farm, she is a half-sister to minor American stakes winners Toccet's Charm and Simmstown.
"The market was as selective as ever," said St Lawrence, who signed for three lots during the sale. "But it was definitely better during the second night. Everyone seemed to want to come out to play, but then they were a better group of horses."
The Exchange Rate filly turned a remarkable profit on the $45,000 she had cost her vendors out of last year's Keeneland September Sale. Nor was she the only inexpensive pinhook do her connections proud: a Lope De Vega colt bought by Manister House Stud for €32,000 as a foal was resold for 200,000 guineas to Jamie McCalmont, while a Zebedee colt bought for £7,000 as a yearling through Five Star Bloodstock returned to make 90,000 guineas to Peter and Ross Doyle.
One particularly encouraging aspect was the strong international presence that underpinned trade.
Wednesday's session-topping son of Canford Cliffs was sold to Charlie Gordon-Watson for 300,000 guineas to race in Hong Kong, also the ultimate destination for colts by Showcasing and Stormy Atlantic that were bought for 200,000 guineas apiece by Alastair Donald of SackvilleDonald. They are set to begin their career with Ed Walker in Newmarket. Donald also secured a Showcasing colt out of Nizhoni with George Moore, son of Hong Kong trainer John Moore, for 240,000 guineas.
The sale featured also first-time investment from the Yoshida family's Shadai Farm, which paid 130,000 guineas and 120,000 guineas for fillies by Kodiac and Gio Ponti.
"Competition at the top of the market has been the real feature of the sale and the number of different buyers active at the upper levels has been notable," Mahony said. "Demand from throughout the world, particularly from Hong Kong, North America, and throughout the Gulf region, has again demonstrated the truly global reputation of the Craven Breeze Up Sale."
Jamie McCalmont and Alex Elliott ended the sale as leading buyer thanks to their purchase of the War Front colt. However, Darley were once again a prominent force, with John Ferguson signing for 450,000 guineas worth of stock, alongside Richard O'Gorman, whose purchases totaled 425,000 guineas.
Al Shaqab Racing purchased a number of horses at this sale last year through Peter and Ross Doyle Bloodstock and Mandore International, including the highly regarded Moheet for 800,000 guineas. But they seemingly failed to strike at the higher end of the market this time around, just as looked to be the case at the Fasig-Tipton Florida Sale and the OBS March Sale in Ocala. However, Nicolas de Watrigant of Mandore International was underbidder to Alastair Donald on the 240,000 guineas Showcasing colt.
The Tattersalls Craven Sale remains the premier European auction of its kind. But, as is often the case at these sales, it played host to a selective market. An increasing number of agents are relying on the clock, thereby placing more pressure on vendors to ensure their 2-year-olds return the best possible times at a sale where official times are not released (as is the case across Europe). Horses are later often required to pass a stringent vetting process, meaning that several obviously fall by the wayside.
Yet that is far from being a ticket to racecourse failure. The 2014 renewal boasts a growing list of successful graduates that sold for below the sale average, among them recent Listed International Trial Stakes winner Fanciful Angel, bought for 50,000 guineas by Scuderia Blueberry, G3 Cornwallis Stakes runner-up Strath Burn, bought for 62,000 guineas by Stephen Hillen, and Wednesday's G3 Nell Gwyn Stakes runner-up at Newmarket, New Providence, who was bought back for 30,000 guineas.
No doubt this year's sale will provide more of the same.