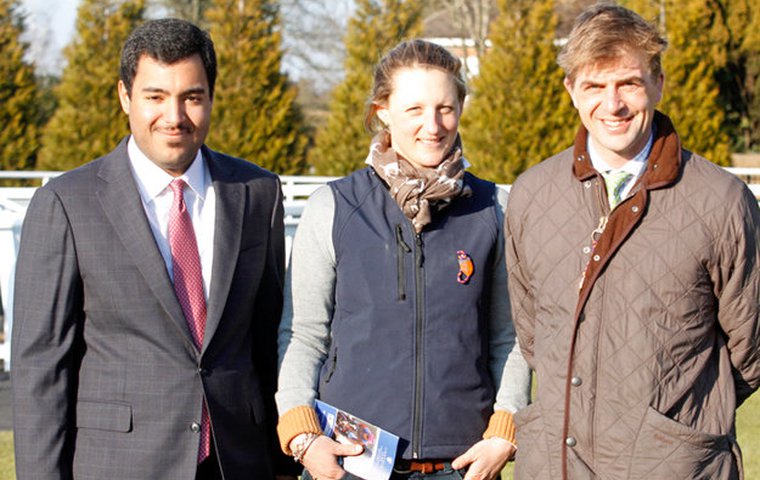 Up-and-coming British trainer Olly Stevens, who spent five years learning his trade in the United States, is riding the crest of a wave right now as he goes into Royal Ascot with a major chance in one of the meeting's biggest races. Julian Muscat reports.

In the two years since Olly Stevens returned to Britain from the U.S, his feet have barely touched the ground.
His wife, Hetta, gave birth to twin daughters. He set himself up at Robins Farm, a verdant training facility within easy reach of London. And this time last year, he saddled his first winner at Royal Ascot, courtesy of 2-year-old Extortionist in the five-furlong Listed Windsor Castle Stakes.
You'd think it couldn't get any better. It just might when Stevens, 35, returns to Royal Ascot with two runners on Friday. Peace And War contests the G3 Albany Stakes for juvenile fillies, but pride of place belongs to Lightning Thunder, who tilts at the day's feature race, the G1 Coronation Stakes.
Lightning Thunder has rock-solid claims. Her two starts this season saw her finish runner-up in both the 1,000 Guineas at Newmarket Racecourse and the Irish equivalent at The Curragh. She was a debut classic runner for Stevens at Newmarket, where she bore down hard on Miss France – only to be denied in a photo finish.
Lightning Thunder was ambushed late on in Ireland, where the testing ground was not to her liking. But conditions at Royal Ascot should be ideal for a filly who enchanted Stevens the moment he set eyes on her at last year's Tattersalls Craven Breeze-Up Sale.
The emotion in his voice is still evident 14 months later.
"I don't tend to fall in love with any horse at the sales," he said. "I am a trainer; that happens to me when I watch horses work."
Lightning Thunder was on a short-list of five horses presented to Stevens by David Redvers, who manages the racing and bloodstock interests of Sheikh Fahad Al Thani and his two brothers, each of them nephews of the Emir of Qatar.
"She was just astonishingly eye-catching," Stevens recalled of the Dutch Art filly, "but she was also very crooked. There's a 40 percent deviation in her off-fore, and I still had my American hat on. I was thinking it would have been difficult for her to go round left-handed bends every day at exercise."
Stevens' concerns were quickly assuaged by Redvers, who prompted that the training environment was far kinder at Robins Farm. Stevens may have come home, but the five years he spent under trainer Kellyn Gorder in Kentucky were seared into his mindset.
And no wonder. Stevens joined Gorder as his assistant in 2007, when Gorder was taking his first tentative steps as a trainer.
"We had six moderate horses in the racing barn, and across the road, we were pre-training WinStar Farm's beautiful crop of 2-year-olds," Stevens remembered. "It was quite a contrast."
Some fabulous WinStar horses passed through their hands, among them 2010 Kentucky Derby hero Super Saver and Drosselmeyer, winner of the 2010 Belmont Stakes and 2011 Breeders' Cup Classic. Stevens also met his future wife at Gorder's when Hetta joined the team after working for trainer Michael Dickinson.
Those years were formative in more than an equine sense.
"Not long after I started, Kellyn asked me to take some horses over to a new barn and come back in a day, and I replied that it would probably take me three days to get them settled in," Stevens recalled.
"And he said: 'Well, you can take that attitude back to England with you.' He wanted me to tell him how I was going to do it, not that it couldn't be done.
"That's the way it is in America," he continued. "There's no room for complacency; you could go into work one morning and find that someone else had been given your job. But I learnt so much from Kellyn. He is a quite beautiful horseman, and that sat extremely well with Hetta's and my approach."
It was a wrench when the couple decided to return to Britain, rather than set out their stall in the U.S. But they wanted their children educated where they were born and raised. WinStar's support would also wane once the outfit had built its own training facility on its Kentucky farm.
"I'd met David (Redvers) on his annual visits to the Keeneland sales," Stevens related. "One year, he brought Sheikh Fahad along and we all sat down to supper, although Hetta wasn't there because she was saddling a runner at Indiana Downs.
"David said we should stay in touch, although he made no promises," Stevens continued. "Then, when the twins were born in 2012, we sent a round-robin email announcing the news and when David received it he asked us to give him call."
It was a seminal moment. Stevens was asked to take on Robins Farm, which Sheikh Fahad had just bought, with the brief to train a small string for a variety of owners while simultaneously pre-training the Sheikh's young horses.
Fatefully, Extortionist and Lightning Thunder were among the handful Stevens trained. Having seduced Stevens on the sales grounds, Lightning Thunder was bought for 115,000 guineas by Sheikh Fahad and Mohammed Al Kubasi. The latter is deputy CEO of QIPCO Holdings, the private investment vehicle of the Qatari ruling family.
Stevens' string has now swollen to 60 horses in just one year.
"It's impossible to dream up what has happened to us," he said. "We know we have been extremely fortunate. When we came back from America, I couldn't afford to start training without some backing."
Yet, Stevens' success makes an attractive statement about Sheikh Fahad's judgement. The man who patronises trainers outside the established elite is being repaid in kind.