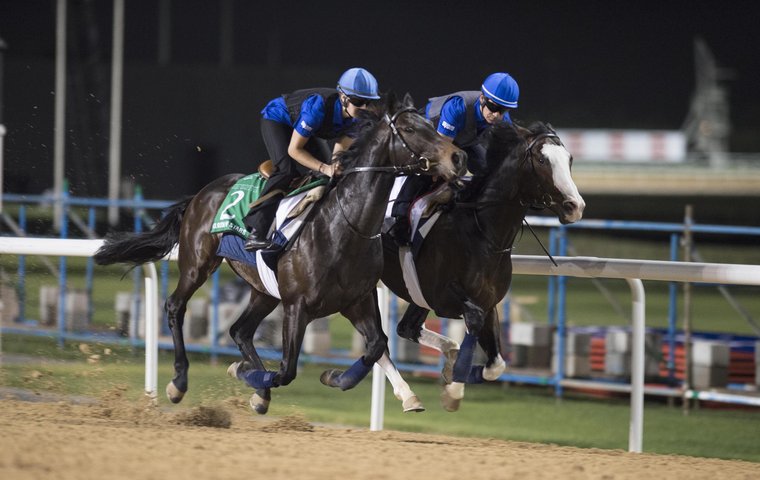 French handler Andre Fabre, who is hoping that Talismanic can provide him with a victory in the Dubai World Cup Sponsored by Emirates Airline on Saturday, hardly needs an introduction

A 24-times champion trainer in France, he was the first European trainer to make it onto the honor roll of the Breeders' Cup Classic thanks to the unheralded Arcangues. He has also scored in countless classic races like the Epsom Derby, the Prix du Jockey Club, as well as the Prix de l'Arc de Triomphe, which he has lifted an astonishing seven times. The one race, though, that has eluded him so far is the Dubai World Cup.
Fabre, who is Godolphin's main trainer in France, has been to Dubai many times, but the striking Talismanic, whose bold face and white stockings attracts attention wherever he runs, might be his best chance yet to win the big race.
"Talismanic has always been a very good horse," confirmed Fabre, who is based in Chantilly, France. "Remember he was fourth in the Prix du Jockey Club at three and that was the year that the horse was affected by the virus."
The virus, which struck his yard in 2016, today is only a distant memory and certainly hasn't stopped the 5-year-old son of Medaglia d'Oro and Magic Mission from turning into a top-class performer. When he lined up at the start of the Breeders' Cup Turf in Del Mar last year, he might have only been a G2 winner, but that quickly changed when he was launched down the straight by Godolphin's jockey, Mickael Barzalona.
"In France, most of the time there was no pace and so he had to make the running," the trainer said. "The only race where there was some pace was the [G2] Prix Maurice de Nieuil, where he came from behind and showed some acceleration. And that was the same in the Breeders' Cup, where he also came from behind. In races with no pace it is easy to get trapped."
There should be ample pace in this year's edition of the Dubai World Cup, but it will be Talismanic's first attempt on the dirt and his trainer admitted: "I have to be fair, there is still a question mark about the surface. I didn't want to run Talismanic and Cloth Of Stars in the same race and Talismanic was in great shape, so I thought I'd line him up in this race.
"My feeling is that, to run on dirt, you need more strength. It is a surface that favours stamina and resistance more than speed. And Talismanic has the confirmation and the pedigree to act on this surface."
Fabre concluded: "I don't know what sort of chance he has. I have no idea. It is a big race with the horses from North America and Japan. It is very exciting, and I respect all the American horses, but there is no Curlin or Arrogate this year."
An Andre Fabre-trained contender always commands respect, and Talismanic is no exception. On Saturday the seasoned traveller will be ready for the big moment and, should he take to the surface, he could well provide Fabre with one of those few podiums that are still missing in his illustrious career.