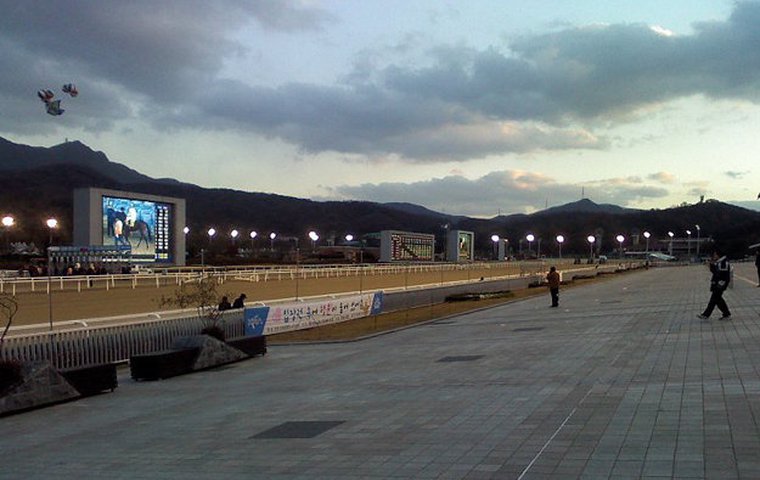 IFHA conference hears of struggling Norway's plight – and flourishing Korea's ambitious international plans.

Take two horseracing jurisdictions separated by a half-turn of the globe, and you are bound to spot significant cultural contrasts. But take Norway and South Korea, and the differences could hardly be more pronounced. One paddles vigorously to stay afloat; the other strikes out impressively to reach another shore.
The two shared the stage at the International Federation of Horseracing Authorities annual conference in Paris this week, when delegates were able to examine both sides of the same coin.
On one side Scandinavia, hanging on to Thoroughbred traditions by its fingertips; on the other Korea, emerging from the Asian shadows with ambitions to be an international force.
Harald Dorum has occupied positions on either side of the racing and betting fence in Norway, as a former manager of Øvrevoll Racecourse, one of the country's 12 tracks, and for the last eight years as CEO of the Norwegian Tote.
A one-time show jumper, whose enthusiasm for racing is characterised by an annual pilgrimage to the Cheltenham Festival from his cottage in the Cotswolds, he worries that racing in general and Scandinavia in particular has not moved with the times.
"Our respective countries and communities have changed dramatically over the last 40 years," he told delegates. "Efficiency, innovation, and changes that can deliver answers for the challenges of tomorrow are issues that increasingly dominate the agenda more in other businesses than racing.
"There are attempts at change, but too often we fall back on well-tried, safe solutions. This happens even though we have to face the fact that the sport is losing its market position, recruitment of new owners is on the decline and the media's attention is dwindling. In addition, our customers are won over by new gaming products and gaming-related activities.
"The challenge for the sport is about much more than improved racetrack facilities; it's about investing in new technology and communicating what the sport is about with new and modern packaging.
"Apart from some modest attempts to modernise the graphics, adding 'more of the same' to race meetings, I would claim that there are few differences in how a race meeting is organised and presented to the public today compared with 40 years ago."
The warning signs are there just as much for betting operators as horseracing authorities, he said.
"You don't have to be a rocket scientist to understand that, if we do not move, and if we do not move fast and surprise the market by investing in new technology and new solutions to improve the racing experience, we are going to face year-by-year decline," Dorum explained.
As is the case in many well-established jurisdictions, Scandinavia's betting market is based on the totalisator model, with trotting accounting for a huge share of turnover, but adding Finland, which has no Thoroughbred racing, to the mix brings the pool of potential customers in the Nordic region to no more than 22 million.
"Totalisator betting is no longer a national activity, based on what the national trotting and Thoroughbred sport can offer," Dorum said. "Today, more than 30 percent of Norway's betting turnover comes from racing organised abroad, and in Denmark, the share is more than 60 percent.
"In our efforts to channel gaming activities through the Nordic totalisator companies, I think this is just the beginning. We need a product, and we need to give our customers entertainment when they want it, not based on when the racecourses want to put on events.
"There is no contradiction in this. If we are to deliver a stable and, we hope, growing financial contribution to the sport, we must all be prepared for change, even if this means offering products other than betting on horses.
"What was good enough 50 years ago has become old-fashioned everywhere else, except in Scandinavian racing."
The same appears not to be true in Korea, which in 2013 staged 1,904 races with 21,178 total runners and average prize money per race of €70,800 ($90,000); compared with, for example, Italy's 3,094 races, amounting to 23,627 runners and €10,271 ($13,053) average prize-money; and for direct comparison with Dorum's fairly gloomy observations, Sweden's 649 Thoroughbred flat races, which achieved 5,850 runners and €11,653 ($14,809) average prize-money.
Korea's challenge, founded on a €536 million ($684 million) return from total betting revenue of €5.3 billion ($6.8 billion) in 2013 that was bettered only by Japan, Britain, Hong Kong, Australia, and the U.S., is to match Scandinavia's occupation of Part II of the International Cataloguing Standards (ICS) book, which conveys black-type status to qualifying countries' major races.
Korea currently figures in Part III, the lowest division of ICS standings, alongside such as Austria, Hungary, and Trinidad & Tobago, being held down by the restrictive nature and indeterminate quality of its domestic racing.
Things are already changing, and Korea took its first tentative step on a road map to global recognition last year, when the inaugural international race in the country's history took place at Seoul Racecourse.
In reality, "international" was stretching the definition almost to breaking point. The title of the single race, the Korea-Japan Goodwill Cup, was the giveaway.
However, attracting three runners from Japan, including the winner, Tosen Archer, was still a significant breakthrough, not least because it involved establishing a new quarantine protocol that will act as a valuable blueprint for the future movement of international horses.
With the ice broken, the Korea Racing Authority (KRA) wasted no time building on the historic foundation and this year's equivalent race, the Asia Challenge Cup at Seoul in August, was extended to include Singapore, which provided the winner in the internationally-ranked sprinter El Padrino.
The KRA's ambitions are clear and timely, as general manager Park Yang-Tae explained to IFHA conference delegates: The aim is to obtain international G2 status for a Korea Cup in the next five years.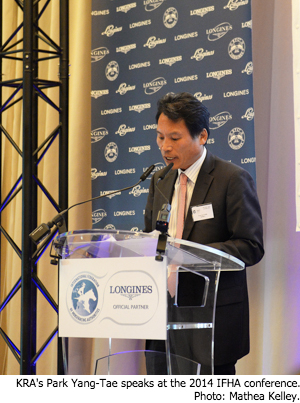 To get there, a fourth country – possibly Australia, which represents a growing market for imported Thoroughbreds – will be added to the line-up next year, and a fifth in 2016, when the KRA masterplan envisages that the race will be strong enough on quality to be afforded an international G3 tag.
"We need to improve our racehorses' quality and revise our racing system, but the intermediate goal is to achieve inclusion in Part II of the ICS programme by 2016," Park said. "In that way, we will provide better quality horseracing for our fans and make our races and horses internationally recognised. We will also be contributing to people's leisure activities and promoting the livestock industry in Korea."
Park explained that raising domestic standards for Korea's horses and racing administration would involve changing current restrictions and adopting best practices from overseas jurisdictions.
"We will integrate our races, instead of separating them by the horses' country of origin," he said. "And we will relax the current price levels for purchasing foreign-bred colts and geldings.
"By hosting international races, with horses from multinational participants, and sending our domestic-trained horses to race overseas, we hope to foster a group of horses with international ratings over 105 by 2016.
"We recognise that our racing system is not sufficient to meet the global standard, so we will adapt our current points system for grading horses to a ratings system, as applies elsewhere. We will also allow foreign owners to race in Korea, and we plan to expand the number of foreign trainers, jockeys, track riders, and grooms.
"We will do our best to operate world-class horseracing in Korea."
Such progressive ideals, allied to a clear strategic plan, have struck a chord with senior figures in the IFHA, whose president, Louis Romanet, left for a two-day fact-finding mission in Korea within 24 hours of winding down a hectic Arc de Triomphe weekend of official and social activities for the organisation.
He left Paris trailing an encouraging message. "There are some great steps in Korea's plan, and we will do everything to help them," Romanet said. Unfortunately, he was gone before this correspondent could ask whether he had similar thoughts about Scandinavia.