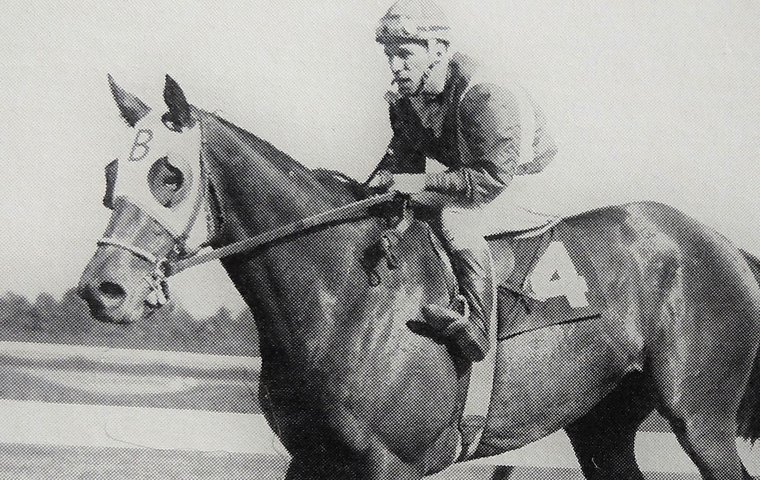 This tale is a 'twofer', concerning a mare who was an average racehorse but a superlative producer, and her daughter, whose talents shone on the racetrack but didn't transfer to the breeding shed. The mother of the tale was a bay named Cosmah. Her daughter was Tosmah.

Cosmah was foaled on April 4, 1953, at Almahurst Farm in Kentucky and was bred by Henry H. Knight. Her sire, Cosmic Bomb, a 1944 foal by Pharamond, was a multiple stakes winner for owner William G. Helis, his wins including the Arlington Futurity, Cowdin Stakes, Lawrence Realization and the Trenton, Discovery, and Roamer Handicaps.
Cosmah was the first foal of her dam, Almahmoud. Foaled in 1947, she was a daughter of 1936 Epsom Derby winner Mahmoud. Also owned by Helis, she won four of 11 starts, but her biggest claim to fame was as the dam of Natalma, the dam of Northern Dancer.
Her owner, Eugene Mori, chairman of Hialeah and president of Garden State Park, purchased Cosmah for $7,000 at the Saratoga yearling sales. She was trained by Frank Zitto.
Superior broodmares
At two, Cosmah won the six-furlong Astarita at Aqueduct on the disqualification of Dark Vintage. She finished second in the first running of the Gardenia, a race conceived by her owner over 8½ furlongs at his track, the now defunct Garden State Park in New Jersey. She had won five in a row, including the Gardenia Trial the week before. She was also third in the six-furlong Frizette at Jamaica. At three, she was second in both the Gazelle Handicap over 8½ furlongs at Belmont and the one-mile Pageant Stakes at Atlantic City.
Interestingly, the first three in that 1955 Astarita all went on to become superior broodmares. In addition to Cosmah, second placed Noor's Image was the dam of disqualified 1968 Kentucky Derby winner Dancer's Image, and third placed Levee foaled dual Jockey Club Gold Cup winner and champion Shuvee. Cosmah retired with nine wins from 30 starts and earnings of $85,525.
It was as a producer that Cosmah excelled. She was the dam of 15 foals, nine of them winners. These included Halo, a foal of 1969 who was leading North American sire in 1983 and 89. A G1 winner himself, Halo sired Devils Bag, champion 2-year-old of 1983; champion Glorious Song, dam of 1996 U.S. champion turf male Singspiel, who also won the Japan Cup and Dubai World Cup, and prominent sire Rahy; Canadian champion Rainbow Connection; multiple G1 winners Goodbye Halo and Jolie's Halo; and Saint Ballado, sire of 2005 U.S. Horse of the Year Saint Liam and champion Ashado.
Halo also sired stakes winner Southern Halo, sire of More Than Ready, himself the sire of 2013 Wood Memorial and Haskell winner Verrazano.
But Halo is most famous for siring two Kentucky Derby winners: Sunny's Halo (1983) and Sunday Silence (1989), who became a breed-shaping sire in Japan.
Cosmah was also the dam of Maribeau, by Ribot, winner of the Fountain of Youth and later a sire; and Queen Sucree, the first broodmare to sell for $1 million and the dam of 1974 Kentucky Derby winner Cannonade. Cosmah was named Kentucky Broodmare of the Year in 1974.
Cosmah is also the third dam, through her daughter La Dame du Lac, of champion turf filly Flawlessly. Cosmah died in 1979.
'Pay me what you think she's worth'
Now, about that daughter. In 1961, Cosmah produced a bay filly by Kentucky Derby winner Tim Tam, who was himself sired by the great Tom Fool.
Named Tosmah, she was sold privately by Mori to soft drink distributor Anthony Imbesi. According to Charles Hatton, writing in the 1964 American Racing Manual, Imbesi acquired Tosmah privately for a reported $100,000 from his friend Mori. The story goes that Mori told Imbesi, "Pay me what you think she's worth." Her trainer was Joe Mergler.
Tosmah's regular rider was Sam Boulmetis, a member of racing's Hall of Fame and four-time leading rider at Monmouth. At the time he was president of the Jockeys' Guild. He rode his first winner at Garden State in 1949 and once said Tosmah was the best he'd ridden. He won the Washington D.C. International in 1956 on Mahan. He retired at the end of 1966 with 2,783 winners and went on to become a state steward in New Jersey.
Impressive juvenile season
Tosmah made her racetrack debut at Monmouth on July 26, 1963, winning a 5½-furlong maiden by 3½ lengths. She sailed through her juvenile season, winning her first seven starts, including the Mermaid Stakes at Atlantic City in September by ten. Only a week after the Mermaid, she ventured to New York for the first time and won the second division of the seven-furlong Astarita (a race won by her dam eight years before) at Aqueduct by five. Ten days later she captured the Frizette over a mile at Aqueduct by a length in front of a crowd of 44,118. Two weeks after that she won the one-mile Gardenia Trial, a race her mother had also won, at Garden State by a head.
As the distances got longer, Tosmah's winning margins got shorter, and the 8½-furlong Gardenia on October 26 was a trip too far. She led early on in the race, but had nothing left at the end, finishing eighth behind Castle Forbes, with whom she had to share year-end honors as champion 2-year-old filly.
Castle Forbes would go on to win the Acorn at three, but is best known as the dam of Irish Castle, sire of 1976 Kentucky Derby and Belmont winner Bold Forbes.
Tosmah's first three runs at three came at Garden State, a fourth, a second in the six-furlong Betsy Ross, and a length-and-a-half win in the Colonial Handicap over the same trip. She followed up by winning twice at Monmouth, including the Miss Woodford by 4½.
On July 1 she captured the Liberty Belle at Aqueduct, then three weeks later shipped west to Arlington and finished second as the only filly against males in the seven-furlong Warren Wright Handicap.
On August 8, she won the Arlington Classic as the lone filly in the field of ten. Moving into contention on the far turn, she led by five lengths at the top of the stretch, coming home by 2½ lengths and covering the mile in 1:36⅕. Stakes winner Lt. Stevens, a full brother to champions Ridan and Moccasin, was second. Roman Brother, the 2/1 favorite, who had won the Jersey Derby and been second in the Belmont, was fourth.
She stayed at Arlington and a week later added the Matron, stretching out to a mile and an eighth for the first time and scoring by a half-length after leading all the way. Breaking from the outside, she was the only 3-year-old in the field of ten distaffers.
Back east, she took the Maskette for fillies and mares at Aqueduct by six, covering the mile in 1:36⅗ as the favorite and 123-pound highweight. Again, she was the only 3-year-old in the field.
She repeated 11 days later in the nine-furlong Beldame, also at Aqueduct (Belmont was closed as the grandstand was being rebuilt) by four lengths over four others. The Beldame win proved she could comfortably get further than a mile.
Dual champion
She was back against her own age group in Garden State's Quaker City Handicap over six furlongs. She bested 13 others, equalling the track record of 1:08⅘ under 124 pounds. It was jockey Sam Boulmetis' fourth consecutive win in the race.
Just five days later she was out again, in the nine-furlong Vineland Handicap at Garden State. She finished second over a sloppy track as the 1/2 favorite and 126-pound top weight to Tona, with 113, who came up on the inside to beat her by a head. Tona's owner, Thomas N. Nichols, was in the hospital following a car accident the week before in which his wife had been killed.
Tosmah's final start of the season was an easy all the way 1¾-length win in the 8½-furlong Jersey Belle Tercentenary Stakes at Garden State.
She was named both champion 3-year-old filly and champion handicap mare for 1964 (it could be done in those days before standardized year-end polls).
Later campaigns
She won three of only seven starts at four, the highlight being a second win in the Maskette, this time narrowly defeating champion Affectionately, with both toting 128 pounds.
At five, she was second in the Columbiana at Hialeah in February. The winner, Gold Digger, would become the dam of leading sire Mr. Prospector.
Tosmah was second again, to favorite What A Treat, in the nine-furlong Black Helen Handicap at the same track in March. She won the Barbara Fritchie Handicap at Bowie on April 9 by a length over Queen Empress, the champion 2-year-old filly of 1964. A week later, she became the first filly to win the John B. Campbell Handicap over 8½ furlongs at Bowie. The 1965 Kentucky Derby winner, Lucky Debonair, shouldered the 126-pound top weight and finished last of the ten runners.
She won the Colonial at Garden State for a second time in May, then ran second in the Equipoise Mile against males at Arlington in June. She concluded her 1966 campaign with three wins in ten starts.
Tosmah raced four years, from two through five, winning 23 of 39 starts and $612,588. She was inducted into the American Racing Hall of Fame in 1984. Her owner sent her mainly to his own stallions and she never produced anything as good as herself.
Tosmah died in 1992 at age 31 and was buried at Briardale Farm in New Jersey.
Sources
Racing Hall of Fame website: www.racingmuseum.org
A Second Quarter-Century of American Racing and Breeding, The Blood-Horse, 1967
American Racing Manuals, 1964, 1965 & 1971
Matriarchs, Great Mares of the 20th Century, Edward L. Bowen, The Blood-Horse, 1999
New York Times, October 5, 1963 & August 9, 1964
Philadelphia Inquirer online archives at www.fultonhistory.com
The Sporting Life, Joe Hirsch American racing columns, various dates