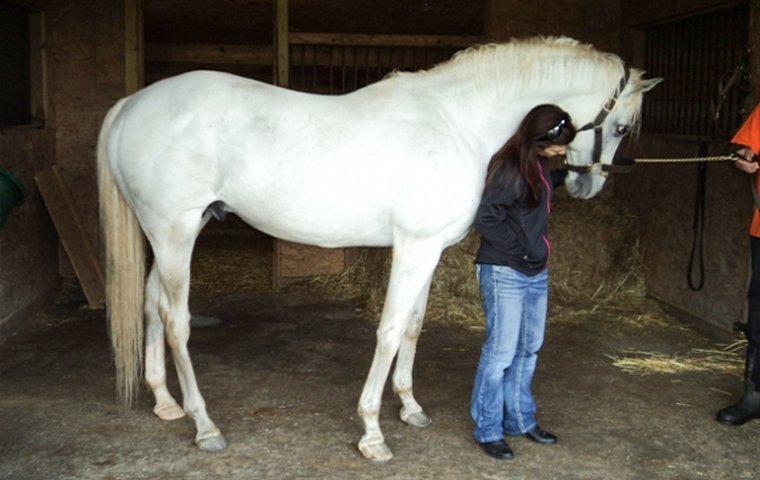 For as long as she can remember, Stacie Clark, operations consultant for the Thoroughbred Aftercare Alliance (TAA), has aspired to help off-track racehorses.

"I have always loved the sport of horseracing - I grew up in it," Clark said. "Taking care of our horses after racing is just the right thing to do."
During her days as a jockey at Woodbine and Fort Erie, the Ontario, Canada native always pondered what would happen to the horses she encountered once they had finished racing. So she would often make phone calls to trainers and owners to ensure those animals found good homes and a chance to pursue a second career.
Today, she's helping the TAA accomplish that same mission. Clark, who began her new role in November, has assumed similar duties as former Executive Director James Hastie, including overseeing the day-to-day duties of the office and program, as well as the accreditations, funding, communications, granting, and inspections processes.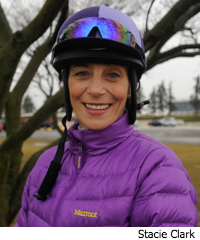 Clark was virtually born into the Thoroughbred industry, as her mother, Joan, was a trainer and her dad, Peter, was an owner on the Canadian circuit. Inheriting their passion for the racetrack, Clark won 87 of 790 starts as a jockey between 1993 and 1996 and was nominated for the 1994 Sovereign Award as outstanding apprentice in Canada.
She also spent some time on the broadcasting side of horse racing, working a stint in Woodbine's media and publicity department as associate producer and racing television commentator. During her tenure, she was involved with Sovereign Award winning productions "Woodbine Entertainment Live" and "Woodbine Racing Live." In 2013, she was recognized as producer HRTV's Eclipse Award-winning documentary "Saratoga WarHorse."
Clark's work with off-track racehorses officially started in 2004 with Frank Stronach's Adena Springs, where she helped implement the farm's retirement program, as well as the Stronach Group's aftercare organizations at Gulfstream Park and Santa Anita Park.
On the side, she is also invested in her own two off-track Thoroughbreds: Mark One, a gelding by Alphabet Soup who earned more than $740,000 for Adena Springs; and Wisdom N Youth, a stakes-placed Festin gelding. Clark used to gallop Mark One, while she served as the trainer of Wisdom N Youth from 1999-2002. "He bought my first house, so I figured I better keep him," Clark said of the latter horse.
Clark was contacted in 2011 by the TAA's founding Board President Jack Wolf, who invited her to get involved with the fledgling non-profit operation. She loved its concept from the get-go.
"The really amazing thing about the Thoroughbred Aftercare Alliance is its an accreditation organization and a funding organization," said Clark, who has served on the TAA board since its inception in 2012. "So we are a glass house for the organizations to which we are giving the money, in trust to those other organizations that sponsor us."
Funded initially by seed money from Breeders' Cup Ltd., The Jockey Club, and Keeneland Association, the Lexington, Kentucky-based TAA comprises and is supported by owners, trainers, breeders, racetracks, jockeys, aftercare professionals, Thoroughbred auction companies, and other industry groups.
"It's really important that we have a plan for our horses in the industry and it's important that we share the responsibility," Clark said of why she believed in the TAA's mission. "The TAA is the first really solid program that can facilitate that for a lot of entities. Everybody wants to give, and people in the racing industry are very giving, philanthropic-type people. But it's difficult for them to do the due diligence, so the TAA can do it for them."
To hold TAA accreditation, an organization must complete a thorough application process and meet the TAA Code of Standards, both of which have been reviewed and approved by the American Humane Association and the American Association of Equine Practitioners.
Accredited organizations may then apply for grants annually from the TAA to go toward the ongoing care of retired Thoroughbreds. Individual grant amounts are based on a comprehensive review and allocation process by the TAA Grants Committee and require approval from its board of directors.
"In essence, we don't provide full funding for these organizations, but we provide them with breathing room," Clark said. "It works in the favor of the racing industry that we are being able to fulfill our desire to help the horses we all benefit from."
The TAA has seen substantial growth since its inception. It currently has 42 accredited organizations, with more than 120 facilities throughout North America. Board members calculated the organization had reached more than 2,800 horses in 2014. Earlier this month, James G. "Jimmy" Bell, president and racing manager of Darley America, was elected as the new president of the organization.
"Last year we gave away $1 million, and this year we're giving away $2.4 million," Clark said. "So that's a huge growth. It would be great if it would keep growing like that, but we're holding very steady and we have a great staff that's very diligent. We're handling a lot of money and have a lot of responsibility and hopefully we're helping a lot of people."
Clark's goals for the future of TAA are simple and aligned with the organization's mission: to get the whole industry involved in contributing to the welfare of the horse.
"We need to share the responsibility and all contribute to aftercare organizations," she said, adding that in the New Year, former jockeys Donna Barton Brothers and Zoe Cadman of HRTV will kick off a series of TAA-related public service announcements on the horse racing network. "We also want to continue inspiring organizations to have a really high standard of aftercare through the accreditation process. The long-term goal is to get as many Thoroughbreds as we can looked after via these programs, and to have everyone in the industry doing their share."