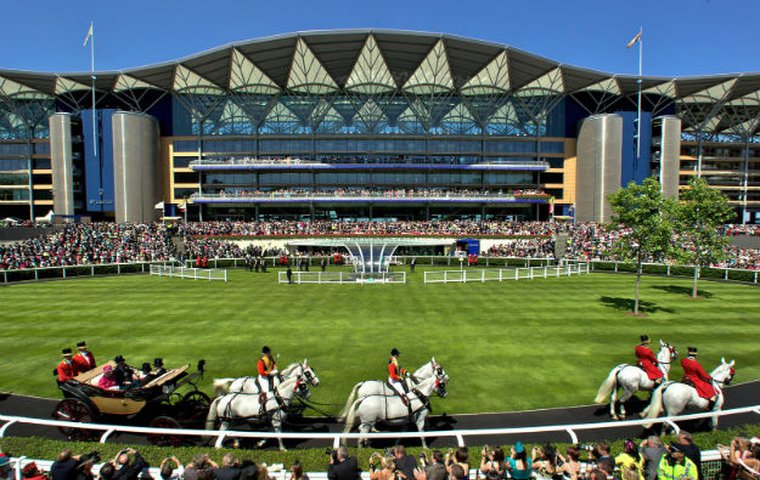 Superstars Tepin and Chautauqua set to be the headline acts at Royal Ascot

Last year it was California Chrome and Able Friend. Two international superstars who dominated the headlines, and had fans drooling in anticipation in the build-up to the world's most prestigious mid-year race meeting.
It all came to nought, of course. Chrome spent two months in England being prepared for Royal Ascot but retired hurt even before the meeting began in the midst of a sad and frustrating season, and Hong Kong's mighty Able Friend failed to fire at all in the Queen Anne Stakes, trailing in a lacklustre sixth behind Solow, the outstanding French-trained gelding who was in the process of establishing himself as Europe's champion miler.
Now, as the countdown to the 2016 royal meeting (June 14-18) gets under way (big-race entries close today and are announced tomorrow), there are two new kids on the block, two fresh overseas superstars set to take centre stage - the spectacular American mare Tepin, and Australia's Chautauqua, who many believe to be the world's fastest sprinter. And this time there are good reasons to believe the outcome could be very different.
--------------------
How Julien Leparoux may have been the key to Tepin
--------------------
Tepin, stunning winner of the Breeders' Cup Mile last October, was even more impressive on Saturday, when routing the opposition in the G1 Jenny Wiley Stakes back at Keeneland. She may have one more run in the U.S. before shipping to England for a potential clash with Solow in the £600,000 Queen Anne (over a mile), opening race of the royal meeting.
"It's not cast in stone that she'll run at Royal Ascot," said Nick Smith, Ascot's Director of Racing and Communications. "But it has been a plan for the owner - I mean, they've been pretty public about it - since the Breeders' Cup. And that's huge for us - [attracting] an American-trained Breeders' Cup winner on turf who was that impressive."
Smith compared Tepin with California Chrome and 2011 Kentucky Derby winner Animal Kingdom, who disappointed in the Queen Anne at Ascot in 2013 just over two months after winning the Dubai World Cup.
"Animal Kingdom and California Chrome were both Kentucky Derby winners who also went on grass," he said. "They were both coming to prove themselves as turf stallions. Tepin has already proved herself at the highest level and she's not a manufactured turf horse. So this is a different proposition, and we really hope she would be good enough to, if not win the race, to go very, very close."
"I can't think of a better American turf challenger."
"She's not really being asked to do anything different, I know she won't have run on a straight track before, but she's doing something that's very natural to her. And she appears to be a horse that is right at the top of her game."
Certainly Tepin's form puts her in with a real chance at Ascot, yet odds of 10-1 are still generally available with British bookmakers about her winning the race.
--------------------
CHROME IN DUBAI: 'ONE OF THE GREAT RACING MOMENTS'
Nick Smith paid tribute to trainer Art Sherman and the team behind California Chrome for the way they have brought the horse back to form this season.
"Seeing California Chrome winning in Dubai, it was absolutely remarkable," said Smith. "It was one of the greatest training performances you'll ever see. He wasn't right in Dubai last year, then he had problems over here and then he had an injury which ruled him out of the race, and he was working only okay anyway."
"They were so patient with him, they just took their time. Then they got him back to win his prep race in Dubai ... and then he was really impressive in the World Cup. He just showed everyone what he could do."
"It was one of the great moments in racing. It was a good field and he absolutely smashed them.
"Presumably it's the Breeders' Cup and then out this year, although maybe he could come back - to Dubai not Royal Ascot. I've got to know [part-owner] Perry Martin quite well, but I did not talk to him about Royal Ascot [when I spoke to him in Dubai]."
--------------------
Also at the top of his game right now is Aussie 5-year-old Chautauqua, dramatic winner of the $2.5 million T.J. Smith Stakes at The Championships at Randwick earlier this month and now firmly established as Australia's leading sprinter.
Before he heads for Britain, however, the son of Encosta De Lago must first negotiate the $1.3 million Chairman's Sprint Prize at Sha Tin in Hong Kong on May 1. Victory there would give him a second leg in the 2016 Global Sprint Challenge (he won the Black Caviar Lightning Stakes at Flemington in February). Any horse who wins legs in three different countries gets a $1 million bonus, and two races at Royal Ascot (the £400,000 five-furlong King's Stand on day one and the £600,000 six-furlong Diamond Jubilee on day five) are part of it. Chautauqua would be expected to go for the Diamond Jubilee.
"Chautauqua is inoculated to come," said Smith. "They're making provisional shipping plans to come from Hong Kong. A lot's going to depend on what happens there because I wouldn't say he's had an exhaustive season but he hasn't missed many dances, including running in the Newmarket Handicap [at Flemington in March] with top weight [he was a close third behind The Quarterback, to whom he was conceding 13 pounds]."
"He didn't look like a horse about to go over the top in the T.J. Smith when he won that. If he travels to Hong Kong okay and things fall right, then I would be very hopeful that he would then come on to Royal Ascot."
"The record of Australian horses in Hong Kong isn't brilliant, but he is exceptional and, all being well, he'll win that race, which he should do, and connections will have a big decision to make. He's clearly the marquee sprinter for us."
Chautauqua is generally 5-1 favourite with British bookmakers to win the Diamond Jubilee.
Other international possibles for Royal Ascot
UNITED STATES
Undrafted (and Wesley Ward's 2-year-olds)
Undrafted, trained by Wesley Ward and part-owned by American Football star Wes Welker, won the Diamond Jubilee at Royal Ascot last year, getting the better of Australia's Brazen Beau, and is on course to attempt the double - and take on Chautauqua - in June after a smooth success in a Grade 2 at Keeneland on his seasonal debut earlier this month.
Ward, who has been bringing 2-year-olds to the meeting for several years - and is gearing up another promising bunch this time, is the all-time top non-European trainer at Royal Ascot, with six wins. Undrafted's success as a 5-year-old last season was Ward's first by anything other than a 2-year-old.
"I think the Diamond Jubilee was a sea change moment," said Smith. "I know Coolmore have seen what he can do, and so have Ken Ramsey and various others, but I think people's perceptions changed after the Diamond Jubilee. It went from him being a quirky American who can train lightning-fast 2-year-olds to a serious trainer who can deliver a Royal Ascot winner at the highest level."
Manhattan Dan
The second running of the six-furlong G1 Commonwealth Cup is the target for the Gary Contessa-trained son of Big Brown, who has won both his starts over five furlongs on the turf at Gulfstream Park this year.
It's a tough assignment. The £400,000 race, designed as a new path into sprinting for the fastest 3-year-olds, was a huge success in its first year in 2015, and many of the best of the current crop in Europe are likely to go for it this time.
"Every single horse that ran in the Commonwealth Cup had black type, and the winners of every single theoretical trial for it ran in it," said Smith. "It created a pattern all of its own, and the knock-on effect was a vastly strengthened sprinting program."
"You can't get more lucky than to have your inaugural winner [Muhaarar] going on to win the July Cup and the Champions Sprint and become European champion sprinter."
Miss Temple City
Trainer Graham Motion said he was thinking about returning to Ascot with the 4-year-old after she won the G1 Maker's 46 Mile at Keeneland on Friday.
The filly, who would be aimed at the £175,000 G2 Duke of Cambridge Stakes, over the straight Ascot mile, was a good fourth behind leading French miler Ervedya and subsequent Breeders' Cup Turf winner Found in the G1 Coronation Stakes at Royal Ascot last season.
AUSTRALIA
Chautauqua aside, most of the Australian possibles will have the £400,000 King's Stand as their likely target.
"I think a lot of the Australians who come over would be aiming at the King's Stand and leaving the Diamond Jubilee to Chautauqua," said Smith. "They could double up [be entered for both races], fine, and see what happens after the King's Stand, but that would be their main target."
The Quarterback
The 5-year-0ld, who beat Chautauqua in the Newmarket Handicap in February, is still on course after finishing a fast-finishing third in a valuable restricted six-furlong race at Caulfield in Melbourne on Saturday.
Japonisme
Trainer Chris Waller's high-class Choisir 3-year-old, who has been prominent in most of the top Australian sprints this season and won the G2 Arrowfield Sprint at The Championships at Randwick earlier this month, is another possible for the King's Stand.
Press Statement
Another Chris Waller-trained 3-year-old, Press Statement was a probable for the Diamond Jubilee until he suffered a minor injury when finishing unplaced in the seven-furlong G1 All-Aged Stakes at Randwick on Saturday, which makes his participation less likely.
Although the colt had proved his stamina over seven furlongs and further, the tough Ascot six furlongs was considered the best trip for him. Smith said: "I always emphasise to everyone in Australia, whatever you're running over in Australia, you want to be knocking a couple of furlongs off when you come to Europe."
Holler (and Godolphin Australia)
The G1-winning 3-year-old is part a possible Royal Ascot team from Godolphin Australia. Smith said: "It's kind of a new thing for Godolphin to be thinking of bringing a team from Australia to the U.K. John O'Shea [Godolphin's trainer in Australia] will manage the horses while they're here as far as I know. They're not going to be country transfers."
HONG KONG
Smith is hoping for Royal Ascot entries from top sprinters Peniaphobia, Aerovelocity, Gold-Fun and Not Listenin'tome, but whether they actually ship to England will depend on what happens when they take on Chautauqua and fellow Aussie Buffering (winner of the Al Quoz Sprint in Dubai on World Cup day last month) in the Chairman's Sprint Prize at Sha Tin on May 1.
Gold-Fun, Not Listenin'tome
Smith said: "I think certainly Gold-Fun and Not Listenin'tome would get entries. Not Listenin'tome was probably in the wrong place at the wrong time in Dubai [he finished down the field in the Al Quoz], but he'd gone into the race on an elevated form curve, and I know that [trainer] John Moore has had him down as a King's Stand horse for a while. As he says, with the Able Friend situation he's got some unfinished business here."
JAPAN
As well as Tepin and Chautauqua, Royal Ascot will be seeing a third international superstar - 5-year-old A Shin Hikari, a son of Deep Impact and an ultra-impressive winner of the $3 million Hong Kong Cup at Sha Tin in December.
"This is the culmination of a very long-term plan," said Smith. "It looks at the moment that he's going to have a prep race [for the £750,000 Prince of Wales's Stakes] in the Prix d'Ispahan over nine furlongs [to be run at Chantilly this year - on May 24]."
"In America and Australia, you might want to come back a bit [in trip] but I don't think so in Japan. All these horses will get further, so the [mile-and-a-quarter] Prince of Wales's is absolutely the race for him. I should imagine if they finish within a length or two of Solow [also likely to go for the Ispahan] they'll be over the moon."
"A lot of Japanese horses that have come over here without a prep race have not quite fired on the day. Most of them travel well into the races - they come there looking like they could win the race - and then they're just short of a run."
With no standout European older horse on the horizon, Smith believes A Shin Hikari has a real chance of becoming Royal Ascot's first Japanese winner, which could have long-term benefits.
"It's something we already see with Hong Kong," said Smith. "If there's a Hong Kong runner in a race, betting turnover will go up significantly. Returns to racing from Hong Kong taking our races are much more significant than from anywhere else in the world."
"And that could open up in Japan too. It's a huge opportunity. The idea is that this year the Arc will become the first race punters in Japan can bet on. At the moment they can't bet on any racing outside Japan. Even when they take the feed, there's no betting."
"They are looking to open that up now, slowly, starting with the Arc and then hopefully in 2017 opening it up to more races. And of course that's why having Japanese runners is so important for us. We've been doing okay [attracting] Japanese runners to Ascot, but it would be quite nice to see one of them win."
A Shin Hikari is currently available at 12-1 for the Prince of Wales's with most British bookmakers.
--------------------
WILL WINX GO TO ROYAL ASCOT IN 2017?
Well, it's certainly a possibility that the magnificent mare who has become 'Australia's horse' over the past 12 months will make the trip to Royal Ascot 2017 - with the one-mile Queen Anne the target rather than the mile-and-a-quarter Prince of Wales's.
"It's a tentative plan," said Nick Smith. "Actually I wouldn't say plan, plan is too strong a word, but it's a tentative idea - it's definitely in the discussion with [trainer] Chris Waller and the owners."
The 4-year-old daughter of Street Cry has finished for the season after her dramatic victory on April 2 in the A$3 million Doncaster Mile, one of the feature races in The Championships at Randwick. Her campaign for next season will revolve around bidding to win a second successive Cox Plate in October.
"[Afterwards] they [Winx's connections] can do exactly what they've done this year, which is to have a pretty rigorous campaign culminating in The Championships, or a lighter campaign into The Championships, which she'd still run at, with a view to perhaps going to Royal Ascot after that."
Smith added: "She's getting to that level now where you start to think 'what more can you achieve at home?' If she ran in the Queen Anne this year, even with Tepin and Solow and horses like that, you'd probably have her as favourite."