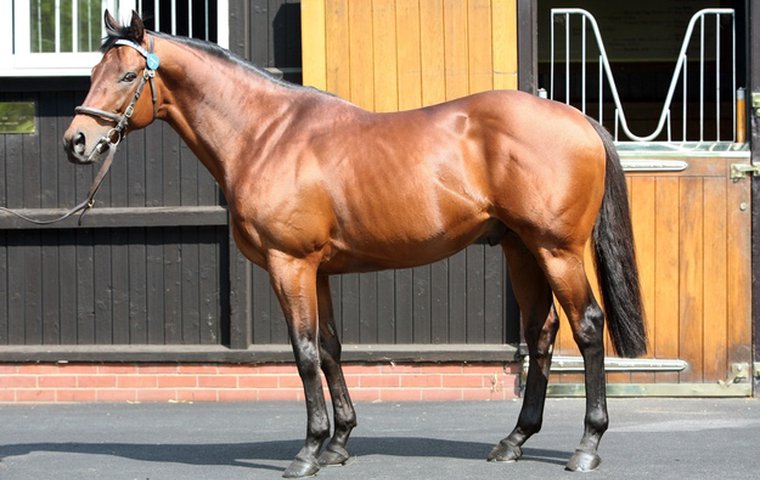 The death of Dubai Millennium from grass sickness in April 2001 struck a catastrophic blow to Sheikh Mohammed's breeding operation.

A homebred who had shown dazzling brilliance to win four G1s, including the Dubai World Cup, appropriately in the millennium year, the son of Seeking The Gold had covered an outstanding book of mares during his first season at Dalham Hall Stud in Newmarket in 2001. That sole crop contained 56 foals, the majority of whom were either bred or purchased by Sheikh Mohammed, and such faith was rewarded when five became stakes winners.
Echo Of Light, a €1.2 million ($1.5 million) yearling purchase by John Ferguson, won the 2006 G2 Prix Daniel Wildenstein at Longchamp for Godolphin while stablemate Belenus won the G3 Sovereign Stakes at Salisbury.
The best, however, was undoubtedly Dubawi, a top miler who is regarded as one of the world's premier stallions today thanks to a roll call of 54 Group winners and 16 G1 winners from six crops of racing age.
The first foal out of Italian champion Zomaradah, by Deploy, Dubawi was fittingly Dubai Millennium's first runner and winner when scoring over 6 furlongs at Goodwood in June 2004. He crowned an unbeaten juvenile season by taking the National Stakes at the Curragh and confirmed he was a miler out of the top drawer the following year when successful in the Irish 2,000 Guineas and Prix Jacques les Marois.
Several sons of Dubai Millennium were afforded their chance at stud, but Dubawi was by far the most accomplished of them on the track and has subsequently become the one to ensure the line's survival.
He was deservedly well supported during his first season at Dalham Hall Stud in 2006, covering 140 mares at a fee of £25,000, including 27 black-type winners and 50 black-type producers.
"Initially he retired as a multiple Group 1-winning son of Dubai Millennium," said Sam Bullard, director of stallions at Darley in Europe. "We always try to stand them at reasonable fees, which we did with him, so he was popular straight away."
Dubawi's first yearlings averaged 66,586 guineas ($109,770) while his first 2-year-olds sold for up to €280,000 ($347,980) in 2009. His first winner arrived in late May, when Dubai Story, fittingly bred by Julian Ince, who manages Darley's French stallion division at Haras du Logis, won at Marseille-Borely in France.
In August, Sand Vixen became his first stakes winner in the Listed St Hugh's Stakes at Newbury, and his first Group winner three weeks later when successful in the G2 Flying Childers Stakes at Doncaster. In what was a memorable Doncaster St Leger meeting for Dubawi supporters, the stallion also supplied G2 Champagne Stakes winner Poet's Voice.
The secret was out and, by the end of the 2009 season, Dubawi had been represented by 26 winners in Britain and Ireland, more than any other first-crop sire.
"An aspect of his progeny is that you should not expect them all to be great walkers," Bullard said. "In his first year, this was a problem and the market turned against him somewhat as they were perceived not to be athletic. That first crop went on to have more Group winners than any other stallion since the Pattern began, and the market adjusted accordingly."
Remarkably, that 118-strong first crop today numbers six G1 winners - Makfi, Poet's Voice, Monterosso, Lucky Nine, Dubawi Heights, and Prince Bishop - and 15 stakes winners overall. Makfi was an early star, winning Newmarket's 2,000 Guineas before defeating Goldikova in the Prix Jacques les Marois. Poet's Voice progressed to take the Queen Elizabeth II Stakes while Anna Salai fell only a head short of winning the Irish 1,000 Guineas.
In a testament to the soundness and durability Dubawi can impart, two other first-crop members, Prince Bishop and Lucky Nine, were G1 winners at the age of seven earlier this year.
Not only that, Dubawi's first Australian crop contained the G1-placed 2-year-old Cellarmaster as well as G1 winners Tiger Tees, Secret Admirer, and Happy Archer (in South Africa).
Success has continued unabated since then. In 2011, when his second crop were 3-year-olds, he was represented by 21 stakes winners in the Northern Hemisphere, among them German Derby winner Waldpark. Gamely Stakes winner Dubawi Heights and crack Hong Kong sprinter Lucky Nine also did their bit to enhance his international appeal.
Lucky Nine was again among the headline acts of 2012, alongside Monterosso, who emulated Dubai Millennium by winning the Dubai World Cup.
Dubawi ended 2012 with 15 Northern Hemisphere stakes winners and increased his prominence once again in 2013 when 22 came his way, among them Al Kazeem, winner of the Eclipse and Prince Of Wales's Stakes, Hong Kong Cup winner Akeed Mofeed, and Al Maktoum Challenge R3 winner Hunter's Light.
2014 has been no different. In May, he sired a second British 2,000 Guineas winner when Night Of Thunder defeated Kingman and Australia to take a vintage renewal. The evergreen pair Prince Bishop and Lucky Nine won the Al Maktoum Challenge R3 at Meydan and the International Sprint at Kranji, respectively.
David Simcock's Sheikhzayedroad made a successful trip to Woodbine in Canada to take the Northern Dancer Stakes, while 3-year-old Postponed emerged as a potentially top older prospect for 2015 when capping his season with victory in the G2 Great Voltigeur Stakes. A notable milestone was also reached at Glorious Goodwood in August when Wannabe Yours became his 50th Group winner in the G3 Thoroughbred Stakes - a landmark that was achieved in a record 2,038 days.
A striking aspect of Dubawi's stud record is his affinity with Green Desert, the damsire of Makfi, Lucky Nine, and G2 Rockfel Stakes winner Al Thakhira. He also clicks particularly well with the Sadler's Wells line, a cross that is responsible for Night Of Thunder, Hunter's Light, Monterosso, and classy stayer Ahzeemah.
Inbreeding back to his fourth dam, Sunbittern, is another strategy that has served him well, providing the likes of G3 Firth Of Clyde Stakes winner Majestic Dubawi and German G3 winner Kapitale. A total of 14 of his Group winners, including Al Kazeem, Hunter's Light, Night Of Thunder, and Aljamaaheer, are also inbred to Mill Reef, who appears in Dubawi's pedigree as the grandsire of Deploy.
He is capable of siring top sprinters, milers, and middle-distance horses, but what makes Dubawi's performance so notable to date is the fact that his fee didn't rise beyond £25,000 ($39,000) until 2011. In fact, it hit as low as £15,000 ($23,500) in 2009 (while the resulting crop has yet to contain a G1 winner, it does include the G1-placed Narniyn). His current 2-year-olds, which include Group-winning fillies Arabian Queen and Muraaqaba, were bred when he stood for £55,000 ($86,000).
Understandably, he covered a strong book of 160 mares at £100,000 ($156,500) in 2013, including 66 Group winners, among them Dar Re Mi, Ghanaati, Look Here, Natagora, and Beauty Parlor. The dams of Al Kazeem, Lucky Nine, Farhh, Manduro, Main Sequence, and Viva Pataca were also among his book.
"Year after year he keeps upgrading mares in the most extraordinary fashion," Bullard said. "I suppose the one fact that crops up time and again is their exemplary temperament. They do their work, they sleep, eat, but really have an astounding will to win."
Buyers have understandably latched on to Dubawi in a big way. At Book 1 of the Tattersalls October Sale, he returned an incredible average of 654,500 guineas ($1,078,000) for 10 sold. Colts out of Crystal Music and Comic broke the seven-figure barrier when selling to John Ferguson for 1.6 million guineas ($2.63 million) and 1.4 million guineas ($2.3 million) - in fact, Ferguson signed for six Dubawi yearlings that week worth a total of 5.775 million guineas ($9.5 million).
Dubawi frenzy has also extended to Kentucky. At Keeneland in September, the Niarchos family's Flaxman Stables went to $1.45 million for a filly out of Epsom Oaks winner Casual Look. That price was matched at the Breeding Stock Sale in November by G2 winner Strawberrydaiquiri, who sold in foal to Dubawi in foal to Al Shaqab.
Dubawi's fee has been set at £125,000 ($196,000) for 2015, when he is set to cover an exquisite book of mares that includes Sky Lantern and The Fugue.
"It is no secret that Dubai Millennium was a great favourite of Sheikh Mohammed's," Bullard said. "The day that great horse died was a terrible day in our history. However, for him to leave a horse that was reared by Darley and raced by Godolphin and is now one of the world's most exciting stallions is a massive thrill for all concerned, and nothing more than Sheikh Mohammed deserves."
Now attention is turning to the growing band of Dubawi sons at stud. The first crop of Makfi, who swaps Tweenhills Farm in Gloucestershire, England, or Haras de Bonneval in Normandy next season, is headed by Listed winner Cornwallville. Monterosso and Italian Derby winner Worthadd completed their first seasons in 2014 at Darley in Japan and the Irish National Stud while the sub-fertile Al Kazeem got several mares in foal during his first truncated season at The Royal Studs.
Anticipation, meanwhile, runs high for Darley's Poet's Voice. His first yearlings averaged 101,799 guineas ($167,800) and included a colt out of Poppets Sweetlove who smashed the record for Book 2 of the Tattersalls October Sale when selling for 525,000 guineas ($865,000) to Shadwell.
"Poet's Voice is Dubawi's first son to stand on our roster," Bullard said. "And it was a massive pleasure to see so many breeders getting a good return on their stud fee at the yearling sales.
"I sincerely hope they can run, and continue the hugely positive influence that Dubai Millennium is having on the breed."
----------
DUBAWI
'02 b h Dubai Millennium - Zomaradah (Deploy)
Stands at Dalham Hall Stud in Newmarket for £125,000 ($196,000)
Sire of 82 stakes winners, including 54 Group winners, from six crops of racing age