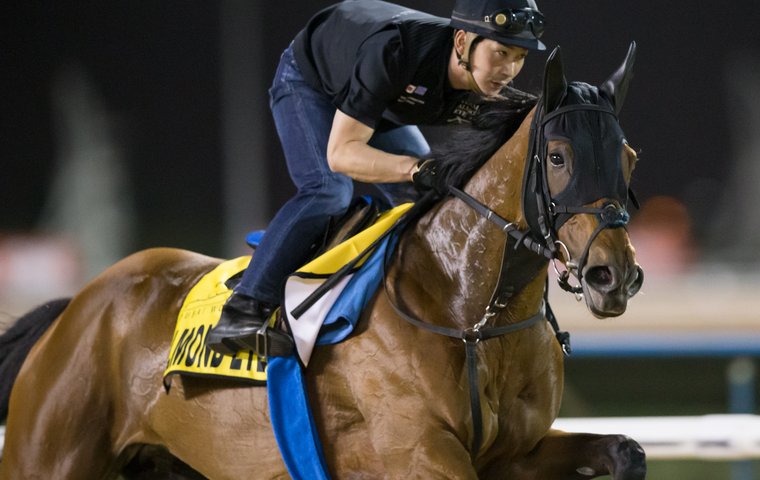 Much talk lately about the wonders of Japan, so it is entirely appropriate that the potential race of the season takes place on Sunday, when superstar filly Almond Eye is taken on by a field of top-class rivals, headed by Cox Plate heroine Lys Gracieux, in the $5.6 million G1 Arima Kinen at Nakayama.

There is no race on earth quite like this end-of-season grand prix, where a fans' vote determines the majority of the field, resulting in a vociferous six-figure crowd for what remains the world's biggest betting race in turnover terms. It also stands level with the Japan Cup as the most valuable race in Japan, and therefore one of the ten richest in the world.
The Arima Kinen, over 2,500 metres (1m 4½f), is the race in which the great Deep Impact produced the highest-rated performance in the world on Racing Post Ratings via his career-ending three-length triumph in 2006. On that scale, he was in effect world champion, though the official handicappers disagreed; something must have been lost in translation.
Formerly known as the Nakayama Grand Prix (and still known colloquially simply as the 'Grand Prix'), the Arima Kinen (or 'Arima Memorial') now honours its founder, Yoriyasu Arima. First run in 1956, it is one of two 'All-Star' races in Japan, alongside the Takarazuka Kinen, with a fans' vote responsible for ten of a maximum 16 runners. It was because of this quirk that jumps champion Oju Chosan, now a four-time winner of the Nakayama Grand Jump, ran last year under the legendary Yutaka Take; this unlikely partnership finished a fair ninth of 16 behind Blast Onepiece.
While the Japan Cup may garner more headlines abroad, the lack of any overseas involvement was widely cited as a reason for a relative lack of interest in last month's race won by the Oisin Murphy-ridden Suave Richard. A crowd figure of 80,826 at Tokyo racecourse, which can hold three times as many people, was by some measure the lowest in the event's history; well down from the 98,988 in 2018, and more than six figures adrift of the high of 187,524 in 1995, when Lando scored for Germany.
However, while the most recent Japan Cup involved a relatively lacklustre domestic ensemble, nobody will be complaining about the Arima Kinen's being a purely hometown affair given that it is set to feature an array of stars.
No fewer than eight of the top ten horses in the Japan Racing Association's public ballot look set to take their chance, headed by Dubai Turf winner Almond Eye, who will be bidding for her seventh top-level victory in the 2,500-metre contest.
The brilliant daughter of Lord Kanaloa missed out on a trip to the Hong Kong Cup when she spiked a temperature at the worst possible time and did not board the plane. Even in her absence, Japan enjoyed a banner day, winning three of the four Hong Kong International Races.
Most popular
None of the horses involved in Hong Kong, though, were popular enough to secure a place in the fans' ballot for the Arima Kinen, where Almond Eye received 109,885 of the 1,577,760 votes cast, putting her in first place ahead of her primary Arima Kinen opponent, Lys Gracieux, who endeared herself to Japanese hearts with her famous victory in the Cox Plate.
The 5-year-old, who bows out after the race, got 94,357 in the vote, where Japan Cup hero Suave Richard was only eighth.
World #23 jockey Damian Lane, who rode Lys Gracieux at Moonee Valley, is flying in to maintain the partnership on a special JRA one-day licence. "It's a great result because I wasn't entitled for the licence," he said. "It's a special licence they've granted me just because of my association with her, so I was very lucky to get the opportunity," Lane went on, speaking to The Australian newspaper.
"Obviously she's a quality mare," added the rider, who also won the G1 Caulfield Cup on Japanese-trained Mer De Glace. "It's going to be a tough race now that Almond Eye is going there, but I'm really looking forward to it."
As an aside, it is interesting to note quite how many of Japan's top horses are being partnered by overseas riders.
Course specialist
Last weekend's victory for unbeaten 2-year-old Salios in the Almond Eye colours in the G1 Asahi Hai Futurity at Hanshin under world #2 Ryan Moore was the latest in a long series of top-level victories featuring overseas jockeys who will partner several of the leading fancies for the Arima Kinen. The trend continued in Hong Kong, where only one of the nine-strong Japanese contingent for the Longines-sponsored International Races was ridden by a Japanese-born jockey, namely Win Bright, expertly handled by world #125 Masami Matsuoka.
Still, though, perhaps he is the exception that proves the rule: Japanese racehorses may be right out of the top drawer, but their human counterparts may still, generally speaking, have a bit to learn.
Back to the Arima Kinen, where a raft of top-level winners beyond the two principals are headed by course specialist Saturnalia, who is unbeaten going right-handed and won the Satsuki Sho (2000 Guineas) at Nakayama in the spring; he also won the G1 Hopeful Stakes at the venue as a juvenile. His record at a track where familiarity can count for plenty may be worth considering, especially as he is likely to be ridden by world #29 Christophe Soumillon.
Also likely to run is the 2017 Japan Cup winner Cheval Grand, whose presence alongside Almond Eye and Suave Richard means the last three winners of the nation's most famous race internationally will be lining up in pursuit of the winner's share of the 648 million yen (about $5.64m) prize.
With world #3 Christophe Lemaire riding Almond Eye, #118 Kenichi Ikezoe takes over on G1 Tenno Sho (Spring) winner Fierement, returning to action after finishing last of 12 in the Prix de l'Arc de Triomphe. Kiseki, seventh at ParisLongchamp, also turns up in the Arima Kinen, where arguably the only serious big-name absentee is last year's winner Blast Onepiece, yet to recover from his Arc travails. Apart from #5 William Buick, that is. He misses the ride on 2017 G1 Tokyo Yushun (Derby) winner Rey De Oro after a riding infringement at Hanshin on Sunday.
Throw in the likes of G1 Kikuka Sho (St Leger) victor World Premiere and G1 veterans such as Aerolithe and Crocosmia and it's clear this is the sort of the race that would deserve 'race of the season' status wherever it was being run. The two Japanese heroes from Sha Tin earlier this month, Hong Kong Cup hero Win Bright and HK Vase winner Glory Vase, stay in their stables.
Either way, with such an exalted field, an upturn in attendance at Nakayama – about 40 minutes away from central Tokyo on the way to Narita International Airport – is a confident forecast. The gate for the Arima Kinen has remained steady for several years, hovering around the 100,000-mark (check out the size of the crowd in the video below of last year's race), but even such a huge number is nowhere near the record figure of 177,179 for the 1990 running, when the hugely popular Oguri Cap won for the second time, reclaiming a crown he also took two years previously.
Such numbers mirror Japan as a whole. The nation's economic miracle ended fully two decades ago, and a state-funded racing industry has not been immune to the downturn, though admittedly the ship appears to have been steadied in recent years.
According to JRA figures, total racecourse attendance was over 14 million – 14,116,684 to be precise – at its zenith in 1996. While a reduction to just over six million in 2013 looks startling, recent figures published for 2018 show there hasn't been much change in the five years since. Last year's total was actually going back up at 6,266,912, so the green shoots are there; at least it doesn't seem to be getting any worse.
On a related subject, annual betting turnover is nowhere near its 1997 high of four trillion yen (about $36.5bn), while prize money is below the record 120bn yen ($1.1bn) of 2000.
That said, last year's reported turnover of about 2.8tn yen and prize-money approaching 115bn yen both represented year-on-year increases.
As for the Arima Kinen, single-race turnover in 2018 was 43.66m yen (about $400m). That's not quite 50 percent of the 1996 world record of just over 87bn yen ($810m) but it is still enough to easily outshine races like the Grand National and Melbourne Cup, well known as vehicles for once-a-year nationwide multi-million gambles in Britain and Australia.
Like I said, one thing's for sure: the Arima Kinen really is quite a race. You can bet on it.
ARIMA KINEN VOTES
1,577,760 votes cast (Figures according to JRA)
1. Almond Eye - 109,885
2. Lys Gracieux - 94,357
3. Kiseki - 93,224
4. Saturnalia - 83,491
5. Blast Onepiece - 75,047 (non-runner)
6. Fierement - 68,451
7. World Premiere - 67,887
8. Suave Richard - 61,599
9. Rey De Oro - 60,594
10. Wagnerian - 58,115 (non-runner)